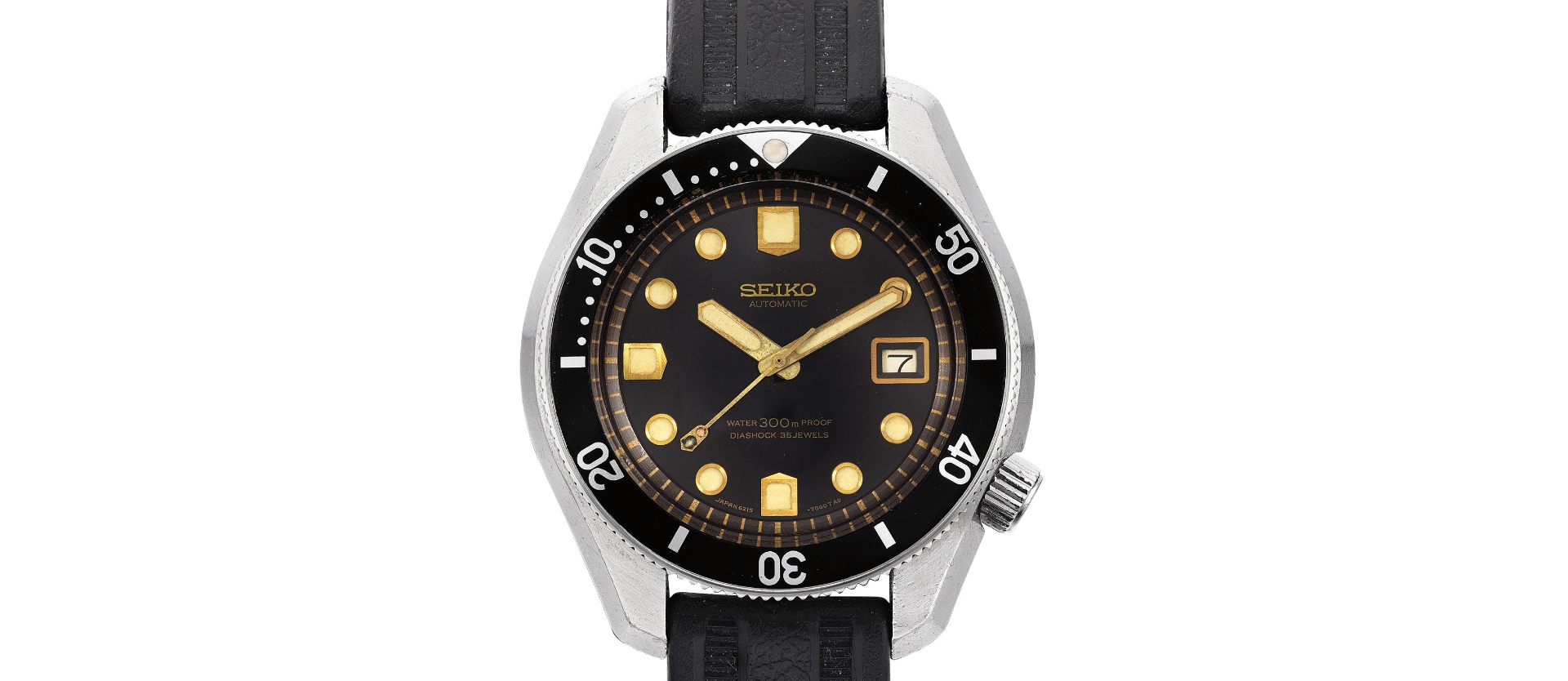 The Most popular Vintage Seiko Diving watches
The Most popular Vintage Seiko Dive watches
Dive watches - a topic that is hugely talked about amongst collectors. The truth is that many watch enthusiasts will disagree on what the best dive watch of all time is. Dive watches are something that a collector can feel very strongly about and so it is only natural that any article outlining a handful of the worlds most popular models will leave one or two important timepieces out. That said, there are plenty of vintage dive watches that all connoisseurs will agree on.
Seiko's huge portfolio of dive watches covers a myriad of styles, designs and features, not to mention varied prices depending on whether a model belongs to the brand's more budget-friendly categories or those considered high-end. Seiko dive watches cover those from the Professional range, with emphasis on water resistance and screw-down crowns, to Sport Divers watches, to the stout and very capable ISO-rated models aimed at recreational wearers. This article outlines some of the most popular vintage Seiko dive watches to look out for on the current pre-owned market, covering all the different umbrellas of the Seiko dive watch universe.
---
The Seiko J12082 & 697990 SilverWaves
The Seiko SilverWaves should be mentioned in any list outlining the best vintage Seiko dive watches because they mark the first attempt made by the famous Japanese watch brand to create a watch ready for water that featured a rotating bezel. The J12082 model was manufactured by Seiko from the year 1961 to 1964, while the 697990 was the successor to it, and was manufactured from 1964 to 1966. The watches measured a compact 36mm diameter and the 697990 model featured the admirable Tsunami-engraved caseback, representing a watch that was certified by ISO standards. The J12082 was a 50-meter water-resistant dive watch that was developed under the Seikomatic line, whereas the 697990 watch was water-resistant to 30 meters. The bi-directional rotating inner bezel was remarkably luminous for its time and the dials featured dauphine hands and lume dots on the indices, making them both practical and easy to read. You can probably expect to pay around 500-900 USD for a pre-owned Seiko SilverWaves watch on the market today.
---
J12082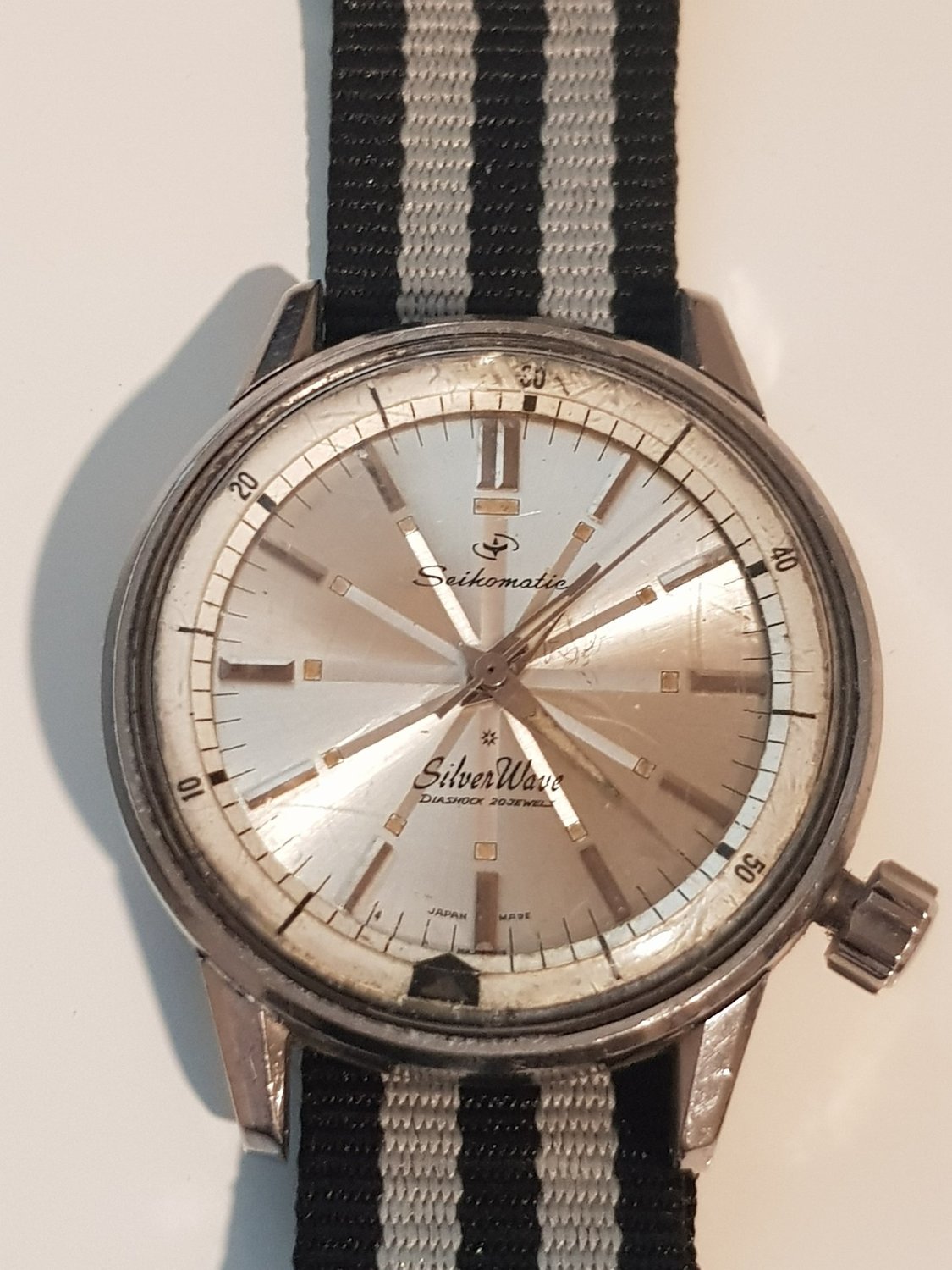 ---
697990 SilverWaves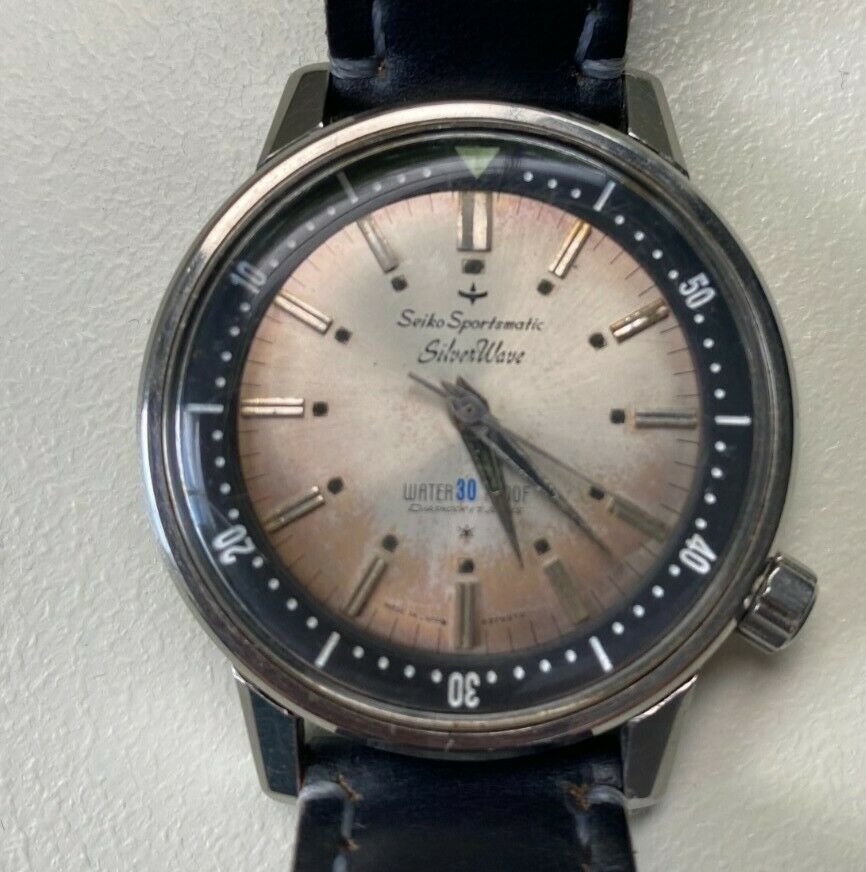 ---
Seiko 6217-8000/1 "62MAS"
The Seiko 62MAS watch was first introduced in 1965. In many ways, this model was considered the brand's true entry into the dive watch segment. Its case, with slab-style lugs, culminated a larger, thicker case for the wrist that echoed a "Sport Diver" or "Aquastar" style. That said, there were some new characteristics that Seiko would hold onto for future models. These included the strong font used on the dial and the dark-coloured bezel. With 150-meter water resistance, the wearer was granted more freedom when exploring depths underwater. For this reason, the 37mm model is considered one of the most popular vintage Seiko dive watches today. The Seiko 62MAS didn't feature a screw-down crown despite its improved water resistance when compared to the Seiko SilverWaves watches, but for a watch in good condition, you can expect to pick a model up on the pre-owned market today for around 2,500 to 3,500 USD.
---
Seiko 6217-8000/1 "62MAS"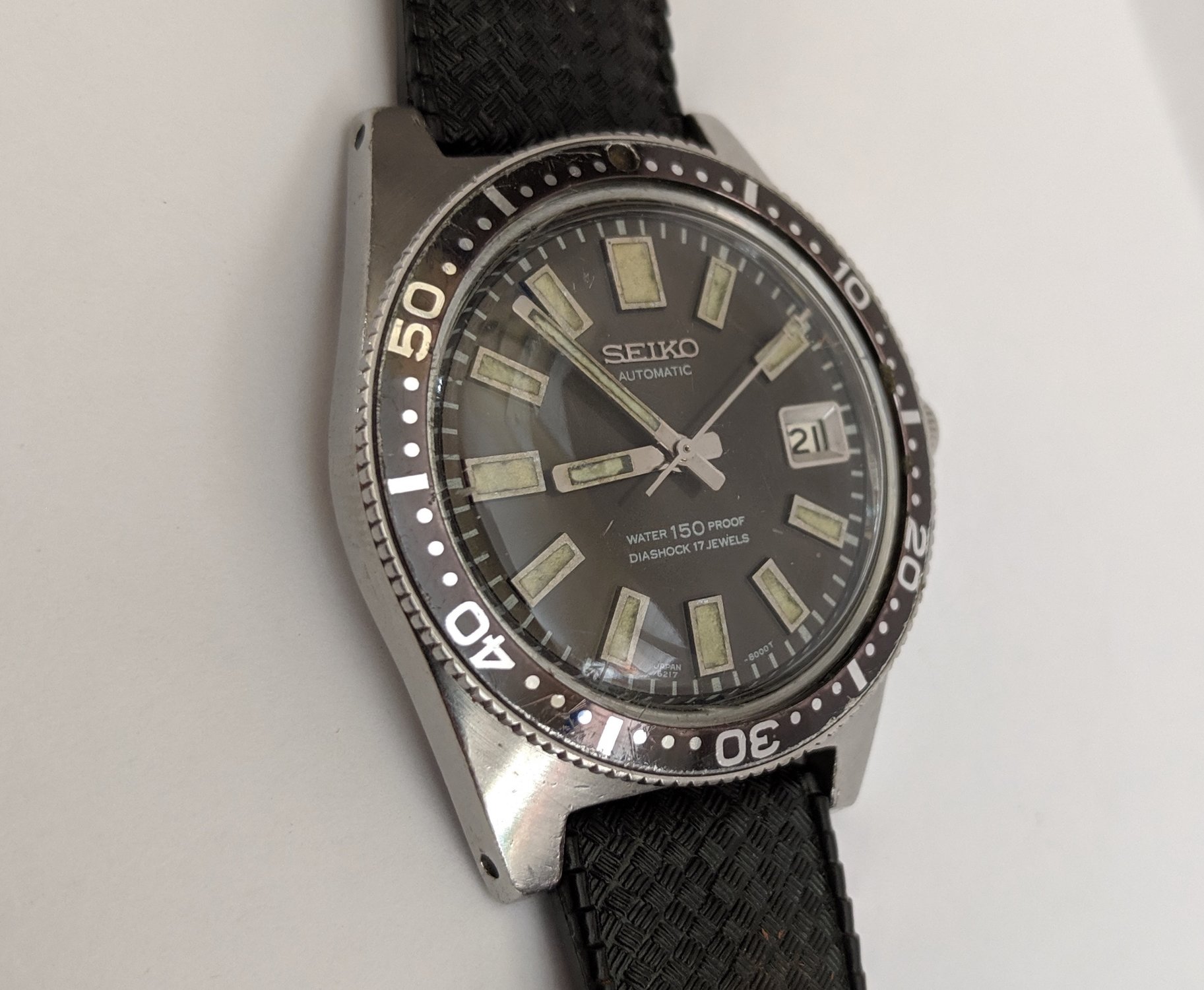 ---
Seiko 300M 6215-7000/1 and 6159-7000/1 Professionals
The Seiko 6215-7000 marked Seiko's entry into the "Professional" category. There were considerable modifications introduced between this point and the 62MAS. These vintage Seiko dive watches are fitted with screw-down crowns, a Hardlex mineral glass front and a monobloc case, as well as a quickset date feature. Clearly, Seiko had begun to consider how to improve the performance of its dive watch range in terms of convenience and ease of use. Seiko equipped its Professional dive watches with a crown at 4 o'clock. This became a hallmark that has remained a staple within the Seiko dive watch range ever since. A "stoplight" sweep second hand was also introduced, which fans have since come to love as a hallmark design. In 1968, the 6159-7000 replaced the 6215-7000/1. The transition from one to another can be seen in the Hi-Beat writing which features on the latter, signifying a movement capable of performing at 36,600 vibrations per hour. A slightly different crown, case and glass were also giveaways. Due to water-resistant issues surrounding their design, Seiko ceased production of these watches and didn't return to the Professional collection until 1974. The 6159-7000/1 Professional Seiko dive watch is a popular vintage model due to its gliding sweep second hand, many of which now sell for around 10,000 USD.
---
Seiko 300M 6215-7000/1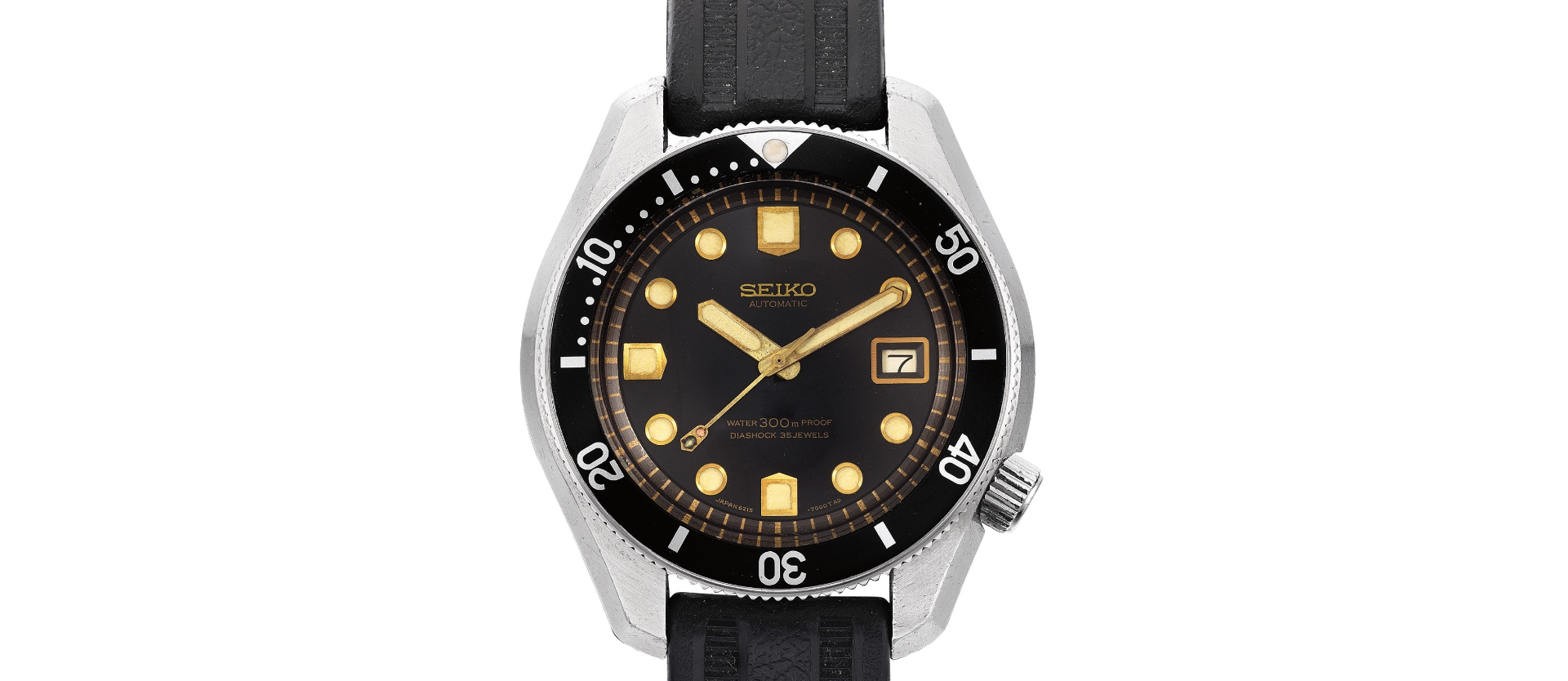 ---
6159-7000/1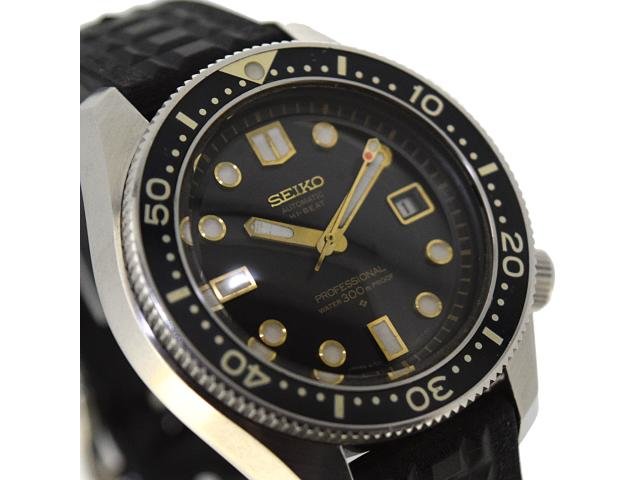 ---
Seiko 6106-8100/9 Sport Diver
Sport Divers watches by Seiko were born in the year 1968. These were the more affordably priced models from Seiko, thus deserve to be listed in this article based on popular vintage Seiko dive watches. These were water-resistant to 70 meters and offered smaller, more colourful and slimmer profiles. The 6106-8100/9 Sport Diver watches are considered a more affordable way to enter the vintage dive watch genre. Although built with inferior water-resistant capabilities compared to those manufactured for the Professional collection, they still offer the iconic Seiko dive watch DNA that is loved by those partial to a steel sports watch. These Seiko dive watches were produced up until 1970 and measured a 38mm case size that came in a variety of different dial colours including yellow, blue, silver, green, and grey. A watch today from this series can be picked up for around 500 USD compared to an original price tag of around 200 USD.
---
Seiko 6106-8100/9 Sport Diver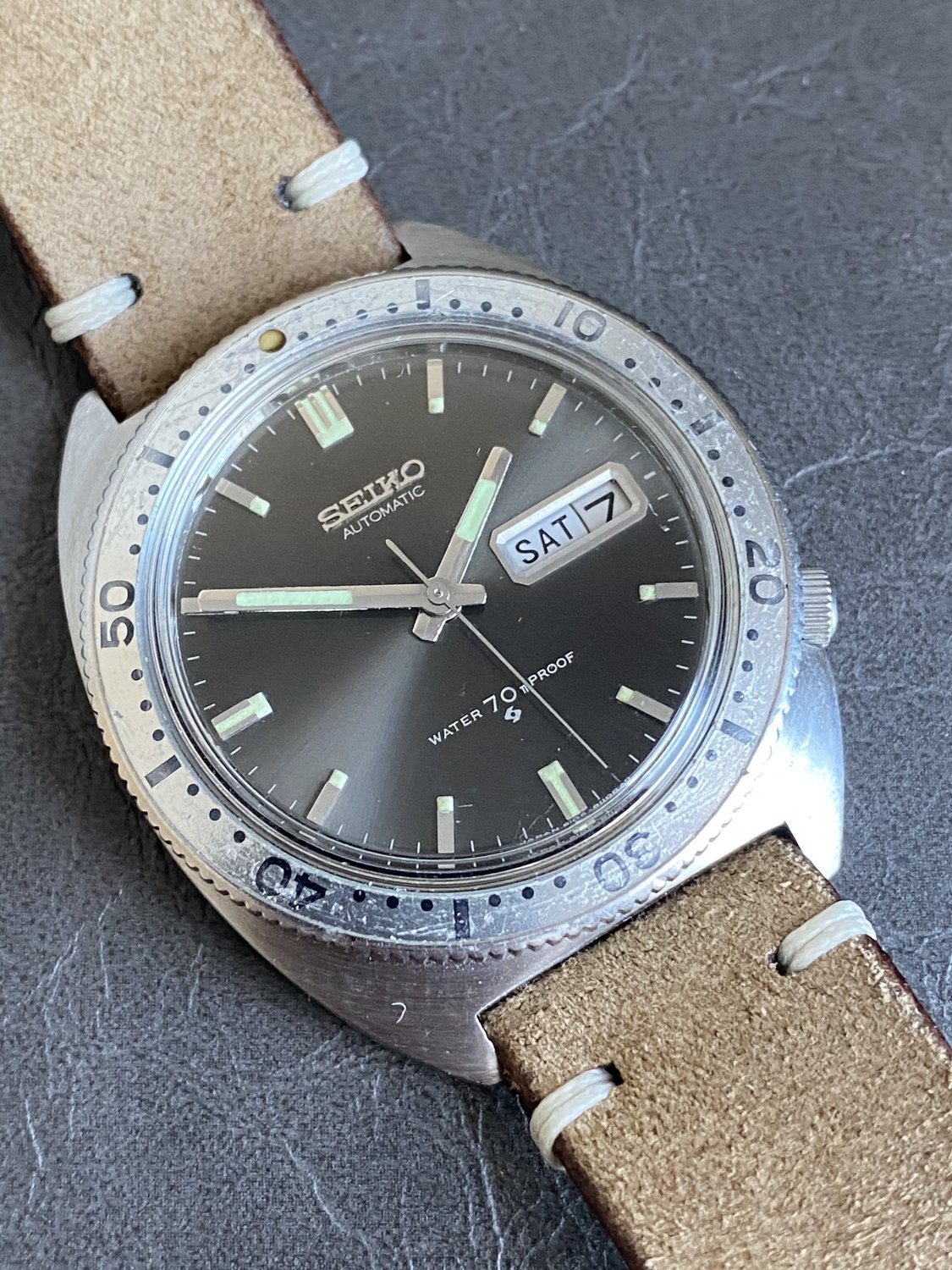 ---
Seiko 6105-8000/9
The Seiko 6105-8000/9 was the follow up to the 62MAS and boasted a stylish C-shaped case. It was introduced in 1968 by Seiko who aimed to direct the model towards recreational divers. A Hardlex glass front, signed push-in crown and stoplight seconds hand were among a few of its most popular characteristics. The 41mm vintage Seiko dive watch is low in availability on the pre-owed market since Seiko produced the watch for just a few short years. Its span of production also highlights the time where Seiko was transitioning many of its watches from water "proof" to water "resist", thus very few versions featuring the "resist/resist" (referring to both caseback and dial) are available. Today, the Seiko 6105-8000/9 can be purchased for anything between 1000 and 2000 USD.
---
Seiko 6105-8000/9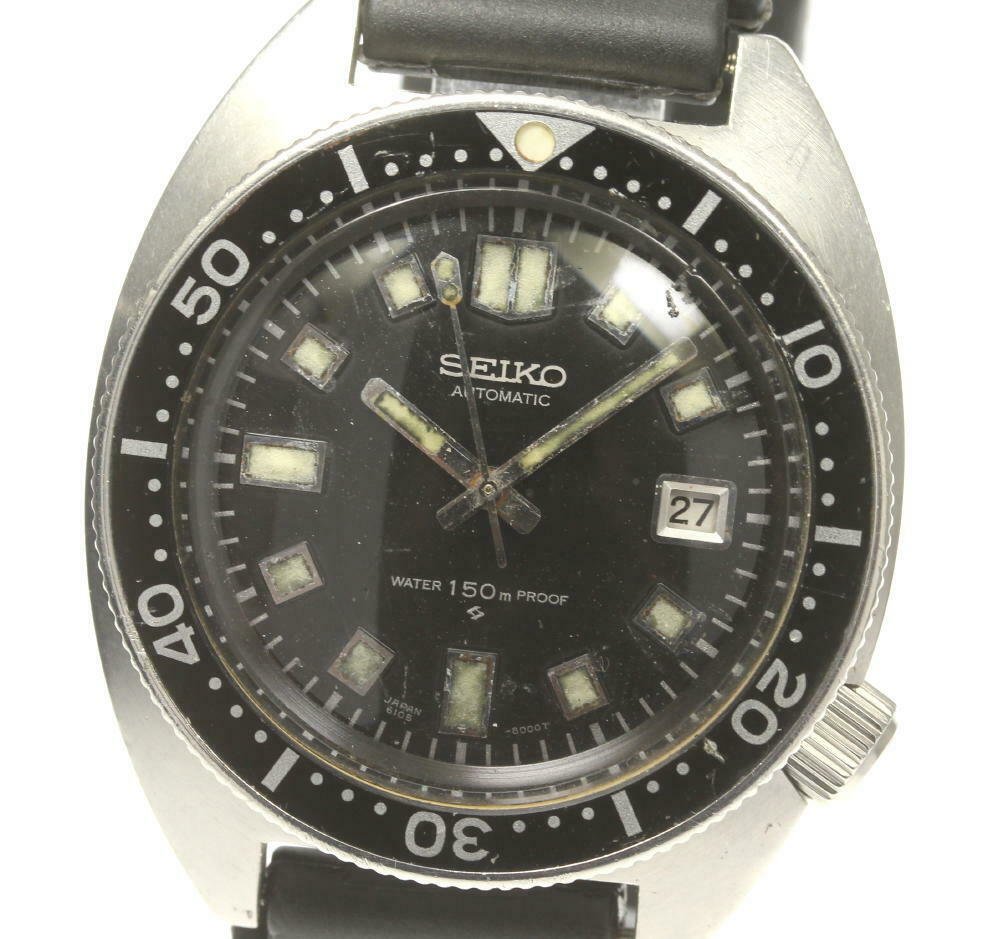 ---
Seiko 6306-7000/1, 6309-7040/9 "Turtle"
Seiko's 6306/6309 series actually replaced the discontinued "Captain Willard" models – a series of watches designed by Martin Sheen for the "Apocalypse Now" film. The Turtle-esque shape of its case became a popular characteristic that continued throughout the series thereafter. The 6306 and 6309 vintage Seiko dive watches were first introduced in the mid 1970s and many variants were produced up until 1988. The 7000 version of the Turtle was only manufactured for around a year and many from this series were only available to the Japanese market. These vintage Seiko dive watches carry a premium price tag today, some of which can cost in and around the 1000 USD territory.
---
6309-7040
---
Seiko 7549-7010 "Tuna Can"
The year 1978 marked a milestone for Seiko, with the release of its first quartz-powered movement. The 7549 Tuna Can series made for a lighter version of the brand's earlier Golden Tuna watch crafted from gold titanium nitride (a watch that was battery powered and promised a 600M water resistance). When this Golden Tuna model launched it was incredibly expensive, doubling the price of the 6159 mechanical movement, which was also released around the same time. This was quite expected for the quartz era. Back then, the price of a quartz-powered watch reflected its improved reliability and accuracy compared to a mechanical movement. The 7549-7010 Tuna Can watches, however, were 300-meter water-resistant and featured a screw-down caseback. The large 47.3mm diameter of the Tuna Can watch, despite its dominating size, was also incredibly wearable thanks to a curved Hardlex crystal glass front and a black and white aesthetic that would pair with almost anything. These Seiko Tuna Can watches were manufactured until 1985 and now cost around 500-800 USD to collect.
---
Seiko 7549-7010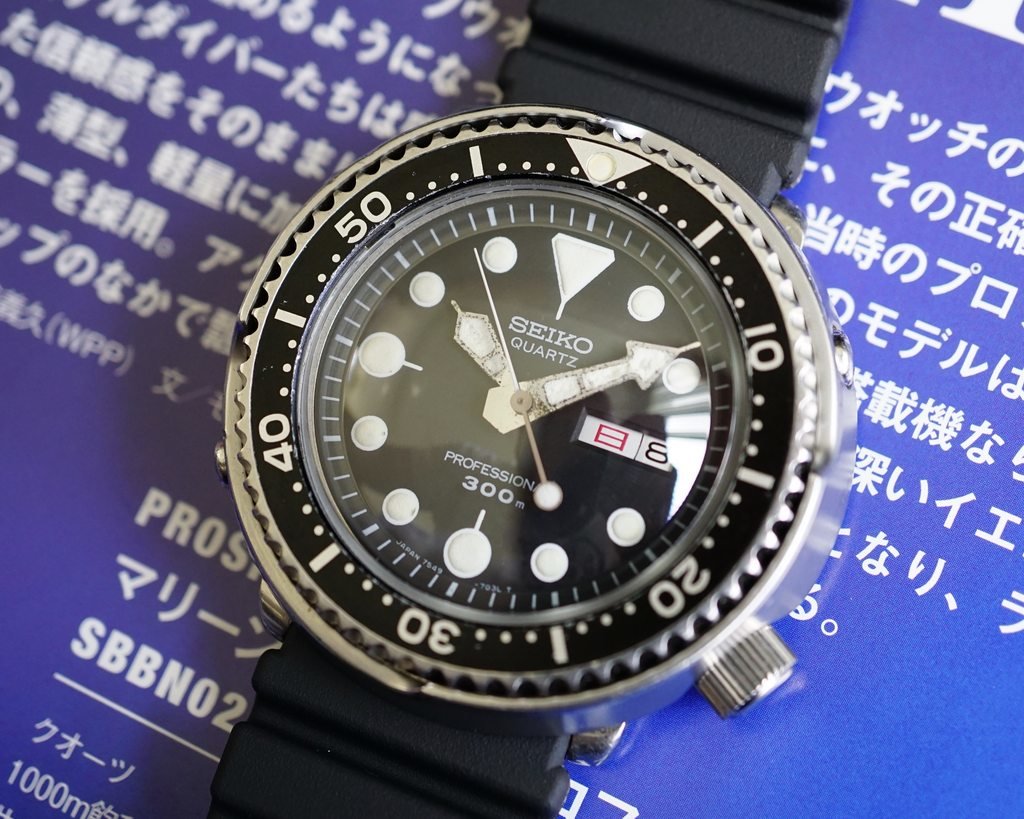 ---
Seiko 7548-7000/10/700x
The 7548 Seiko dive watches came onto the market towards the end of the 1970s and belong on this list of favourite vintage Seiko dive watches for the fact that they introduced a new case design that has proved popular ever since. Within this category is the SKX007 model – an iconic and affordably priced dive watch with a reliable 7S movement powering at its centre. The 7548 models were sized at 42mm and were made available in several dial colour variants. These models were manufactured up until the mid-1980s and can be found on the pre-owned market for anywhere between 250 and 1000 USD depending on the watch in question.
As far as popular vintage dive watches go, Seiko takes up a huge proportion of this sector on the pre-owned market. Of course, this list is not exhaustive and Seiko has produced many other variants in between the 1960s right up to present-day models. The key qualities of a Seiko dive watch, however, have remained solid and unchanged. It is this fact alone why many collectors still and always will trust a Seiko dive watch, whether new or of a bygone era.
---
Seiko 7548-7000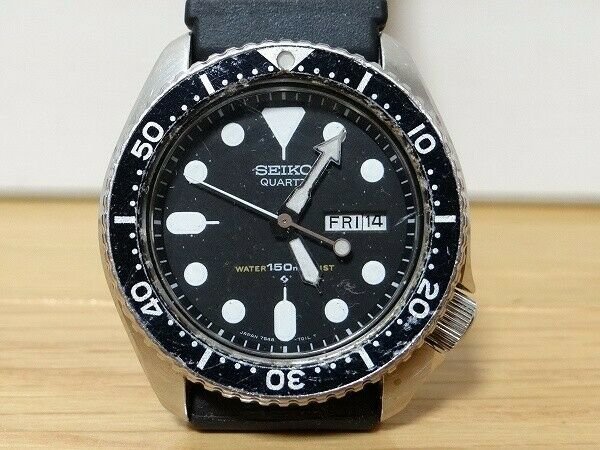 ---
We have a lot more guides to navigate your research for the perfect watch. Seiko is one of the most popular brand across its sport and elegan lines. If you are an hard-core Seiko fan you can read our Seiko SKX007 guide - one of the most popular entry diver of all times.
Subscribe our newsletter for more news related content and find our quick comparitive guides to help you decide which watch you should buy next:
---
Subscribe to our newsletter