What should you choose between Seiko or Rolex?
Whilst you would be hard-pressed to find a watch as iconic as the Rolex Submariner or the Rolex GMT-Master, it doesn't necessarily mean you have to spend a huge amount of money to acquire a timepiece that looks similar and offers a substantial level of durability and robustness. Rolex and Seiko are different brands for many reasons. Whilst Rolex was initially established in London before moving to Switzerland, Seiko has always remained in Japan. Both watch brands do, however, make all of their own watch components. But whilst Rolex sits beside some of the most expensive watches in the world, Seiko has focussed on creating affordable wristwatches that offer exceptional value for money.
History:
The proliferation of quartz, battery-powered watches dramatically changed the direction of Swiss watchmaking during the '70s. Luckily for brands like Seiko, this propelled their popularity, enabling them to supply the public with accurate yet more affordable watches as opposed to high-end in-house developed mechanical wristwatches. The brand's roots go back to 1881 where founder, Kintarō Hattori started out making clocks. When the industry returned to appreciating mechanical movements, Seiko dedicated a huge amount of time to refining the art of their Japanese automatic movements. The first Grand Seiko model was created in 1960, followed by the Seiko Diver's 150M in 1965 and the ionic Seiko 5 sports tool in 1969.
Rolex was founded in 1905 by Hand Wilsdorf who turned his dream of creating highly accurate, stylish wristwatches into reality from an early age. It took the brand 4 years before it created an automatic movement that was certified by the Swiss Certificate of Chronometric Precision. The manufacturer then moved premises from London to Switzerland. The world's first waterproof watch was created by Rolex in 1926, a few years before the Datejust in 1945 – the first automatic movement to feature a date.
Most popular Seiko models:
Seiko Prospex Land:
Building upon the hardiness of this line's prestigious timepieces, the Seiko Prospex Land Series Compass Watch ref SRPD31K1 has a compass integrated into its design, as well as 200-meter water resistance, an automatic Japanese movement and a legible day-date feature to enhance its outdoor, sporty aesthetic. The crown protector and luminous Arabic numerals are two additional defining features of this watch. Watches from the Prospex Land collection are perfect for sports lovers and adventure seekers.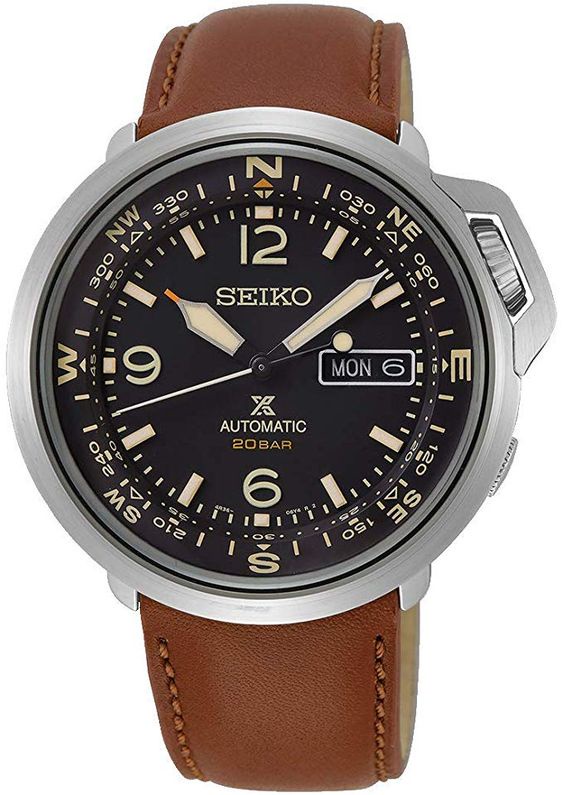 Seiko Prospex
Reference: SRPD31K1

Functions: Date
Case Diameter: 43mm

Power Reserve: 41 hours
Winding: Automatic
Case Material: Steel

Water Resistance: 20 ATM
Strap/Bracelet: Leather
Dial Colour: Black
Crystal: Mineral Glass
---
Seiko Astron:
Seiko Astron models are solar-powered. Fitted with GPS-assisted time adjustment, they feature a cleverly disguised GPS antenna that gathers signal information from at least 4 GPS satellites. Models like the Seiko SSH011J1
have a perpetual calendar correct to the year 2100 and boast 39 time zones, as well as a daylight saving time function and a power-saving function.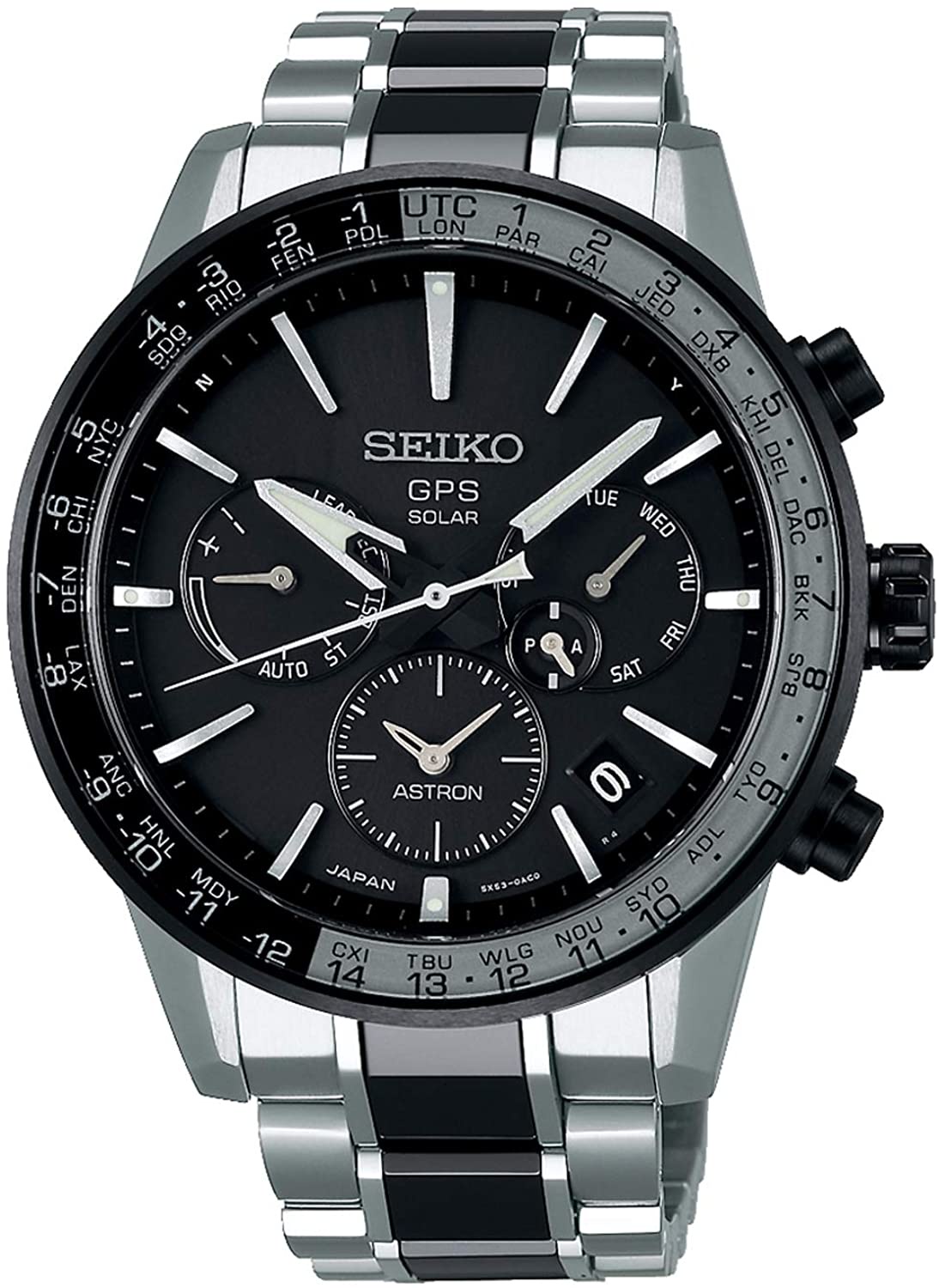 Seiko Astron GPS Solar
Reference: SSH011J1

Functions: Date, Perpetual calendar, Luminous hands, Luminous indices, World time watch, Solar watch
Case Diameter: 43.5 mm
Case Thickness: 13.3 mm
Winding: Manual
Case Material: Titanium

Water Resistance: 10 ATM
Strap/Bracelet: Titanium
Dial Colour: Black
Crystal: Sapphire crystal
---
Seiko Prospex Dive:
The Seiko Prospex Dive collection is home to a line of rugged, sea-ready timepieces equipped with bold rotating bezels and chunky hands against luminous, legible dials. Similar to Rolex the watches feature a sapphire crystal glass lens and a stainless-steel bracelet with a screw-down crown. Models like the SLA023 are water-resistant to 300 meters, like the Submariner. This watch is also equipped with a 50-hour power reserve. Its mechanical movement is less accurate than the Submariner's 3135 caliber, however, for the price tag, the Seiko Prospex Diver makes for a great diver's tool.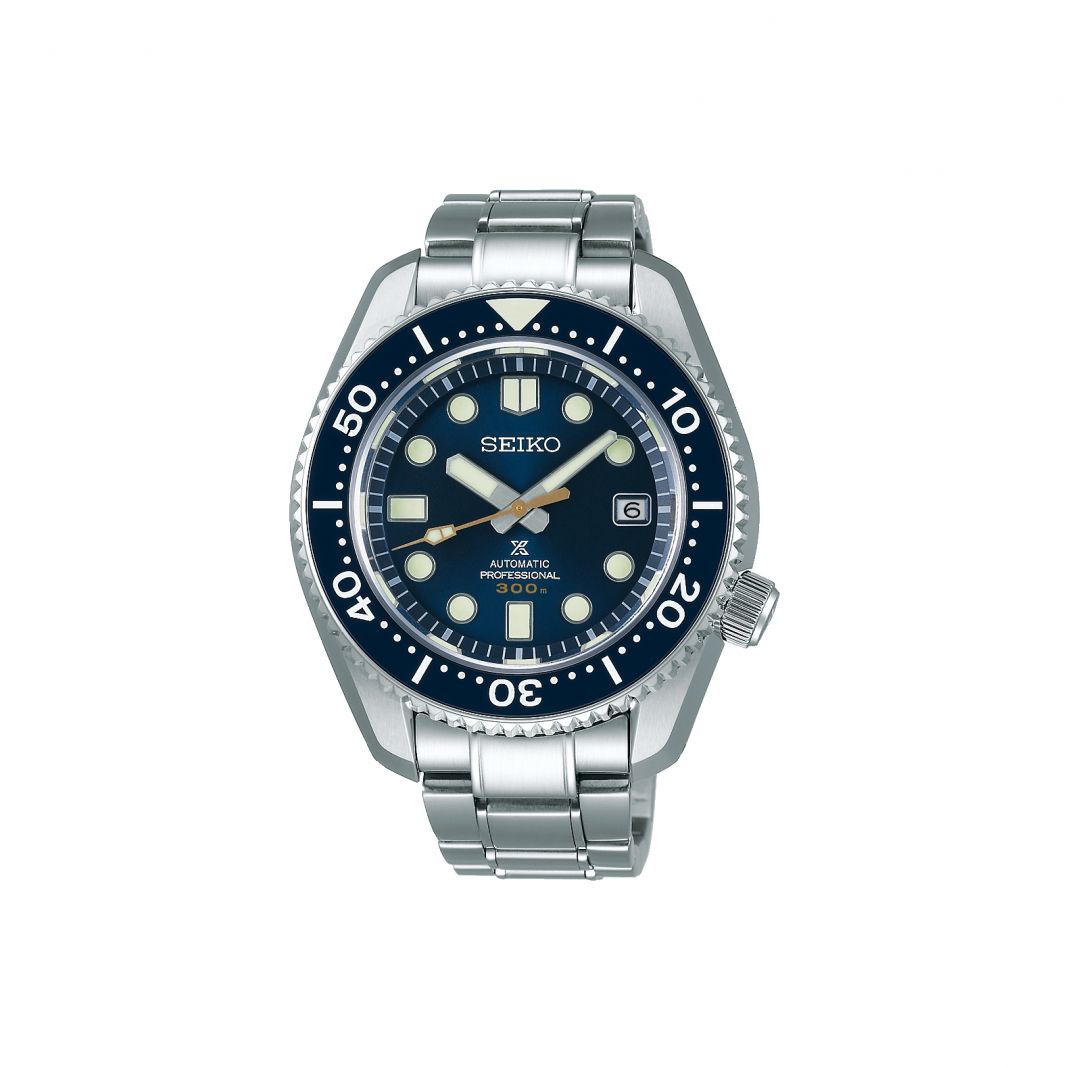 Seiko Prospex Professional 300M
Reference: SLA023J1
Caliber: Seiko cal. 8L35
Caliber Detail: Marinemaster
Functions: Date, Central seconds, Luminous hands, Rotating Bezel, Screw-Down Crown
Case Diameter: 44.3 mm
Case Thickness: 15.4 mm
Power Reserve: 50 hours
Winding: Automatic
Case Material: Steel

Jewels: 26
Water Resistance: 30 ATM
Strap/Bracelet: Steel
Dial Colour: Blue
Crystal: Sapphire crystal
---
Popular Rolex collections:
Rolex Explorer:
Just as Seiko's Prospex collection is geared towards daring swimmers and sports lovers, the Rolex Explorer collection is tailored towards the adventure seeker albeit with a simpler dial. The Rolex Explorer models are lower priced compared to the likes of the Submariner (which has a huge cult-like following). Still, high-end steel sports watches are highly collectible. Rolex Explorer watches like the 214270 are reliable outdoor watches with a legible dial, an in-house movement, and a 100-meter water resistance.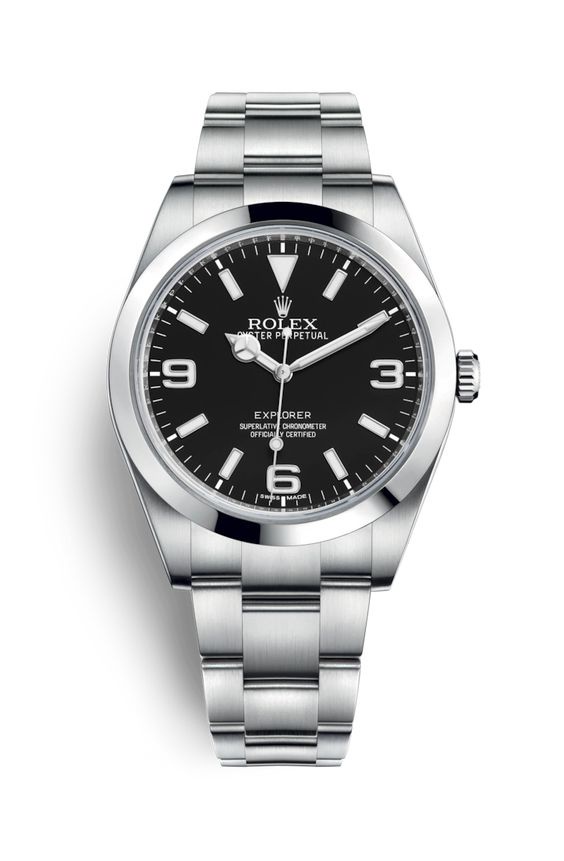 Rolex Explorer
Reference: 214270
Caliber: 3132

Case Diameter: 39mm

Power Reserve: 48 hours
Winding: Manual (Self-winding)
Case Material: Steel

Jewels: 31
Water Resistance: 10 ATM
Strap/Bracelet: Steel
Dial Colour: Black
Crystal: Sapphire crystal
---
Rolex GMT-Master II
Compared to the Seiko Astron with a dual time zone feature, the Rolex GMT-Master II is perfect for you if you're a frequent traveler who wants to get about from A to B in ultimate style. The watches from the collection include highly sought-after collectibles like the Pepsi GMT model and the Batman GMT model, featuring color-contrasting bezels that differentiate between day and night. A rotating 24-hour bezel is accompanied by an arrow-tipped hand on the main dial for quick and effortless timekeeping.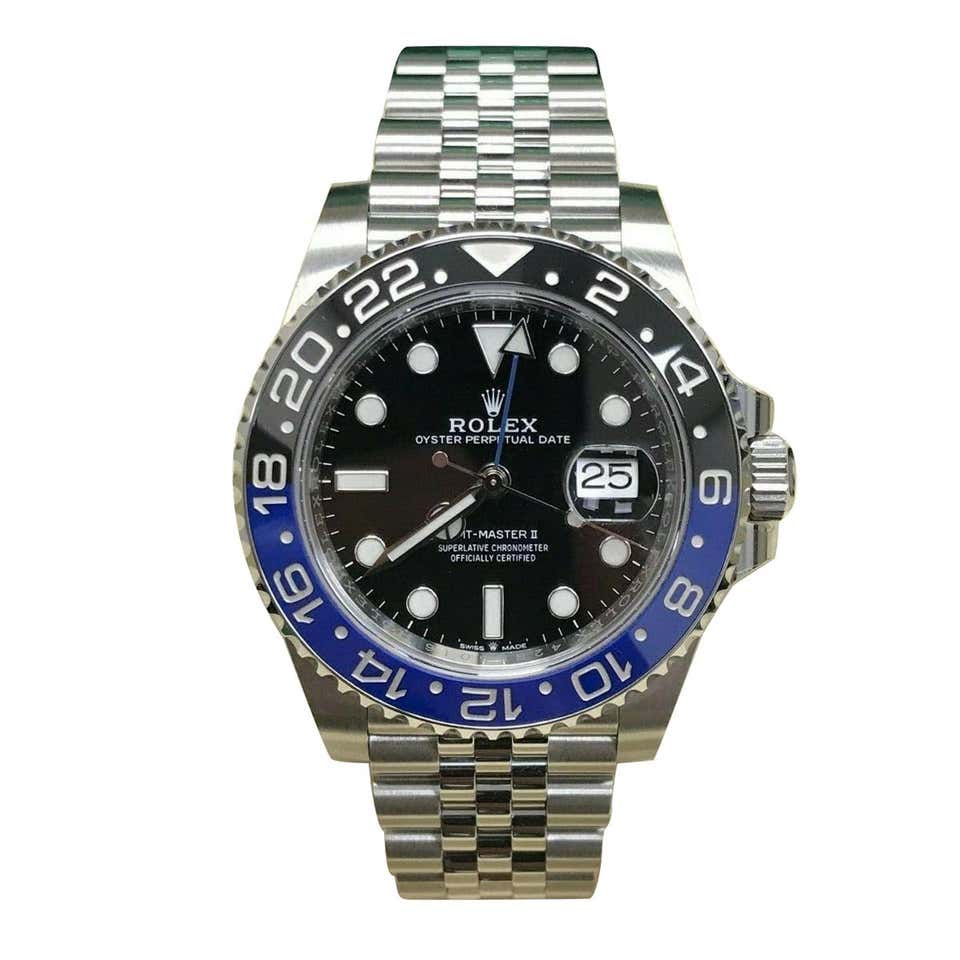 Rolex GMT Master II
Reference: 126710BLNR
Caliber: 3285.

Functions: Date.
Case Diameter: 40mm

Power Reserve: 70 hours
Winding: Automatic
Case Material: Steel

Water Resistance: 10 ATM
Strap/Bracelet: Steel
Dial Colour: Black
Crystal: Sapphire crystal
---
Rolex Submariner:
The Submariner is probably the most recognizable watch from Rolex's entire portfolio. It offers you as the diver, several innovative features like a unidirectional rotating bezel that can only reduce dive time (never extend it) should you accidentally knock it whilst underwater. The classic black dial with a matching black Cerachrom ceramic bezel is a desirable look, yet collectible models like the Hulk and Kermit Submariner models have appreciated greatly on the pre-owned.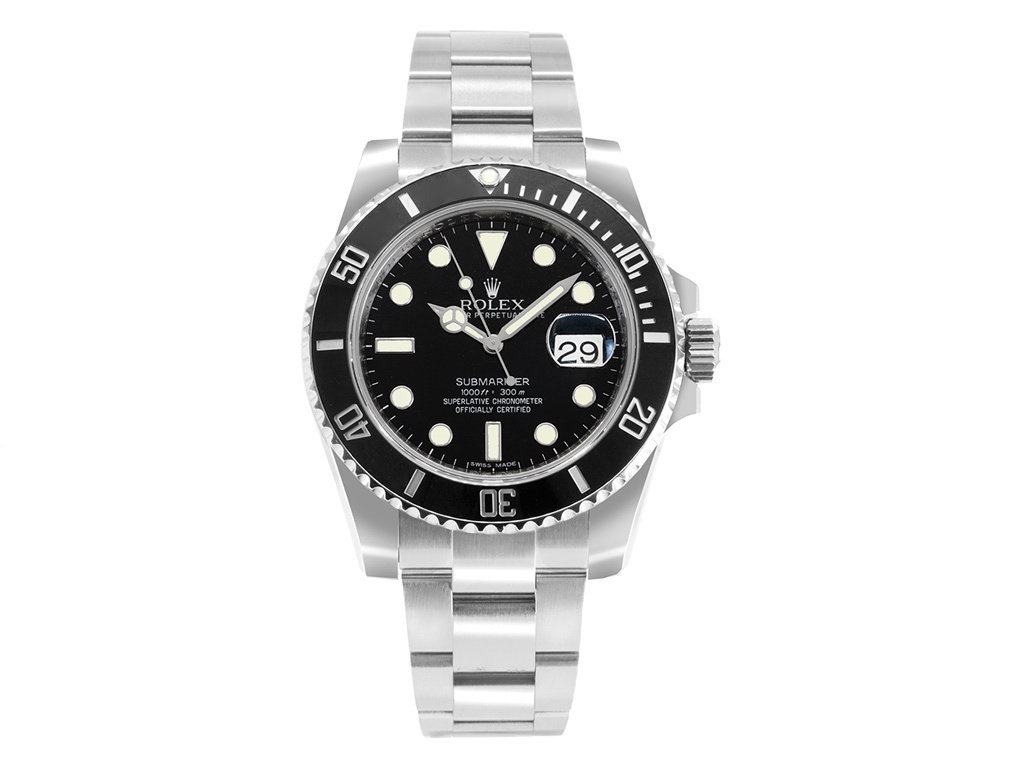 Rolex Submariner Date
Reference: 116610LN
Caliber: 3135
Caliber Detail: cal. 3135
Functions: Quick Set
Case Diameter: 40mm

Power Reserve: 48 hours
Winding: Automatic
Case Material: Steel

Jewels: 31
Water Resistance: 30 ATM
Strap/Bracelet: Steel
Dial Colour: Black
Crystal: Sapphire crystal
---
Prices:
The price point of a Seiko watch compared to a Rolex watches is probably the largest difference that sets these two brands apart. Seiko watches make for great affordable wristwatches. The brand's huge catalog spans a price range that starts at around 100 dollars, stretching up to thousands for models in the Grand Seiko collection. You can pick up a Seiko Prospex chronograph for as little as 200 dollars, but for diver's watches with a GMT function, expect to pay a couple of hundred dollars more. Top-end Prospex Diver models reach up to around $3500 for models like the Prospex Marine Master Professional 1000m.
Rolex watches like the Submariner and Daytona models appreciate on the second-hand market. You can purchase a new Submariner for around $7-9000 depending on the model and whether it features a date aperture or not. The Rolex Sea-Dweller offers a greater water resistance than the Submariner, reflected in its price tag of around $14,000. Dressier watches like the Day-Date feature at the top end of the ladder.
Conclusion:
The decision between whether you're a Rolex fan or a Seiko fan should be pretty easy to make since the companies are vastly different in terms of their price point. With that considered, however, it's not uncommon for a Rolex collector to own a cheaper everyday-wristwatch from a manufacturer like Seiko. They can promise incredible robustness and reliability for an affordable price. On the other hand, if you can afford a Rolex watch, why would you not wear it every day? Seiko has some decent dive watches, outdoor sports watches and classic timepieces on offer that can all be enjoyed at a fraction of the price of a Rolex watch. But if investing in a watch is all about wearing a status symbol, there is only one prestigious company making watches of such an exquisite standard.