The Seiko 5 Sport watch collection
Japanese watch manufacturer, Seiko is a globally-renowned innovator of both quartz and mechanical watches and has remained at the forefront of the watch industry for decades. The manufacturer produces all of its components in house and offers a mix of everything in its catalogue, from classic three-handed dress watches to chronographs to the more complicated timepieces like minute repeaters. Over the years Seiko has contributed vastly to the field of affordable dive watches and sports watches – the latter of which is covered by the Seiko 5 Sports collection.
The Seiko 5 Sports watch collection is home to a range of affordably priced water-resistant wristwatches with automatic movements. The fact that a Seiko 5 Sport watch is so reasonably priced and water-resistant makes it an ideal choice for everyday use, as well as a companion for those who consider themselves more outdoorsy than the average individual. Even more popular are the dive-inspired watches and pilot-inspired watches from this same collection.
---
An overview of the Seiko 5 Sport watch collection
The Seiko 5 Sport watch collection was born in the 1960s and became instantly recognisable for its line of durable designs powered by robust movements. One common complication often seen throughout the collection is the 3 o'clock day-date. Many models also feature a rotatable bezel, a minute scale and a water resistance of 100 meters, making them suitable for a whole host of water-related activities such as swimming, snorkelling and sailing to name but a few.
In 2019, Seiko revised the 5 Sport watch collection and split these new offerings into sub-categories named Sports, Suits, Specialist, Street and Sense. Although some of the designs within these categories offer rose gold-coated aesthetics and black coloured hard-coatings - all models are crafted from stainless steel. These new iterations also share the same case size of 42.5mm and have been topped with a Hardlex crystal front. The metallic green, black, yellow blue, red and orange models from the Sports sub-category carry the motto "go beyond the norm" and are powered by the Calibre 4R36, which produces an impressive 21,600 vibrations per hour and delivers a 40-hour power reserve.
The Suits sub-category of the Seiko 5 Sport watch collection offers a casual dressy look that pairs well with everything from a tux to a professional suit to jeans and a smart shirt. An olive-green and dark blue coloured dial make for two interesting alternatives to the classic black and silver configuration of the iconic steel sports watch. What's more, these coloured dials complement the sand-coloured luminescent material used on the indexes and hands of these models.
The Seiko 5 Sport Specialist watches carry some of the Prospex DNA forward into this new sub-category. Finished on silicon straps with leather elements integrated into the band design, these models are where the rose gold-coated cases and black hardened cases really come into play, suggesting a nod towards higher-end finishes (albeit with a price tag that remains remarkably affordable and true to the rest of the Seko 5 Sport watch collection).
The Street style Seiko 5 Sport watch is resolutely youthful and playful. Some of the models from this category boast a dynamic all-black case and a nylon strap to match. To offer superior legibility during the day, the hands and hour markers are represented in electric blue and red colours.
Lastly, Seiko 5 Sport Sense watches boast autumnal colours and deep entrancing green coloured dials richly inspired by natural elements. Textured dials bring a sense of depth to each model and these dials are framed by matching coloured bezels and coordinated straps. As a whole, the newer Seiko 5 Sport watches open up a gateway into a decidedly more vibrant and dynamic range of steel sports watches. That said, there are still several former models that make for a great value-for-money proposition on the market.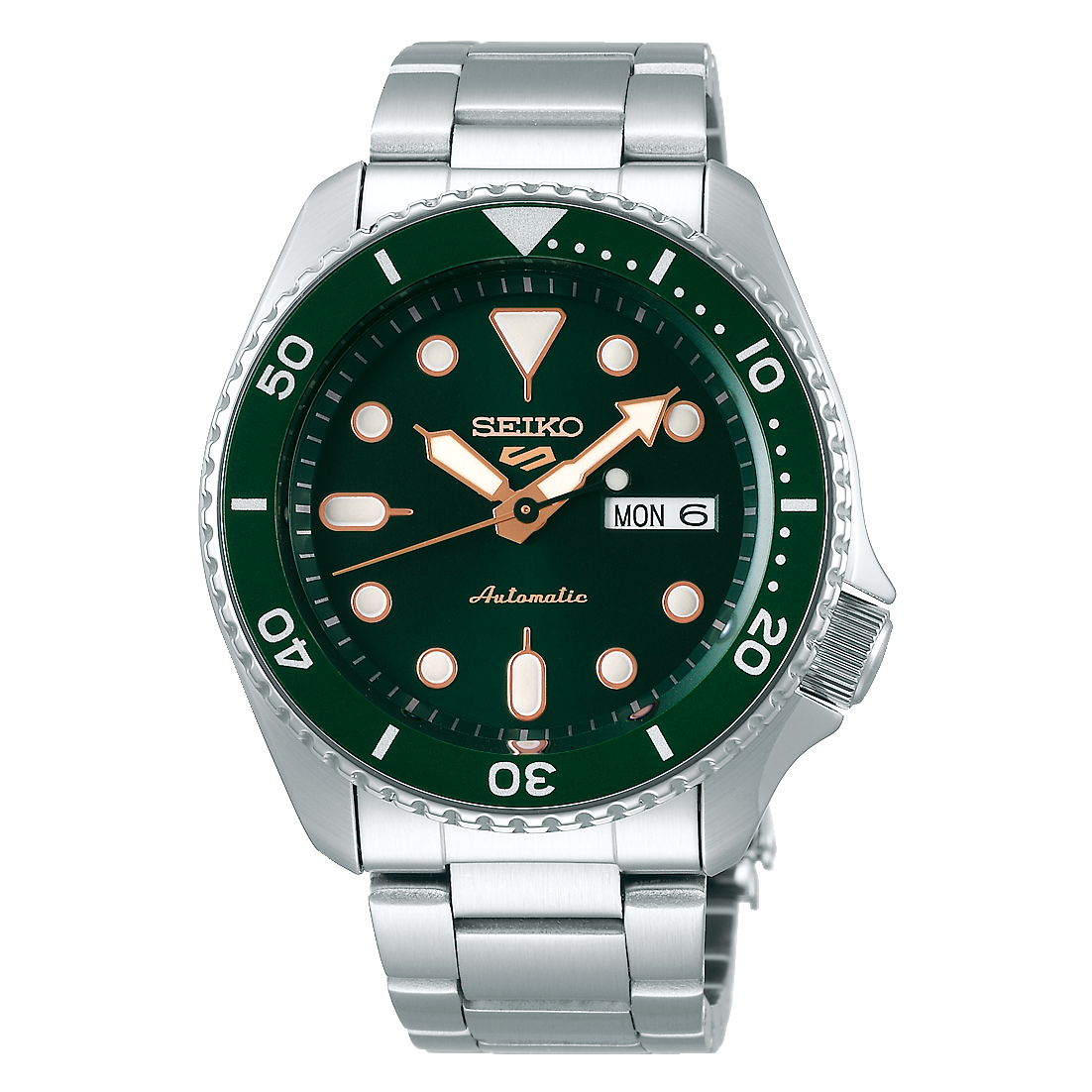 ---
Military-inspired Seiko 5 Sport watches
The classic-looking Seiko 5 Sport watches are considered highly fashionable. The Japanese manufacturer offers the Seiko 5 Sport Military, powered by an automatic movement and offering a very affordable price tag. These are regarded a perfect entry-point into the pilot watch category and can cost as little as 80 euros, such as the ref: SNK809. We've gone into a little more detail on this model further on in this article. The watch measures a very compact 37mm diameter and is powered by the tried and tested Seiko Calibre 7S26. Other popular models from the Seiko 5 Sport Military watch collection include the ref: SRP513, with stencil numerals that resemble high-end instruments like the Breitling Avenger Hurricane.
---
Vintage-looking Seiko 5 Sport watches
Retro-inspired Seiko 5 Sport watches are incredibly popular, in particular those with oval-shaped cases such as the SRPB15 and the SRPA89 models. The designs of these watches recall Seiko watches from the 1970s. Models belonging to this category of Seiko 5 Sport watches can normally cost around 200 euros. Direct models from the 1970s and 1960s, however, cost considerably more. Expect to part with anywhere around the region of 500 – 1,300 euros for an authentic vintage Seiko 5 Sport watch. Although collecting modern vintage-inspired Seiko watches is more affordable, many faithful collectors would argue that nothing beats owning a true timepiece from this lucrative era for the Seiko 5 Sport collection.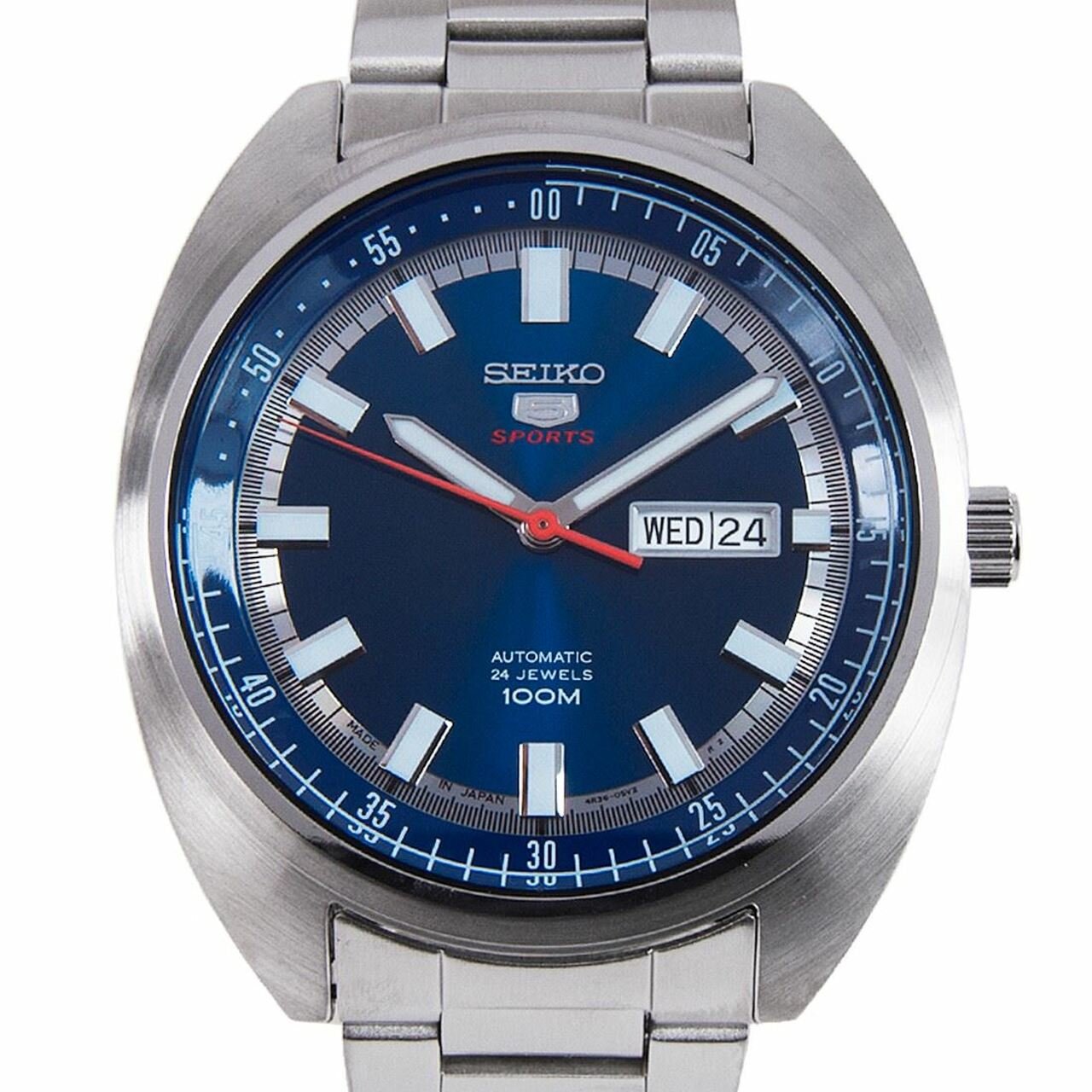 ---
How much do Seiko 5 Sport watches cost?
Like any renowned watch collection, the prices of watches within different sub-categories can vary from affordable to higher-priced models depending on their popularity, materials or features. Today, a Seiko 5 Sport watch can be purchased for around 150 euros such as the ref: SNZG15. This price will get you a pilot-inspired watch with a black dial and classic white Lumibrite-coated Arabic numeral hour markers, a day-date feature at the third hour location, a robust 100-meter water-resistant stainless steel case and a mineral glass top, completed with a nylon strap. For a fraction more, you can opt for the stainless steel bracelet option, which goes by the ref: SNZG13. With a slightly more professional look, the benefit of the metal bracelet enables it to pair easily with more professional attire. This option features a compact and comfortable 41mm diameter and features a see-through caseback allowing you to admire the workings of an automatic movement capable of providing a 41-hour power reserve. Also, within the same 140-150 euro price bracket, you can purchase a dive-inspired watch from the Seiko 5 Sport watch collection. Of course, for a purpose-designed dive-watch with better water-resistant capabilities, you can spend a little more and choose from the Seiko Prospex collection.
---
Popular Seiko 5 Sport watches
---
SNZF17
The Seiko 5 Sport ref: SNZF17 is easily one of the most popular models from the collection. With an impressive build quality, a black dial and a steel casing, the watch named the Seiko "Sea Urchin" offers everything desirable in a steel sports watch. Its 41mm brushed and satin-finished case is home to the automatic Calibre 7S36 movement – a sturdy, desirable and durable movement, equipped with 23 jewels and an impressive power reserve of 41 hours. The round and rectangular-shaped indexes on the dial have been treated with luminous material and are framed by a black 60-minute unidirectional rotating bezel for effortless measuring of elapsed time whether underwater or on dry land.
---
SNK809
The Seiko 5 Sport watch ref: SNK809 is one of the most popular collectables that Seiko has ever designed. It features a black dial with an outer ring for minutes and an inner ring for hours. The central second hand has been tipped in red for enhanced legibility and the day-date resides once again in its usual position of 3 o'clock. Powered by the same Calibre 7S26 movement, the hands are propelled around a clear and easy-to-read dial framed by an unadorned steel bezel. The silver-toned hands are treated with luminous material that makes timekeeping easy at night. The design of the Seiko ref: SNK809 is completed with a 4 o'clock crown, a see-through caseback and the choice to switch the strap from a black canvas band to a leather one.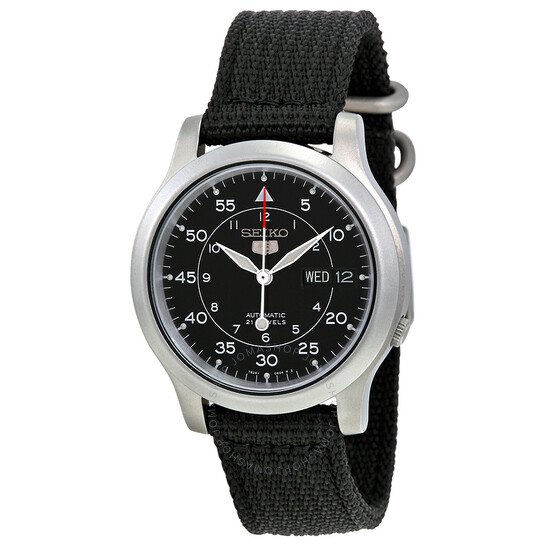 ---
SNZF15
The Seiko 5 Sport watch ref: SNZF15 is a "Pepsi" version of the SNZF17 and comes with a red and blue unidirectional rotating bezel with a 60-minute scale that can be used to measure elapsed time safely and effectively. The 41.5mm SNZF15 Sea Urchin watch is water-resistant to 100-meters and offers the same functions and features as the SNZF17 albeit with this sporty and eye-catching colourway for the wrist. The stainless steel bracelet which secures with a robust folding clasp finishes the instantly recognisable look of the Seiko 5 Sport watch family.
---
SRP513
Lastly, to round off this guide to the Seiko 5 Sport watch collection, this article wouldn't be complete without mentioning the model ref: SRP513. The Military Seiko 5 watch offers a slightly larger case diameter of 42mm and comes equipped with 100-meter water resistance and a screw-down crown. Dial features include minutes, seconds, hours, day and a date. The chunky central hour and minute hands and Arabic numeral hour tack have been treated with luminescence and protected underneath a Hardlex crystal glass front. Thanks to its classic black and white dial and rugged stainless steel bracelet - this is a Seiko 5 Sport watch that is still hugely sought-after for its wearability and its affordable price tag, leveraged by a reliable and robust automatic movement.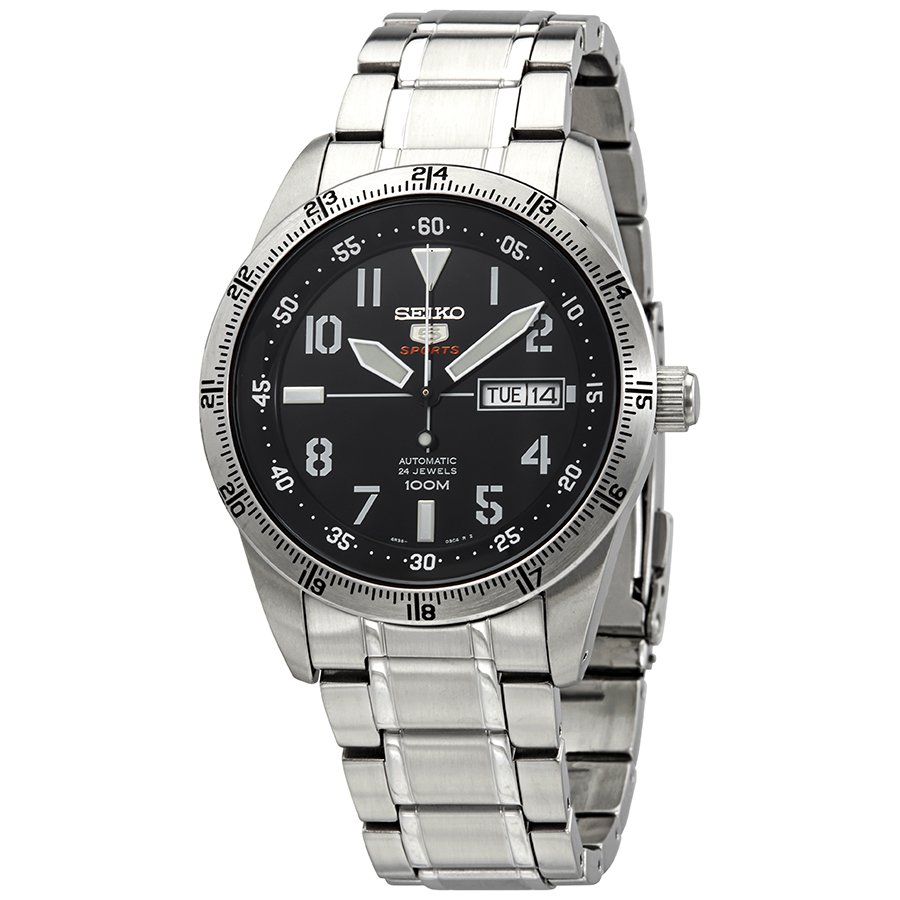 ---
We have a lot more guides to navigate your research for the perfect watch. From discovering which Rolex hold their value to our guide to all all Rolex Nicknames. If you are an hard-core Seiko fan you can read our Seiko SKX007 guide - one of the most popular entry diver of all times.
Subscribe our newsletter for more news related content and find our quick comparitive guides to help you decide which watch you should buy next:
---
Subscribe to our newsletter