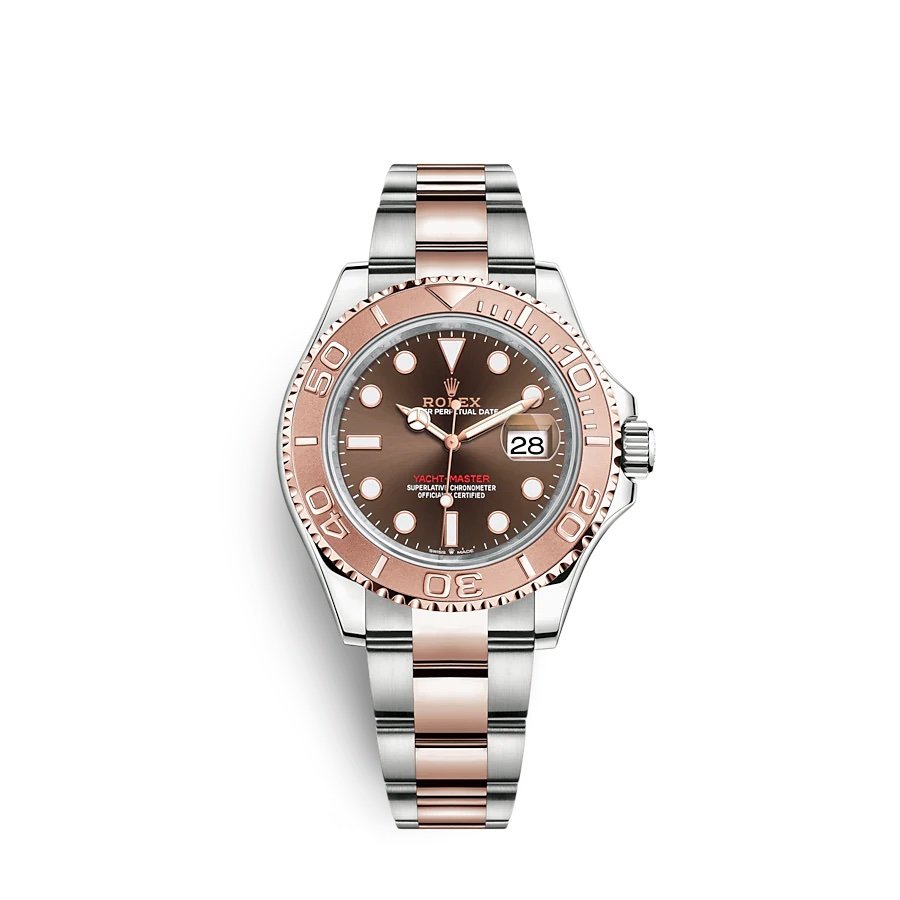 A guide to the Rolex Yacht-Master
The evolution of the luxury brand's classic sports watch has extended beyond imaginable parallels, offering the avid collector various choices in bracelet style, bezel material and case size over three entire decades. As such, the Yacht-Master continues to prove itself a valuable and dependable mainstay within the manufacturer's current catalogue, despite many models having become discontinued over the years. To define the Yacht-Master by Rolex, one would categorize it as a luxury sports watch, yet the collection can be broken down into two watches that remain incredibly similar to one another, despite a slightly different name.
---
. One is the Yacht-Master - a watch that can be considered the original sports model designed by Rolex, intended for setting sail with and enjoying whilst sailing aboard a luxury yacht. The Yacht-Master II, however, is designed for more precise functionality. Equipped with all the technology to enable an individual to record regatta timings, this younger distinction of the model is classified as a watch for racing a yacht as opposed to enjoying alongside a ride on one.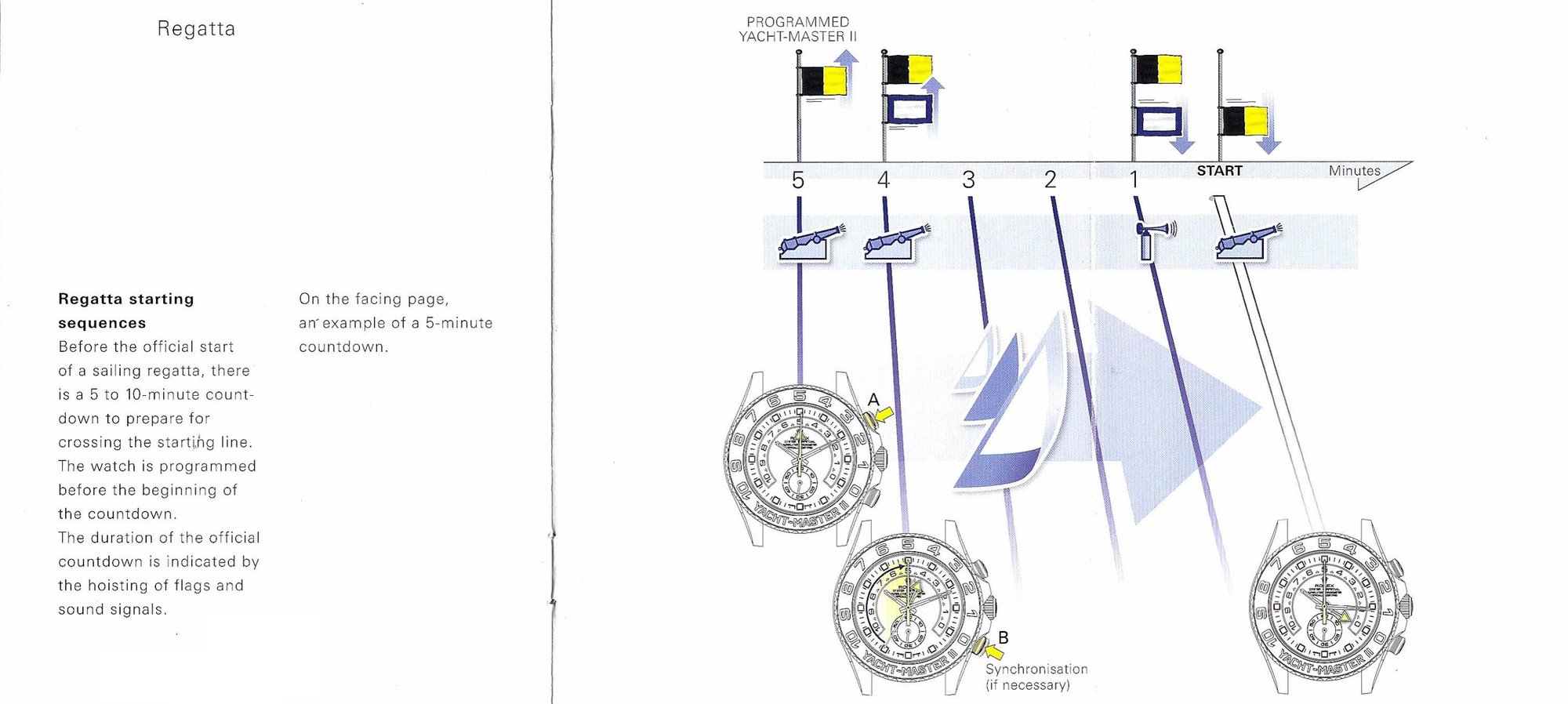 ---
Whether wearing a Rolex Yacht-Master for aesthetical or practical reasons, however, its sleek looks and refined qualities are characteristics that are sought after far and wide amongst Rolex fans. Like with every Rolex, however, there are some factors to research and consider before investing in your very first Yacht-Master and these include pricing, history and features amongst many others.
---
What are the differences between the Yacht-Master and Yacht-Master II?
To break down the key differences between the Rolex Yacht-Master and the Rolex Yacht-Master II, here are a few quick facts. The Yacht-Master is available in sizes of 29mm, 35mm, 37mm, 40mm and 42mm and is manufactured in Rolesium, Everose Rolesor, yellow gold Rolesor, solid 18ct yellow gold, solid 18ct white gold and 18ct Everose gold. The watch offers running hours, minutes and seconds and features a date function at 3 o'clock. A bidirectional rotating bezel has a 60-minute scale upon its surface and each model promises a water resistance of 100 meters. The models are offered on an Oyster bracelet or Oysterflex bracelet. The Rolex Yacht-Master II, however, is available in a 44mm size and is offered in a solid stainless steel version, as well as Everose Rolesor, 18ct yellow gold and 18ct white gold. Function-wise, the models offer running seconds with an adjustable countdown timer with a mechanical memory. The watch also features a ring command bezel, along with 100-meter water resistance and is fitted on an Oyster bracelet.
---
A brief history of the Rolex Yacht-Master watch collection
A brief history of both the Rolex Yacht-Master and Yacht-Master II watches is beneficial before investing in a model from this range. Though not introduced until 1992, the Rolex Yacht-Master watch had foundations secured for its release much earlier than that. The brand had partnered with the New York Yacht Club back in 1958, laying down the roots to its heritage in sailing long before the iconic sports watch was conceptualized. By this point, Rolex had ready developed its first waterproof watch thanks to the 1926 Oyster case.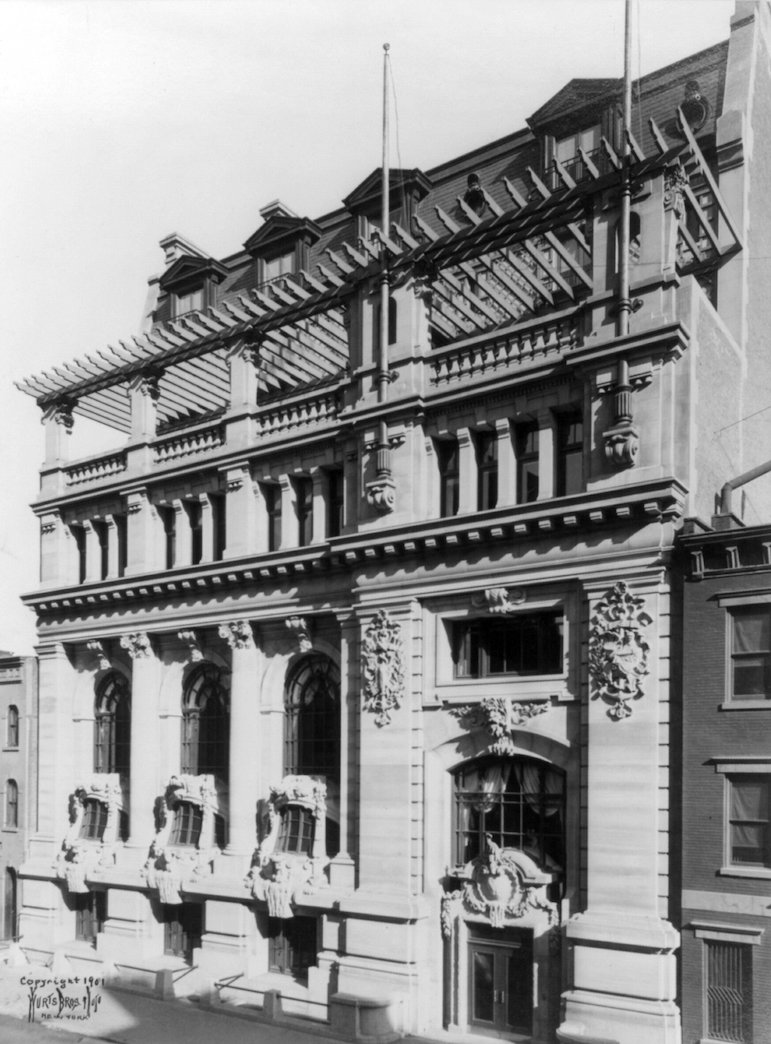 ---
In 1966, the Gipsy Moth IV yacht was sailed 29,600 miles around the world by Francis Chichester, who wore a Rolex on his wrist amongst very few other measuring tools including a sextant and nautical chart. Thanks to the Rolex Oyster Perpetual watch he wore during his journey, time could be tracked amongst rough conditions for an entire 226 days whilst at sea. It put Rolex officially on the radar of seafarers as a manufacturer capable of producing robust and reliable tools for facing the challenging conditions experienced at sea.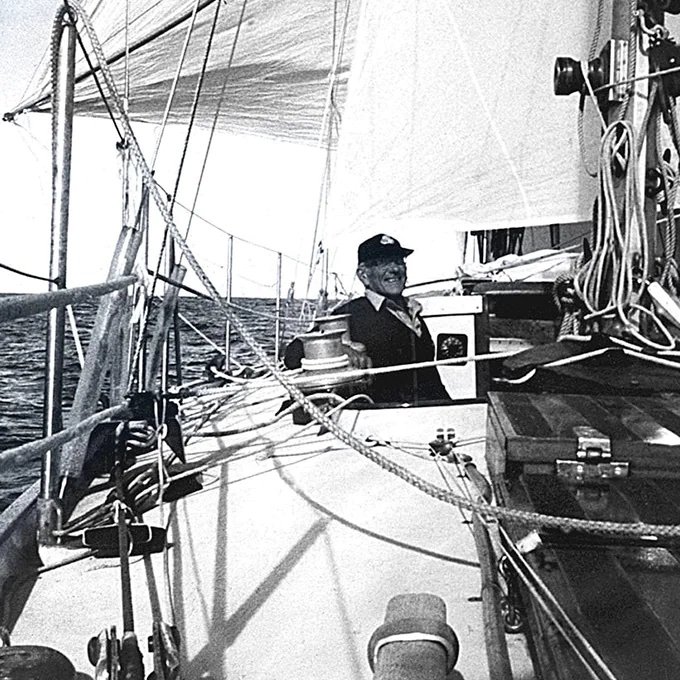 ---
In 1992 the world's first official Rolex Oyster Perpetual Yacht-Master was released and was crafted entirely from 18ct yellow gold, cementing its status as a luxury tool watch. Over the next 15 years, Rolex would experiment with various case materials until in 2007, the first Yacht-Master II was born. Sportsmen could utilize this tool watch whilst regatta racing – its chronograph features stood out clearly and legibly across the surface of the dial. A programmable countdown timer enabled the individual to measure the countdown time before a race commences for improved precision and a better start to the competition. With flyback and fly-forward functionality, synchronization with the Race Committee was a breeze.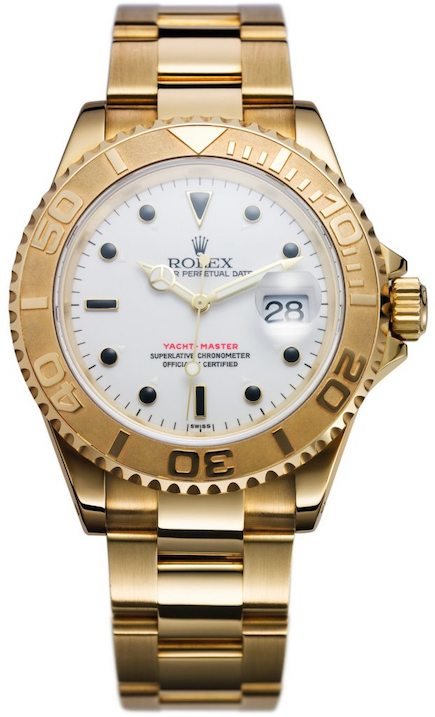 ---
Current Popular Rolex Yacht-Master models
As mentioned, it is the Yacht-Master's affinity with the sea and its diverse range of styles and case materials that make this collection so widely sought-after within the Rolex watch stratosphere. Paired with cutting-edge technology and primed for yacht race competing, the series has much to offer any luxury sports watch fan. Here are just a few Rolex Yacht-Master watches that have proven their popularity as both a tool and an investment since their release.
---
Rolex Yacht-Master ref 126622
Rolex Yacht-Master watches made from Rolesium make for an interesting talking point to wear with elegant attire and often make for sophisticated gifts to mark an anniversary or wedding day, especially for those who prefer their wristwatches to exude a very classic look. That said, Rolex packs a lot of modern technology into the design of a Yacht-Master watch such as the model 1266, which not only offers a very compact and manageable case size for those with a slender wrist but has also been forged from a material that is exclusive to the Yacht-Master watch range itself. Stainless Steel and platinum are materials chosen for their robust, corrosion-resistant and luxurious properties, whilst the three-link design of the oyster bracelet creates a timeless look whether paired with elegant or casual attire. Polished middle links and brushed outer links create a unique look against the wrist, especially when you consider that these finishes differ from those seen in the Rolex Submariner and Sea-Dweller models, which instead offer a fully brushed bracelet finish.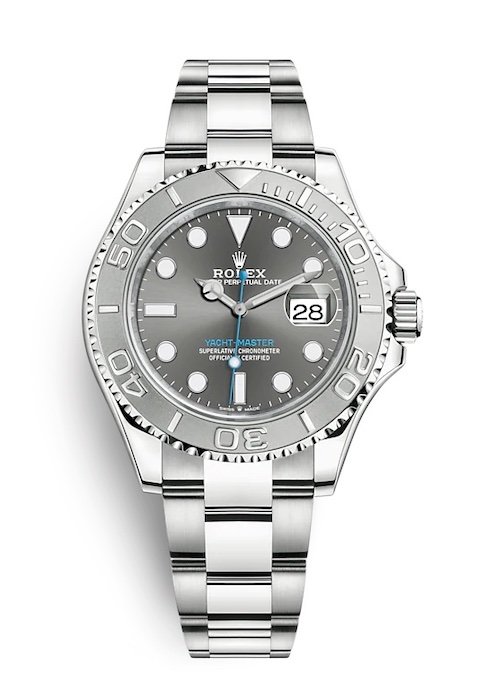 ---
Rolex Yacht-Master ref 116680
One of the most popular Rolex Yacht-Master watches has to be the ref 116680 with a blue ceramic bezel. Rolex had begun equipping its watches with Cerachrom bezels back in the year 2005. This model was made available in stainless steel, two-tone Everose, or yellow gold, and since it belongs to the Yacht-Master II collection, measures a broad 44mm diameter. As of 2019, Rolex Yacht-Master II watches were equipped with the Calibre 3235 – a trusted workhorse for many of Rolex's models. Framed inside this striking blue bezel is a white dial adorned with a small second sub-counter in blue at 6 o'clock, along with a countdown that can be programmed for a duration of between 1 and 10 minutes. The programming is memorized by the mechanism so that at a reset it returns to the previous setting and once launched, can be synchronized on the fly to match the official race countdown.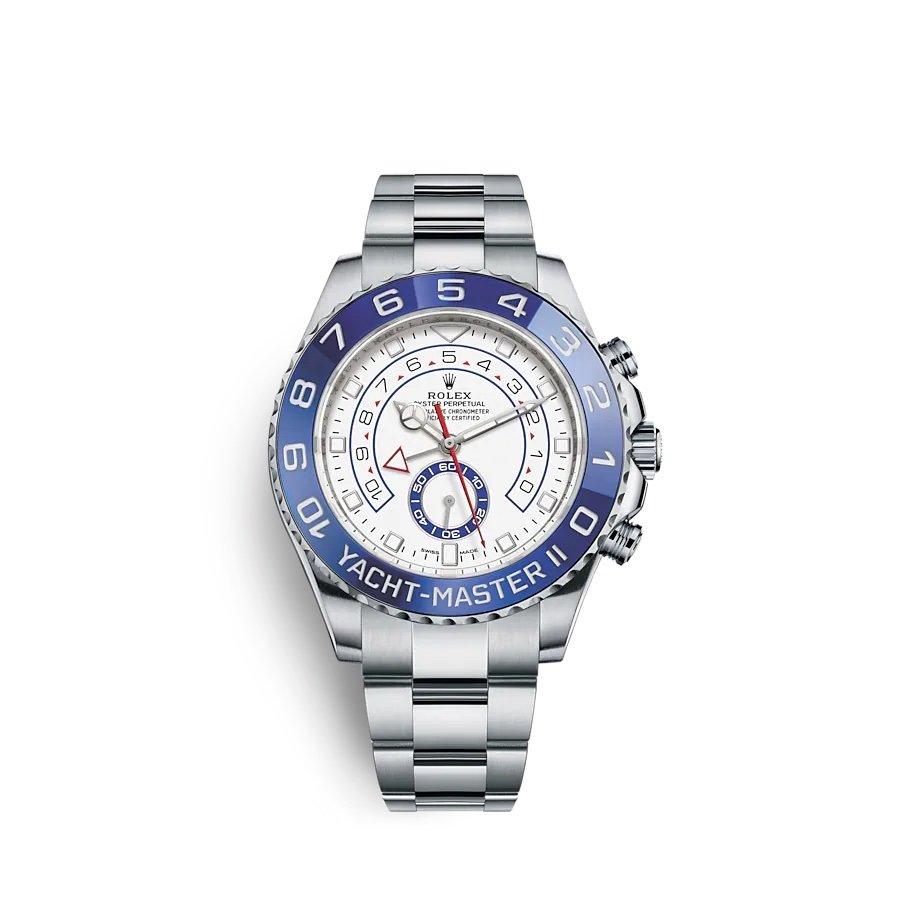 ---
Rolex Yacht-Master ref 116655
The Rolex Yacht-Master ref 116656 is, without a doubt, one of the most coveted and popular models from this series of luxury sports watches. The model not only features a matte black ceramic bezel but features a set of two-textured, highly polished and raised numerals upon its sandblasted surface. The watch is fitted to an Oysterflex bracelet, promising all-round comfort and thanks to its unusual choice of contrasting rich black and luxurious pink gold colours, can be enjoyed by both male and female Rolex fans alike. An Everose case and gold serrated ring complete its look, combining nicely with the elegant black bezel, whilst on the display itself, cathedral-type hands and a cyclops date window reside.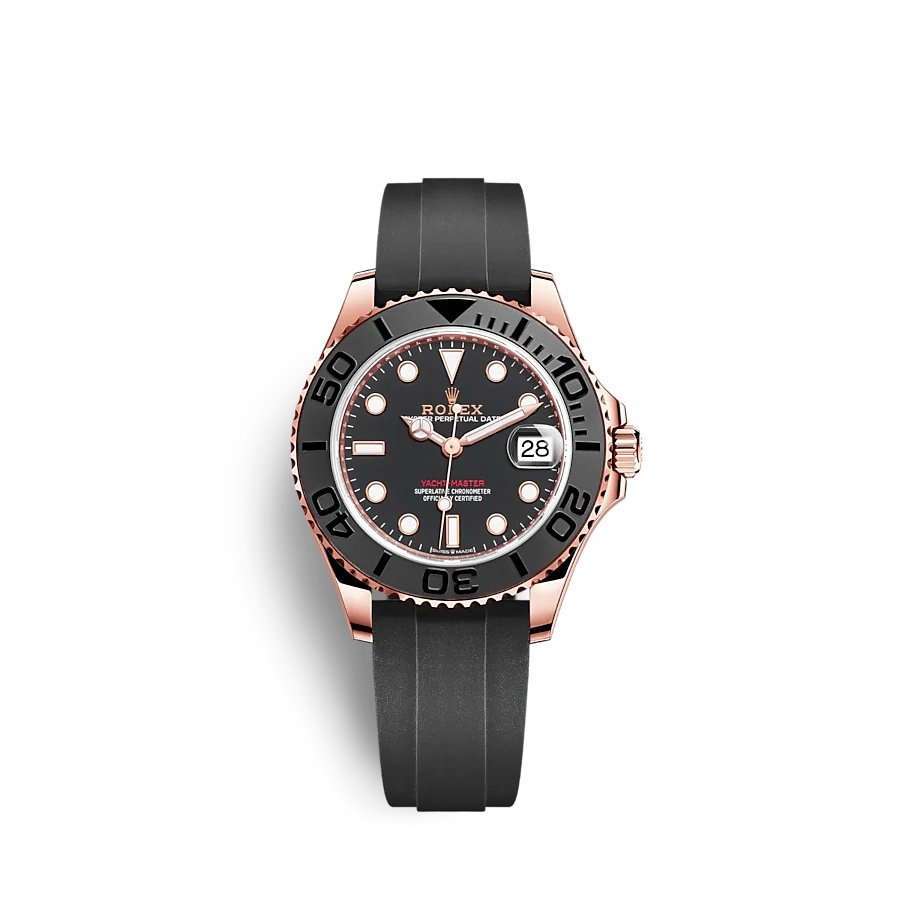 ---
The Rolex Yacht-Master II ref 226659
Slightly larger in size is the 42mm Rolex Yacht-Master II watch with the reference 226659, which features a stunning 18ct white gold case and bezel with a striking black Cerachrom bezel inlay for precise tracking of elapsed time. The Oysterflex bracelet is just one of the many appealing features of the Rolex Yacht-Master series. Although creating the aesthetic and sporty look of a rubber strap with its outer elastomer rubber shell in black - inside the structure of the bracelet is a series of flexible metal inserts. The Rolex Yacht-Master II ref 226659 debuted in 2019 with the desirable Calibre 3235 secured to the heart of its case, creating plenty of power reserve for those occasions when taken off the wrist, promising superior reliability and accuracy. Its classic black and white gold colourway make it easy to pair wot formal, casual or elegant attire.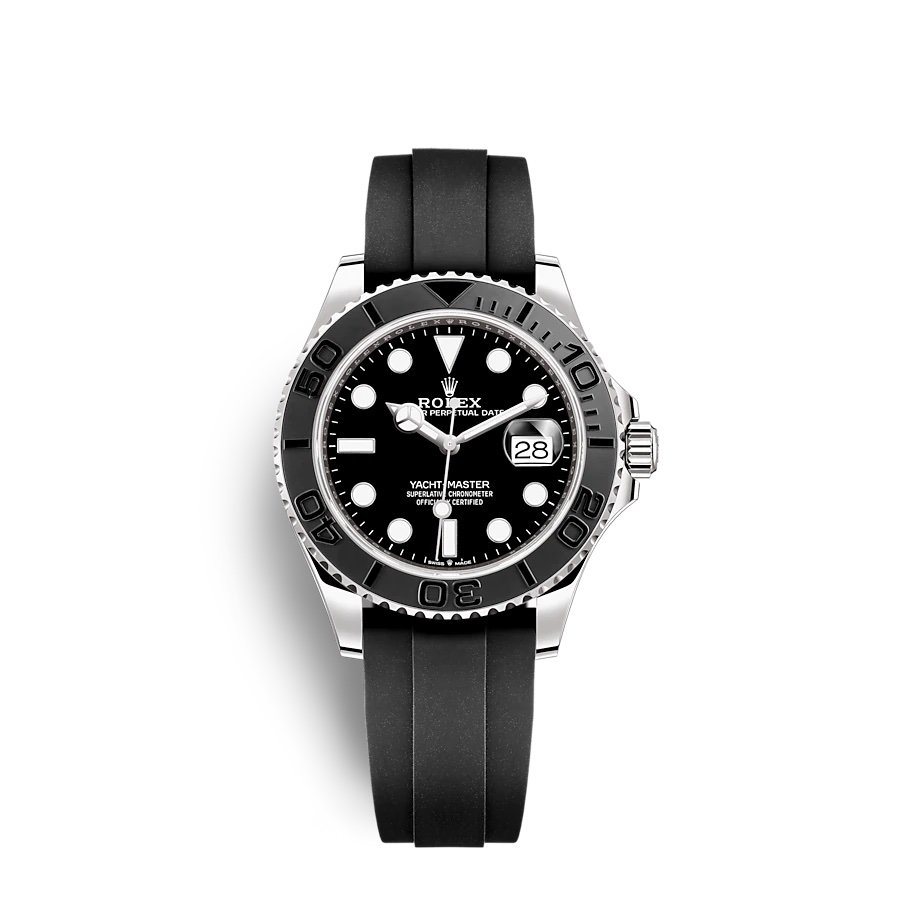 ---
There will always be plenty of reasons to invest in a Rolex Yacht-Master watch. Having been equipped with a reliable movement and a set of unique features that enable superior regatta timings out on the water, there is little else on the market that matches the supreme craftsmanship and instantly recognizable aesthetics of the iconic Rolex Yacht-Master watch. Whether you have any use for the polarizing watch's regatta timer feature or not, it is one of the most niche complications watches imaginable. The Yacht-Master will always be a timepiece that holds its value, symbolizing a brand of significant provenance and value.
---
More Rolex guides
To find out more about which Rolex hold their value you can read more of our guides where we cover all Rolex Nicknames or our classic guide to the Day Date models and our comparision with their sister brand: Rolex vs Tudor.
Subscribe our newsletter for more news related content and find our quick comparitive guides to help you d ecide which watch you should buy next:
---
Subscribe to our newsletter