Which Rolex watches hold their value?
Whether you're adding a new Rolex watch to your collection or investing in one for the very first time, you'll be considering which model will yield the largest return on investment. But how can you tell which Rolex watches hold their value? And what things should you look for when buying a Rolex watch as an investment? Well, regardless of whether you're looking to purchase a brand new Rolex watch or a second-hand Rolex watch from the pre-owned market, one thing that's almost guaranteed is that it will hold its value greatly. Of course, if buying from new, a watch will depreciate in the first few years of owning it, but when you consider your return on investment when you come to sell your Rolex on, the chances are you won't be out of pocket.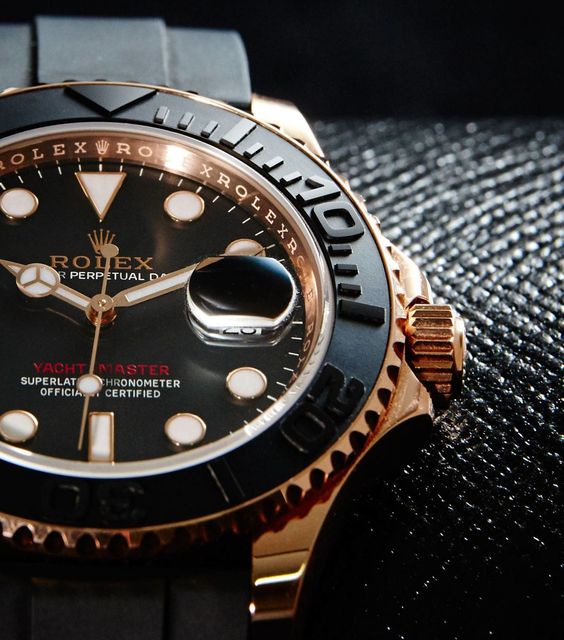 There are several factors to consider when researching which Rolex watch will offer the highest resale value, but first we'll answer the most obvious question – are Rolex watches a good investment. To answer the question in short -yes. Rolex is one of the most recognizable luxury watch brands in the entire world. Not only did Rolex create the world's first waterproof diver's wristwatch, but they've also developed and patented various innovative features, made their very own in-house developed calibers and created their very own materials. Rolex watches are a statement piece for many. Despite several gold Rolex watches on the market, the most sought after are unsurprisingly their steel models due to their versatility and their capability to exude a classic style on the wrist.
So which Rolex watch holds its value the most? Generally, one defining feature of a highly investable Rolex watch is its exclusivity. A rare Rolex watch is more desirable, as are those that are sparsely available due to high demand or those developed as limited edition pieces. Aside from the obvious qualities like condition, specification, and age – materials also play an integral role in a watch's desirability.
Here's a guide to the most popular Rolex models and why each one is likely to yield a good resale value when you come to part with it.
Rolex Daytona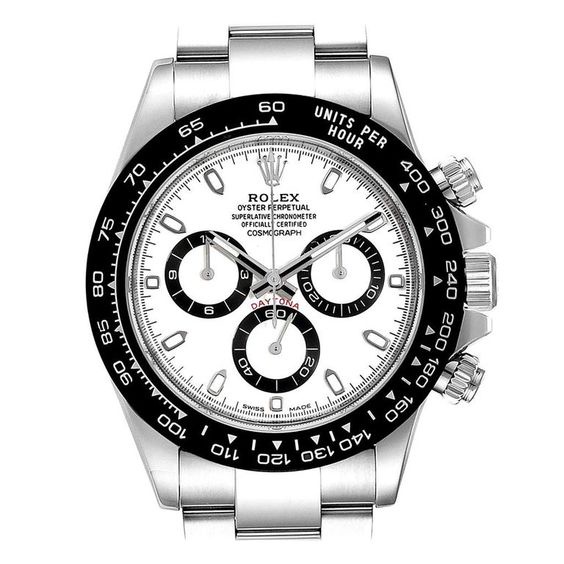 Rolex Cosmograph Daytona watches were first developed in 1963 as a tribute to the famous racetrack in Daytona Beach, Florida. They, therefore, hold a place in the hearts of motorsport enthusiasts as well as those with a love for Rolex's classic sports watches. Rolex Daytona watches are highly collectible since they're a wristwatch that can be enjoyed every day. An easy-to-read tachymeter scale for calculating speeds, as well as a sporty chronograph dial are features that can be utilized for all manner of tasks. There are popular vintage Daytona models like the Paul Newman that can reach astronomical prices on the pre-owned market. Models can fluctuate between $123,000 to $370,000. Newer stainless steel Rolex Daytona watches are more affordable, however, and you can expect to pay only a fraction more for ceramic bezel models. The Rolex Daytona M116500LN-0001 is a popular watch due to its 40mm steel case size and legible white dial with black trimmed chronograph counters. A black cerachrom bezel makes it easy to measure speed on its tachymeter scale, and the watch comes complete on the famous three-piece Oyster bracelet with a safety clasp and Easylink 5mm comfort extension link. It can be purchased brand-new from around 13,000 USD. Since steel Rolex watches are highly coveted, these versions are guaranteed to be a solid investment.
GMT Master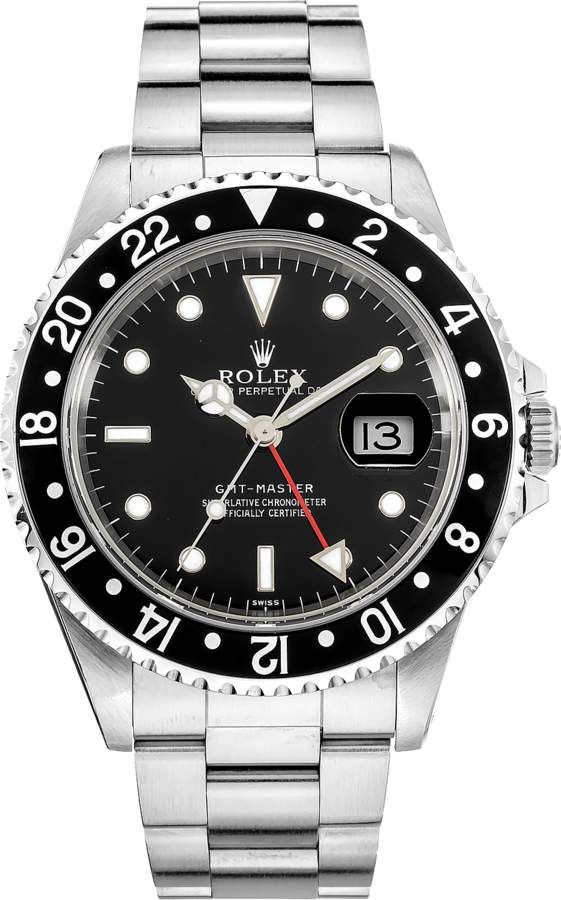 The Rolex GMT-Master II watch is a valuable tool for traveling. The models were equipped with a Cerachrom ceramic bezel in 2007 and Everose Rolesor versions were launched in 2018. They have become highly sought after since they feature COSC-certified independently manufactured calibers. Highly coveted models are those such as the Rolex "Batman" versions, adorned with a blue and black bezel, and the "Pepsi" watch with a red and blue aesthetic. With the ability to display multiple time zones, the Rolex GMT-Master II watch is an indispensable tool for business, leisure, and travel. A bidirectional rotating 24-hour bezel with an additional hand completes a full rotation every 24 hours. You can pick up a steel Rolex GMT-Master II watch in mint condition for around $9000, whereas a pre-owned model can cost around $1000 less. The Rolex "Batman" in steel is a highly desirable model. Never worn it retails at around £11,000. Demonstrating just how well this timepiece holds its value, a pre-owned model can sell for around $10,200.
Submariner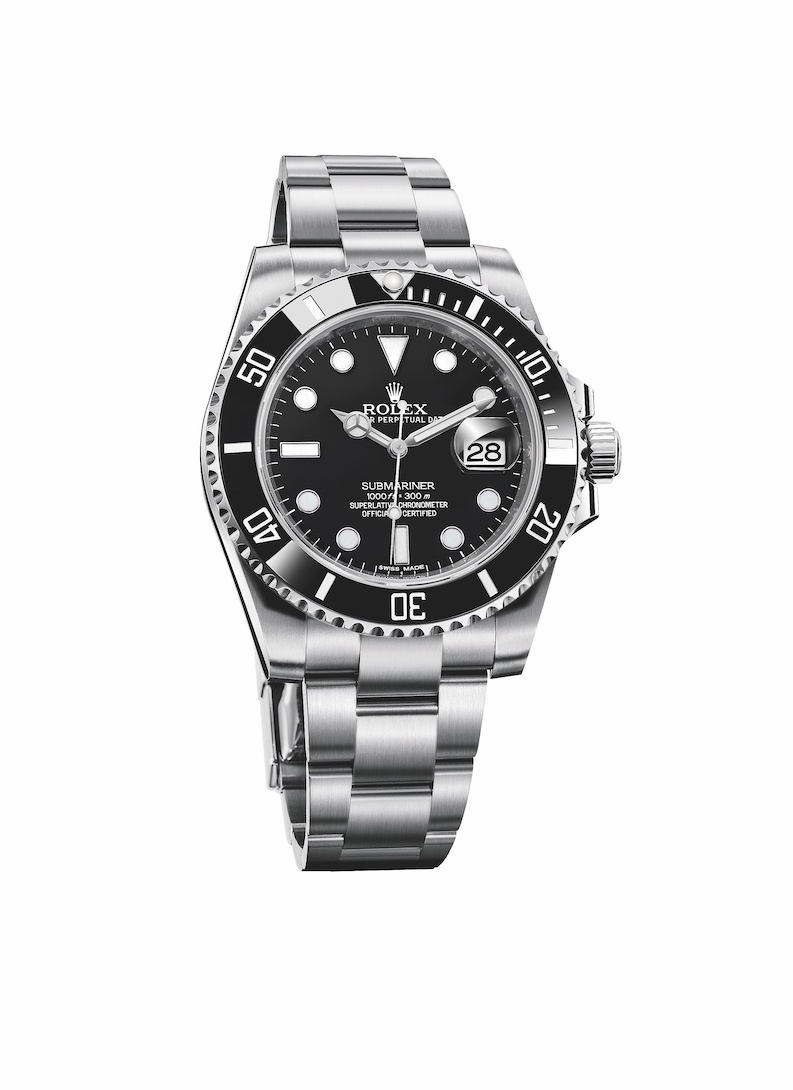 The most recognizable Rolex watch is the Submariner. When it comes to the question "which Rolex watch holds its value the most?" – the Submariner is a strong contender. The collectible timepiece features a classic diver's dial with luminescent material and a unidirectional rotating bezel that assists with remaining dive time spent underwater. The Rolex Submariner ref: 116610 for example, is a 40mm steel case for a comfortable fit on even the slenderest of wrists. The Calibre 3135 powers this model, providing a long power reserve that ensures the watch keeps perfect time even during periods off the wrist.
Rolex Submariner Date Ref:116610
Reference: 116610
Caliber: Rolex 3135
Functions:Date. Scratch-resistant Cerachrom insert in ceramic, numerals and graduations coated in platinum.
Case Diameter: 40mm
Power Reserve: 48 hours
Winding: Manual (Self-winding)
Case Material: Oystersteel
Lugs Width: 20mm
Frequency: 28,800 Hz
Jewels: 31
Water Resistance: 30 bar (300 metres / ~980 feet)
Strap/Bracelet: Oystersteel
Dial Colour: Black
Crystal:Scratch-resistant sapphire.
There are date and no-date versions of the Rolex Submariner, as well as green versions known as the "Hulk" watch which cost around $11, 000 from new or just $1000 less for a pre-owned model.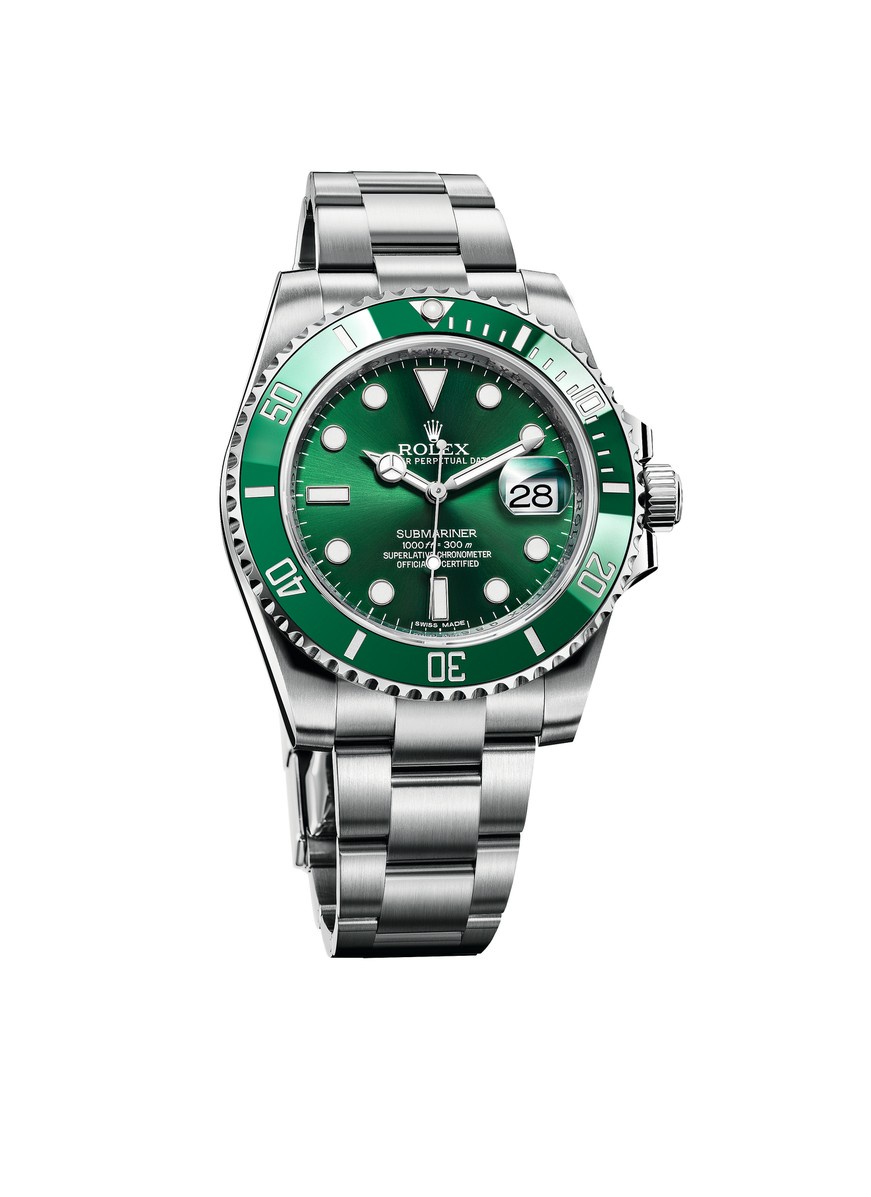 Rolex Submariner Date Ref:116610LV
Reference: 116610LV
Caliber: Rolex 3135
Functions:Date. Green scratch-resistant Cerachrom insert in ceramic, numerals and graduations coated numerals and graduations coated in gold.
Case Diameter: 40mm
Power Reserve: 48 hours
Winding: Manual (Self-winding)
Case Material: 18 ct yellow gold
Lugs Width: 20mm
Frequency: 28,800 Hz
Jewels: 31
Water Resistance: 30 bar (300 metres / ~980 feet)
Strap/Bracelet: 18 ct yellow gold, three-piece links
Dial Colour: Green
Crystal:Scratch-resistant sapphire.
The Rolex "Kermit" which has now ceased production is significantly harder to come by, resulting in a higher price tag of around $16,000. There are also versions in yellow gold or white gold that cost around 28,000 USD and 30,000 USD respectively.
If you want to read more about the Submariners find our Rolex Submariners Guide for more detailed information.
Day Date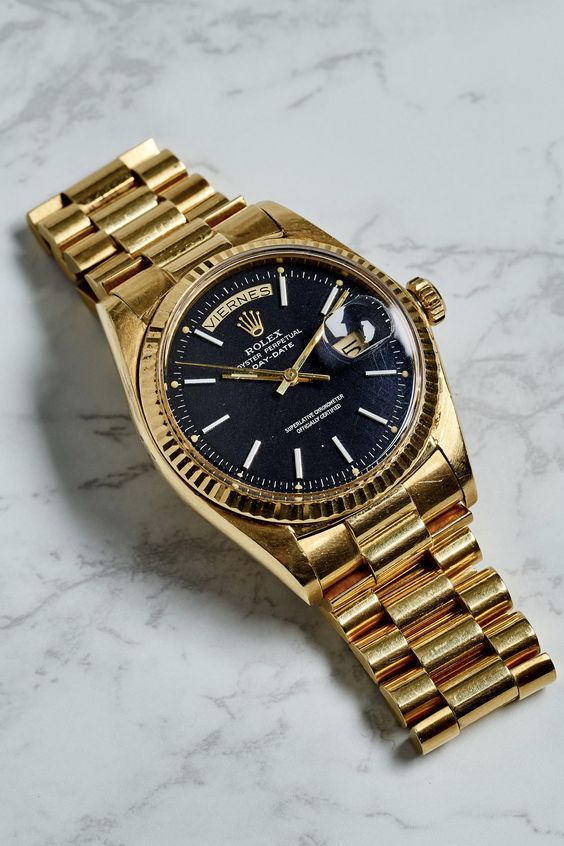 The addition of the date feature on a Rolex watch was a revolutionary moment that went down in the brand's history. Since then, the Day-Date has been a desirable collector's timepiece. Its easy-to-wear design which first appeared in 1956 combined waterproof capabilities with an automatic, self-winding movement. One recent model released from this collection was the Day-Date 40, which like its namesake suggests, offering a versatile case width for the average-sized wrist. Day-Date watches aren't cheap but that makes them a great investment piece for the future. You could wear the watch for years and find it has depreciated very little if at all when you come to re-sell on the second-hand market. The timepiece also marked another milestone for the brand since it was the first wristwatch to feature the weekday written out in full on the surface of the dial. There are exclusive models in 18k gold or platinum – the latter of which is rarer and fetches around $57,000 in mint condition or around $48,000 pre-owned. Likewise, the gold versions cost just under 30,000 USD in new condition or 32,000 USD for the 1mm larger case size in 18k gold. Rolex Day-Date watches are also characterized by their President bracelet which was developed exclusively for the model. A 36mm model in 18k yellow gold is slightly more affordable on the second-hand market, costing around 18,500 USD.
Explorer II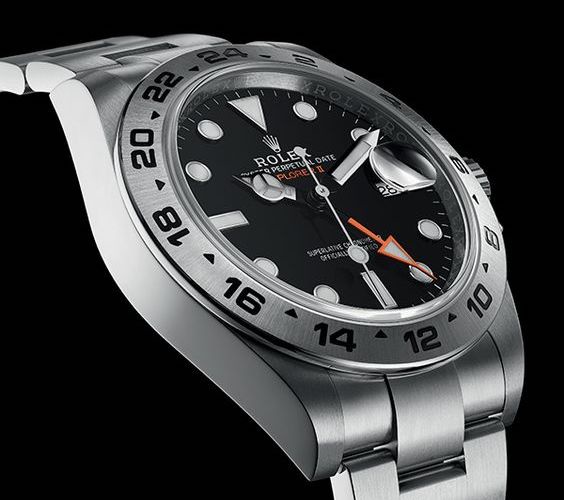 Rolex Explorer II watches are defined by their cyclops lens above the date feature, a 24-hour track, and 100-meter water-resistant capabilities. The robust case construction of the Explorer II, combined with a set of durable features made it the perfect wristwatch for facing challenges and extreme conditions. The additional hour hand of this Rolex watch makes one full turn per day, working in combination with a 24-hour track on the bezel. Traveling across time zones is therefore made effortless for those on business since the extra hand can be set separately. Vintage models from the Rolex Explorer II collection include the "Steve McQueen", characterized by line indices for the hour markers. Models created up until 2007 were fitted with Rolex's superbly crafted 3185 Calibre before being replaced with the 3186. Newer Rolex Explorer II models sell for around 5,600 USD on the pre-owned market, and you can expect to spend at least another 2000 USD for a brand-new model. The price difference between the new and pre-loved however, demonstrates how well the Explorer II holds its value. The newer 42mm models that followed were presented with a "Maxi" dial and enlarged luminous indices, as well as a large orange-colored arrow-shaped 24-hour hand. These models cost just under $8000 from new and feature an anti-magnetic blue Parachrom hairspring and the Paraflex shock protection system. Rolex Explorer II watches are popular thanks to features like their luminous indices and markers on their dials as well as having been crafted from Rolex's most expensive stainless steel – 904L steel which is specifically developed for their rugged, futuristic designs. This guide to the top Rolex watches guaranteed to hold their value covers some of the brand's most collectible and versatile timepieces, yet there are other models like the Sea-Dweller, the Air-King and the Yacht-Master that also prove as firm contenders. The value of a watch not only depends on factors like condition, features, and materials, but also the qualities that Rolex collectors are seeking right now in real-time. Saying that there are Rolex classics that will always remain high in demand. Provence, a heritage that spans decades of mastery in the art of traditional watchmaking, and an authentic approach to quintessential timekeeping will cement the brand's position within the industry for creating luxury watches that will hold their value for centuries to come.