Rolex Explorer
The Rolex Explorer watch was created for a niche audience, despite its universally appealing character and easy-to-wear design. Whether you prefer a vintage Rolex Explorer watch or a brand new one is down to personal taste, but what's important to note is that due to the brand's use of premium materials and expertly engineered movements - these timekeeping instruments guarantee resilience and reliability above all else. The popular Rolex Explorer watches outlined in this guide below can still be enjoyed for their practical functions as much as they can their ruggedly handsome looks. Let's take a look at some of the best Rolex Explorer watches and the reasons why they're so popular right now.
Rolex Explorer II 1655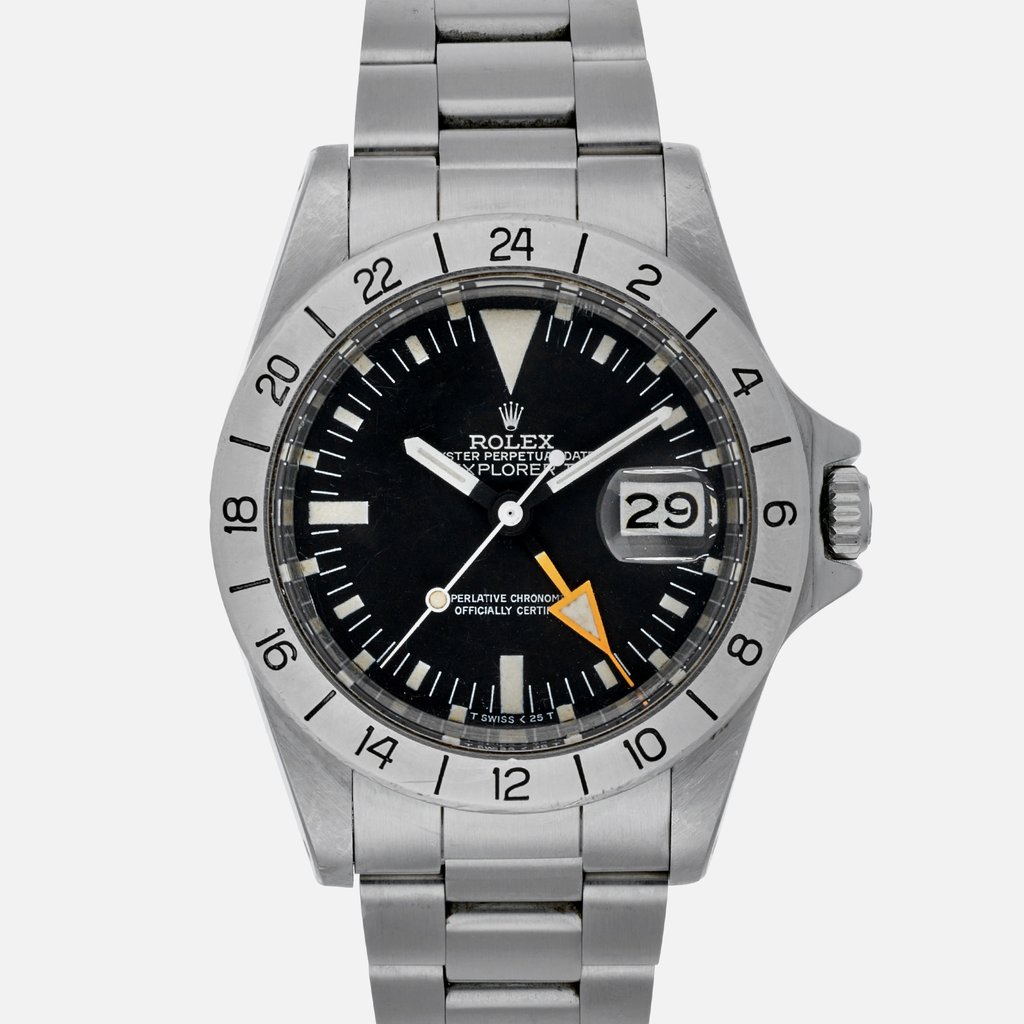 Rolex Explorer II
Reference: 1655
Price: 16.032,65 €
Winding: Manual
Case Diameter: 39mm
Style: Classic
Since Rolex originally developed the Explorer II for Spelunkers it's easy to spot the features in this design that make it a popular watch for modern-day use, as well as a tool suitable for facing challenging conditions. For a start, the dial is extremely legible. Although not a dual time watch, the Rolex Explorer II watch ref 1655 features a 24-hour track identified by a striking orange or red-colored arrow-tipped central hand. It was incorporated into the design because cave explorers are unable to tell the difference between AM and PM when surrounded by darkness for hours and hours at a time. This watch is no longer in production but there are still models available on the pre-owned market. Whether you opt for the earlier 1655 watches which sport an orange hand, or the later models adorned with a red hand, with age the red-handed versions have faded, resulting in the same orange hue that the former models were designed with. This 39mm steel Rolex Explorer II watch secures comfortably around the wrist with an Oystersteel bracelet and features lume on the hour markers as well as small luminescent coated square details that mark out 5-minute increments around the hour track. This is a popular vintage Rolex collectible that promises superior robustness combined with two innovative ways to read the time.

Rolex Explorer II 16550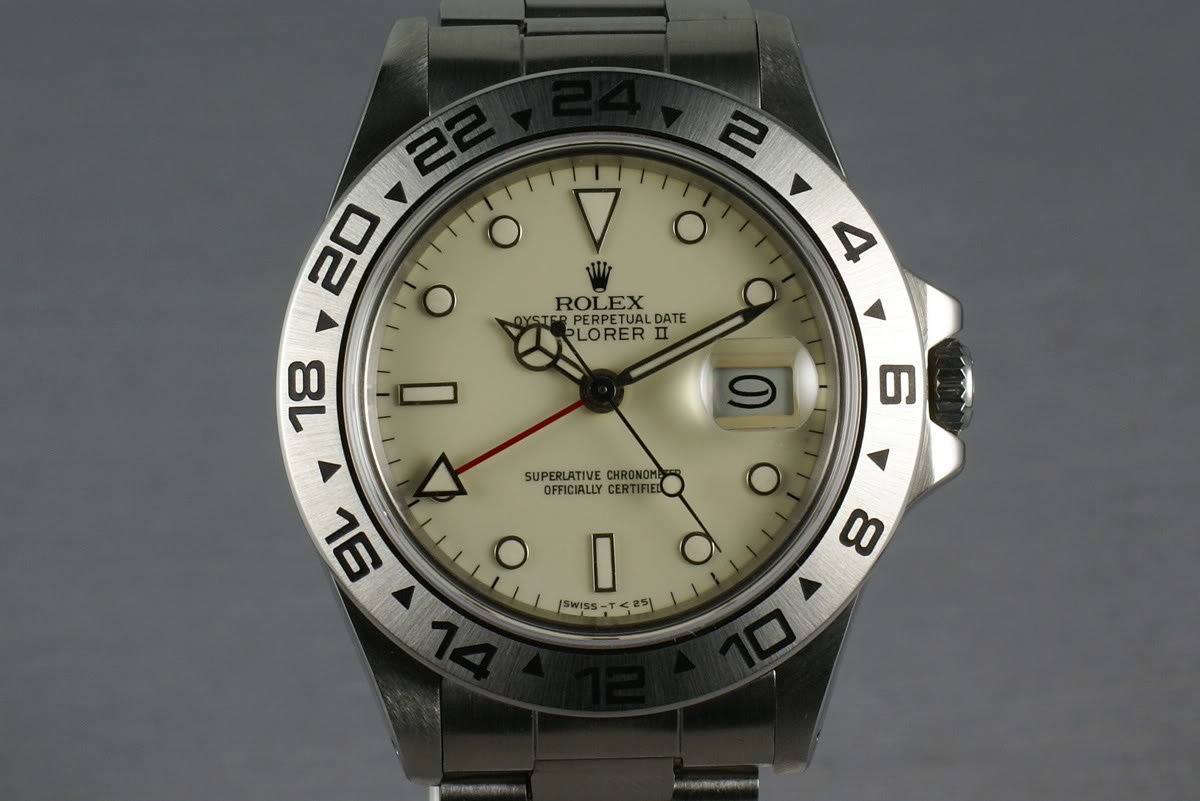 Rolex Explorer II
Reference: 16550
Price: 15.591,63 €
Winding: Self-winding
Case Diameter: 40mm
Style: Classic
The Rolex Explorer II watch ref 16550 is as popular now as it ever was. Rolex opened up the design to avid travelers as well as spelunkers, enabling the wearer to independently set the time on the 24-hour track to display a second time zone. It transitioned from the 1655 model which could only differentiate between day and night to a sophisticated GMT watch. Whether you travel frequently or not, the Rolex Explorer II 16550 is a stylish timepiece that oozes character and vintage charm. It was first created in 1985 and was fitted with the Calibre 3085, housed inside a 40mm stainless steel case. This model is therefore slightly larger than the former 1655 but also features a sapphire crystal glass lens. There's a white or black dial version of this Explorer II but the black dial just looks that little extra refined on the wrist. If you're willing to spend a little extra, however, the white variation is pricier because, with age, its whiteness gives way to a cream patina – a Rolex paint defect which has come to be loved by vintage collectors and Rolex connoisseurs alike.

Rolex Explorer II 16570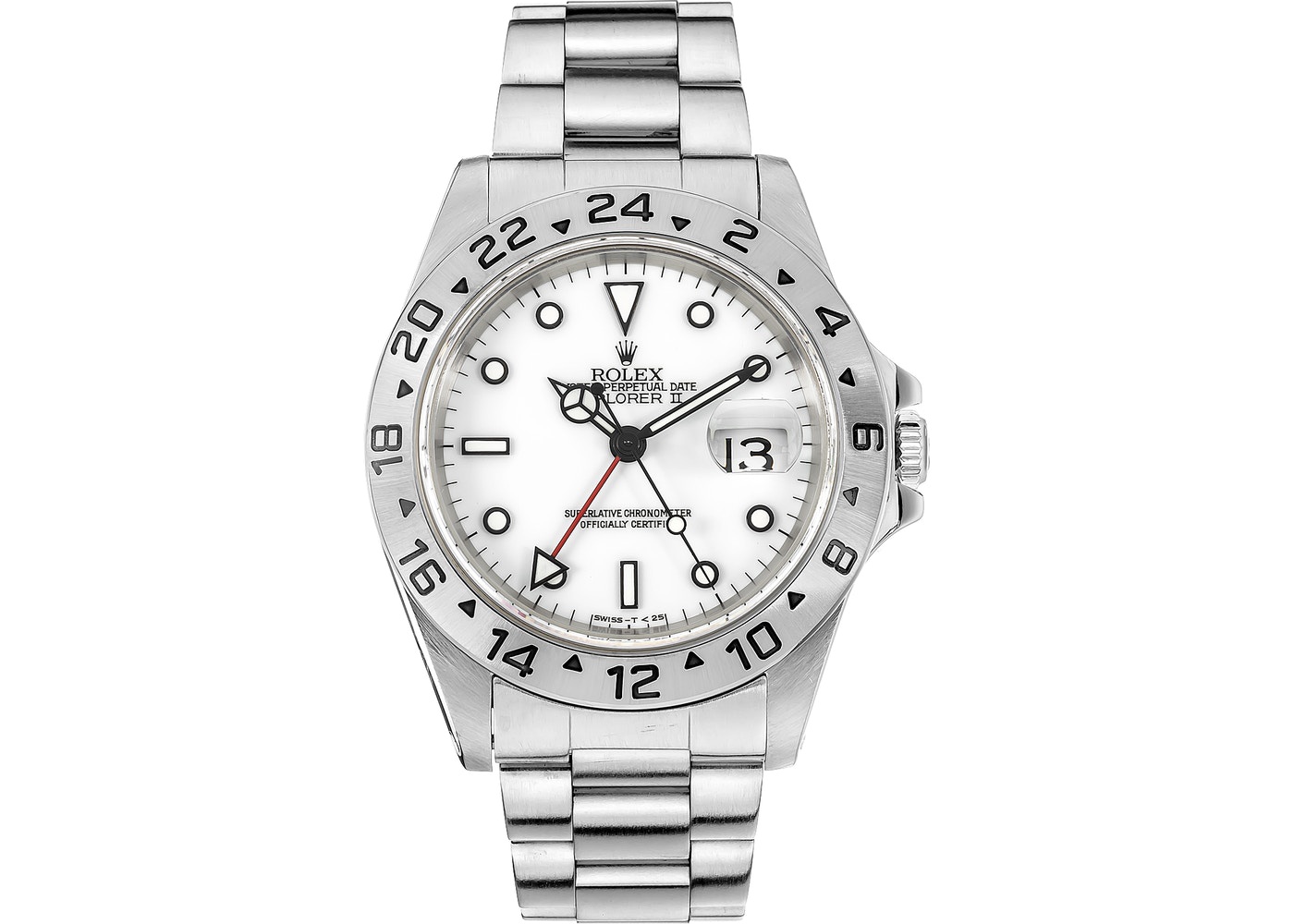 Rolex Explorer II
Reference: 16570
Price: starting 5.000 €
Winding: Self-winding
Case Diameter: 40mm
Style: Classic
Just 4 years after the Rolex Explorer II 16550 came the 16570, initially equipped with the in-house built Calibre 1385 and then eventually the Calibre 3186. The later models also feature Rolex's updated luminescent material, Luminova, before switching to Superluminova material in around the year 2000. If you like the Explorer II 16650 then you'll love the 16570, which boasts black outlines around each hour markers on the white dial variations, greatly enhancing legibility. The design gave rise to its now common nickname, the "Polar Explorer". The crisp white dial of this popular Rolex Explorer watch brings a clean, sophisticated and refined look to the wrist. The watch is no longer in production, adding to its desirability on the preowned market. It does, however, make for a timepiece that you could wear the whole year through. Its decently sized 40mm steel case is a comfortable fit for any wrist, plus its bezel which slopes downwards gives it a unique edge over a Submariner or a GMT-Master watch any day.

Rolex Explorer II 216570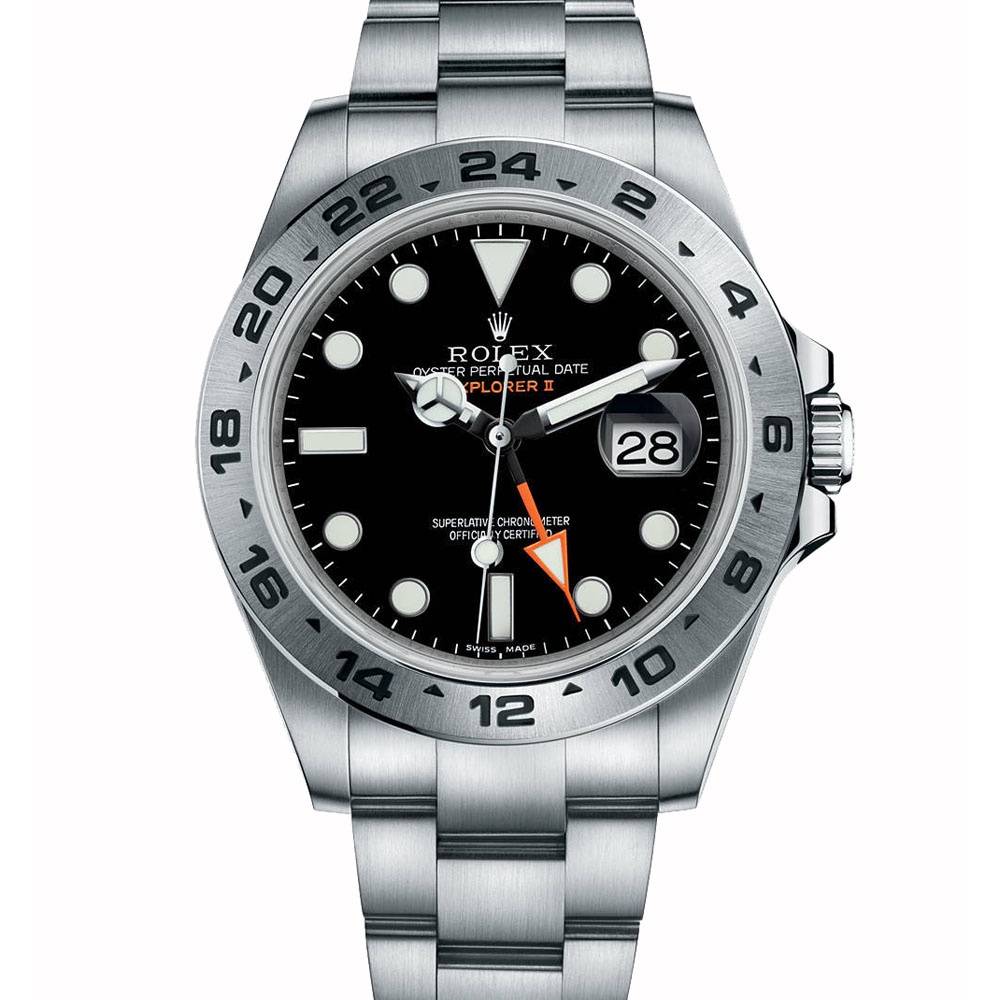 Rolex Explorer II
Reference: 216570
Price: 7.950 €
Winding: Self-winding
Case Diameter: 42mm
Style: Classic
The Rolex Explorer II watch ref 216570 is a model currently in production which still manages to pay homage to a vintage classic, albeit with modifications that improve its performance. If you're looking for a new Rolex Explorer II watch, this model remains popular due to its high-performance in-house movement – the Calibre 3187. The engine promises an accuracy of -2/+2 sec per day and a power reserve of 48 hours. The Rolex 216570 also features a dedicated orange-tipped hand (that nods to the original Explorer II 1655) which circles the dial in 24 hours, thanks to a fixed bezel with 24-hour graduations. It's a completely revamped model and features a larger 42mm case size compared to the Explorer II 16570. Due to its size increase and legible lume plots on a "Maxi" dial, this popular Rolex watch is an even more robust cave dweller that will serve you well whether you're taking part in vigorous outdoor activities or traveling in style.
Rolex Explorer II 214270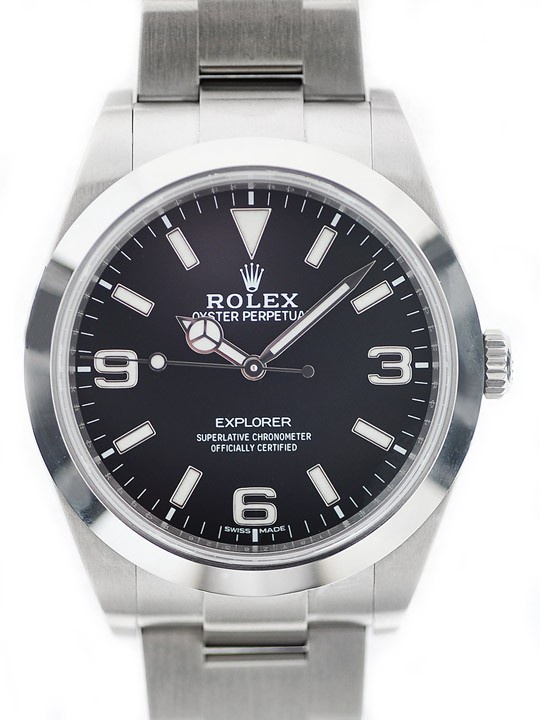 Rolex Explorer II
Reference: 214270
Price: 6.200 €
Winding: Self-winding
Case Diameter: 39mm
Style: Classic
If a pared-down version suits you better, this sophisticated and simplified Rolex from the original Explorer collection (ref 214270) still packs in a whole lot of performance courtesy of the Calibre 3132 (albeit in a modest case design). Its 39mm Oystersteel case showcases a smooth bezel with a screw-down Twinlock double waterproofness system to help maintain a 100-meter water-resistant housing for its movement. Its three-piece Oystersteel bracelet with Oysterlock safety clasp and Easylink 5mm extension system will enable you to adjust the bracelet to fit over heavy outdoor gear. With a stealthy black dial and luminescent coated 3, 6, and 9 o'clock Arabic numerals, readability is guaranteed 24/7. This is certainly a rugged watch for exploration of all types, but whether you intend to wear it as a tool watch or not, this popular Rolex Explorer watch will guarantee a stylish look combined with robust in-house made materials for wearing day and night on the wrist.

More information
For more information about Rolex Explorer check the official site here