Famous French watch innovator, Cartier created the Tank watch in 1917. Its design was based on the new Renault tanks used on the Western Front during the First World War. Similarities can be seen in the square and rectangular shapes of the cases belonging to watches from the Tank collection, with lines and proportions similar to battlefield tanks. The strap of the famous military-inspired Tank watch seamlessly integrates into vertical sidebars that create a distinct look on the wrist, hence why this special design became a cult watch amongst watch connoisseurs all over the world. Today the Tank watch is as collectible and as highly regarded as it ever was. This guide sums up the unique qualities of some of the most popular Cartier Tank watches to date.
Cartier Tank Americaine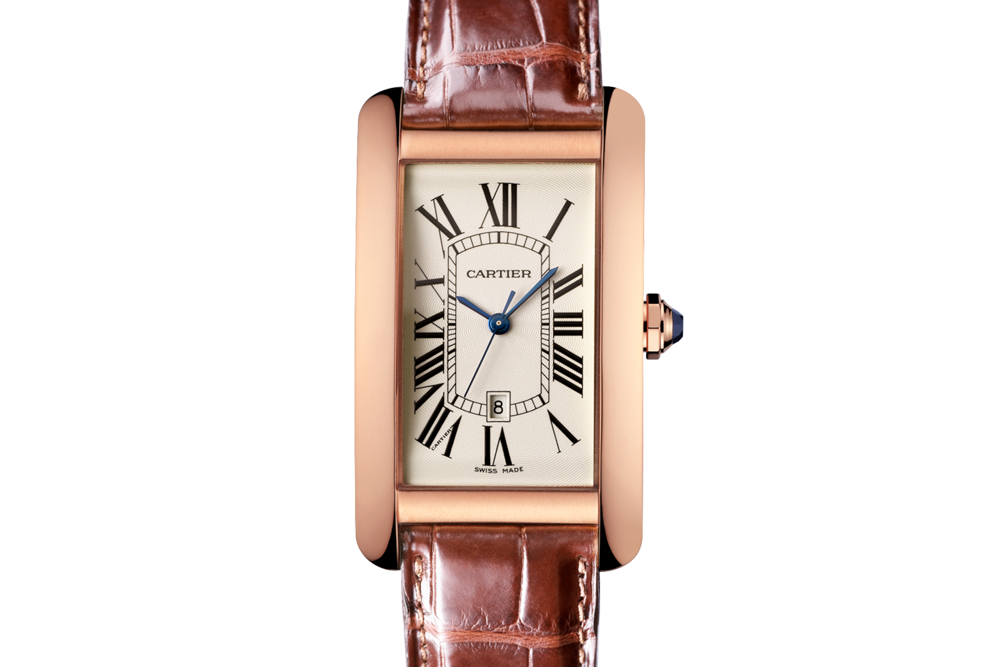 Cartier Tank Americaine
Reference: W2609156
Price: $ 20,900
Winding: Self-winding
Case Diameter: 41.5mm
Style: Classic
The Tank Americaine watch was released by Cartier in 1989 and became recognized for its slightly larger size and a beautifully curved case that sits very nicely against the wrist. As well as its comfortable profile which displays a mix of classic linear shapes and beautifully rounded corners, it's also a slightly more expensive option compared to other timepieces from the Tank collection. If you don't mind stretching your budget a little and you prefer larger timepieces in general, a model like this Cartier Tank Americaine watch ref W2609156 in 18k rose gold should belong in your collection. Its 41.5mm width certainly makes a statement on the wrist. A sliver flinque dial is home to traditional Roman numerals in a crisp black hue around the hour track. A faceted sapphire is adorned to the tip of the watch's crown which pairs naturally with the dial's classic blued steel central hands. What makes this Cartier Tank Americaine watch such a popular choice for collectors is its captivating interplay of blush pink colors from its gold case and vintage-inspired brown tones from one of Cartier's exquisite alligator leather straps. This popular Cartier watch design is powered by a self-winding movement and features a useful date aperture at 6 o'clock.

Cartier Tank Cintree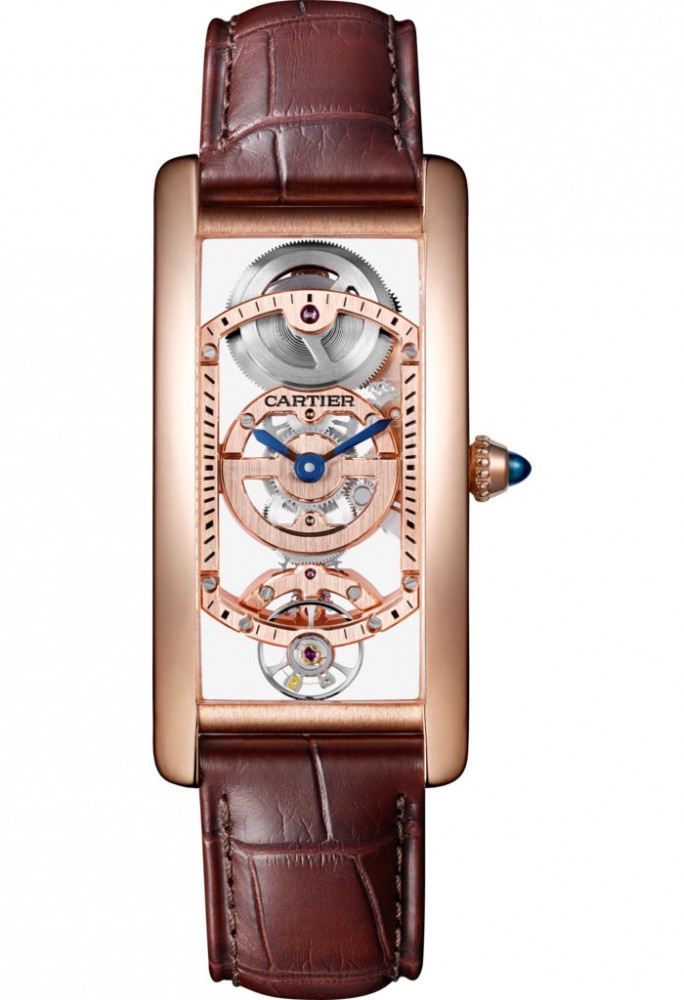 Cartier Tank Cintree
Reference: WHTA0008
Price: $ 88,500
Winding: Self-winding
Case Diameter: 41.5mm
Style: Tank Cartier
As unique as it is eye-catching, there's no mistaking this elegant Cartier Tank watch. The Cintree model was introduced in 1921 – just four years after the original Tank watch. The profile of the case is slightly slimmer and elongated. It, therefore, speaks to lovers of elegant timepieces. If you're a fan of skeletonized watches, this Cartier Tank Cintree watch ref WHTA0008 will offer you a beautiful view into the intricately designed caliber 9917 MC through the dial side. The self-winding movement comprises a total of 142 parts - all of which have been meticulously incorporated into an 18k rose gold case. The design of this popular Cartier Tank watch sits effortlessly on the wrist thanks to its discreet and slender depth. The thickness of the movement is only 3.84mm itself. Other appealing characteristics of this striking rose gold Cartier Tank Cintree watch include its blued steel hands and matching blue sapphire-adorned crown tip.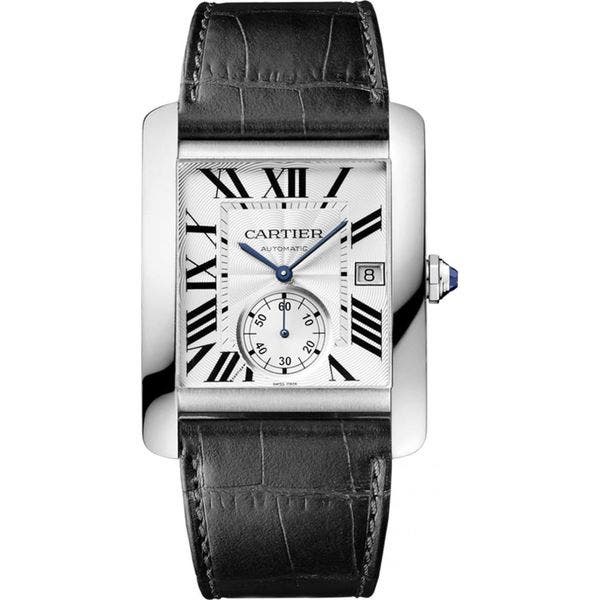 Cartier Tank MC Automatic
Reference: W5330003
Price: $ 5.500
Winding:Self-winding
Case Diameter: 34.30mm
Style: Tank Cartier
The legible Roman numerals occupying this Cartier Tank watch's dial are slightly stretched and placed against a silver guilloche dial to enhance readability. It's a popular Tank watch because of its traditional design, complete with a classic black leather strap. This Cartier Tank MC Automatic watch embodies the brand's meticulous quest for horological perfection, showcasing the craftsmanship involved in the self-winding Calibre 1904-PS MC through a sapphire caseback. One useful feature of this Cartier Tank MC watch ref 1904-PS MC is its small second sub-dial which donates more space to simple two-handed timekeeping on the main dial. A date aperture at 3 o'clock will also enable you to keep on track of the days of the month. The case of this Cartier Tank watch is crafted from stainless steel. As with all timepieces manufactured by this prestigious brand - the Cartier name is emblazoned onto the surface of a silver flinque dial – a symbol of authenticity. The Tank MC is powered by Cartier's first in-house developed movement and boasts a noticeably more masculine edge in comparison to some of the other Tank variations.

Tank Louis Cartier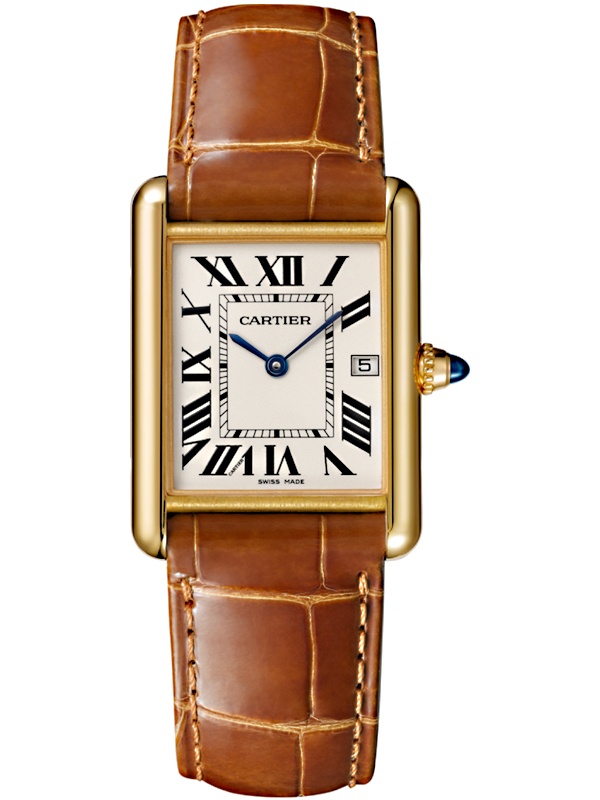 Tank Louis Cartier
Reference: WGTA0011
Price: $ 17.200
Winding: Self-winding
Case Diameter: 33.7mm
Style: Classic
If you like the look of the Tank MC Automatic but prefer a cleaner dial, the no-fuss dial design of this Tank Louise Cartier watch ref WGTA0011 presents time in a much simpler format. The watch embodies the same distinct characteristic of the Tank line (the famous Roman numeral hour track and elegantly carved blued steel hands) but forgoes the addition of the date window or any small seconds feature. Instead, the central hands are powered effortlessly around the surface of a silver guilloche dial by the self-winding caliber 8971 MC. The watch is presented in 18k rose gold and secures comfortably around the wrist with a classic semi-matt brown alligator leather strap, enabling you to occupy this timepiece with smart or formal attire with ease. This popular Cartier Tank watch is a nice size for wearing every day of the week, plus it features an anti-glare sapphire glass lens to allow for easy timekeeping no matter whether you're outside or indoors. In comparison, the unisex case dimensions (33.7 mm x 25.5mm) of the Tank Louis Cartier measure a fraction smaller than the Tank MC Automatic we mentioned earlier.

Cartier Tank Solo 40.85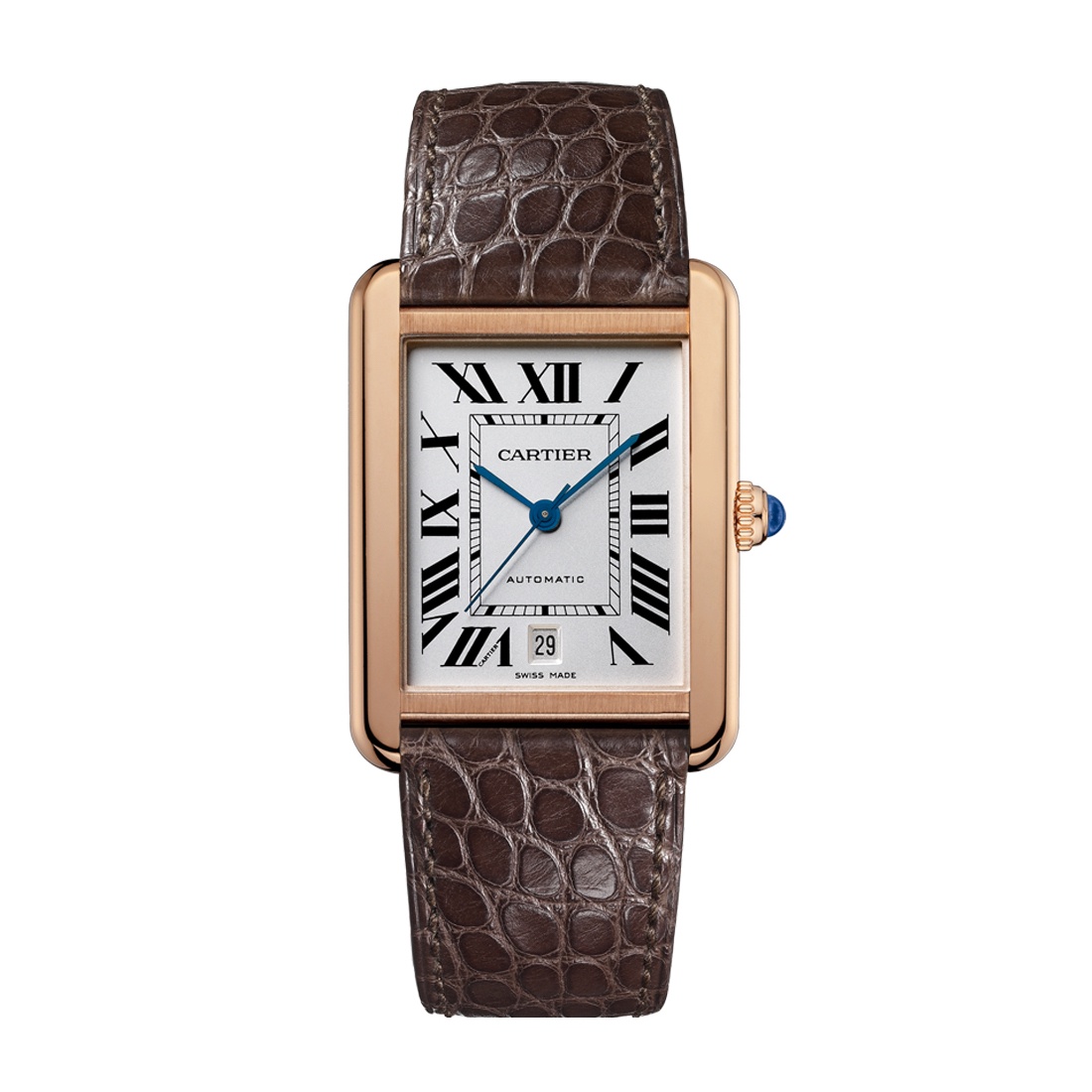 Cartier Tank Solo 40.85
Reference: W5200026
Price: $ 6.454,55
Winding: Self-winding
Case Diameter: 33.7mm
Style: Classic
Lastly, for an ideal everyday gent's dress watch, the Cartier Tank Solo has it all. With a modest design and an entry-level price tag - models from this collection have a lot to offer both an experienced or first time Tank watch collector. This Cartier Tank Solo watch Ref W5200026 oozes vintage flair with its brown alligator skin with round scales and an ardillon buckle crafted from 18k rose gold to match the material of the case. The signature beaded crown is adorned with a synthetic spinel, shaped like a cabochon, and a useful date window is located at 6 o'clock on a silver opaline dial. The Cartier Calibre 049 movement will provide you with accurate timekeeping along with a 42-hour power reserve, enabling you to alternate the watch with another favorite without running the risk of the watch losing time.

More information
Check the official site of Cartier for more watches and information here