Which Cartier watches hold their value?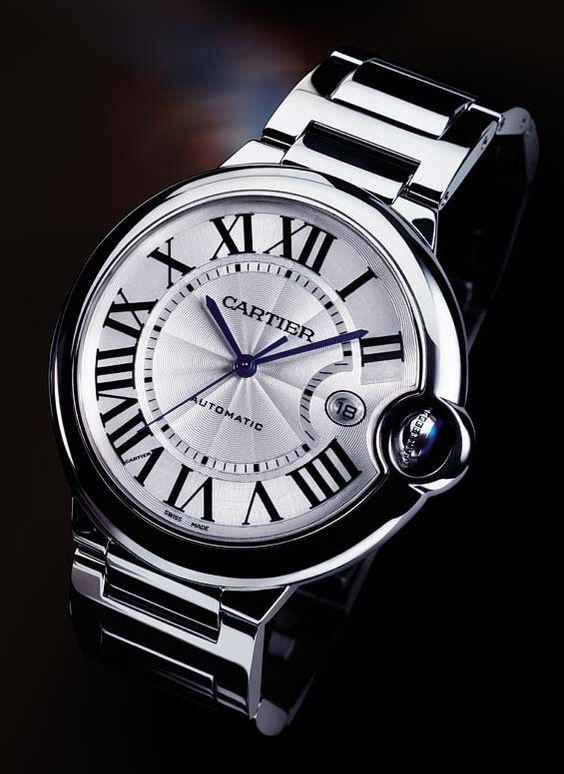 Known as "the jeweller to kings and the king of jewellers", Cartier is a brand associated with royalty and prestige. Company founder, Louis-Francois Cartier, made watches and jewellery. The company's first wristwatch was the Santos which remains in production today. Despite having a history that stretches back to 1847, Cartier has remained at the forefront of Haute Horlogerie. Their innovations and technical mastery grant them a unique place within the luxury wristwatch market and a reason why so many collectors invest in them.As a watch company that has 100% brand recognition, collectors invest in Cartier watches for their reputation and their use of premium, sumptuous materials that make each watch feel so indulgent when worn. Since Cartier primarily focussed on jewellery manufacture, their luxurious approach to watchmaking echoes the motifs of their jewellery lines, making them incredibly popular to wear as a luxury dress watch. That said, Cartier has created several sporty chronographs, racing-inspired models and pilot's watches too. The Cartier Santos, for example, was created in response to a request made by inventor and pioneer Alberto Santos-Dumont for a timekeeping tool that could be worn on the wrist. Other watches like the Tank have developed an almost cult-like status, deeming them highly desirable, especially on the second-hand market. So which Cartier watches hold their value and which is the most investible? To answer this question, we first need to look at the most popular lines created by this iconic watchmaker. If you're thinking about investing in a Cartier watch, it's always advisable to choose a design that suits your taste, since you could be holding onto it for a while before an interest spikes on the market. It's impossible to predict which luxury watches will be high in demand in 2 or 10 years. It all depends on consumer taste and how rapidly these changes occur in comparison to whether a watch is rare or widely available, as well as its functionality when worn on the wrist. Many Cartier watches retain their value and several will go on to be worth more on the pre-owned market than when they were first purchased. The brand has spared no expense when creating these luxury commodities. Not only is the company name recognizable enough to create a huge presence when sported on the wrist, but the company is backed by generations of family-run manufacturing methods and time-honoured know-how, which remain top secret at Cartier's design house. At an auction, some Cartier watches can sell for astronomical prices. Gold Cartier watches and those dressed in gemstones and diamonds tend to sell for more than those without. Several bi-color models within Cartier's many sub-collections offer something in between a casual dress watch and something more sophisticated. Cartier's huge and very diverse range of timepieces appeals to avid collectors of classic watches, professionals, pilots, glamour-loving women and those with an interest in the brand's history (both as an innovator of jewellery, pocket watches, and wristwatches).
Cartier Tank watches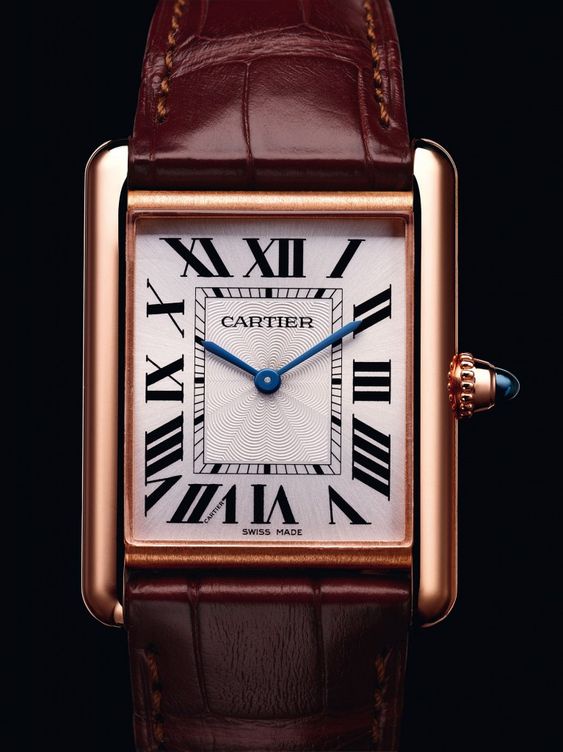 The rectangular cult dress watch is probably the most collectible of Cartier watches. Inspired by First World War military tanks, admirers have both physical and emotional ties to the Cartier Tank. Not only does it suffice as a comfortable daily dress watch, but its retro-inspired aesthetic adds character and charm to a gentleman's style. Vintage watch collectors are particularly enthusiastic about Cartier Tank watches. There's a choice of steel, rose gold, yellow gold, white gold and palladium models, as well as automatic and quartz versions. With a wide selection of vintage pre-owned models available on the market, there's lots of material and design choices. The most classic designs from the collection are the Tank Solo and the Tank Louis models. The latter remains very similar to the original 1917 Tank design, hence these are some of the most highly coveted Cartier watches. 18k yellow gold quartz-powered versions can be purchased on the pre-owned market for around $10 000, whilst a manually powered model can cost around $34 000. Introductory models like the Tank Solo sell for around $2,300 for a quartz timepiece, or around an extra 700 dollars for an automatic watch. If you're looking at investing or selling a pink gold version, expect a selling price of around $4,500 for quartz and almost double that for a mechanically powered Solo.
Cartier Tank Louis Cartier
Reference: WGTA0011
Caliber: Cartier

Case Diameter: 33.7 x 25.5 mm
Case Thickness: 6.6 mm

Power Reserve: 38 hours
Winding: Manual winding
Case Material: Rose
Lugs Width: 20mm
Frequency: 21'600 Vibrations
Jewels: 19 rubies
Water Resistance: 3 bar (30 metres / 98 feet)
Strap/Bracelet: Crocodile Skin
Dial Colour: Silver

---
Santos de Cartier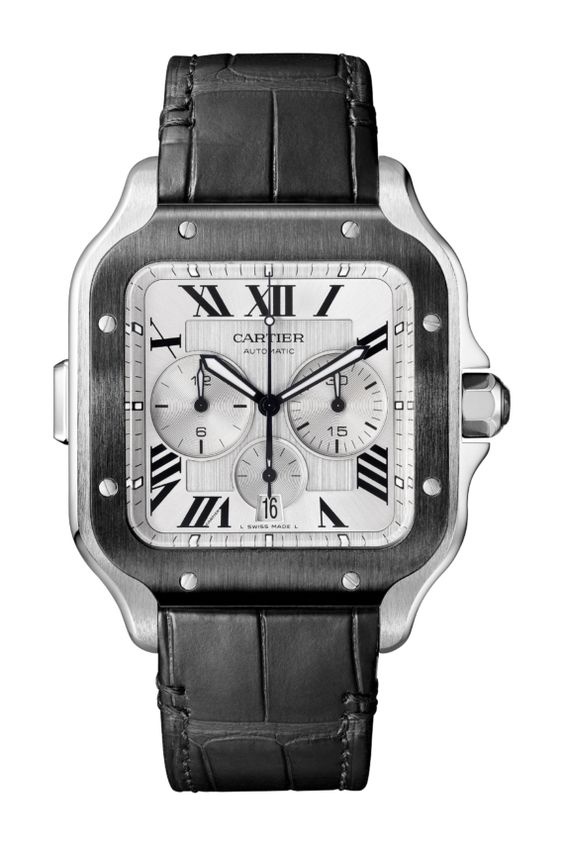 Cartier Santos watches are pioneers of the air. The line of timepieces has been in production for over 100 years and was among some of the world's first pilot's watches when the collection originally launched. Its distinctive square shape case with instantly recognizable Roman numerals for the hour track are two characteristics that define this wristwatch. After Cartier produced the first Santos watch for Brazilian pilot Alberto Santos-Dumont, it was worn in his first public flight in 1906. Due to its vibrant history, the Cartier Santos watch is widely collected. Its iconic look is characterized by a stainless steel case with a matching steel bracelet and exposed screws on the bezel and bracelet. In 2018 Cartier released a Santos watch that was powered by an in-house movement and sported softer lines and perfectly rounded edges that gave the timepiece an overall more fluid look. Collectors have invested in the Santos watch because it represents so much about Cartier's heritage. Success, determination, and perseverance. There are quartz options and automatic versions in this collection, as well as designs for ladies and men. You can pick up either a quartz or automatic Santos de Cartier watch on the pre-owned market and it will cost you around $1200. Alternatively, part with around $3500 and you can get a brand new one. Other standard models like the Santos Galbee sell for around $1,800 if pre-owned, but for a gold version, expect to pay around 2000 dollars more, however, it's not unheard of for a watch of this kind to sell for over $17,000. Larger models like the Santos 100 can be purchased for under 5000 USD from new and can be sold on for around 2,500 USD.
Cartier Santos De Cartier Chronograph
Reference: wssa0017
Caliber: 1904-CH MC
Functions: Chronograph, Date
Case Diameter: 43.3 mm
Case Thickness: 12.5 mm

Power Reserve: 48 h
Winding: Automatic
Case Material: Steel

Frequency: 28,800 vph
Jewels: 35
Water Resistance: 10 ATM
Strap/Bracelet: Crocodile Skin
Dial Colour: Silver

---
Calibre de Cartier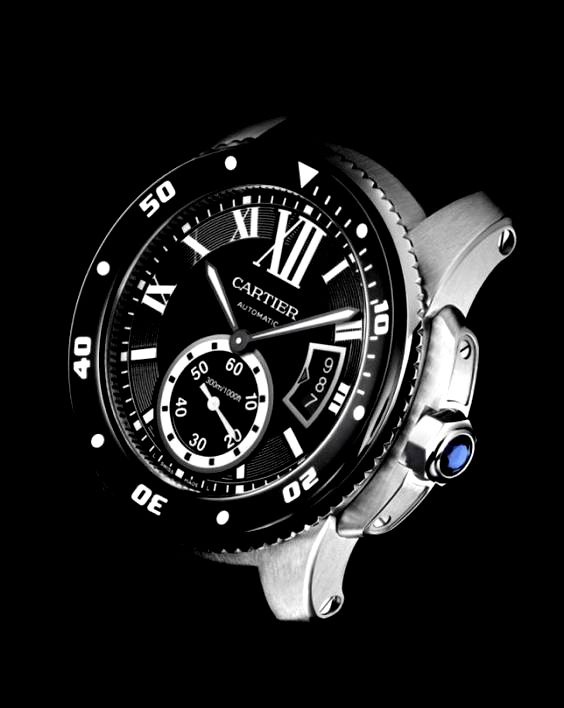 If you're buying a Cartier watch for the first time, there's plenty of reasons to put your money into a timepiece from the Calibre de Cartier range. Some of these models feature complications like tourbillons for improving the accuracy of their in-house developed movements - others feature perpetual calendars for keeping on track of a busy schedule. These sporty watches showcase Cartier's technique and exude a strong sense of elegance when worn, making them highly desirable for sporty gents, professional businessmen, and gadget-lovers. Simple two-handed models from the collection are an entry point to the collection. They retain their value incredibly well too, for instance, a model in used but good condition will sell for around 4000 dollars, whereas a brand-new model can be purchased for around 1.5k more. Bi-colour Calibre de Cartier watches with three hands sell for around 6700 USD pre-owned, or 8,200 USD in mint condition. Grand complications are understandably more valuable. Perpetual calendars, for instance, sell for up to 30,000 dollars.
Cartier Calibre Black Dial Automatic Steel Mens Watch
Reference: W7100057
Caliber: Calibre de Cartier Diver
Functions: Date, small seconds
Case Diameter: 42 mm

Winding: Automatic
Case Material: Steel

Strap/Bracelet: Steel
Dial Colour: Black
Crystal: Sapphire crystal
---
Cartier Panthere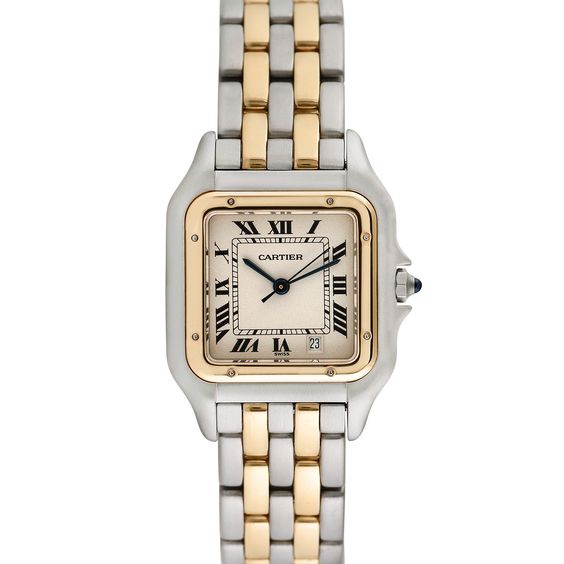 The prowling panther symbol leads back to Cartier's most influential director - Jeanne Toussaint, who created the iconic Panther ring for the company during the 1920s. The collection of Panthere watches created by Cartier pays tribute to her feline-inspired designs. They celebrate the symbol of the wildcat and since many enthusiasts are aware that the collection ceased production many years ago, they are now high in demand on the second-hand market, making for a sturdy investment. The line of timepieces includes distinctive round and rectangular-shaped models that are available in steel, gold or both. Elegant 5-link bracelets wrap around the wrist, creating an instantly recognizable and refined look. Some timepieces are showered in extravagant gemstones and dressed in precious metals like 18k pink gold, yellow gold, and black lacquered finishes. Panthere watches are also widely loved because they're unisex. Used bi-color quartz watches in good condition begin at around 2000 USD whist brand new ones retail for around $4,100. Pre-owned gold versions with diamonds can be purchased for under $10,000 if you search wisely. For a new bi-color model with diamonds, however, expect to pay around $23-24,000. You can also look to part with this much cash if you're planning on purchasing a mint condition Cartier Panthere watch in solid gold. Cartier's diverse range of luxury wristwatches will always remain highly desirable amongst watch connoisseurs. It's the company's unique recipe to success (their unwavering attention to detail using supreme materials and their impeccable manufacture of in-house movements, tourbillons, and complications) that have gained them such a huge global following. Whether you're a fan of the Tank, the racing-induced Drive de Cartier or the pilot inspired Santos watch, Cartier watches will always hold their value since each one is a prime example of the brand's expert craftsmanship and horological know-how.
Cartier Panthère Medium
Reference: W2PN0007
Caliber: Cartier Panthère
Functions: Hour, minute and seconds hands. Three black subdial. Date, Tachymeter. 1/4th second, 30 minutes, 12 hours
Case Diameter: 27 x 37 mm

Power Reserve: 48 hours
Winding: Quartz
Case Material: Gold/Steel

Frequency: 28,800 Hz

Water Resistance: 3 bar (30 metres / 98 feet)
Strap/Bracelet: Gold/Steel
Dial Colour: Silver
Crystal: Sapphire crystal

---