Cartier Watch Buying Guide
With the first appeareance as timekeepers since 1860, watches have come a long way and transformed through history. As people wore early watches attached to a chain and carried them in their pocket, strictly mechanical and reserved for the rich. With spring-powered clocks appearing the use for watches changed leading to pocket watches evolution into a jewelry item worn around the wrist, this was typically by women more than a quick handy way to look up time.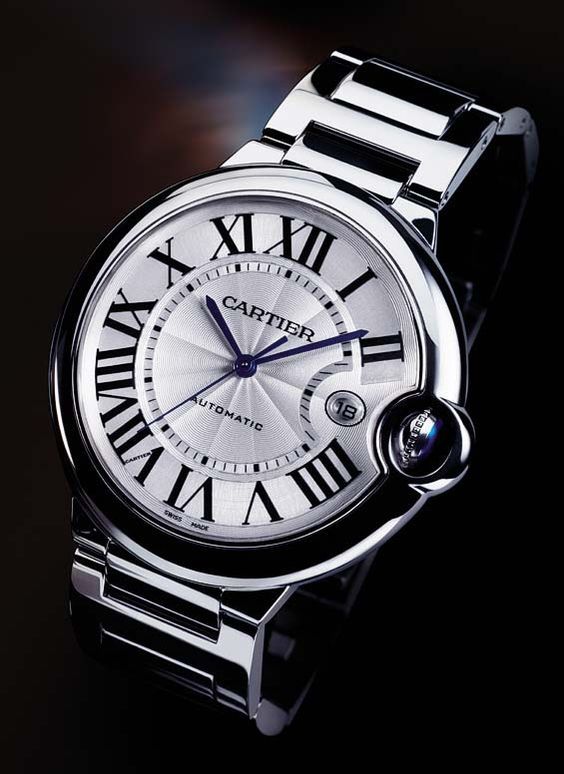 During World War I, soldiers found pocket watches to be cumbersome during their duties as they had to and not very practical and the ever-quickening pace of warfare precluded soldiers from digging into their coats to remove their timepieces, opening the cases and checking the time. Pocket watches were far too cumbersome and impractical in the new guerilla warfare that required men to be huddled in trenches and crawl through the mud in no-man's land. With noise often drowning out orders to move, timed signals replaced voice signals. With precision perhaps the difference between life and death, the phrase "synchronize your watches" entered the lexicon as soldiers made mad dashes over the tops of their trenches timed to the exact second hands on their wristwatches, which featured thick metal grills over their glass faces, similar to catcher's masks, to protect them from shattering.
To adapt, soldiers attached their pocket watches to a leather strap and wore them around their wrist, giving rise to the modern day wristwatch. Around this same time, Cartier began marketing limited editions with steeply priced models. Since then, other watch designers began to follow their lead.
---
The Luxury of Cartier
Cartier is a high-end jewelry manufacturer that specializes in fine watches. It is synonymous with luxury and has a long history of sales to royals and celebrities. Founded in Paris, France in 1847, the company is best known for its lavish timepieces. Over the years, they have successfully developed many different types of watches.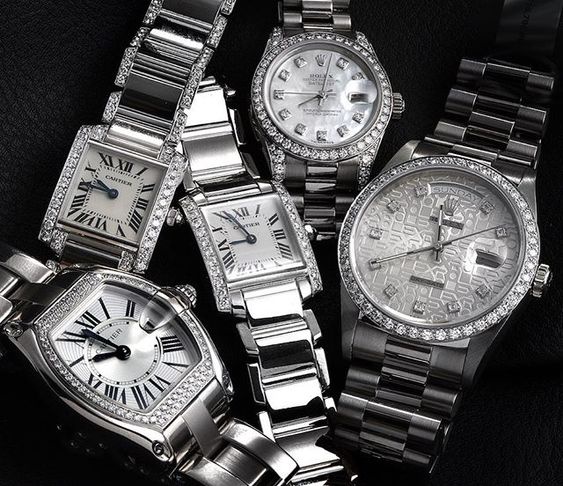 ---
Calibre de Cartier
The design of the Calibre de Cartier is geared toward men who care about beauty as much as mechanical movements. This collection, introduced in 2010, is the company's first watch developed specifically for the sport market. This is also the first Cartier timepiece equipped with an automatic movement manufactured entirely in Switzerland.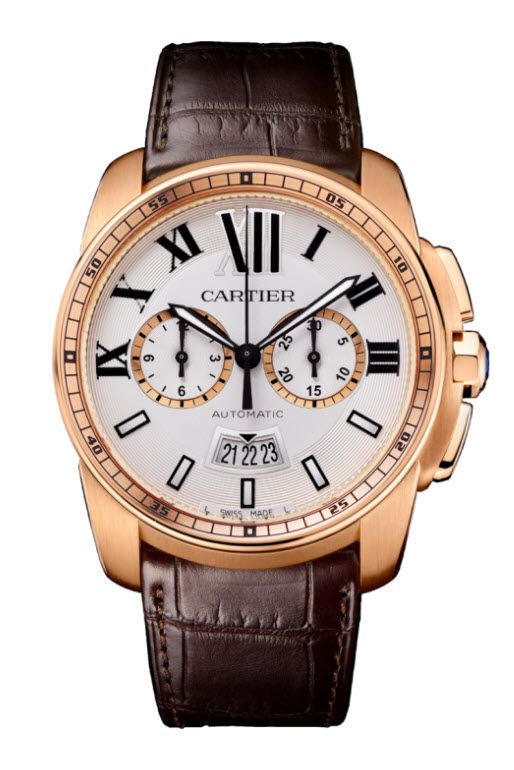 Cartier Calibre Chronograph
Reference: W7100044
Caliber: Calibre de Cartier

Functions: Chronograph
Case Diameter: 42 mm

Winding: Automatic
Case Material: Rose Gold

Strap/Bracelet: Leather
Dial Colour: Silver

---
Pasha de Cartier
In 1943, Cartier introduced a round wristwatch that became a muse for the Pasha collection. This watch style is unique but still compliments the Cartier tradition. Four Arabic numerals and distinct sword-shaped hands give this watch a sophisticated and commanding feel. Its round, water-resistant case comes in steel or white gold, and the bracelet material is available in either metal or a leather textile.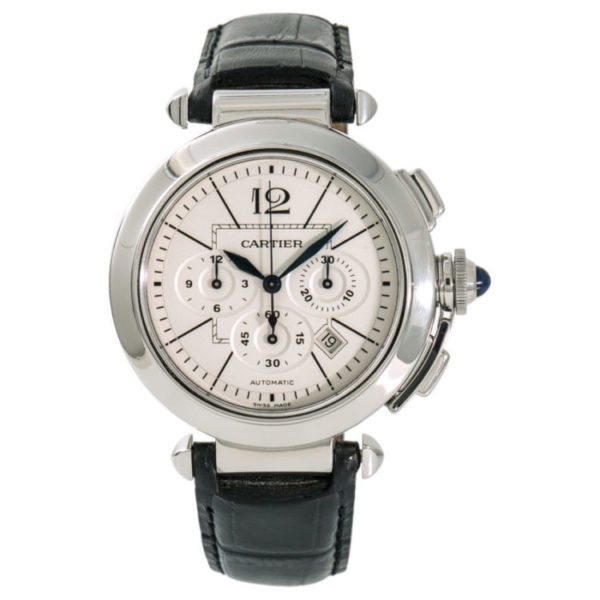 Cartier de Pasha Chronograph Men's Watch
Reference: W3108555
Caliber: 8100
Caliber Detail: Cartier calibre 8100 MC
Functions: Display back, Screw-Down Crown
Case Diameter: 42 mm
Case Thickness: 11.5 mm
Power Reserve: 48 hours
Winding: Automatic
Case Material: Steel

Water Resistance: 3 ATM
Strap/Bracelet: Leather
Dial Colour: Silver
Crystal:Sapphire crystal
---
Ligne 21 de Cartier
These watches, distinguished by their round case and angled curvature of the rim, are powerful and elegant. This is a diverse series, with refined features found within a sporty design. Styles are made for both men and women, and are available in steel, two-tone steel, or gold versions.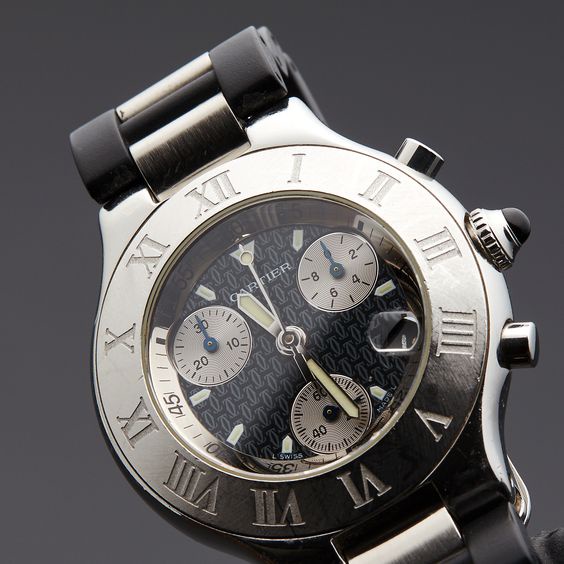 Cartier Must 21 Chronoscaph
Reference: 2424
Caliber: 8100
Caliber Detail: 21 Chronoscaph
Functions: Luminous hands, Luminous indices
Case Diameter: 38 mm

Winding: Automatic
Case Material: Steel

Strap/Bracelet: Steel
Dial Colour: Black

---
Santos de Cartier
The Santos de Cartier, developed in 1904, is modest yet elegant, and is known as the first practical wristwatch. Designed for the Brazilian aviator Alberto Santos Dumont, this watch could uniquely tell time while flying. This watch features rounded dial angles and a smooth curve with exposed screws. The case comes in many different materials, with a pink gold option.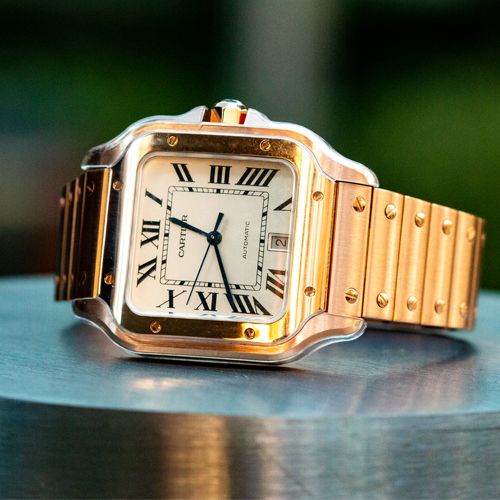 Cartier Santos Large Model Pink Gold
Reference: WGSA0007
Caliber: Cartier

Case Diameter: 39.8 mm
Case Thickness: 9.08 mm

Winding: Automatic
Case Material: Rose gold

Water Resistance: 10 ATM
Strap/Bracelet: Rose gold
Dial Colour: White
Crystal: Sapphire crystal
---
Tank
A strong yet stylish watch, the tank line debuted in 1917. This watch, inspired by the tanks used during the war, has lines and proportions that are both square and rectangle. Its defining features include a bold Roman numeral dial with sword-shaped steel hands. The Tank, one of the most highly coveted watches of all time, has graced the wrists of countless style icons.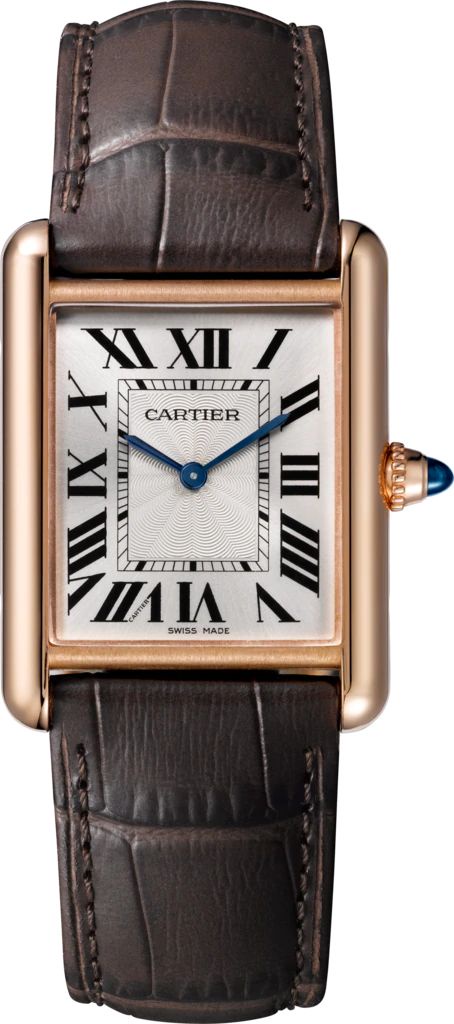 Cartier Tank Louis Cartier Rose Gold Leather Silver dial
Reference: WGTA0011
Caliber: 8100
Caliber Detail: Tank Louis Cartier

Case Diameter: 33.7 x 25.5 mm
Case Thickness: 6.6 mm
Power Reserve: 38 hours
Winding: Automatic
Case Material: Rose gold

Water Resistance: 3 ATM
Strap/Bracelet: Crocodile skin
Dial Colour: Silver
Crystal: Sapphire crystal
---
Determining Style Options
Watches fashioned for any style, Cartier timekeepers come in numerous designs and materials. These watches incorporate the finest resources in the world and often contain 14 or 18 karat gold in the band or case.
Purchasing Cartier Used
The concept of an elaborately expensive watch has been around since the 1800s, and the market has continued to grow. These high-priced watches are not the average timepieces. When purchased new, they range in price from a few thousand dollars to tens of thousands. To help offset the cost, buyers may consider purchasing them used. When purchasing used, buyers should look at pictures and ask about any repair history. If a watch has replacement parts, its value dramatically decreases. It is important for the buyer to do research before purchasing any used Cartier, as fakes do exist and they look very genuine. Buyers avoid counterfeit purchases by requesting the serial number, original box, and papers of authenticity.
Conclusion
Watches make a great accessory by complementing individual style. People purchase high-end watches to impress, and very few extravagant possessions compare to a Cartier timepiece. Geared toward a true connoisseur, Cartier watches are everlasting and hold their value. They are pioneers of the men's wristwatch, and truly exude indulgence. When looking for a luxury watch, it is important for buyers to consider the type of band, material, and overall look. The styles and finishes of Cartier watches drastically differ from one another, as some are sporty and others elegant. Before purchasing, buyers should identify the right watch to coordinate with their particular lifestyle.