Popular Casio G-Shock watches
Casio produced its G-Shock watch series at a very important time within the watch industry. There were very few shock-resistant watches circulating the market. Those that claimed to be tough and resilient were soon cast into the shadows when the first Casio G-Shock watch launched. It could withstand impact, knocks and bumps associated with everyday life on the wrist, plus so much more. It is these qualities that make G-Shock watches so popular today.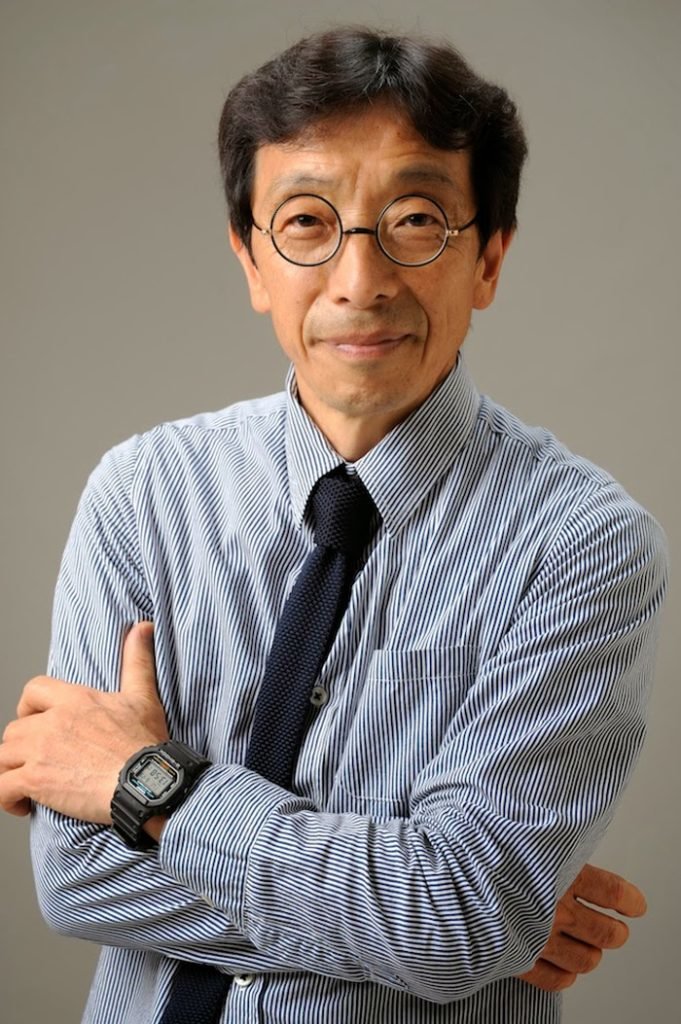 ---
Casio engineer Kikuo Ibe first had the vision to produce a watch for rigorous outdoor activities – one that would defy the laws of nature and thus the triple 10 concept was born. Ibe outlined that the new tough watch should promise a 10-bar water resistance. It should also withstand a 10-meter fall onto a hard surface and should house a battery with a 10-year life. This was no mean feat.
---
To achieve the first G-shock watch, a total of 200 prototypes would be produced. They were tested beyond endurance through trial and error. Those who tested the watches were named the Tough Team. Casio watches were dropped from rooftops and implemented a shock-resistant structure that Ibe developed having seen how a rubber ball would sustain a high level of shock and impact when dropped.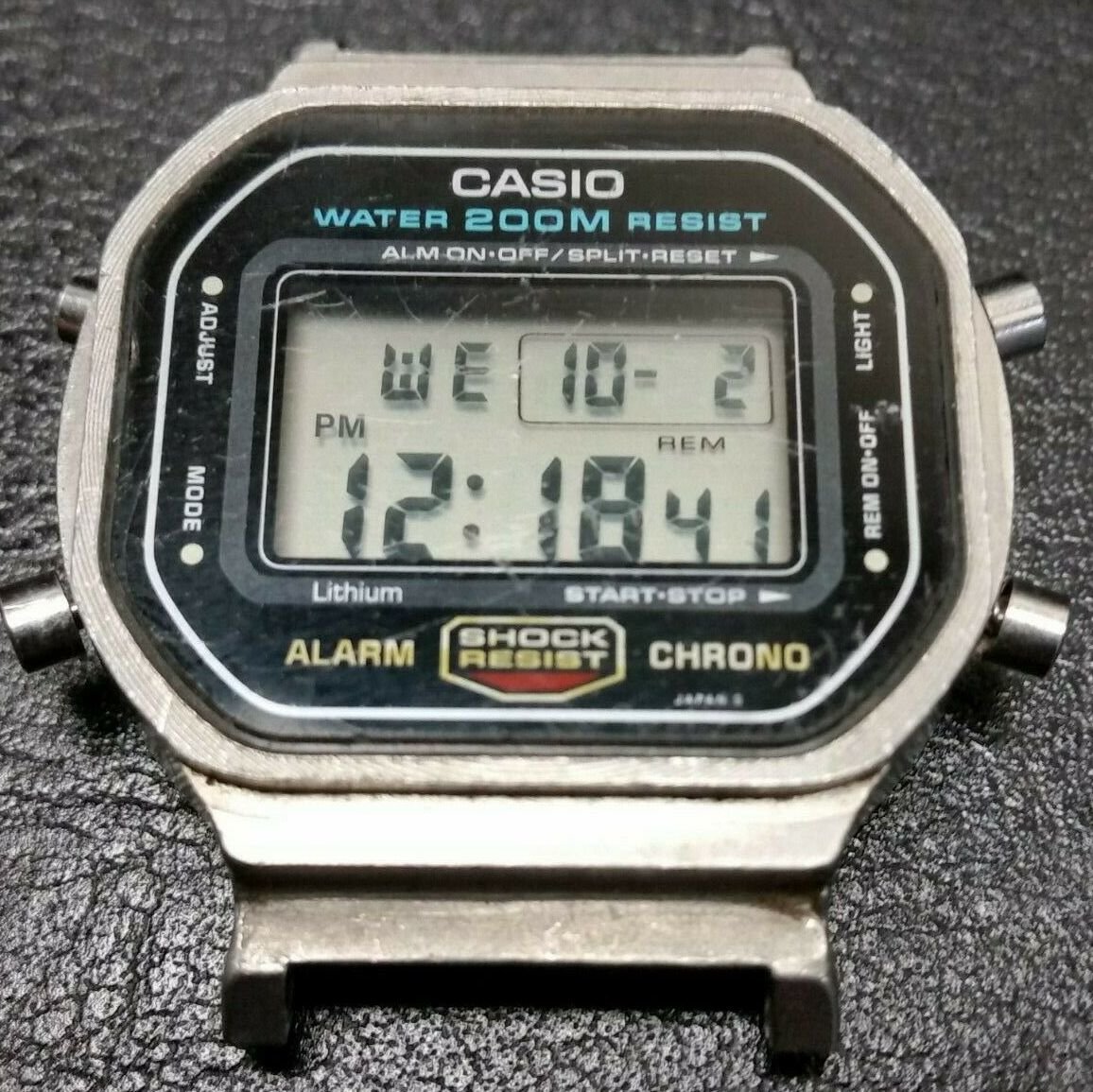 ---
It would take an entire two years to develop the first Casio G-shock watch. Its development began back in 1981 and the first watch was named the DW-5000C. It boasted an outer protective surface developed from urethane rubber and layers of special shock-resistant protection. The watch was also equipped with a stainless steel caseback and featured a scratch-resistant and a hardened mineral glass front. Interestingly, the urethane foam cradle would enable the quartz movement to float inside the case of the G-Shock watch. When it launched in 1983, it proved an instant success. Since this first model, the G-shock series has grown and evolved considerably, with iterations crafted from stainless steel, carbon or titanium, as well as digital and analogue variations and solar-powered models.
---
A rare vintage Casio G-shock DW-5000C-1A first generation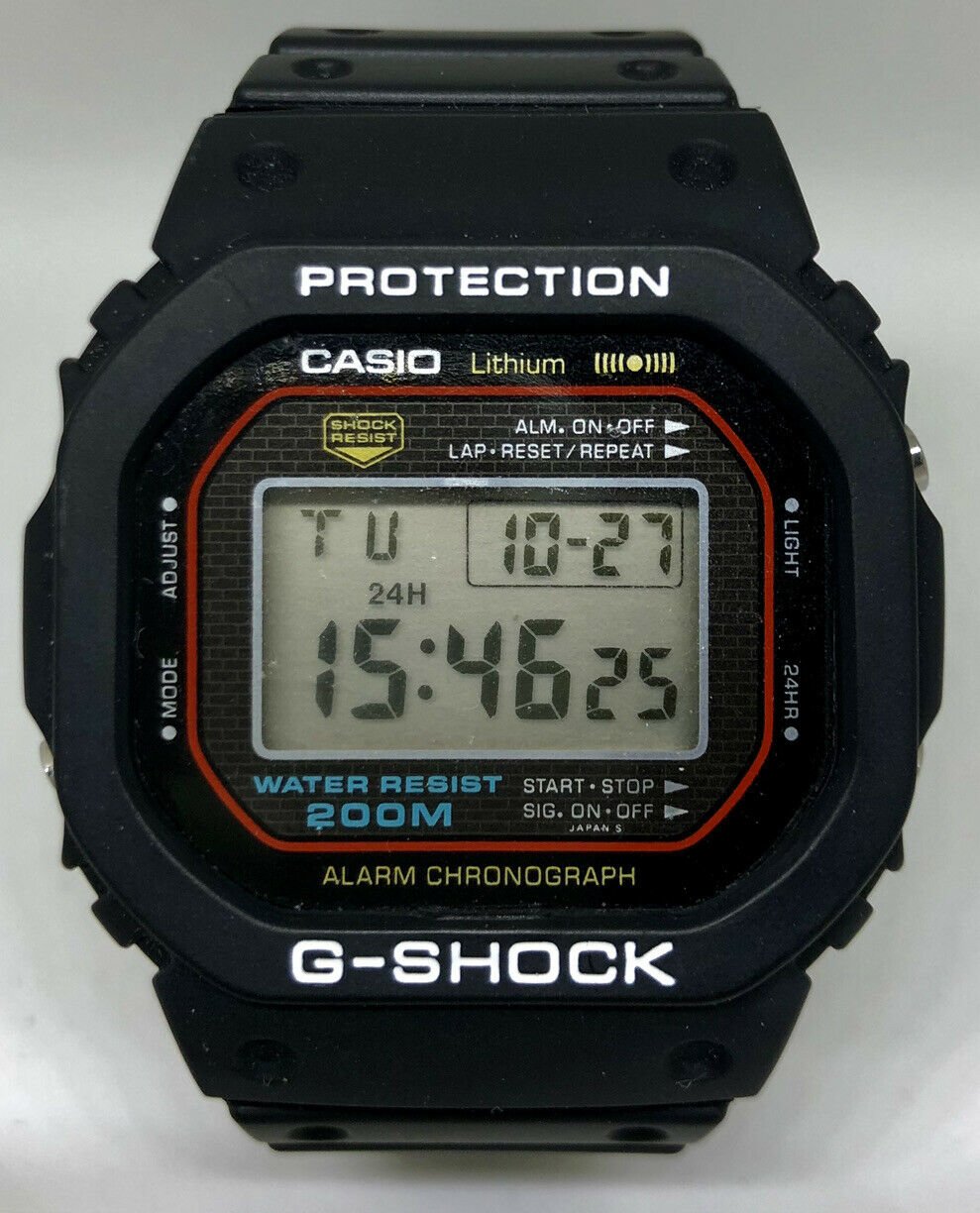 ---
Casio's ever-growing collection of popular G-Shock watches are primed for military and outdoor use making them perfect for mountaineering, extreme sports, biking, hiking, swimming, travel and leisure. Some of the most useful features of the watches from this range include a countdown timer, a world clock, alarms, an electro-luminescent back-light and an impressive water resistance, as well as radio-controlled GPS features and a compass. Here are some of the most popular G-Shock watches from the range.
---
Basic Casio G-Shock watches
To keep things simple, standard Casio G-Shock watches belong to a category that offers an affordable price tag and a baseline for simple features and functions. These kinds of watches will therefore appeal to those looking for a robust wristwatch for daily wear. Whether you're looking for a watch for leisure, work or travel, basic G-Shock watches from Casio include the models; DW-5600, DW-6900, and DW-9052, as well as the analogue-digital G-100.
---
A Casio G-Schok DW-5600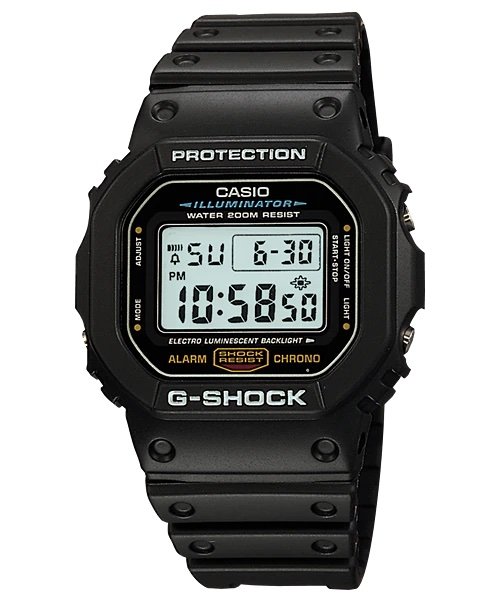 ---
DW-9052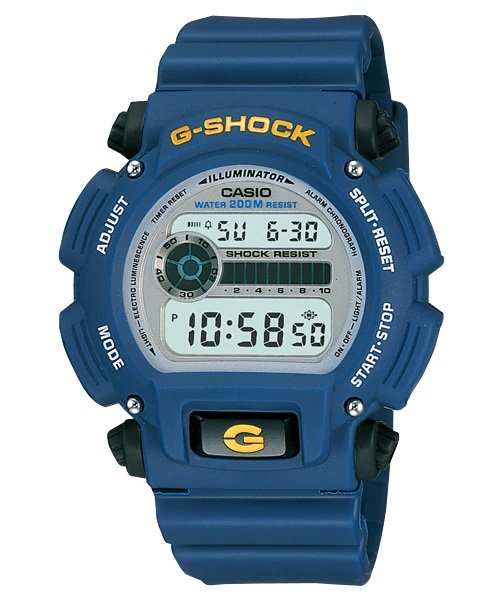 ---
G-100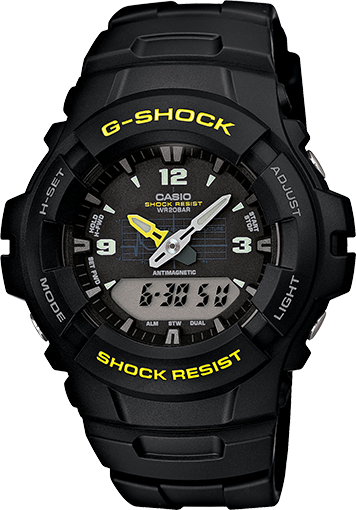 ---
These watches are reliable, robust and shock-resistant with water-resistant capabilities that make them useful for wearing on holiday, swimming, or wearing to the gym. One of the key advantages of these more affordable Casio G-Shock watches is that they offer similar or the same shock protection and water resistance as higher-priced models from the G-Shock range.
---
Big Case G-Shock watches
Big face Casio G-Shock watches or oversized G-shock watches for big wrists have a huge following. The popularity for large faced watches began and grew from the year 2010 onwards, where Casio responded to this demand during a period where women's boyfriend watches were also emerging on the scene. Wearing an oversized G-Shock watch is the best way to command attention. What's more, G-shock watches are already big and powerful to start with, making those from the oversized section even more capable of producing a huge wrist presence.
---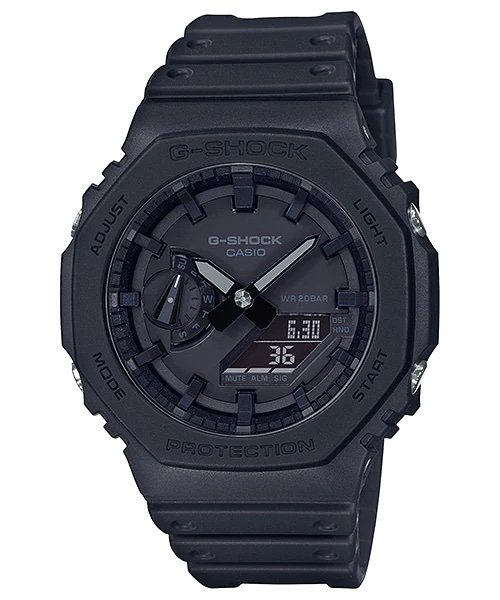 ---
---
Dynamic and masculine watches from this collection include model references such as; GA-200, GA-201, GA-100, GA-101 and the GA-400. The Master of G line occupies many watches belonging to the mid-range-to-big case watch section.
---
Solar G-Shock watches
Since Japan put itself well and truly on the map for advanced timekeeping technology, it makes sense that the Casio G-shock watch range is home to some of the world's most popular and reliable solar-powered watches. The Solar G-Shock watch collection by Casio comprises models like the Tough Solar, which alleviates the inconvenience of having to regularly change the battery of a quartz-powered watch and instead features solar panels on the face of the watch that capture solar energy to keep the battery inside charged up. Solar-powered Casio watches from the G-Shock range are a popular option since they offer a lifespan of up to 10 years or over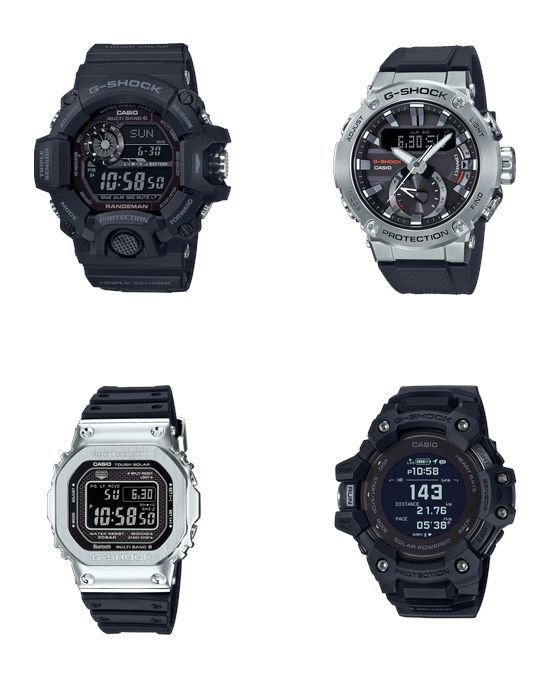 ---
What's more, they are very affordably priced. Although not the cheapest, they certainly aren't the most expensive and for those who don't mind paying a little more, benefits like a long battery life are justified
---
G-STEEL and GravityMaster Aviation Series
G-STEEL and GravityMaster watches from Casio's G-Shock series are the higher-priced models. They incorporate Tough Solar Power technology plus a lot more. These additional features include Bluetooth and enable the wearer to synchronize the watch with internet servers. These popular Casio G-Shock watches are characterized by their toughness, featuring a dual-layer bezel as well as a robust stainless steel case that, although masculine and bold, is somewhat dressier than other models from the G-Shock family.
---
Gsteel Collection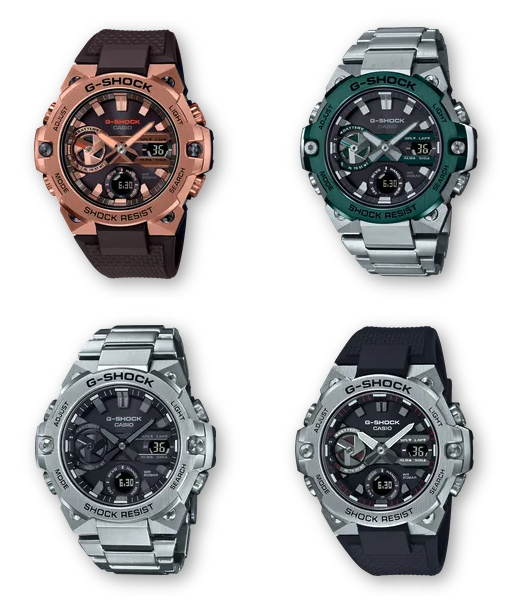 ---
Although more expensive than standard G-Shock watches and some Solar-powered ones, G-STEEL watches and GravityMaster watches are still not as costly as the luxury range. GravityMaster watches have a distinct aeroplane instrument panel-inspired aesthetic and appeal to those collectors with a preference for upscaled G-Shock watches that offer a little more for their money without breaking the bank.
---
Gravity Master Line up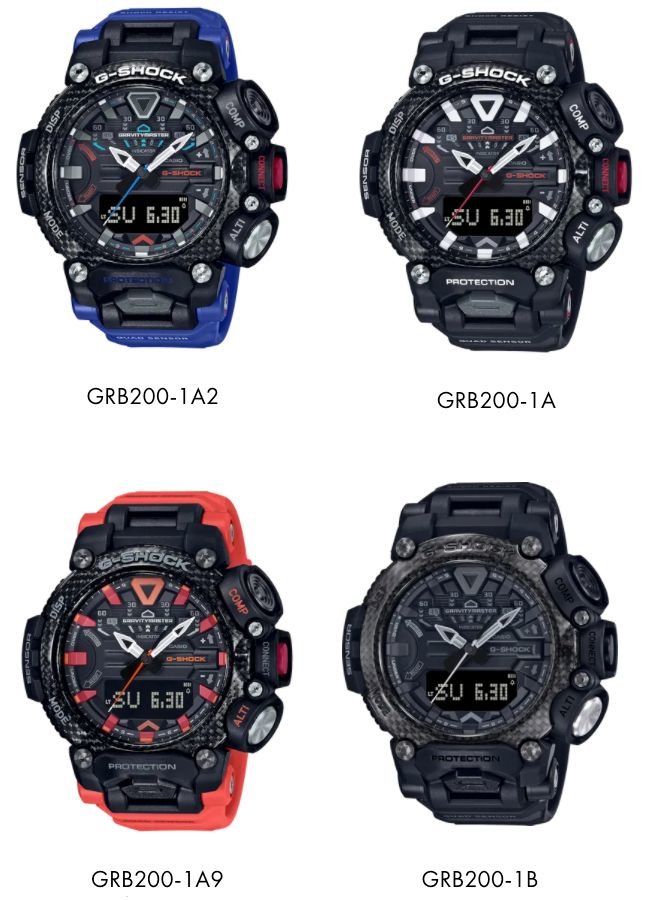 ---
Master of G series Digital G-Shock
The Master of G watches of the Casio G-Shock series come equipped with advanced features that reflect a higher price tag. Tough Solar charging and Multi-Band radio timekeeping functions are included in these features. The Mudman G-9300, for example, is a watch with an innovative Twin Sensor feature, a digital compass and a thermometer. In addition to this, the collection also features the Frogman GWF-1000 with an impressive water-resistant capability, a compass, a thermometer and a water depth meter for advanced underwater exploration.
---
Master of G Rangeman GW9400-3
---
Similar features are provided in the GGF-D1000, whilst the Rangeman GPR-B1000 watch offers solar power-assisted GPS navigation along with pre-loadable routes for planned treks, hiking, biking, climbing and mountaineering.
---
Master of G Series Analog G-Shock
As well as the digital models from the G-Shock Master of G Series from Casio, the collection also offers analogue models like the Gulfmaster GWN-1000. It offers a tide graph and moon age data feature, along with a maritime-themed design that looks cool whether you're accompanying the watch with sporty gear or something a little smarter at the weekend.
---
. The Mudmaster GWG-1000 watch also belongs to this sub-category of G-Shock watches and features a triple sensor and a strong sapphire crystal glass front. This assists the watch in withstanding even tougher and thicker mud conditions and external weather conditions. Other popular G-Shock watches from this sub-category include the Gravitymaster GPW-1000 and GPW-2000 models. These are equipped with Triple G Resist technology, making them resistant to shock, vibration and g-force. The GPS timekeeping feature in these two watches also reflects its higher price tag.
---
Gulfmaster GNW-1000 and Mudmaster GWG-1000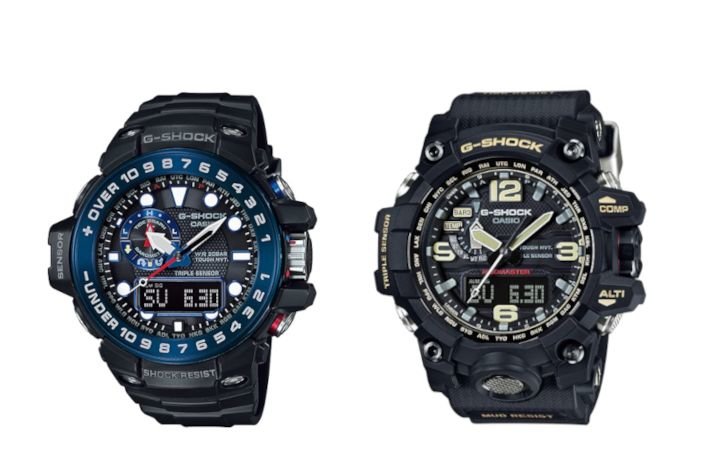 ---
Although much more affordably priced than the likes of an Audemars Piguet or Rolex watch, G-Shock watches are leading the pack with their entry-point price tags. It seems that more and more watch enthusiasts are mixing up their collection of high-end models with popular G-Shock watches since their spec offers so much value for money. The brand has been strategic in who it collaborates with for limited edition series and its new lines covet luxury watches, echoing designs made by the top dogs within the industry. Popular Casio G-Shock watches continue to prove that you don't have to take out a loan to own a reliable, quality engineered and technically sophisticated wristwatch anymore. In fact, by building up a collection that incorporates watches like the G-Shock, you can use this to your advantage, adding more higher-end watches to your collection whilst saving money on those that can be worn regularly as daily beaters.
---
---
Subscribe to our newsletter