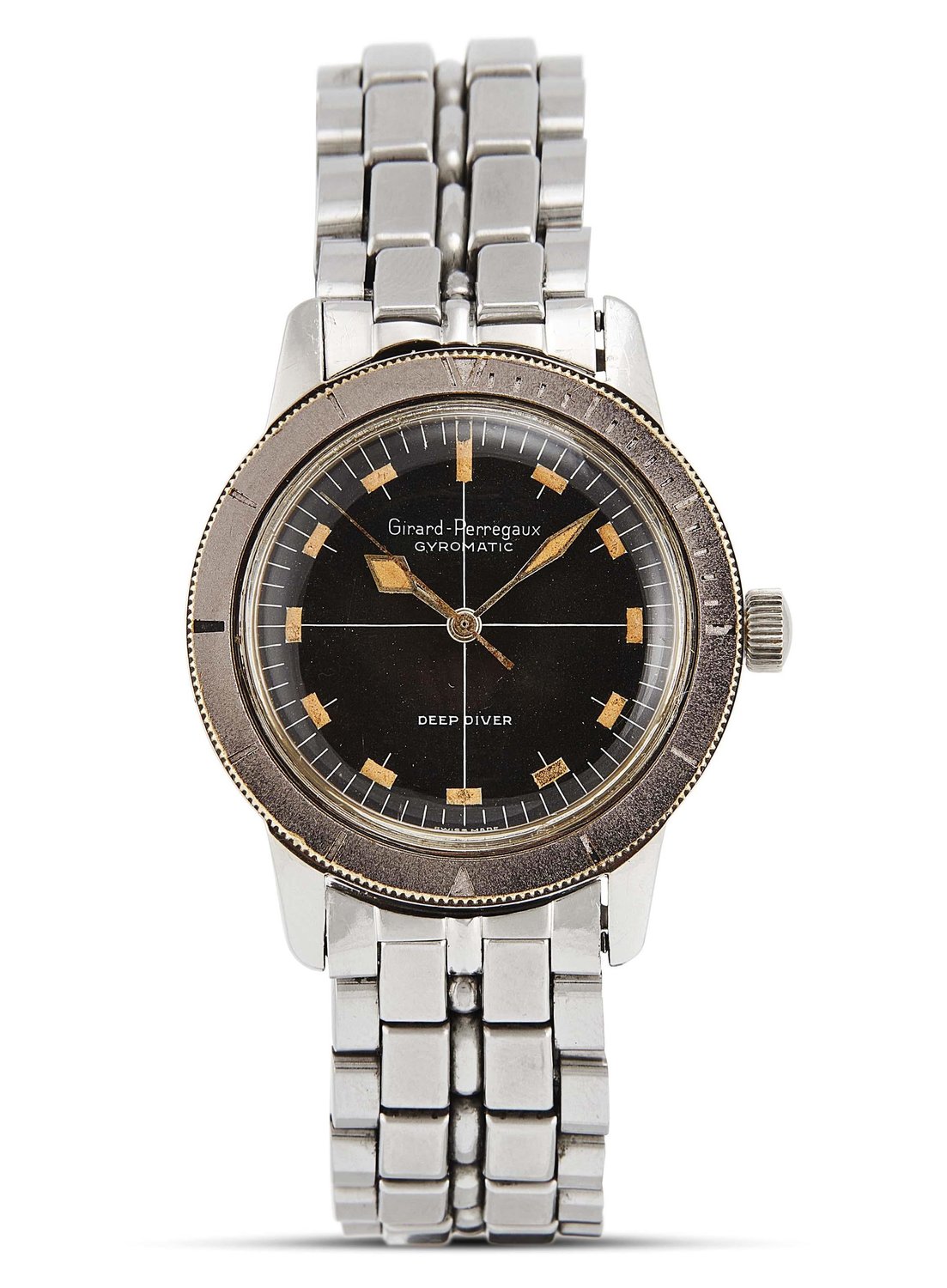 Popularity of vintage skin diver watches
Have you ever wondered what defines a skin diver watch? Maybe you're new to the dive watch collecting sphere and want to know a little more about why vintage skin diver watches are so popular in particular? This article will give you a quick history of the skin diver watch and an insight into why its design has become so sought after on the pre-owned market today. That's said, vintage-inspired skin dive watches can be equally as popular and can sometimes make for a good affordable alternative.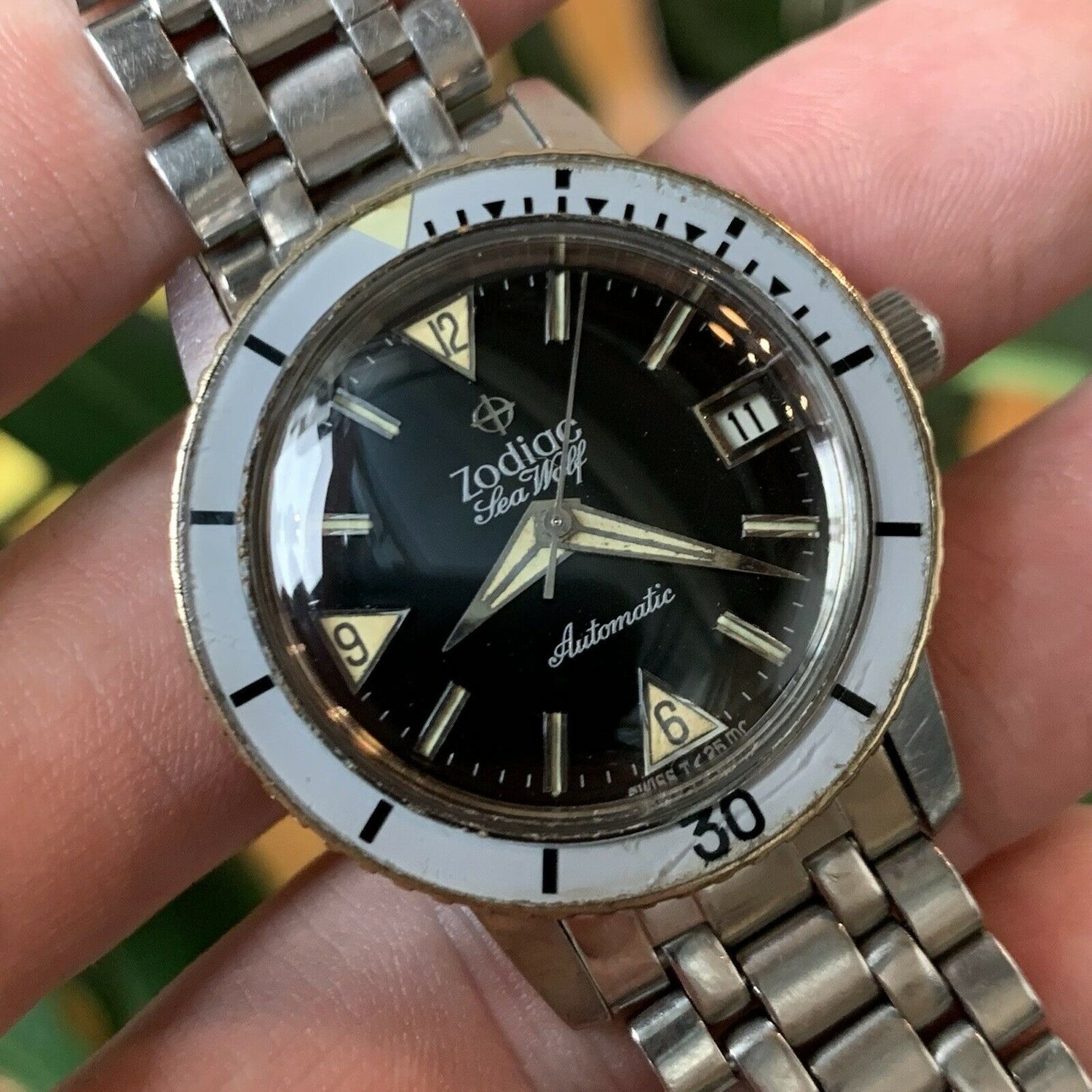 ---
Part of the appeal of a dive watch is the fact that, even if you didn't want to, you could sink right down to great depths underwater without your watch compromising on functionality. Although designed to be as simple to utilise under heavy diving gear as possible, there is considerable skill behind the design of a dive watch. Overall, dive watches are robust in design, legible in dark conditions, water-resistant and have to pass a set of criteria developed by the ISO 6425 International Standard to classify as a true dive watch. Generally, you want a dive watch to be water-resistant to at least 200 meters and, as stated by ISO, it needs to have some form of measuring device for measuring elapsed time underwater – in most cases, a unidirectional rotating bezel.
---
What is a skin dive watch?
These days, dive watches tend to be separated into two categories, and it is this differentiation that will partly explain what a skin dive watch is. There are professional dive watches such as those manufactured by DOXA, as well as models like Omega's Ploprof. These are intended for professional divers, underwater engineers, scientists and photographers. These watches offer an overall higher spec compared to watches not worn for diving. They will often feature helium escape valves for balancing out the pressure inside the watch as it submerges and rises in the water. The other category is the lightweight dive watch genre, also known as skin dive watches. Skin diving itself refers to diving without much (or any) essential gear. In that same vein, a skin diver watch will offer less water resistance compared to a professional dive watch and may come without added features like the helium escape valve.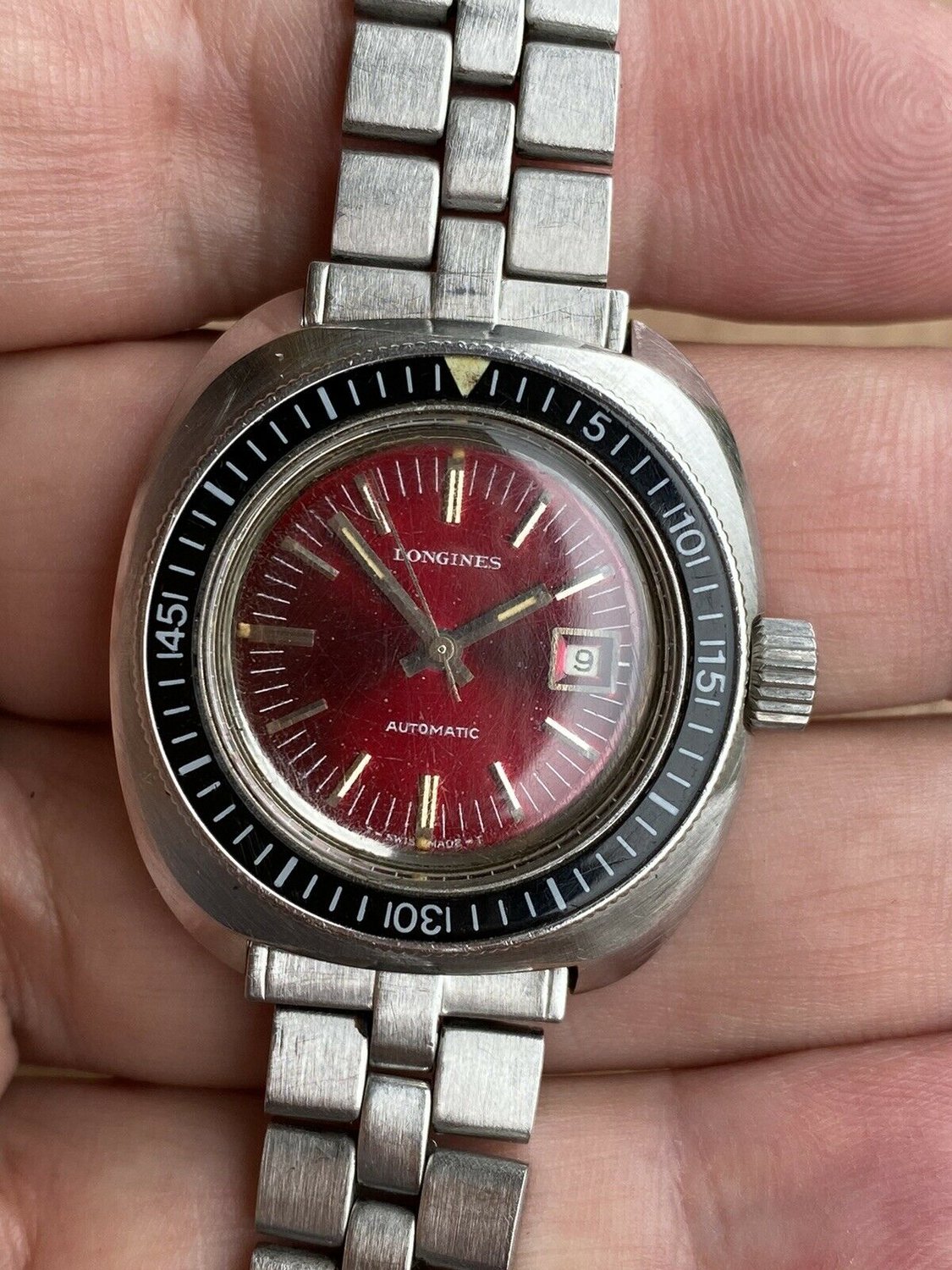 ---
Longines and the evolution of the skin dive watch
Skin diving became incredibly popular during the mid-20th century. After the Second World War, there was a reduction in demand for specific tool watch needs. Subsequently, diving became popular as a hobby and thus an interest in skin diver watches emerged. During the 1950s, great competition was unfolding around the manufacture of dive watches. Renowned names within the watchmaking industry like Longines remained at the forefront of the game during this time. The Swiss brand released the Nautilus Skin Diver ref. 6921-1 which become one of Longines' most popular watches during the late 1950s.
---
Nautilus Skin Diver ref. 6921-1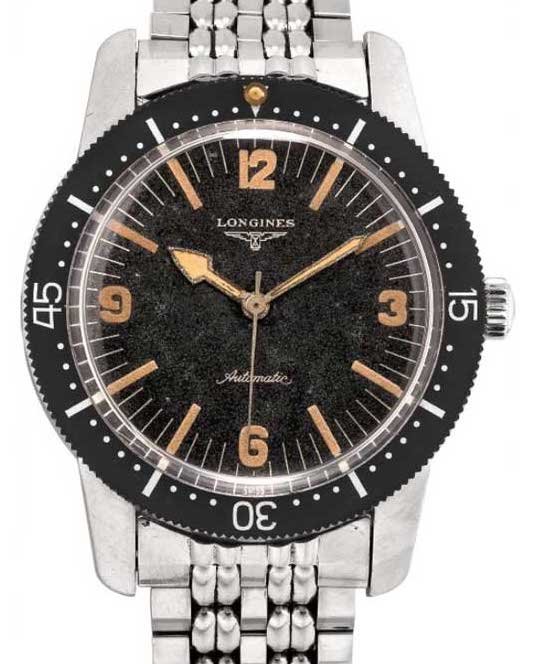 ---
The case of the watch was designed by Ervin Piquerez but due to its bakelite bezel, was deemed unsuitable for diving. As a result, an intact Longines Nautilus Skin Diver watch in good condition is now incredibly hard to find on the pre-owned market. Longines would go on to address this issue with the release of its 7042-1 model.
---
Longines ref. 7042-1
When the Longines ref. 7042-1 was released, it was clear that its design was heavily inspired by the Longines Legend Diver, but now boasted several improvements. One of these modifications was its bezel, which was now crafted from stainless steel. It also featured a Super Compressor case designed once again by Ervin Piquerez. That said, its water-resistance had now reduced from the former 150-meter water-resistance of the 6921-1 to 100-meter water resistance.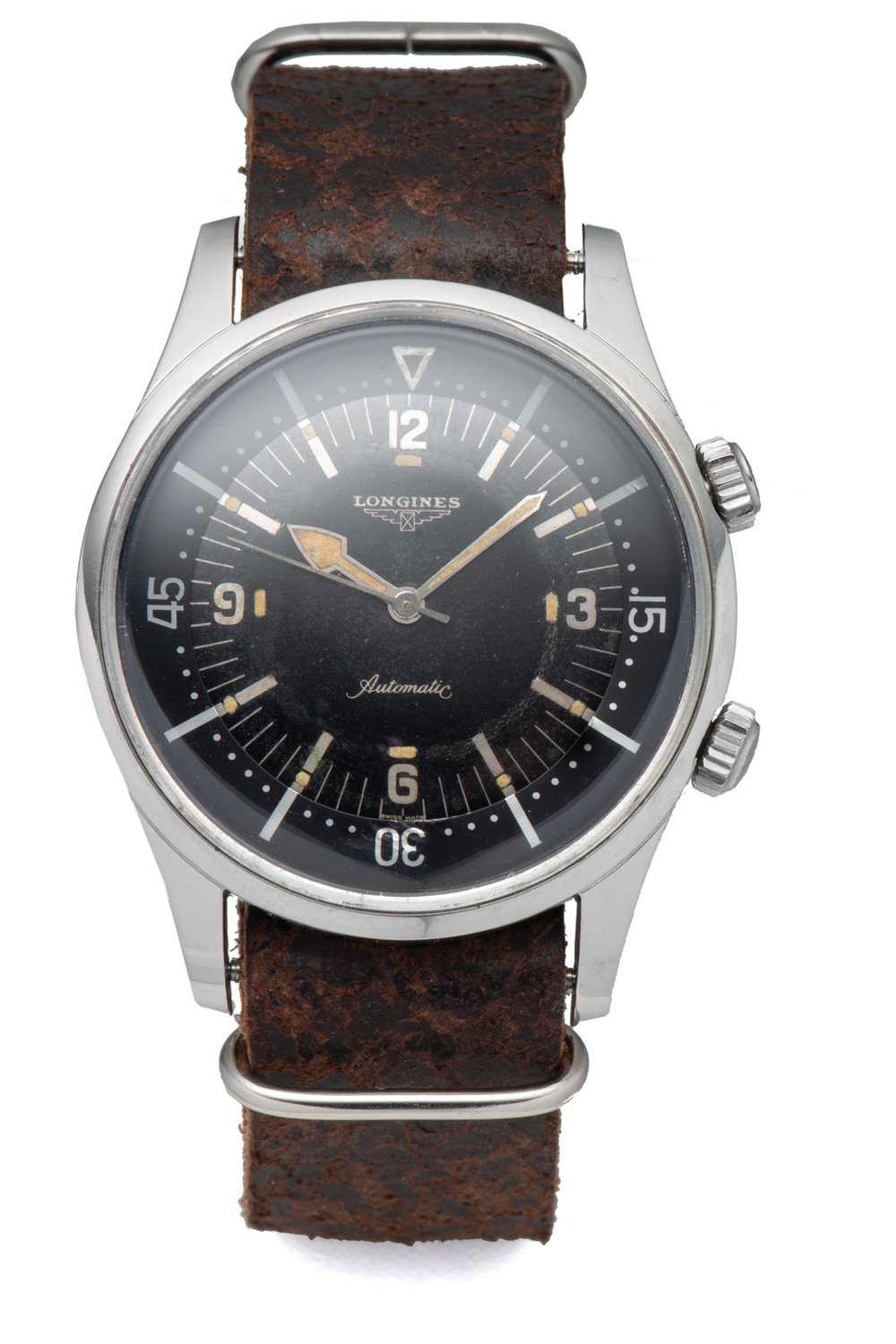 ---
Skin diver watches vs professional dive watches
When you compare the water-resistant capability of the Longines 6921-1 and 7042-1 watches with dive watches manufactured by the likes of Rolex and Blancpain, the differences between a skin diver watch and a professional dive watch becomes clear. The Rolex Submariner and Blancpain Fifty Fathoms watches were primed for greater underwater use and still remain popular dive watch options to this day. But what makes the vintage skin diver watch so heavily sought-after on the pre-owned market nowadays?
Because skin diver watches were generally less water-resistant than professional dive watches, they had slimmer and smaller case profiles. This made them more suitable for doubling up as a dress watch or for pairing with casual attire when not intending to dive. Many smaller marques during the boom of the dive watch industry lacked the funds to be able to manufacture hefty professional dive watch tools and so these companies turned to the expertise of renowned case makers like Squale, Monnin and Erwin Piquerez S.A. The result was the skin dive watch, which characteristics like an acrylic crystal glass front, an arched case that took the form of a downward curve, squared lugs, a thin rotating bezel and a water resistance between 100 and 200 meters.
---
What makes vintage skin dive watches so popular today?
Of course, skin dive watches offered plenty of functionality between the 1950s and 1970s. Their elegant style proved popular not only for those with a preference for the dive watch look but also for those who wanted their timepiece to double up as an instrument for dry land too. By the time the quartz crisis was approaching, styles and tastes were changing once more. The skin dive watch made way for slimline quartz watches which spelt the end of this very distinct watch.
---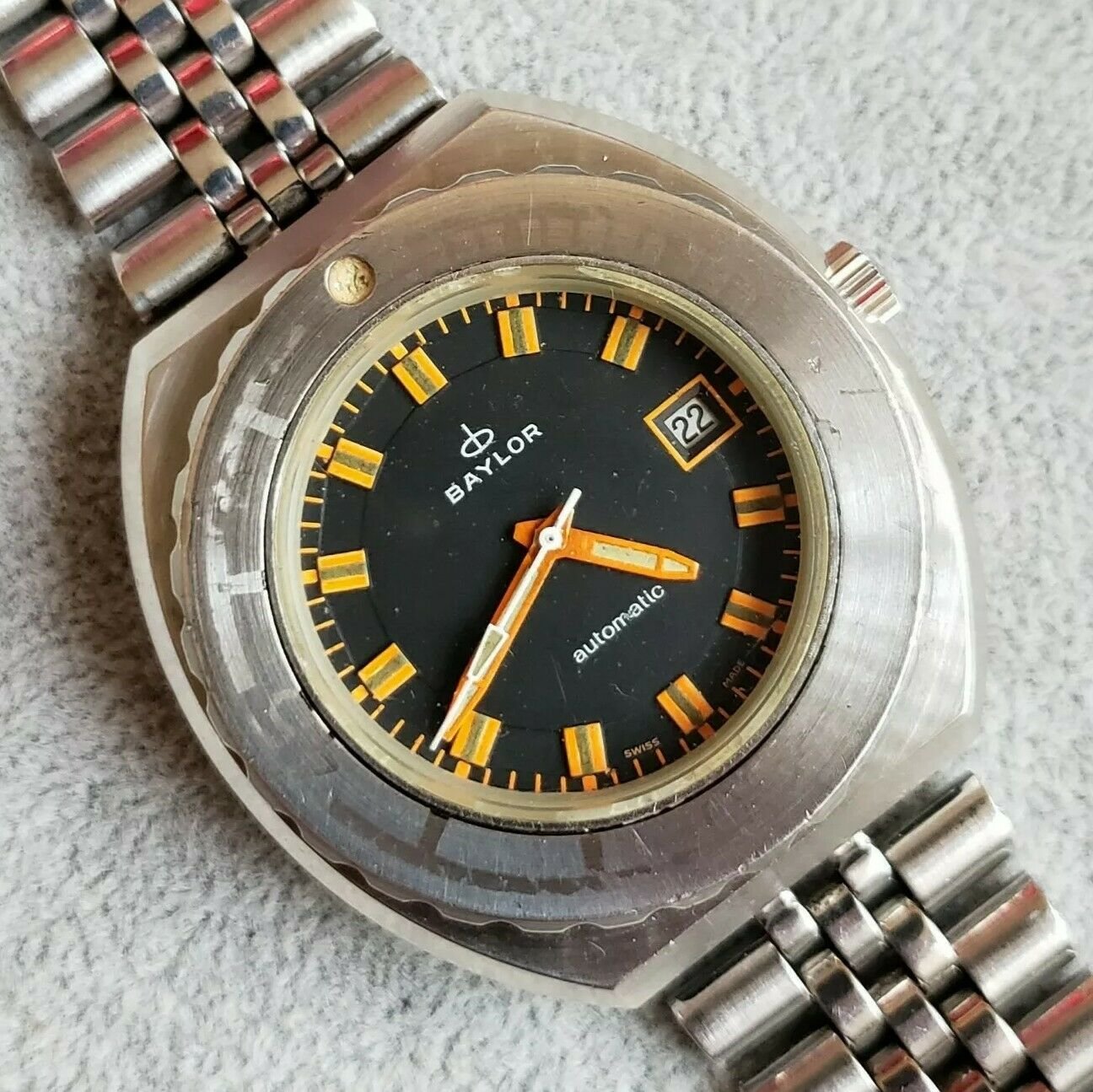 ---
In recent years we have seen a recent growth in popularity for vintage skin dive watches and vintage-inspired dive watches in general. There is plenty of variety when it comes to choosing a modern skin diver watch with a vintage-inspired aesthetic – the Zodiac Seawolf 53 and Oris Divers Sixty-Five watches to name just two examples. The designs offer that daily-wear dive watch look and a classic dive club charm. If you can't get your hands on your dream vintage skin diver watch, several modern-day alternatives offer all the character of those that reigned during the 60s, plus some appealing functions and innovative materials for improved robustness and resistance whilst underwater.
Let's take a look at some…
---
Popular vintage-inspired skin dive watches today
Zodiac Super Sea Wolf 53 Skin
The Super Sea Wolf 53 Skin by Zodiac is a stunning example of classic-looking skin dive watch. It promises boldness and legibility but also boasts a spartan aesthetic. The 39.5mm model is crafted from stainless steel and features a black dial with triangular hour markers at 6, 9 and 12 o'clock. The hands and the indexes around the hour track are all treated with luminous material to assist with legibility in the dark, whilst the steel unidirectional rotating bezel completes a very "heritage" look. The watch is powered by an automatic movement and promises 200-meter water resistance.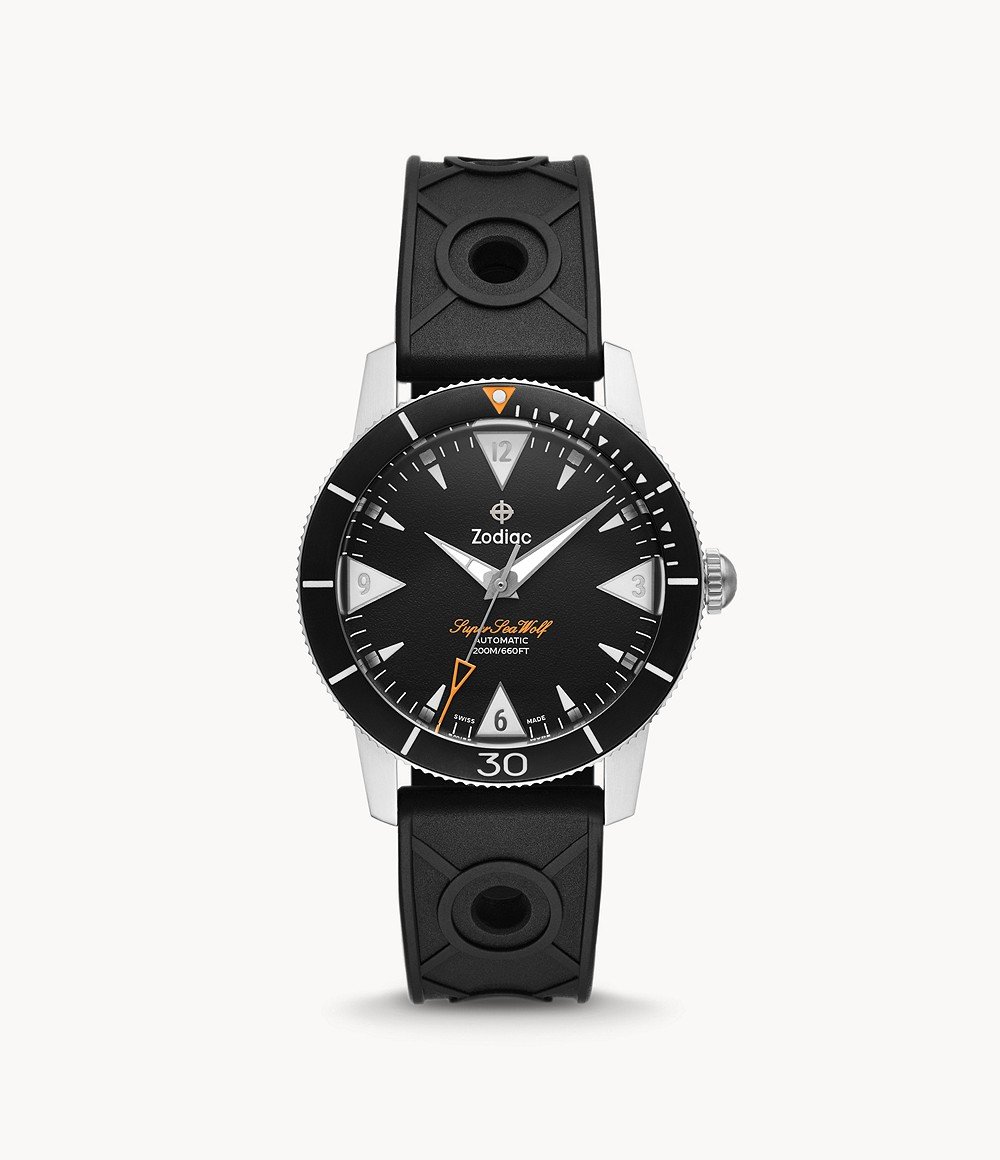 ---
Bulova Devil Diver
The Bulova Devil Diver perfectly captures the essence of the vintage skin diver. It presents the time on a vivid orange dial for precision timekeeping underwater. The first fifteen minutes of the watch's unidirectional rotating bezel is also executed in the same bright orange hue. Vintage dive watch elements are featured in the circular hour batons treated with luminescent material and the chunky legible central hands. The steel Bulova Devil Diver watch is powered by a Miyota automatic movement, is ISO compliant and offers you a 200-meter water resistance.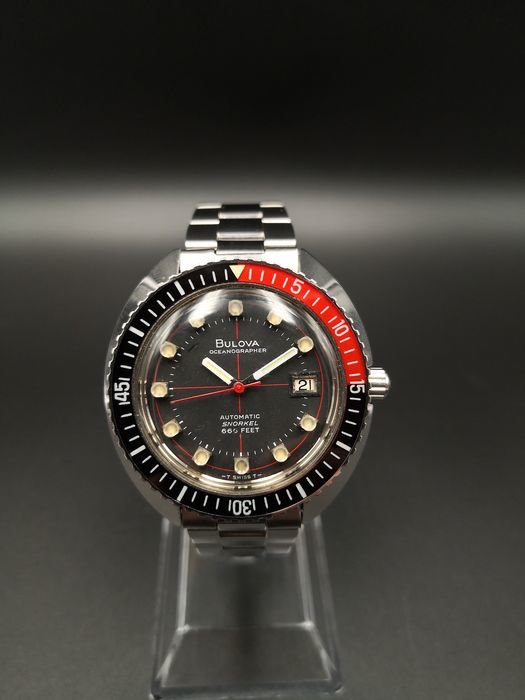 ---
Modern Special Edition Oceanographer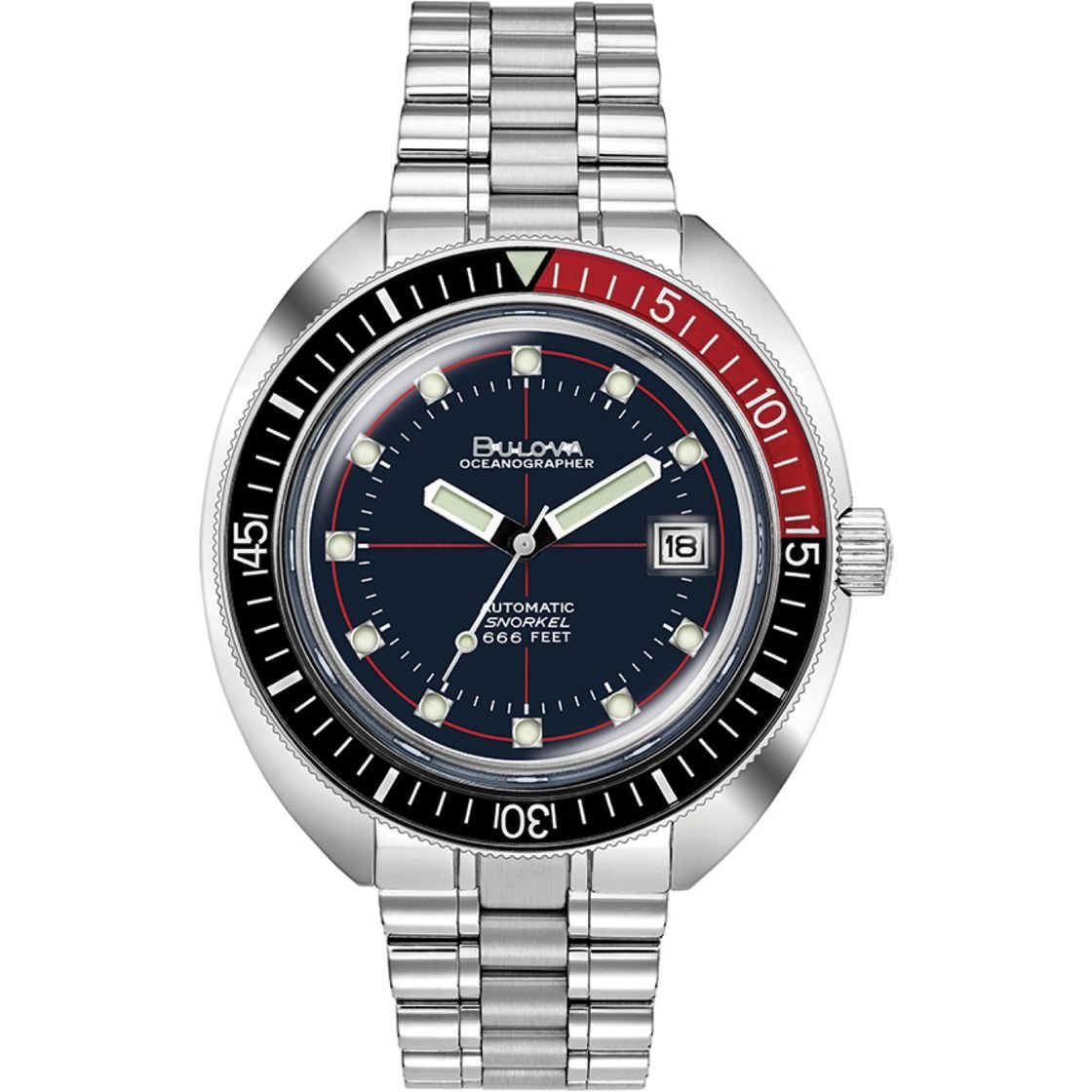 ---
Alsta Nautoscaph Superautomatic
Back in the 1970s, the Alsta Nautoscaph made it huge when it featured on the wrist of Jaws actor, Richard Dreyfuss. A newer iteration of the long-awaited "Jaws watch" has now been released in a 38mm size. Able to withstand the pressures of the ocean floor, the new Alsta Nautoscaph Superautomatic watch can resist the damaging effects of shock and vibration and features a cushion-shaped case with high corrosion-resistant properties and a crown with a triple lock mechanism.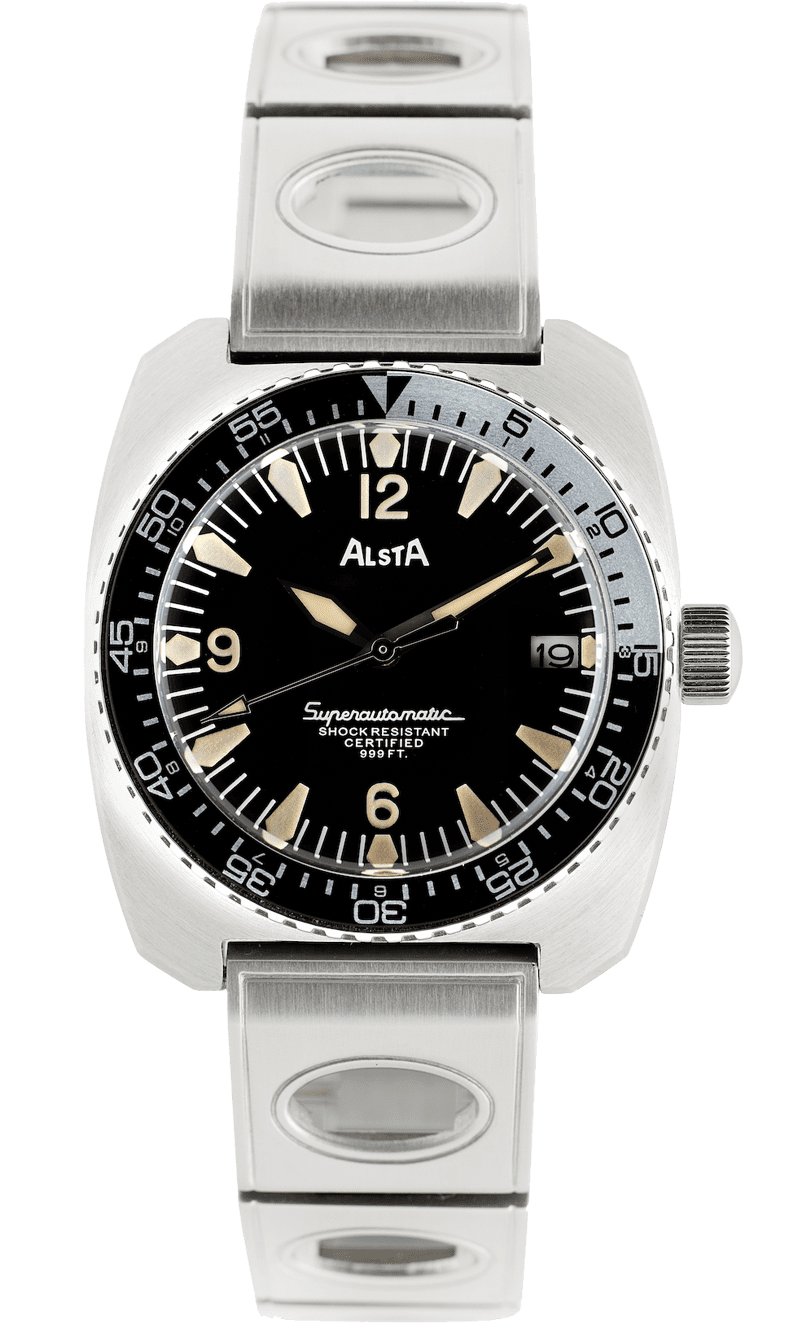 ---
Squale Sub 39-Vintage
Evoking Squale's skin diver watches from the 1950s, the Sub 39 comes in various forms, including this GMT Vintage model primed for travel. Ideal for those who like to dive all over the world, the Squale watch offers the vintage-inspired look of skin diver watches from a time gone by, yet its robust casing integrated with 300-meter water resistance and legible vintage-coloured luminous hands and indexes are a result of the brand's growth in expert watch manufacture over the years. The do-it-all tool watch is finished on a black leather strap enabling it to double-up as a more sophisticated timekeeping tool when the occasion arises.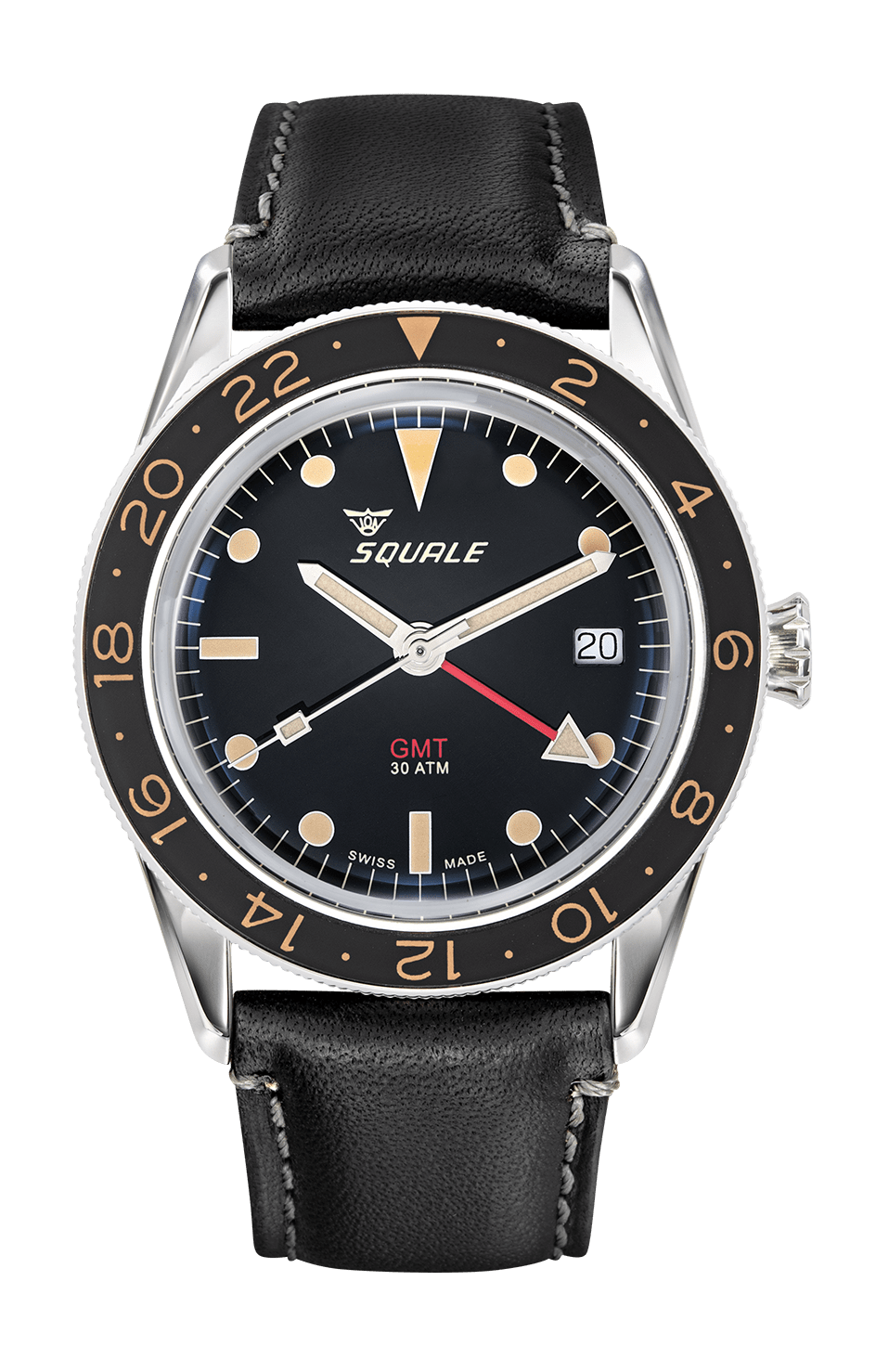 ---
Final Thoughts
Whether wanting to calculate immersion times or just enjoy a vintage-skin diver watch for its iconic look, there is plenty of variety to be enjoyed on the pre-owned market. Likewise, vintage-inspired skin diver watches are equally as stylish and affordable. Searching for a skin diver watch has never been so easy. With slimmer cases, unidirectional rotating bezels, luminous hour markers and simple three-handed dial designs, the vintage skin diver watch is set to continue in popularity, both as a functional tool and a stylish statement piece for many years to come.
---
Subscribe our newsletter for more news related content and discover our guides to learn about dive watches and other great brands like Seiko and Rolex.
Or if you are interested in the current ongoing prices for luxury brands like Rolex and Audemar Piguet you can follow our watch price tracker.
---
Subscribe to our newsletter