A Guide to Vintage Dive Watches
Collecting vintage dive watches is one of the most purely enjoyable forms of watch collecting there is, and a big part of that is the enormous cool factor – some of the most recognizable and iconic watches ever made were made for divers.
Watches for divers go back further than you might think. Panerai developed its "Luminor" watches for military divers in the late 1930s but Omega made a watch - the Omega Marine - that aws worn while diving by the inventor of the first open-circuit scuba equipment, Yves Le Prieur, in the 1920s, and was certified to 135 meters. (These, by the way, are pretty darned collectible themselves).
The modern dive watch era, however, didnt' really get off the ground until the mid-1950s, when two watches with very similar features both debuted. One of these is the Rolex Submariner, and the other is the Blancpain Fifty Fathoms (the latter was designed for use by French naval combat divers). The both have very high visibility, luminous dial markers and hands, screwed-down crowns and casebacks, and significant water resistance (fifty fathoms is about 91 meters, and the first submariners were water tested to 200 meters; recreation scuba diving usually goes no deeper than 30-40 meters).
Because vintage dive watches are often worn hard, finding one in excellent condition can be difficult, but when you find one, the payoff can be huge.
Rare Submariner models can sell for enormous sums (althought more common models can still be had for under $10,000). But Rolex, while arguably at the top of the heap, is far from the only collectible dive watch; here are six worth looking at, including one of the most accessible Submariners to beginning collectors.
The Rolex Submariner 5513
The 5513 enjoyed one of the longest production runs of any vintage submariner model - it was produced from 1962-1989. The reference may have been made in large numbers but the real trick is finding one in excellent, original condition; these were straight up tool watches and most were serviced more than once. That's part of the fun, though; it's a challenging hunt.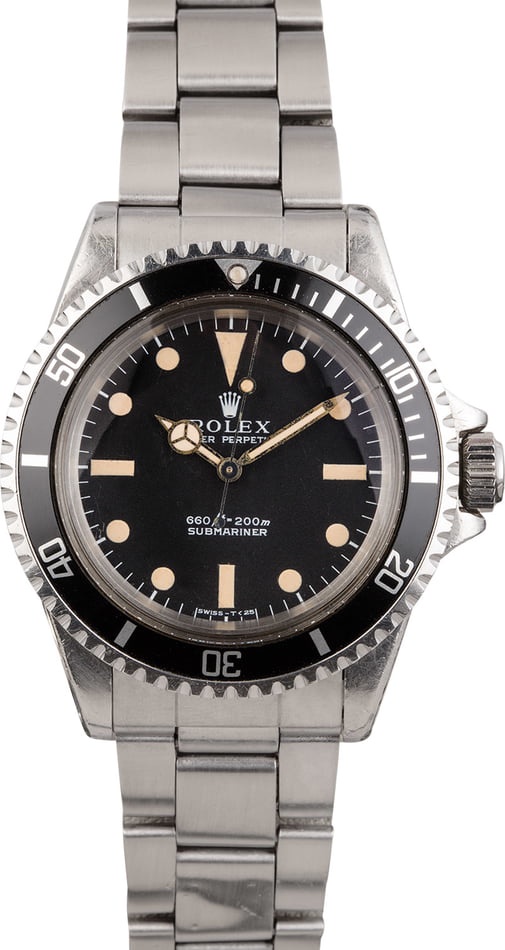 Rolex Submariner
Reference: 5513
Caliber: 1520
Functions: Date
Case Diameter: 40 mm
Power Reserve: 48 hours
Winding: Automatic
Case Material: Steel

Jewels: 26
Additional Details: No numerals
Water Resistance: 20 ATM
Strap/Bracelet: Steel
Dial Colour: Black
Crystal: Plexiglass
The Blancpain Fifty Fathoms
The Fifty Fathoms is every bit as much a professional dive watch as the Submariner, having been desigend to specifications provided by theFrend Navy's "Nageurs de combat" (combat swimmers) training school. There are dozens of variations on this timepiece, with the best being the Tornek-Rayville model. With so many variants, Fifty Fathoms watches are a lot of fun to collect.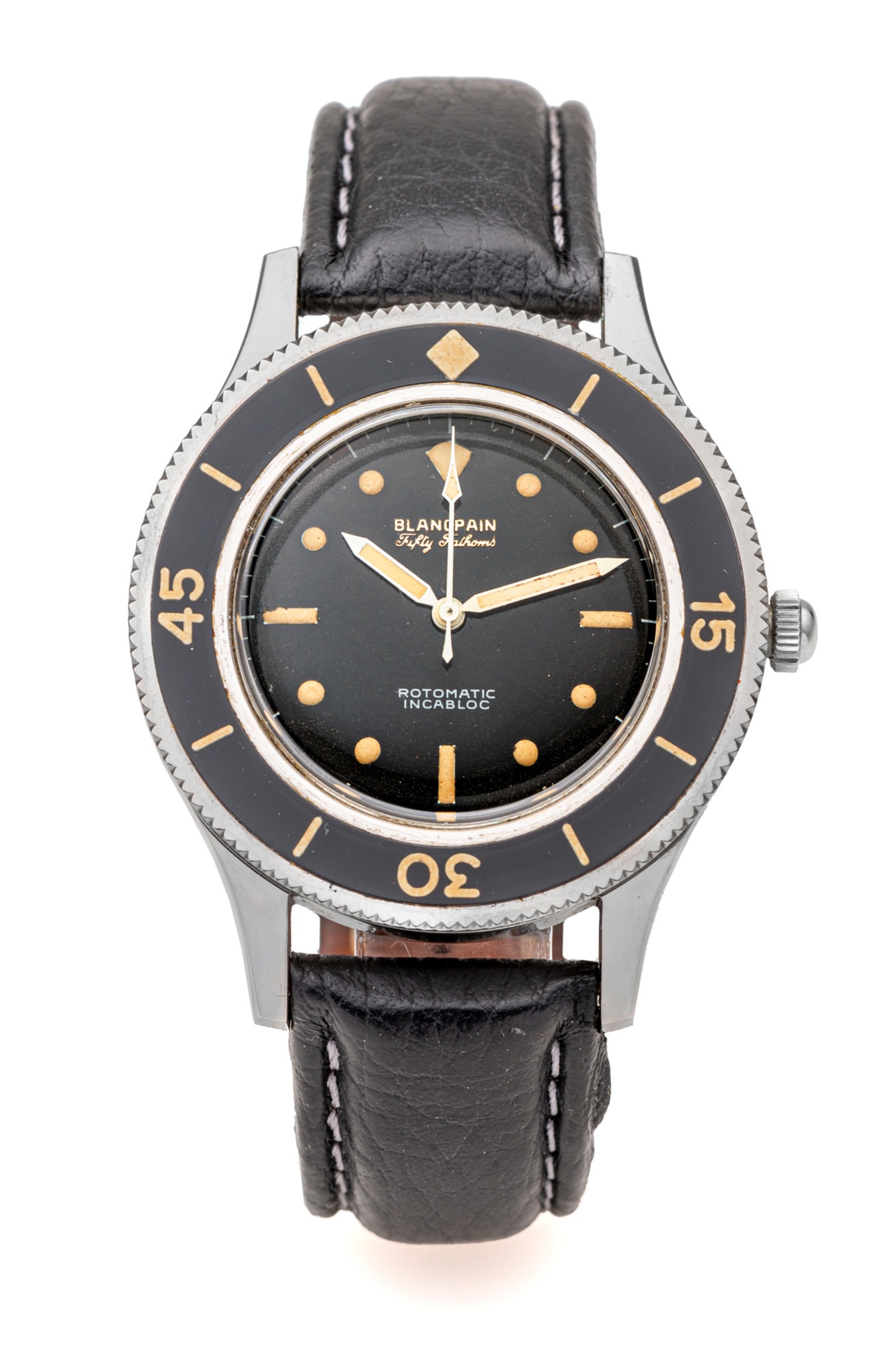 Blancpain Fifty Fanthoms
Reference: 1953
Caliber: AS 1361
Functions: Date
Case Diameter: 41 mm

Winding: Automatic
Case Material: Stainless steel

Jewels: 17
Additional Details: Rotating Bezel

Strap/Bracelet: Leather
Dial Colour: Black

Vintage Seiko Dive Watches
Pretty much all vintage Seiko dive watches are collectible to some degree. Seiko has been making extremely tough dive watchs since 1965 and they've consistently been a leader in dive watch technology, but many collectors look for the very first Seiko diver, the elusive 62MAS-010. If you're looking for something a little less elusive, we recommend hunting for a ref. 6105 - one of the most popular divers.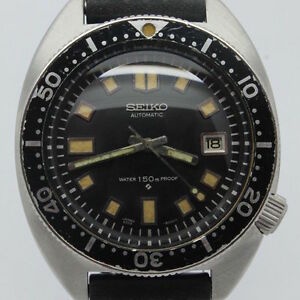 Seiko Dive
Reference: 6105-8000
Caliber: X237
Functions: Date, Calendar
Case Diameter: 41 mm
Power Reserve: 32 hours
Winding: Automatic
Case Material: Stainless Steel
Lugs Width: 19 mm
Frequency: 21,600 bph
Jewels: 17

Water Resistance: 150 m
Strap/Bracelet: Steel
Dial Colour: Black
Crystal: Hardlex

The Breitling SuperOcean
Diver chronographs are rare because it's hard to create a good enough seal in the case where chonograph pushers enters it. Breitling went ahead and made one, though, the ref. 2005 has a single hand showing elapsed minutes and a special "function indicator" to show when the chronograph is running. They don't come up for sale very often but if you find one, snap it up. Current market price is still under $10,000.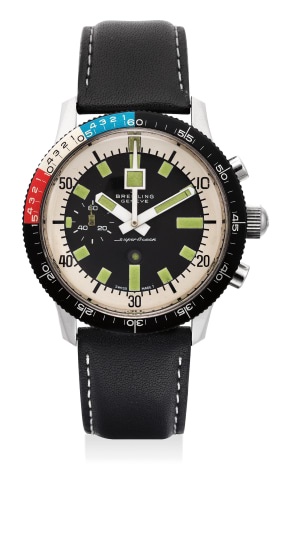 Breitling SuperOcean
Reference: 2005
Caliber: 188
Functions: Time, 60-minute counter and bi-directional rotating dive bezel, Chrongraph
Case Diameter: 42 mm

Winding: Manual (Self-winding)
Case Material: Steel

Water Resistance: 200 m/600 feet
Strap/Bracelet: Leather
Dial Colour: Black with white border circle
Crystal: Scratch resistant mineral
Dive Watches with Super Compression Cases
From the 1950s through the 1970s, many dive watches cases for various brands were made by the company, Ervin Piquerez SA (EPSA). They're called "super compressor" cases, because they were designed to become more watertight as water pressure increased. The distinctive double crown, with inner rotating bezel, of these watches has made them very popular among collectors.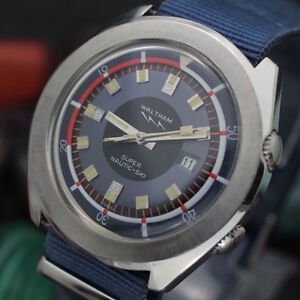 Waltham Super Nautic-Ski Super Compressor
Reference: 184 60.592
Caliber: LIP R184
Functions: Date, Calendar
Case Diameter: 42 mm

Winding: Self-winding
Case Material: Stainless Steel
Lugs Width: 22 mm
Frequency: 18,000 bph
Jewels: 13
Strap/Bracelet: Fabric
Dial Colour: Blue
Crystal: New, high dome diver acrylic
Vintage Tudor Submariners, Especially Pre-1960s Models
Tudor watches are produced by Rolex and there have been Tudor Submariners for almost as long as there have been Rolex Submariners. The very first model, the ref. 7922, came out in 1954, and subsequent models from the 1950s are highly collectible. In the last few years, we've seen prices absolutely skyrocket for rare models. If you like a great vintage Tudor Sub, try hunting for a "Snowflake" Tudor Submariner.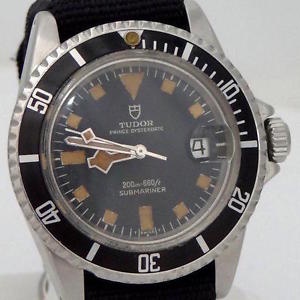 Tudor Submariner
Reference: 7922

Caliber: 2784
Functions: Hours, minutes, small seconds.
Case Diameter: 40 mm

Winding: Automatic
Case Material: Steel

Jewels: 25

Water Resistance: 20 ATM
Strap/Bracelet: Steel
Dial Colour: Black
Crystal: Plexiglass