About TAG Heur
Vintage TAG Heuer watches are often enjoyed by connoisseurs belonging to an elite group of experienced collectors, but they also appeal to modern gentlemen especially since so many have remained in the brand's core collections. These tried and tested timepieces never fail. Built with expertly developed in-house movements and featuring very few modifications in comparison to their original models, these popular vintage-styled TAG Heuer watches are loved for their affordability and their distinct designs. Many collectible TAG Heuer watches today are influenced by original timepieces created between the 1960s and 1980s. Let's take a look at our chosen line-up.
TAG Heuer Monaco Calibre 11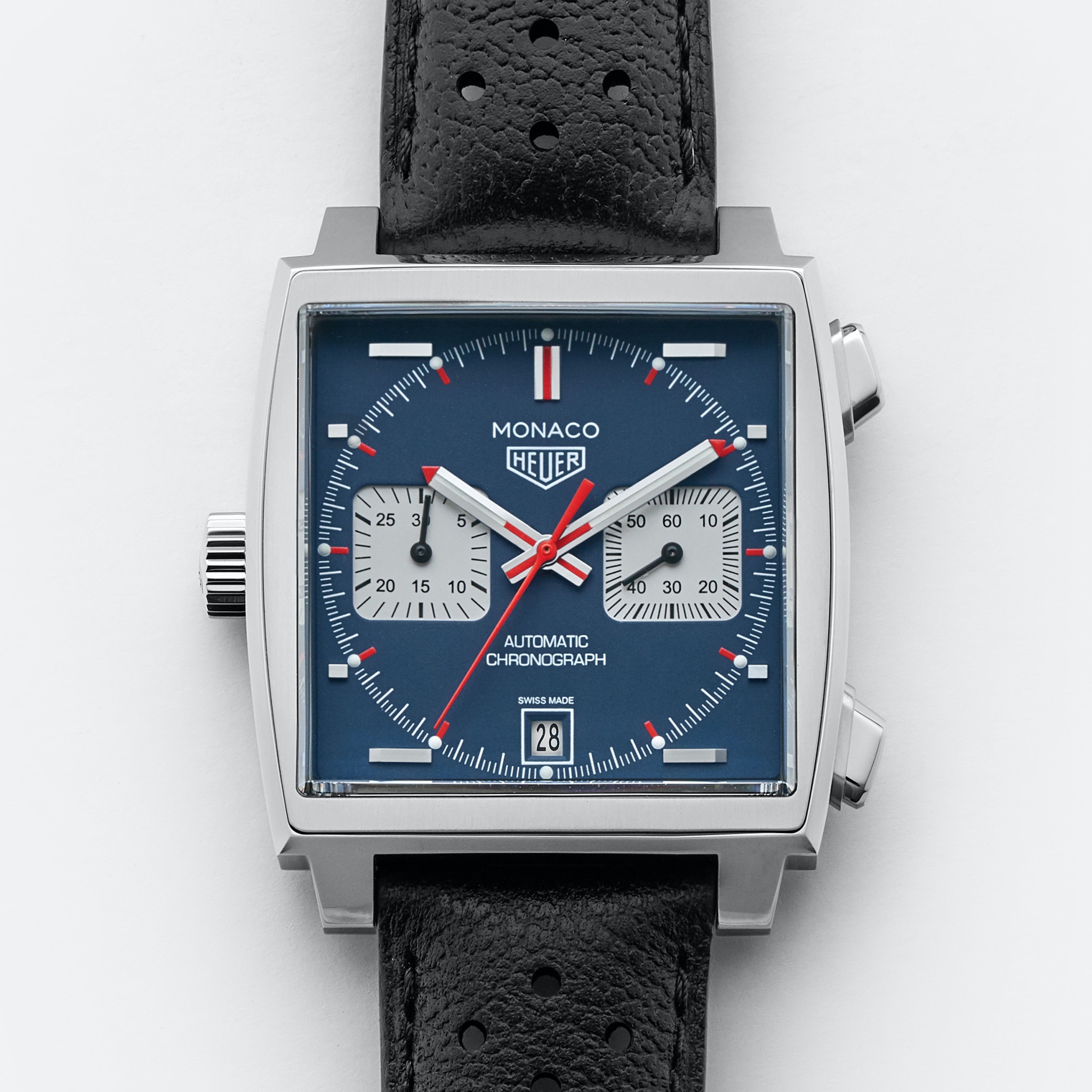 TAG Heuer Monaco Calibre 11
Reference: CAW211P
Price: 6.150,00 $

Winding: Automatic
Case Diameter: 39mm
Style: Racing
Ever since Steve McQueen sported the Monaco on his wrist for the 1969 film "Le Mans" the TAG Heuer Monaco Calibre 11 has enjoyed several iterations, becoming a global success thanks to its distinct square-shaped case. This retro-inspired iteration remains incredibly similar to the original design, featuring the trusty caliber 11. Today the Monaco line is considered a highly desirable collectible. The 39mm vintage-inspired watch has a blue dial with chronograph hours and minutes at 9 and 3 o'clock respectively, balanced by a date window at 6 o'clock. The TAG Heuer Monaco Calibre 11 ref: CAW211P showcases a movement through its sapphire-backed case that has been exquisitely decorated. Purists will agree that this eye-catching Monaco watch is both a true reflection of the original, yet different in other ways for good reason.

TAG Heuer Carrera Calibre 18 Telemeter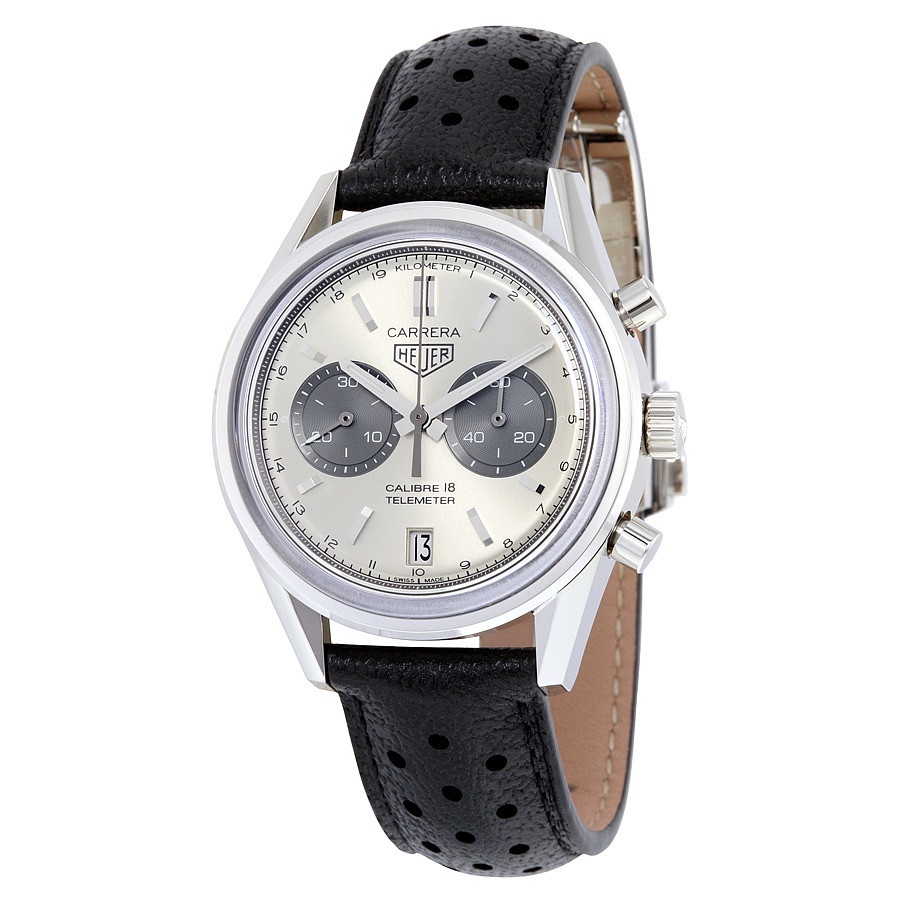 TAG Heuer Carrera Calibre 18 Telemeter
Reference: MM0293
Price: 4.550,00 £

Winding: Self-winding
Case Diameter: 39mm
Style: Racing
At TAG Heuer, every movement made in-house has to be subjected to a line of stringent tests to prove its strength and reliability. The Calibre 18 copes with shock, heat, and temperate change without a problem, which makes a TAG Heuer Calibre 18 watch ref: MM0293 even more attractive to connoisseurs. The chronograph watch with heritage-flavored design elements was created in 2015. It's a nod to the original Telemeter Watch. The modern interpretation looks and feels as vintage as the original, but features a much larger 39mm case design compared to the former 36mm watch, allowing it to house an automatic movement as opposed to a hand-wound engine. Saying that it still feels just as compact.
Influenced by models like the Carrera 7753 SNT, it comes in a warm silver dial with a sunburst finish that folds away towards to outer edges. Both the positioning of the hour markers and the Telemeter scale located on the dial (as opposed to the inner flange) gives the impression of a smaller vintage display. Charcoal chronograph counters add a sleek and sporty finish to the design. The slight dome to the sapphire exhibition caseback (or "Glassbox" as TAG often like to refer to it) exposes the Calibre 18 whilst it performs. This is a vintage-style watch that offers great modifications to its design, improving precision and comfort for wearing all day every day.

TAG Heuer Monza Calibre 17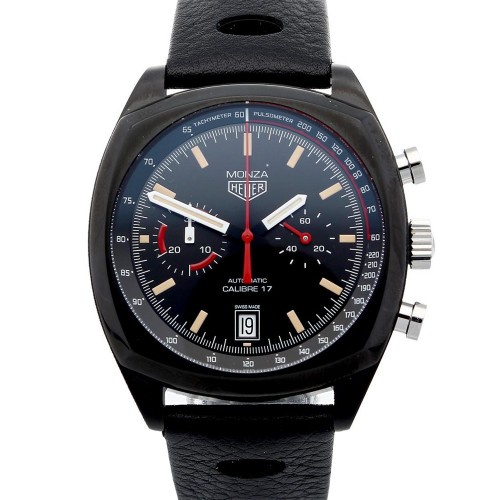 TAG Heuer Monza Calibre 17
Reference: CR2080
Price: 3.654,74 €

Winding: Automatic
Case Diameter: 42mm
Style: Racing
Combining design features from the 1976 Monza and the 2000 Monza – this vintage-looking TAG Heuer watch feels sporty and professional at the same time. You'll be instantly transported back to the '80s each time you look at its dial. The useful tachymeter scale is good for measuring speed based on distance. Combined with the chronograph dials, this a vintage-inspired watch for wearing with smart attire that also doubles up as a tool for wearing to the gym. It also features a pulsometer. The TAG Heuer Monza Calibre 17 watch ref CR2080 even boasts cream-colored lume to echo the faded white lume that is seen in original TAG Heuer vintages watches. Chronomatic powered watches from the 70's also sported the same fire red elapsed seconds hand and white square-based hand at 9 o'clock for the 30-minute indicator.
This is a watch that delivers a pure vintage feel but also combines a sporty aesthetic with an easily readable dial. Its grade 5 titanium case spanning 42mm will provide you with a lightweight alternative compared to steel variations. A carbide coating is applied to the surface of the case to achieve its blackened look. It wears better than the TAG's original Monza models with brass-coated fittings since the case is more resistant to scratches and corrosion. Almost identical looking to the 1970s tropic strap, this popular TAG Heuer Monza Calibre 17 watch is completed on a full-grain calfskin leather strap. The reliable Calibre 17 is an ETA 2894-2 movement, fitted with a TAG Heuer rotor - TAG Heuer's "go-to" movement.

TAG Heuer Autavia Calibre Heuer 02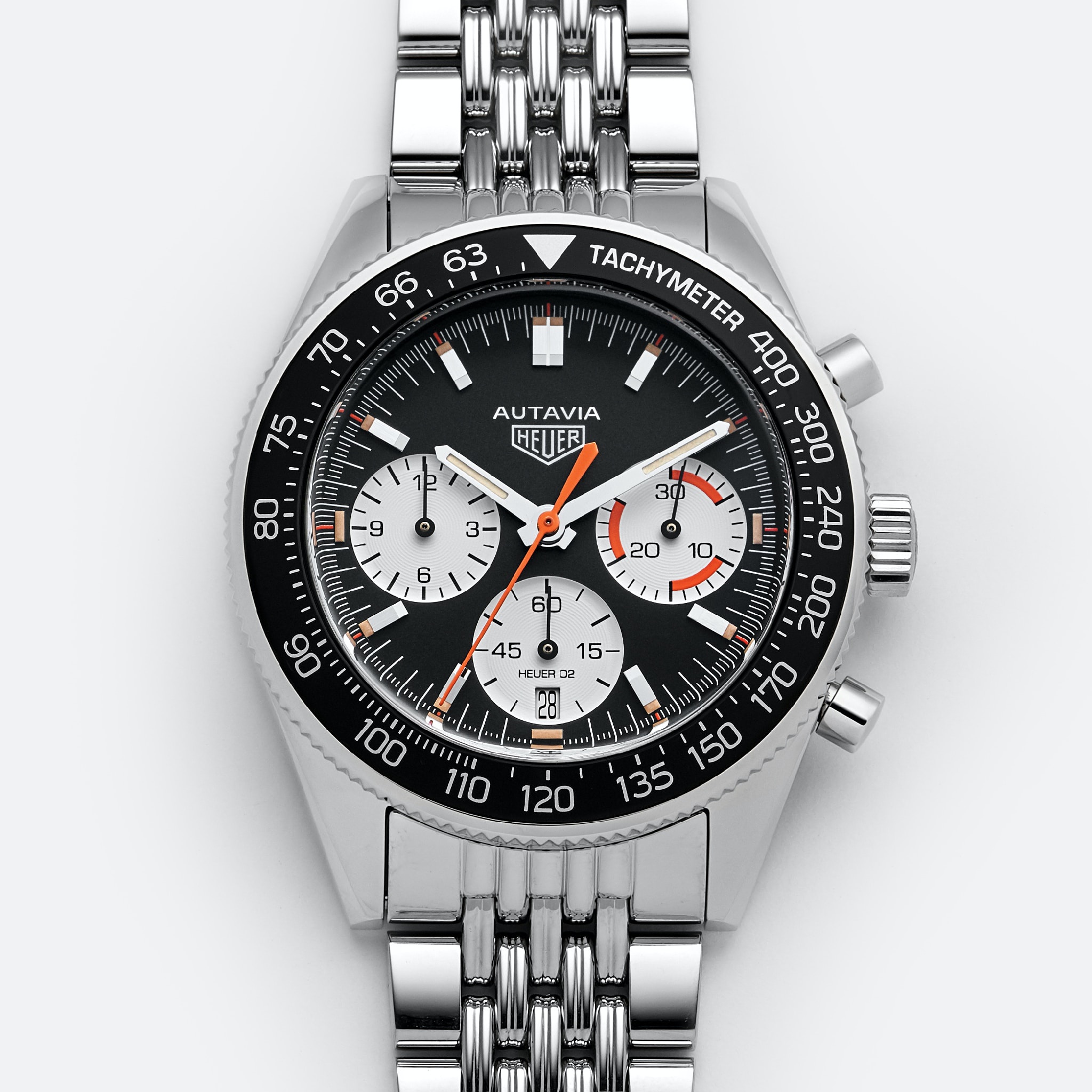 TAG Heuer Autavia Calibre Heuer 02
Reference: CBE2117.BA0687
Price: 6.050 $

Winding: Automatic
Case Diameter: 42mm
Style: Racing
The TAG Heuer Autavia Calibre Heuer 02 watch ref CBE2117.BA0687 is an homage to the brand's Orange Boy racing chronograph. If you have always had an affinity towards the company's links to the motorsport industry, you'll love every aspect of this TAG Heuer Autavia watch. It was rediscovered in 2004. To date there are only 30 known Orange Boy watches in the world and this design certainly celebrates some of its most beautiful features. Orange stripes are present, plus it features a tachymeter scale and chronograph dials placed at 3, 9, and 6 o'clock. The watch, despite its retro aesthetics, is powered by a modern in-house movement – the Calibre Heuer 02. Its beautiful decoration and engravings are put on show through a sapphire-backed case, allowing you a chance to admire the brand's horological expertise. With a 75-hour power reserve, you can replace this watch ( complete with elegant beads-of-rice bracelet) with another favorite vintage TAG Heuer watch whenever you desire.

TAG Heuer Autavia 2017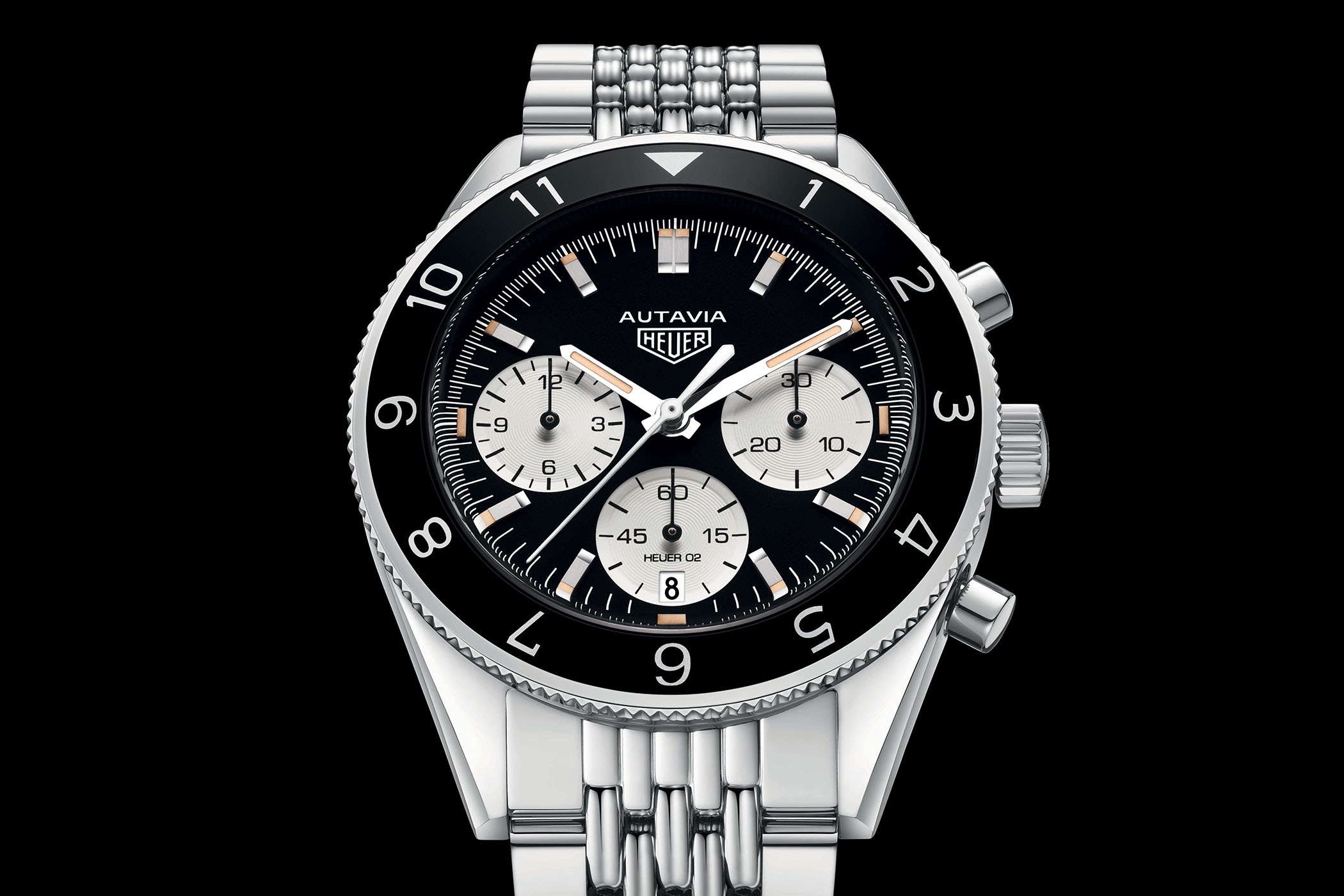 TAG Heuer Autavia 2017
Reference: CBE2110.BA0687
Price: From 5000 $ to 10000 $

Winding: Manual
Case Diameter: 42mm
Style: Racing
Lastly, the TAG Heuer Autavia 2017 watch ref CBE2110.BA0687 makes our list of popular vintage-inspired TAG Heuer watches thanks to its comfortable and reliable design. The original TAG Heuer Autavia watch was a seriously collectible timepiece during the '60s. The release of this Autavia 2017 watch was released in conjunction with the 55th anniversary of the original model. The dial design appeared much earlier than this, however, but was only available for cockpits and car dashboards. The value and popularity of the 1960's vintage watches have sky-rocketed over the last few years. This modern reinterpretation feels like an original chronograph. Its 42mm steel case is equipped with 200-meter water-resistant capability. The nicely executed dial comprises one new modification in particular – the hours and running seconds totalizers that have been switched around. The Calibre Heuer 02 movement that sits at the heart of this watch will provide you with crisp elapsed time measurements and cutting-edge precision for tracking the passing seconds of the day with.

Find more
For further information check the official site here