Vintage Longine watches
Be it for sentimental reasons or for style, there is much to love about a vintage Longines watch. One of the most prominent eras of the Swiss brand's manufacture was during the '60s, where several beautiful chronographs were created with impeccable movements that offered the wearer a myriad of complications to play about with. That said, there are so many simple and classic vintage Longines watches to seek out too, with a simple three-handed dial design that can be enjoyed to dresser occasions.
This guide highlights some collections that are home to vintage Longines watches. From elegant Mono-Pushers to sporty chronograph models, to traditional timepieces from the iconic Conquest collection - each vintage watch, as you'll see, has a unique set of characteristics to offer a collector.
Vintage Longines Legend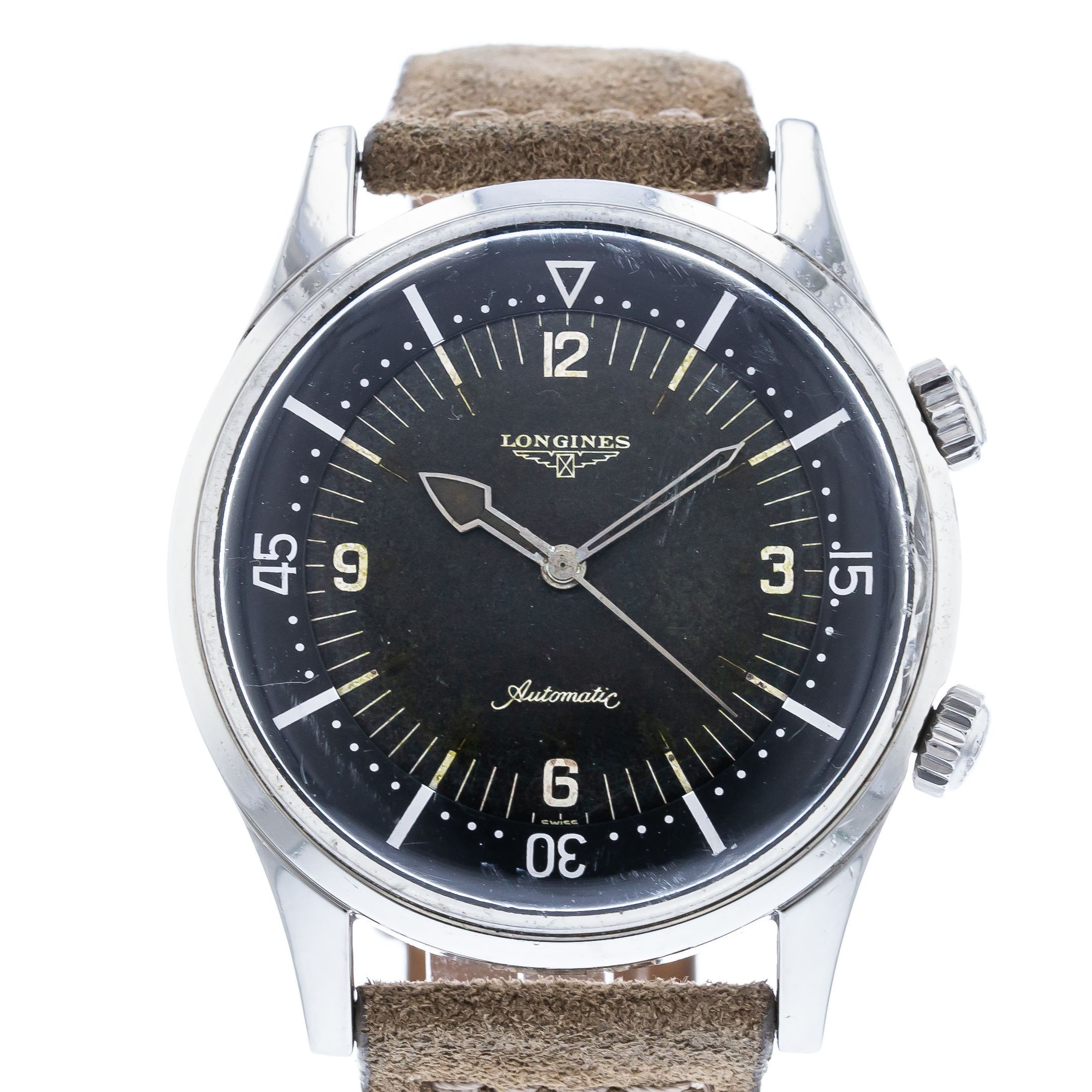 Vintage Longines Legend
Reference: 7042-2
Price: 6.287 £

Winding: Automatic
Case Diameter: 42mm
Style: Diver
This beautiful Longines Legend Diver watch ref: 7042-2 harkens back to an important time for Longines. Divers watches were not only a practical tool to accompany the wrist whilst underwater, but they were also stylish accessories that gave way to an almost cult-like following. To this day diver's watches new and vintage are considered highly desirable timepieces amongst watch enthusiasts. The lume on the markers and hands of this vintage Longines watch is likely worn through age, adding further character to the timepiece. That said, reading the time is remarkably easy with this diver's watch strapped to the wrist. The acrylic crystal lens shows the watch's age since all modern Longines watches today are made with anti-reflective sapphire glass. This timepiece is powered by the Calibre 19AS - a self-winding movement. Whilst Longines did recreate this stylish Legend Diver watch some years later, the original vintage version is certainly a more collectible timepiece to add to your collection, especially if you have a natural love for Longines' line of expert diving watches.

Vintage Longines Conquest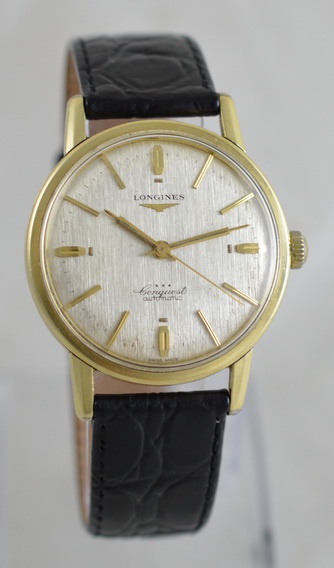 Vintage Longines Conquest
Reference: 9022
Price: 989.78 $

Winding: Automatic
Case Diameter: 34mm
Style: Vintage gold
This 34mm vintage Longines Conquest watch is an understated and classic-looking timepiece that can be enjoyed on the male or female wrist. Its yellow gold coated case features elegantly chamfered lugs. If you can pick this timepiece up from a dealer with minimal signs of wear and tear, it would look similar to some of Longines' modern interpretations of vintage-inspired models from their current lines. Watches like this Longines Conquest watch date back to the '60s. The watch's silver dial has received a rare textured finish to its surface and is accompanied by gilt hands that enhance an even more luxurious feel to this vintage watch. Inside the case lies a self-winding automatic movement, and the watch is completed on a classic black leather strap with a matching gold-capped buckle.

Vintage Longines Mono-Pusher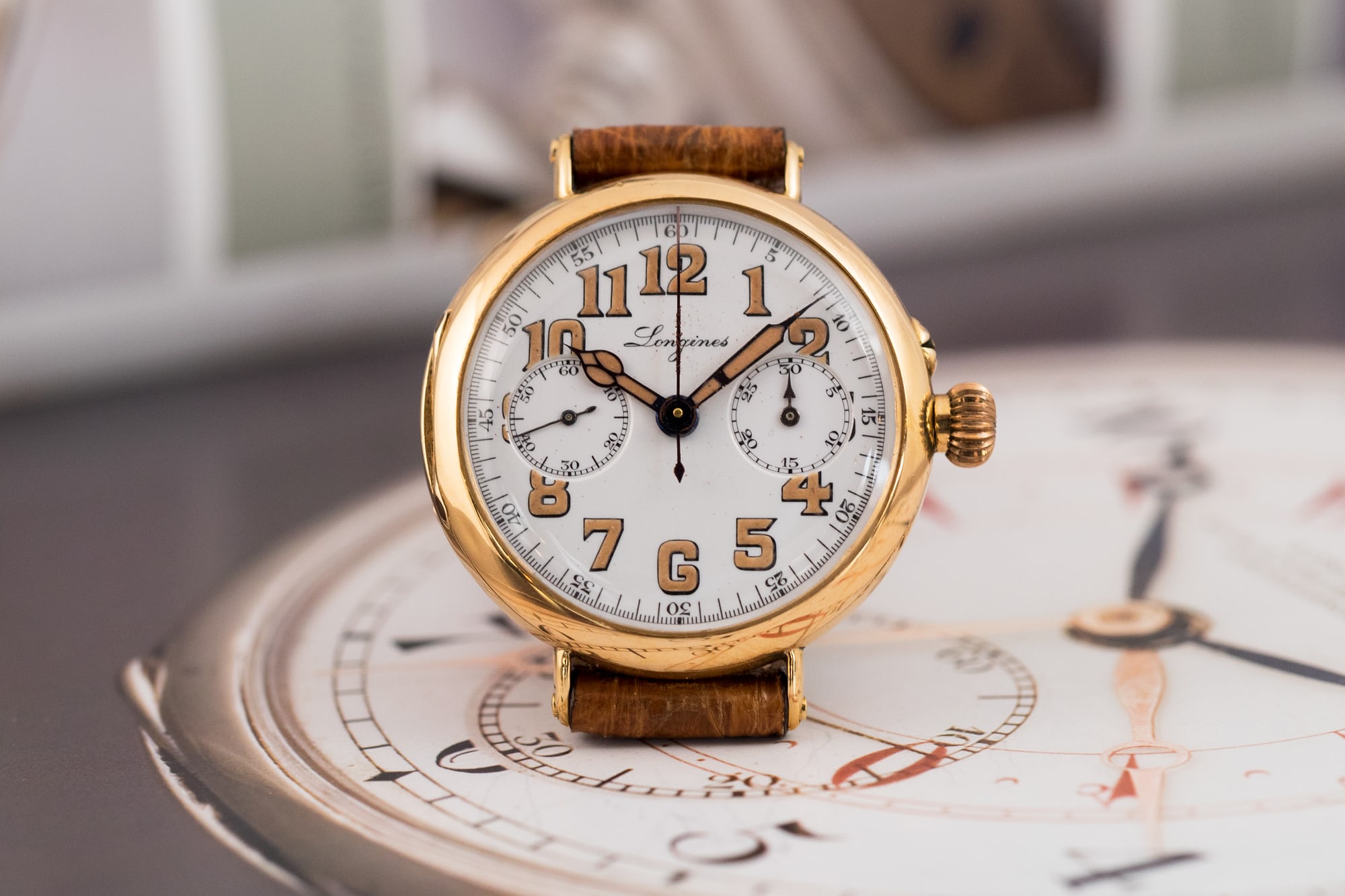 Vintage Longines Mono-Pusher
Reference: 13.33Z
Price: starting 5000 $

Winding: Automatic
Case Diameter: 36mm
Style: Chronograph
This 1910s Mono-Pusher Chronograph watch was created in 1910 and features small, delicate lugs harkening back to the transition Longines once made from the pocket watch to the wristwatch. Also, the crown is placed at 3 o'clock as opposed to 12 o'clock, where it was originally located to activate a pocket watch. The chronograph functions are all operated via the crown, whilst the time itself can be set with the small pusher seen above it. Holding this down will switch the crown to its time setting features. This vintage Longines Mono-Pusher chronograph was a unique design for its age. Its 36mn case is crafted from 18k gold which surrounds a stunning white enamel dial with painted numerals limed with radium. The stealthy caliber 13.33Z, which powers the hands of this pocket watch around the dial, can be viewed through an officer's caseback, displaying the exemplary performance and arrangement of the watch's heart.

Vintage Longines Conquest (1960)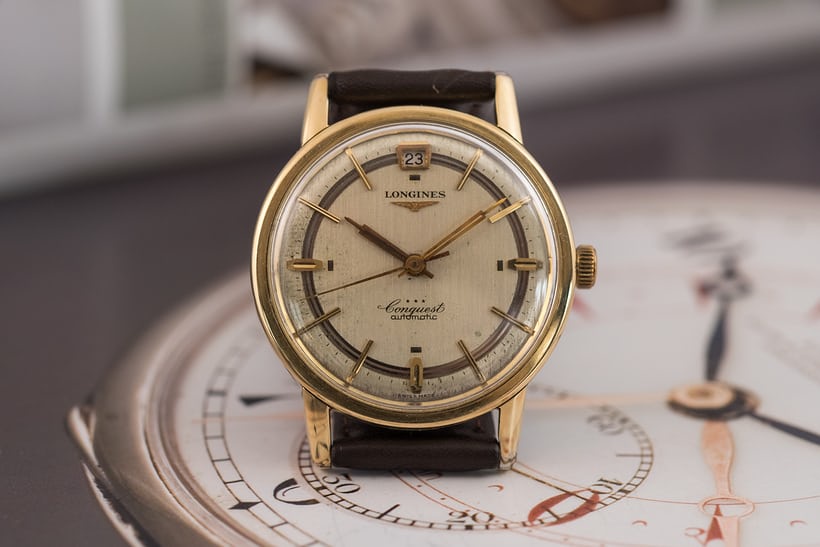 Vintage Longines Conquest (1960)
Reference: 9026
Price: 2.852,48 €

Winding: Automatic
Case Diameter: 35mm
Style: Chronograph
Longines equipped the Conquest models from the 1960s with some of the most advanced movements. Lavish case backs granted a unique glimpse into the performance of engines such as the Calibre 290 without a date, the Calibre 294 with a date and power reserve indicator, and Calibre 292 as seen in this exquisite vintage Longines watch with a date feature. This Conquest watch ref: 9026 features a beautiful two-tone dial with applied indexes and a date aperture presented in a rather unusual location of 12 o'clock. It does, however, demonstrate that Longines' daring nature to push boundaries was part of its approach to manufacturing much longer than many may have imagined. As well as preserving a sense of balance and proportion to the dial, it is also accompanied by another quirky feature – the tower-shaped hands. A green enamel painted caseback depicts the image of a fish, indicating that this model is a stainless steel case coated with a gold plating as opposed to the solid gold variations which feature a blue enamel painting of the sea.

Longines Chronograph (1960)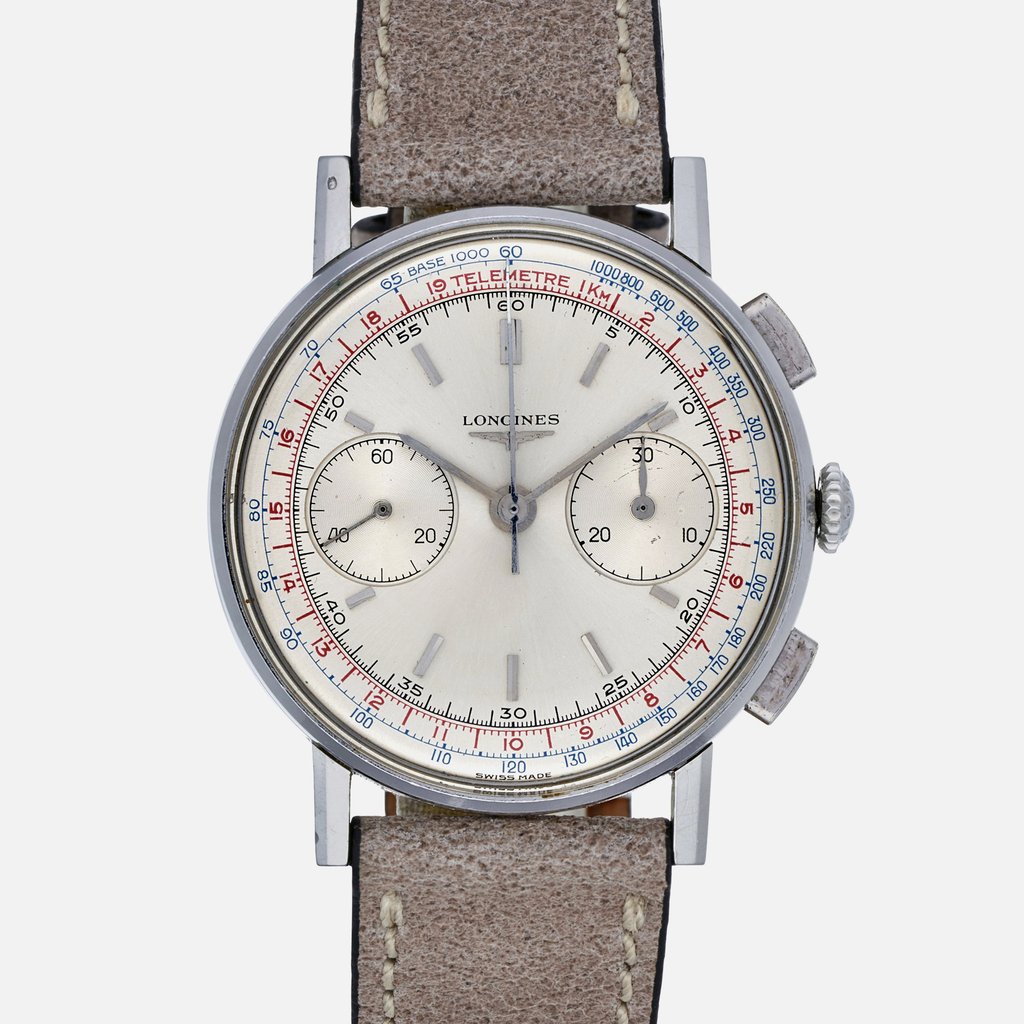 Longines Chronograph (1960)
Reference: 7412
Price: 2.852,48 €

Winding: Automatic
Case Diameter: 35mm
Style: Chronograph
Lastly, this vintage Longines Chronograph is powered by the 30CH Calibre – one out of two revolutionary movements chosen by Longines to equip some of their most technically sophisticated chronographs (the other being the Calibre 13ZN). This Longines Chronograph watch ref 7412 features a movement equipped with a flyback function that enables you to instantly stop, reset and start a new timing on the chronograph with one simple push of a button. This was a complex mechanical complication for its time. The watch comes with a stainless steel case although Longines did make a solid gold variation. Square pushers give the timepiece a refined and classic look constituting a dress watch that you could easily pair with formal attire or a suit for the office. The watch's telemeter scale allows you to measure distance based on the speed of sound which proved an indispensable tool for military use. It also features a tachymeter scale which measures speed based on time. This vintage Longines watch is a highly capable timekeeping tool imbued with several complex features for utilizing the chronograph feature to its full potential.