Vintage gold watches
Exploring the market for vintage watches can be quite an overwhelming task. Narrow your search down to a solid gold vintage watch, however, and your search instantly becomes more refined and much easier. Some of the most prestigious watchmakers in history have perfected the art of creating a timeless gold watch. These valuable timepieces combine precious metals with elegant dial designs, creating exceptionally beautiful dress watches to wear with your best attire.
This guide to some of the most popular gold vintage watches includes timepieces crafted by the likes of Patek Philippe, Cartier, Longines, and Omega. Let's take a closer look at each design…
Rolex Oyster Perpetual Day-Date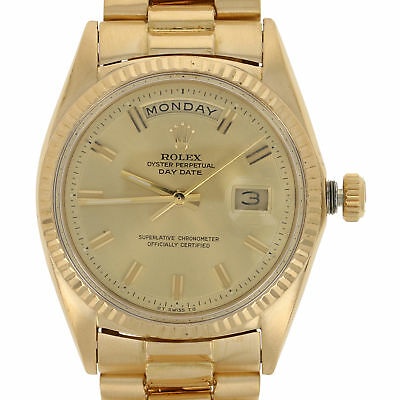 Rolex Oyster Perpetual Day-Date (1955/1956)
Reference: 1055
Price: 10.450 £

Winding: Automatic
Case Diameter: 36mm
Style: Vintage gold
Nothing beats a vintage gold Rolex, and models created around 1955-1956 were some of the first to be released from the world-famous Day-Date collection. Rolex watches from this iconic line are distinguishable for their fluted bezels. This Rolex Oyster Perpetual Day-Date watch is crafted from 18k yellow gold and spans a broad 36mm diameter. A watch this size during the 50's made quite a statement. The Calibre 1055 automatic movement beats at a frequency of 18,000 vibrations per hour inside this gold case. The date aperture fitted underneath a cyclops lens is a signature design feature by Rolex, not to mention the arc-shaped day indicator at the top of the dial that has changed very little over the decades. Today it's rare to see a Rolex watch fitted on a classic leather strap like this. On this design, it embodies Rolex's authentic and traditional love for watchmaking and a style that has remained unaltered throughout the brand's proud heritage.

Longines Conquest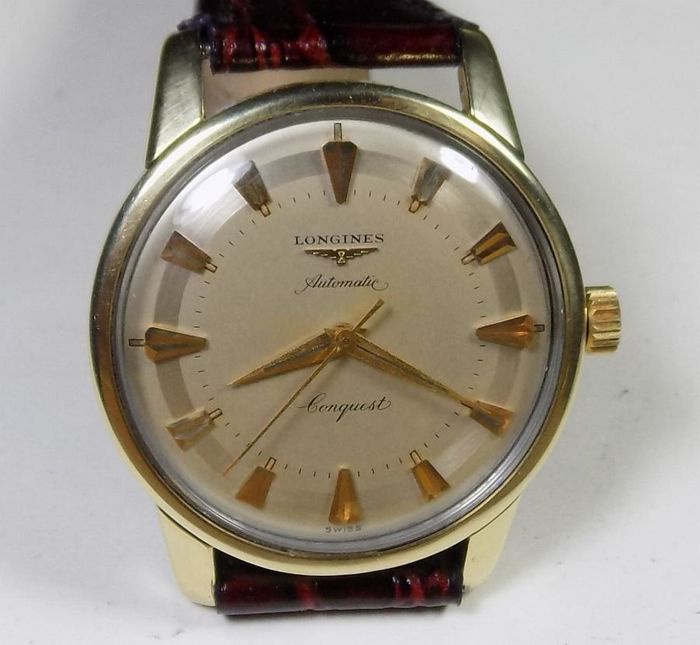 Longines Conquest (1954)
Reference: 19AS
Price: 3.650 £

Winding: Automatic
Case Diameter: 35mm
Style: Vintage gold
The Longines Conquest collection is still considered a beautiful sports watch. Some of the models from the current collection are equipped with a V.H.P quartz movement that promises an accuracy 10 times greater than that of normal standard quartz. This gold vintage Longines Conquest watch, however, is powered by the automatic Calibre 19AS fitted with 19 jewels. It sits inside a 35mm 18k yellow gold case. For its time, this vintage Longines watch was considered oversized. The return to large men's and ladies' wristwatches on the modern watch market further adds to the desirability of this elegant gent's watch. Watches like this vintage Longines Conquest model made in 1954 ooze plenty of old-world charm. With undeniable 50's-inspired aesthetics, this popular vintage gold watch will complete a favorite jacket with a strong sense of retro sophistication.

Jaeger-LeCoultre Memovox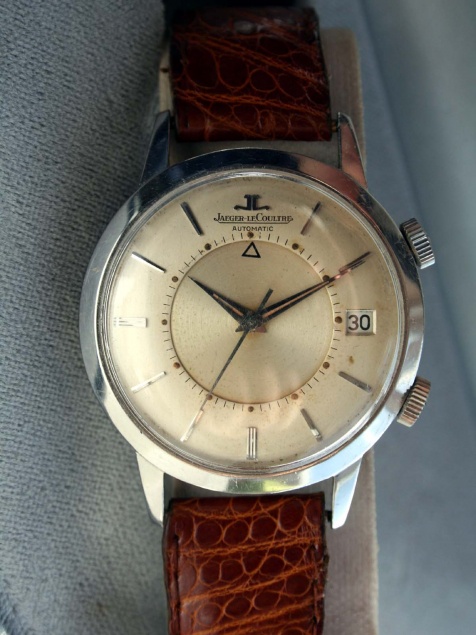 Jaeger-LeCoultre Memovox (1969)
Reference: K825
Price: 4.950 £

Winding: Automatic
Case Diameter: 37mm
Style: Vintage gold
This circa 1969 timepiece from Jaeger Le-Coultre is a popular collectible timepiece. The Memovox was the first wristwatch to house an alarm within its design. Jaeger-LeCoultre perfected the design with an impeccable in-house-made movement that could eventually enable the wearer to adjust the time and set the alarm function separately. This vintage gold watch from Patek Philippe is a classic dress watch to be enjoyed at every possible excuse. Not only is it a talking point but it also boasts a purist and minimalist design. A 37mm 18k solid yellow gold case surrounds a beautiful gold baton index dial. A date window has been dressed against a white background to enhance legibility. The JLC Calibre K825 is an engraved self-winding movement that was developed in 1958. Still going strong, this ultra-resilient beating heart performs at a rate of 18.800 vibrations per hour, providing you around-the-clock accuracy come day or night.

Patek Philippe Calatrava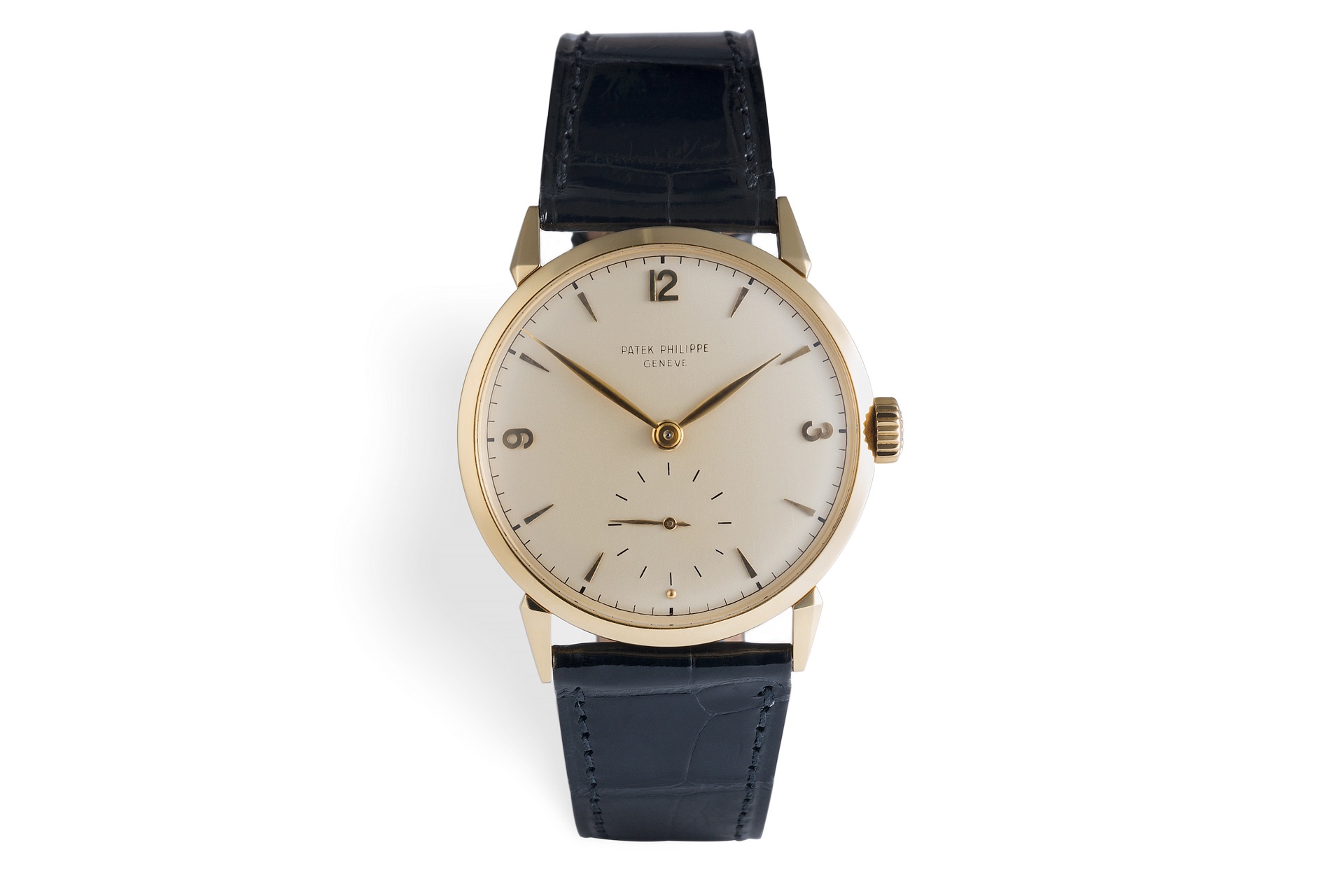 Patek Philippe Calatrava (1948)
Reference: 1578
Price: 12.750 £

Winding: Automatic
Case Diameter: 35mm
Style: Vintage gold
If you're a fan of rose gold watches, this vintage Patek Philippe Calatrava watch boasts solid pink gold hands and a mix of Arabic and baton indexes to match its polished 18k rose gold case. Despite watches like this being a rare find on the second-hand market, they're also highly sought-after, making them some of the most popular vintage gold watches to own. The Calatrava watch collection is still in production. Patek Philippe produces only a limited amount of Calatrava watches per year due to the complexity behind each intricate design. This popular vintage gold watch is powered by the Cal.12-120. A salmon dial with a subsidiary second counter adds a nice balance to the "Patek Philippe Geneve" lettering at 12 o'clock. Embodying the very essence of the round wristwatch, this design is an incredibly elegant investment to own.

Omega Constellation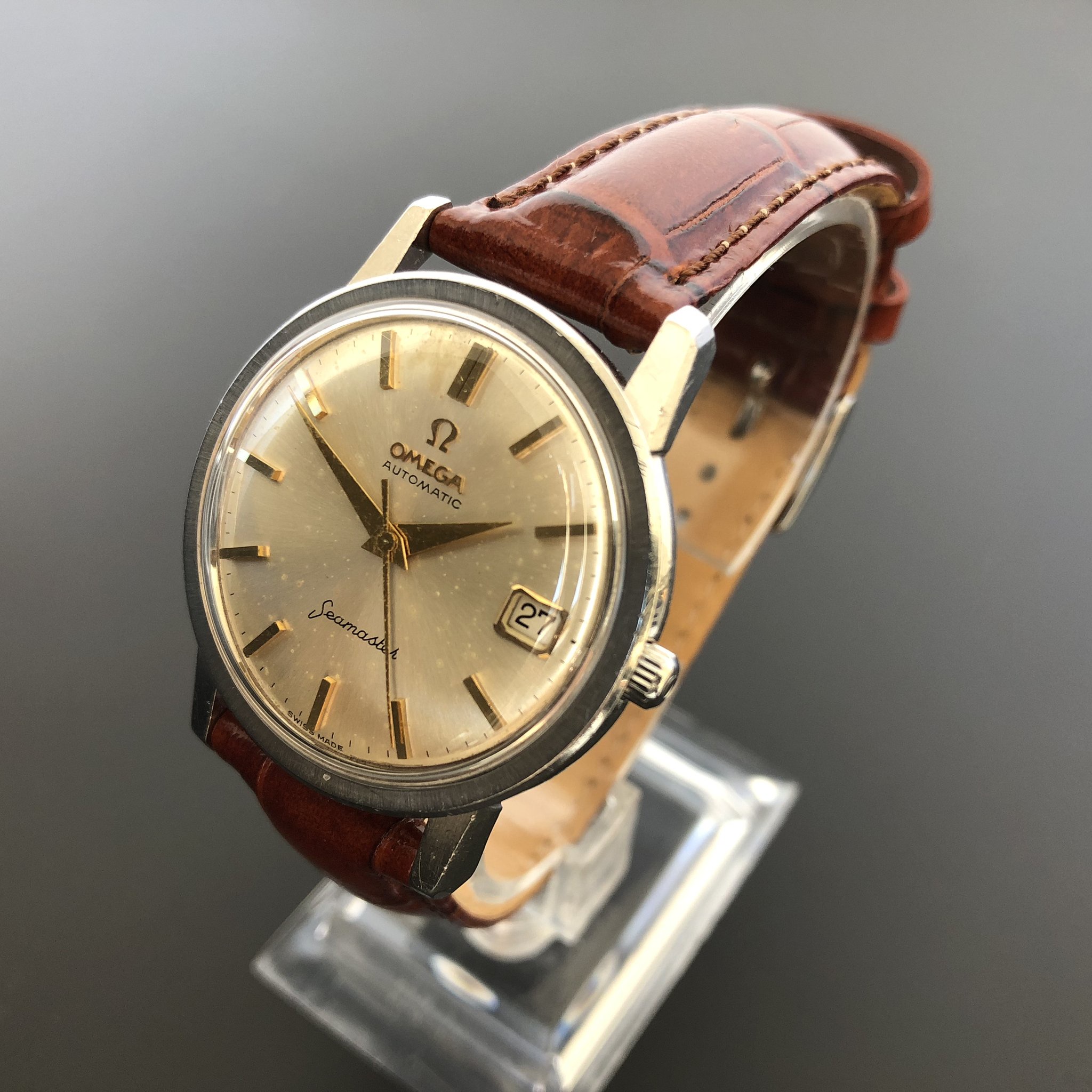 Omega Constellation (1970)
Reference: 565
Price: 4.950 £

Winding: Automatic
Case Diameter: 34mm
Style: Vintage gold
This gold vintage watch from Omega was originally developed as a gent's watch, but since the style of watches for men is now much larger, this timepiece can be worn on either the male or female wrist. Its 32mm case is crafted from 18k yellow gold to match a solid 18k gold dial. This is a unique design since the 12, 6, and 9 o'clock locations are represented by a baguette-cut diamond. This automatic, chronometer watch (powered by the Calibre 565) is a desirable dress watch that comfortably hugs the wrist with a classic black leather strap. If you can find a vintage Omega Constellation watch like this one, developed around the early 1970s, you can enjoy wearing its versatile design for a myriad of different occasions thanks to its timeless and simple design.

Omega Ladymatic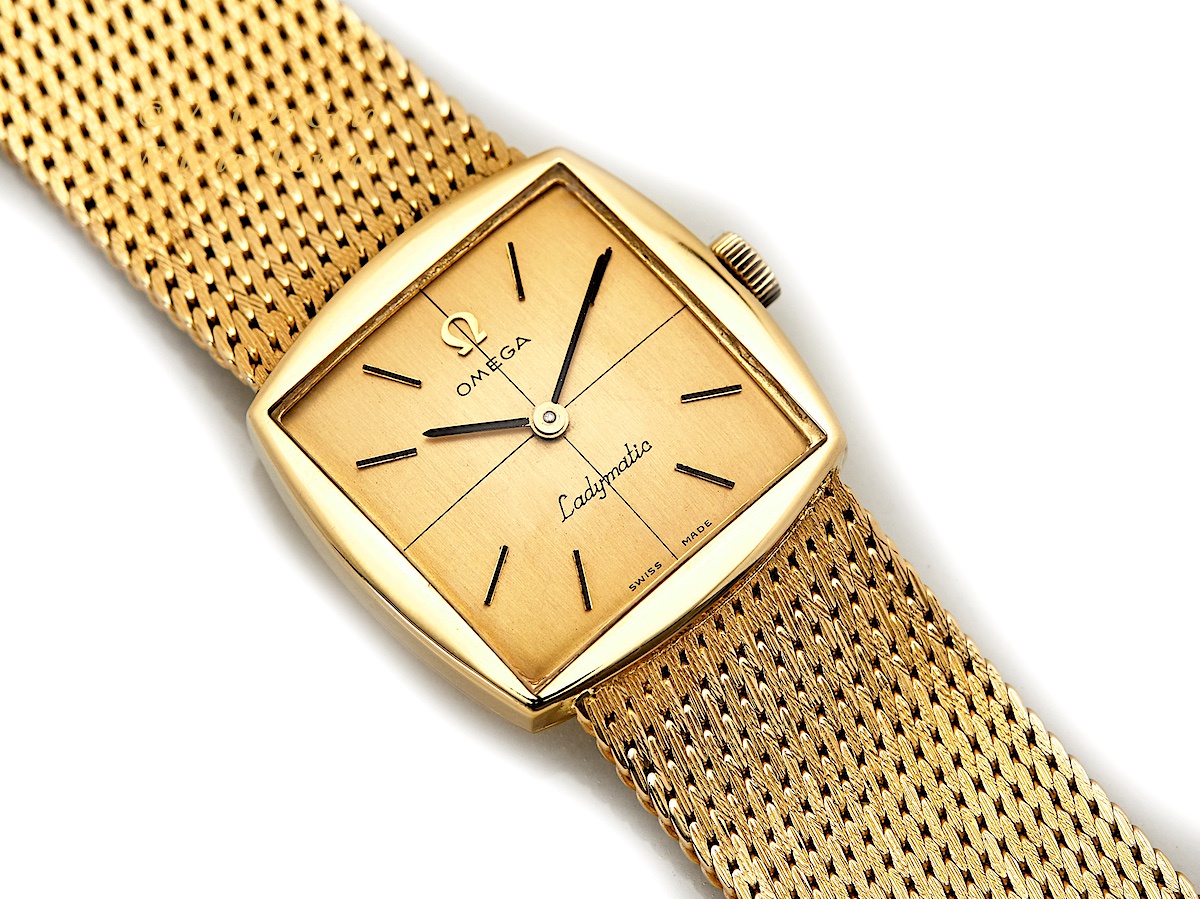 Omega Ladymatic (1968)
Reference: 661
Price: 2.950 £

Winding: Automatic
Case Diameter: 15.5mm
Style: Vintage gold
The Ladymatic watch collection by Omega is home to many sensual and timeless designs. These watches first came onto the market in 1955 but have changed in shape and profile considerably since then. Take, for instance, the Omega De Ville Ladymatic collection, which boasts perfectly rounded cases adorned with lavish diamonds and mother of pearl dials. Compared to this vintage lady's Omega Ladymatic watch made in 1968, both designs differ drastically. A simple and classic dial, however, is still an integral part of the design. Vintage gold watches like this are popular to own since they vary so much in comparison to modern Omega timepieces. This Vintage Omega watch features a distinct square case crafted from 18k yellow gold that is sure to add a focal point to any elegant attire. Gilt baton indexes and central hands are accompanied by the famous Omega symbol in gold at 12 o'clock. The Calibre 661 automatic movement which powers this watch is a 24 jewel engine for delivering you uncompressed accuracy.