Watches for deep sea diving
If you're looking to take your diving journey deeper, you might want to treat your wrist to a diver's watch that goes the extra mile in terms of features, materials, and style. Many watches share similar characteristics, and if you're an experienced diver you'll know how important it is to keep track of accurate time, as well as what it takes to make a good quality watch so useful for diving. The great news is that there are some really impressive diving watches out there right now.
This guide gives you an introduction to some of the world's most successful pioneers in diving watch manufacture. From watchmakers that developed the world's first dive watch resistant to 100 meters, to brand names experienced in aerospace and aviation industry – these watches are worthy of consideration when looking to invest in a hardy, high-performance deep sea watch.
Rolex Sea-Dweller Deepsea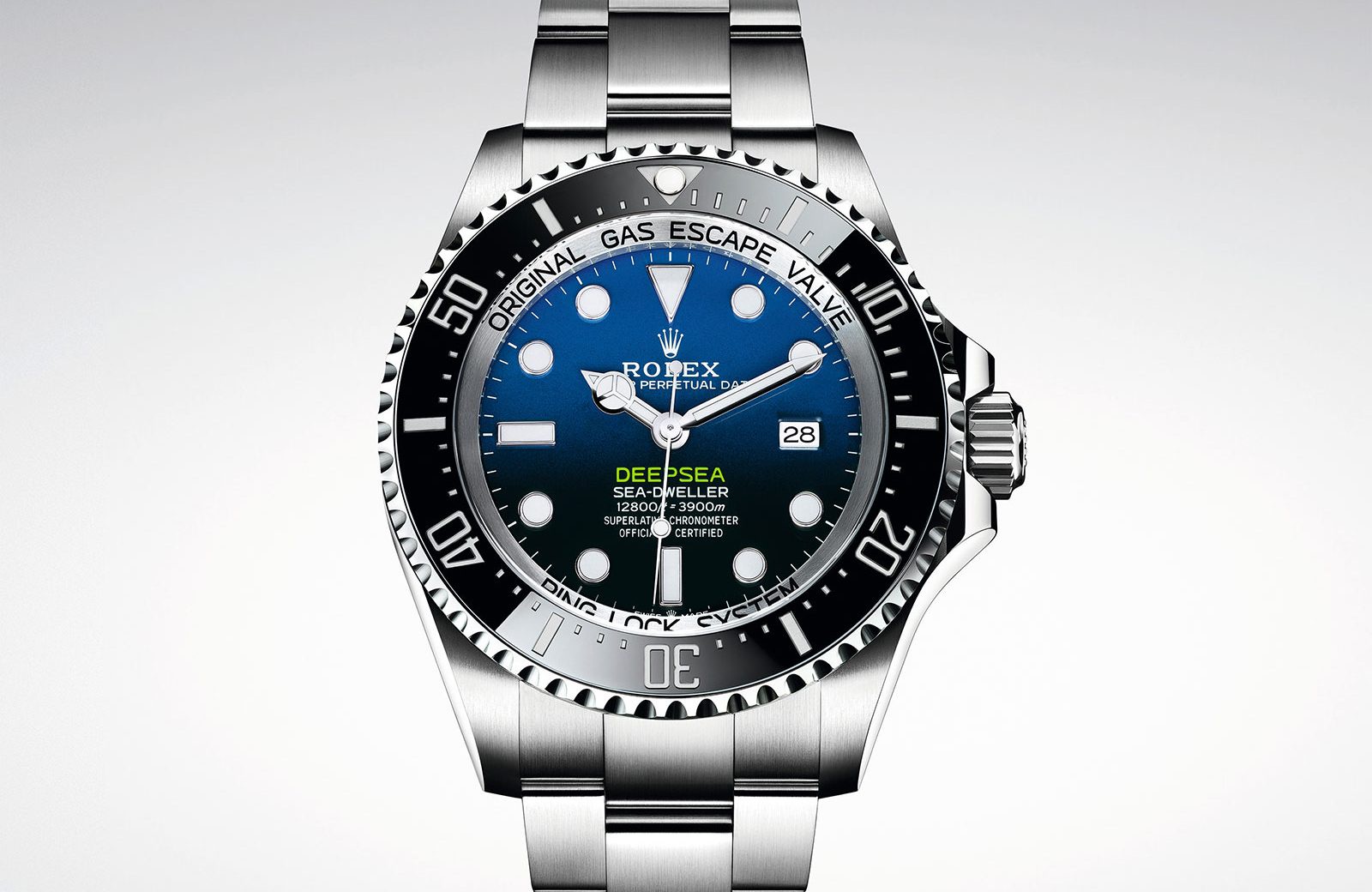 Rolex Sea-Dweller Deepsea
Reference: 126660
Price: 12.350 €
Winding: Self-winding
Case Diameter: 44mm
Style: Diving
Rolex watches are made for important people, so it's no surprise that the brand's line of professional dive watches features some of the best in the world. The 3235 caliber-powered Rolex Sea-Dweller Deepsea ref: 126660 has received a few modifications over the last few years. Its "D-Blue" gradient blue dial presents the time through a scratch-resistant sapphire glass lens secured onto a 3,900-meter water-resistant steel case. Features like a screw-down Triplock triple waterproof system and the brand's famous Oystersteel case make it exceptionally robust for venturing down to deep dark depths underwater. The 44mm model has redesigned lugs for enhanced comfort, a patented Ringlock case construction which features a nitrogen-alloyed stainless steel ring at the center, and a patented helium escape valve. The extra-hard, corrosion-resistant, scratchproof black ceramic scale on the top of a unidirectional rotating bezel, will ensure you can keep track of remaining dive time with ease.

Blancpain X Fathoms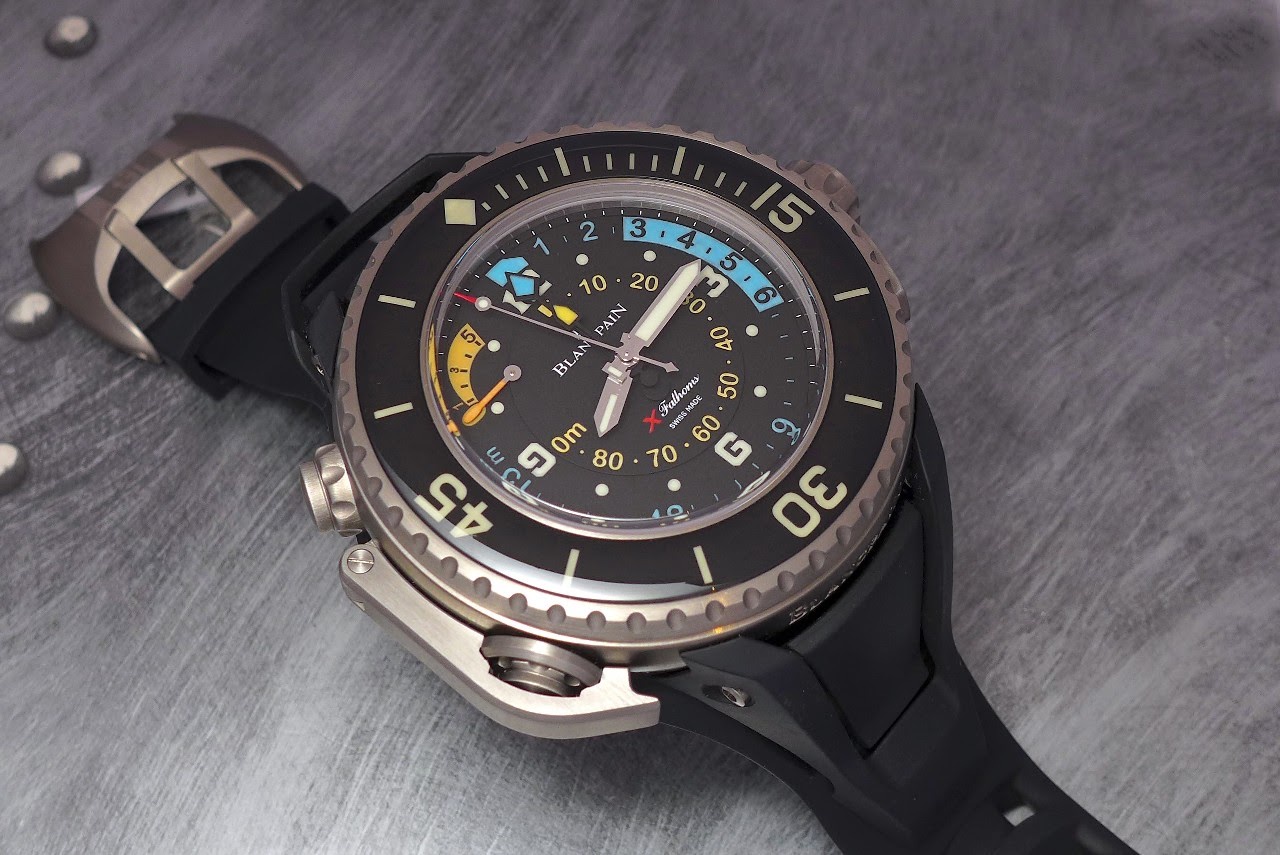 Blancpain X Fathoms
Reference: 5018 1230 64A
Price: 33.066,13 €
Winding: Self-winding
Case Diameter: 55mm
Style: Diving
Blancpain's X Fathoms watch is the king of all dive watches created by this renowned manufacturer. It features an amorphous metal membrane, a depth indication on two scales (which by far outshines many other Scuba depth gauges). It also boasts a 5-minute countdown timer and a helium escape valve. Its 55mm case width certainly packs a punch on the wrist, so you need to have a wrist that can take a watch of this size without it getting lost under a large chunk of metal. This Blancpain deep sea watch is equipped to withstand 300-meter water depths. It features a maximum depth memory with a secure reset pusher and a one-way rotating bezel in black to match its stealthy black dial. The watch's titanium case will feel lightweight on your wrist and the model is even powered with a caliber (the 9918B movement) that will promise to keep accurate time for up to 120 hours off the wrist.

Ball Engineer Hydrocarbon DeepQUEST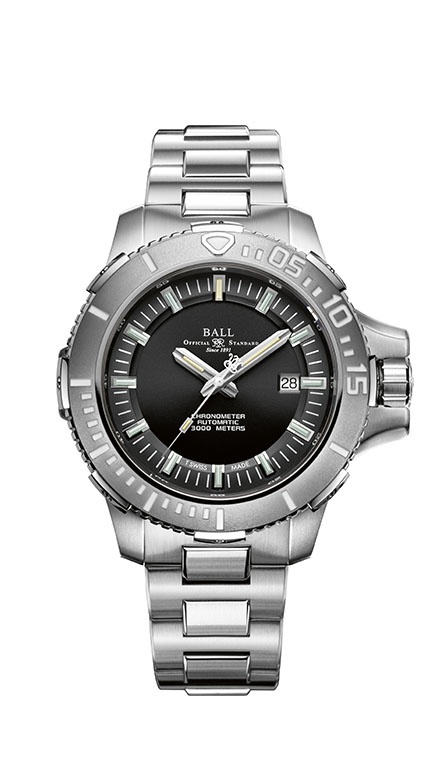 Ball Engineer Hydrocarbon DeepQUEST
Reference: DM3000A-SCJ-BK
Price: 3.695,86 €
Winding: Self-winding
Case Diameter: 43mm
Style: Diving
The Ball Engineer Hydrocarbon DeepQUEST has a total of 15 microtubes filled with luminescent gas that light the way whilst you explore daring depths of water. The company is a world-leader in luminescent technology, combining its technical know-how in this area with breath-taking 3000-meter water resistance. The case of the watch is made from lightweight titanium which looks sleek and sophisticated when paired with formal attire too. If you consider the most important features of a dive watch to be water resistance and a simplified dial, then the Ball Engineer Hydrocarbon DeepQUEST watch ref: DM3000A-SCJ-BK won't let you down. This dive watch, equipped with a helium escape valve, is powered by the reliable BALL RR1101-C self-winding movement - a COSC-certified engine for promised reliability and unparalleled performance.
Breitling Superocean Chronograph M2000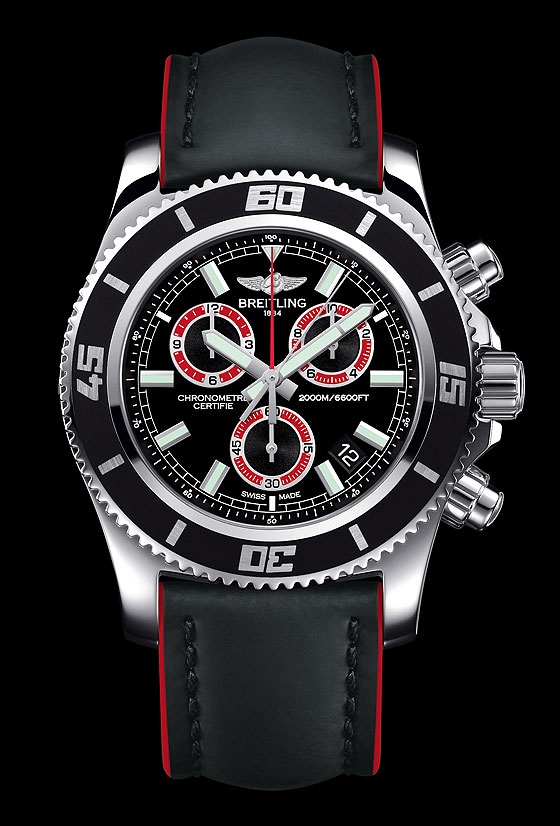 Breitling Superocean Chronograph M2000
Reference: a73310
Price: 5.818,64 €
Winding: Self-winding
Case Diameter: 48mm
Style: Diving
The fact that this deep-sea diving watch combines a chronograph feature with an impressive water resistance of 2000 meters, makes it a serious contender in the diving watch world. If you're a fan of chronograph watches, you'll certainly get your use out of this wristwatch whether wearing it to a session at the gym after work, or under great depths of water. The Breitling Superocean Chronograph M2000 watch ref: a73310 features a patented magnetic push-piece system that allows you to control the counters from the side of the watch's broad 46mm steel case. A screw-lock crown prevents water from seeping into the case and damaging the in-house developed Calibre 73. A unidirectional ratcheted bezel surrounds a "Volcano" black dial with silver appliques and stunning red detail. A useful diving companion that offers more than the standard diving watch spec.
Hublot King Power Oceanographic 4000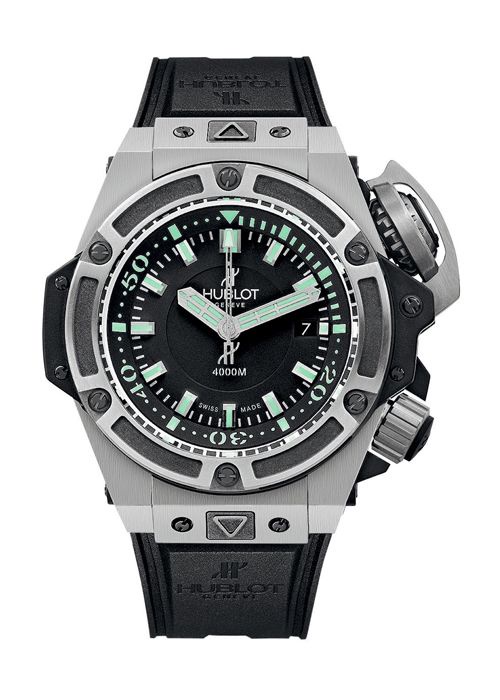 Hublot King Power Oceanographic 4000
Reference: 731.NX.1190.RX
Price: 21,800.00 $
Winding: Self-winding
Case Diameter: 48mm
Style: Diving
It took Hublot 18 months to design the concept of this dive watch. Its design focusses on readability and water pressure resistance. Not only can it operate under a staggering 4000 meters of water, but it displays the time on a black, luminous-coated dial framed by a shell made from lightweight grade 2 titanium. This 48mm timepiece is limited to 1000 models worldwide. It was also tested under 500 meters of water in a Rolex tank. The minute scale with five-minute increments is easy to read, and the internally rotating flange, which is unidirectional and rack-driven, makes this Hublot King Power Oceanographic 4000 watch ref: 731.NX.1190.RX one of the safest out there. With every aspect of this models' design geared towards ultimate diver safety and comfort - this is the diving watch to invest in if you're serious about deep-sea exploration.

Conclusion
This guide outlines some of the most popular deep-sea watches you can buy on the current market. From limited production models like the X Fathoms watch by Blancpain, to the sporty chronograph Breitling Superocean M2000 watch, these watches vary in price, features, and style. The standard rule of thumb is that any watch promising a water resistance of 200 meters or more is considered suitable for diving. But instruments that showcase innovative features like depth gauges, luminous unidirectional rotating bezels, and helium escape valves all help to enhance a diver's experience underwater, making them some of the most reliable, robust and safe watches to invest in this season.