Patek Philippe Calatrava
There are many reasons as to why the Calatrava watch remains so popular, despite being copied by other high-end brands within the watch industry. The collection is home to the vintage model ref 96 which is considered the "Holy grail" to many collectors. Characterized by a 31mm case and dauphine-shaped hands, this ladies watch embodies all the finest elements of the Calatrava line.
There are platinum and gold timepieces from this flagship collection – many of which make a great investment as well as a stylish dress watch to wear to any special occasion. Let's take a look at some past and present models from the iconic Calatrava catalog.
Patek Philippe Calatrava 5227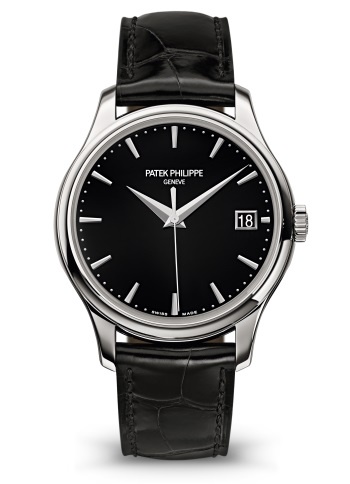 Patek Philippe Calatrava
Reference: 5227
Price: 32.430 €
Winding: Self-winding
Case Diameter: 39mm
Style: Elegant
This Patek Philippe Calatrava 5227 model encompasses a beautiful movement at its heart, complete with exquisite detailing. It also features the invisible hinged caseback that took Patek Philippe years to perfect. It's an opportunity for you to reveal the inner working of the mechanism by lifting the back, but also space for you to get a personalized engraving placed upon its smooth gold surface. Once the caseback is closed it's virtually invisible from the sides of the case. This popular Patek Philippe Calatrava watch is crafted from 18k white gold and is integrated with 30-meter water resistance, so you needn't worry about getting caught in the odd rain shower with this beautiful watch donned to the wrist. The movement provides minutes, hours, and seconds along with a date feature at 3 o'clock. A supple black leather strap completes this stunning Patek Philippe Calatrava 5227 watch perfectly.

Patek Philippe Calatrava 5127J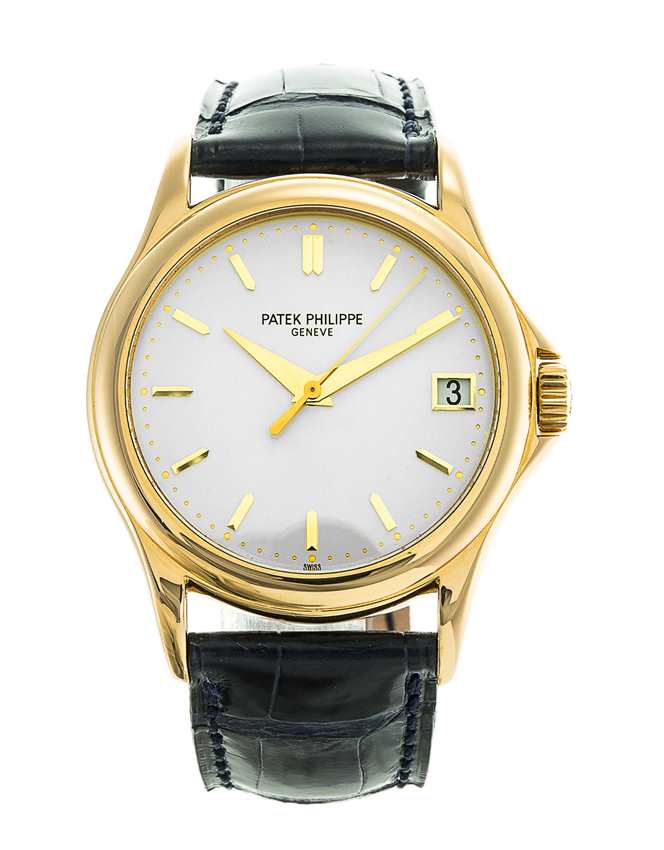 Patek Philippe Calatrava
Reference: 5127J
Price: 18.130£
Winding: Self-winding
Case Diameter: 37mm
Style: Classic
As with all Patek Philippe watches, this Calatrava 5127J model is finished to the highest standards, embodying the best of the brand's legendary lineage. This is a classical dress watch that was produced between the years 2005 and 2012 making it all the more appealing to avid collectors of the iconic Calatrava. One of the most fetching features of the 5127 model is how its lugs merge effortlessly with the case. The 37mm design is crafted from 18k yellow gold and features a set of stick indexes that combine beautifully with dauphine shaped hands gliding over a white dial. Despite its unimposing case width of 37mm – this watch is perfectly tailored to suit a slender gent's wrist and certainly doesn't lack in a subtle masculine presence. The Caliber 315 automatic movement which sits at the heart of the case is finished to Geneva Hallmark standards and is a product of Patek's own manufacturing house.

Patek Philippe Calatrava 5196G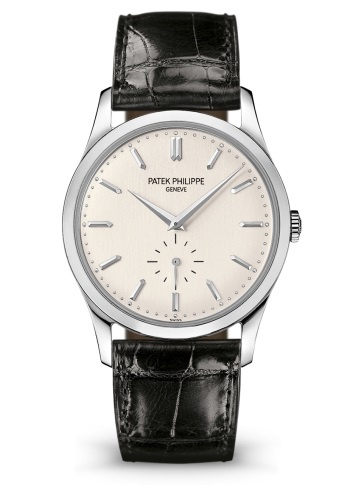 Patek Philippe Calatrava
Reference: 5196G
Price: 20.920 €
Winding: Manual winding
Case Diameter: 37mm
Style: Classic
Popular Calatrava watches like this embody the very essence of the perfectly round case shape. This timepiece beats to the rhythm of the Calibre 215 PS which is a manually wound movement. It provides a 44-hour power reserve once fully wound, performing at a rate of 28,800 vibrations per hour. The small seconds sub-dial located at 6 o'clock on the dial of this Patek Philippe Calatrava 5196G model is a practical function as well as an aesthetically pleasing one. Not only does it add detail and a touch of technical depth to the dial but it also donates more space to the minute and hour hands for simple timekeeping. The white gold watch pairs well with a silvery grey dial, all housed under a lens crafted from strong sapphire crystal glass. This is a practical dress watch made from a sophisticated mix of precious materials and cutting edge Haute Horlogerie.

Patek Philippe Calatrava 4897R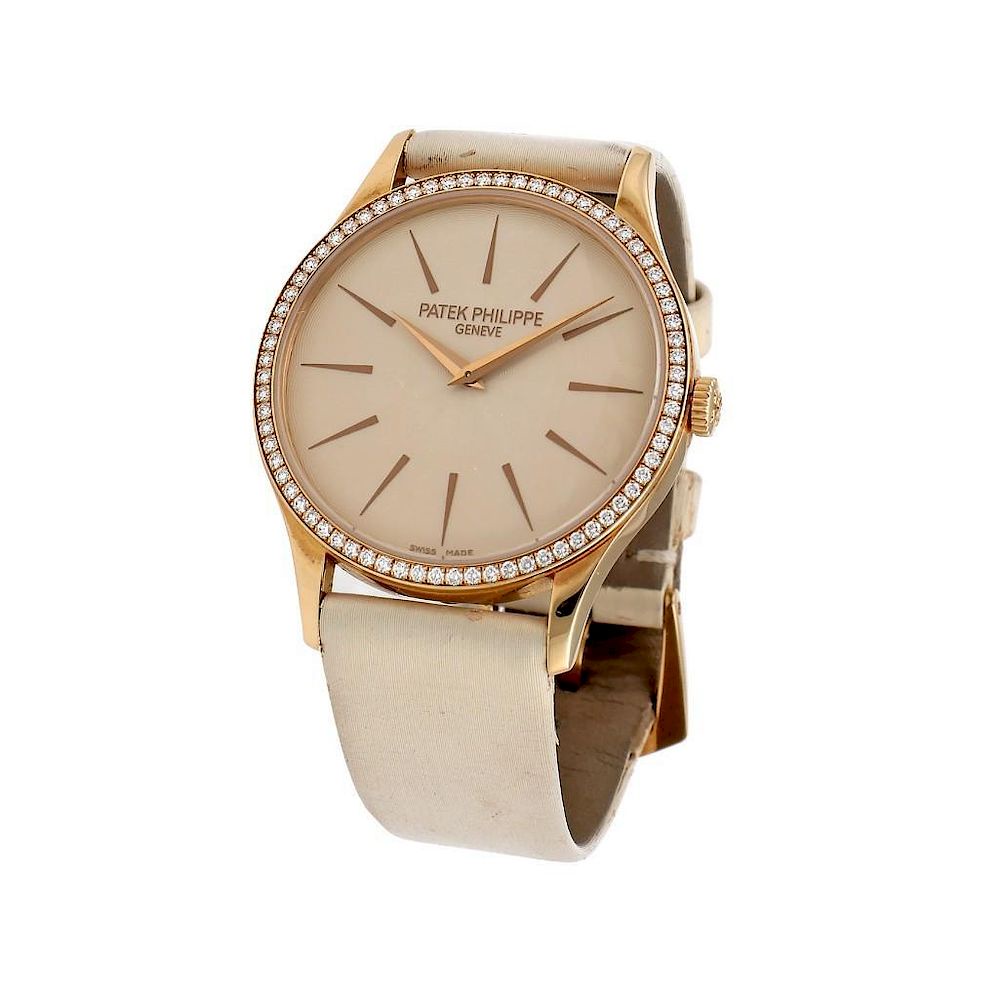 Patek Philippe Calatrava
Reference: 4897R
Price: 27.200 £
Winding: Manual winding
Case Diameter: 33mm
Style: Elegant
A sublime blend of luxurious materials and structured lines – this one is for ladies with a love for the finer things in life. Skilled craftsmen at Patek Philippe have set each of the 72 round brilliant cut diamonds into the bezel of this lady's Calatrava watch ref 4897R with complete precision. The instrument presents the time on a cream guilloche textured backdrop. The case which has been crafted from 18k rose gold, frames a set of powdered gold hour markers and slender stick indexes. This is the kind of watch that a lady will want to pair with her favorite dress by night. The scintillating diamonds, which add a halo of light around the dial, are a nice touch, melding luxury with technical beauty. The Caliber 215 delivers unfaltering accuracy to the wrist and will equip the lady with a useful 44-hour power reserve. From a style point-of-view, Calatrava watches don't come more classy than this. A pearly white brushed satin strap with prong clasp hugs the wrist, providing 24-hour comfort. This is a watch for ladies that don't do anything in half measures.

Patek Philippe Calatrava 5196P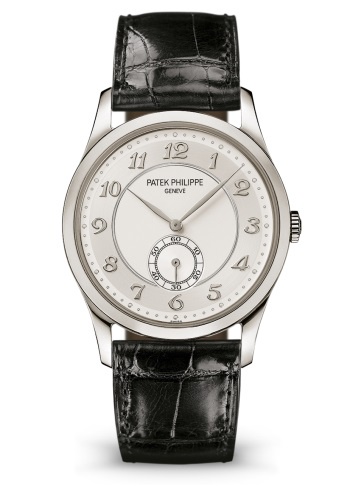 Patek Philippe Calatrava
Reference: 5196P
Price: 35.040 £
Winding: Manual winding
Case Diameter: 37mm
Style: Classic
The Calatrava Small Seconds watch is a popular model to add to your collection. You're probably wanting to know what makes this watch different and how it wears on the wrist. The Calatrava 5196P is a manual winding watch that invites you to take the time each day to connect with your watch. A two-tone silver-grey dial features a deeper shaded ring of Arabic numerals and a crisp small seconds sub-dial etched out in 10-second increments. Completed on a stylish brown leather strap, this platinum watch oozes subtle vintage tones and is powered by an in-house movement comprising a total of 130 individually assembled components. The 37mm Calatrava 51996P is a timepiece that will appeal to manual winding watch wearers in particular, but it's also a great choice for those who want to experience a hand-wound watch for the first time. Patek Philippe's faultless engineering and centuries-honored manufacturing techniques promise reliability and longevity of the very highest standard. Of course, watches made by Patek are some of the most expensive in the world, but if you want a timepiece that guarantees reliability and longevity – few brands would offer you as good an investment as a Patek Philippe watch.

More information
More information about Patek Philippe Calatrava can be found here