There are many reasons to invest in a Hublot watch. The young Swiss manufacturer focuses its timepieces on designs that appeal to the modern watch wearer as well as those that are fond of traditional Swiss craftsmanship. Hublot watches are so appealing because of their unique and highly recognizable designs. This guide to some of the most popular Hublot watches included limited edition watches that are sure to appreciate in value over time, as well as icons from the Big Bang and Classic Fusion collection. Let's take a look at some of them…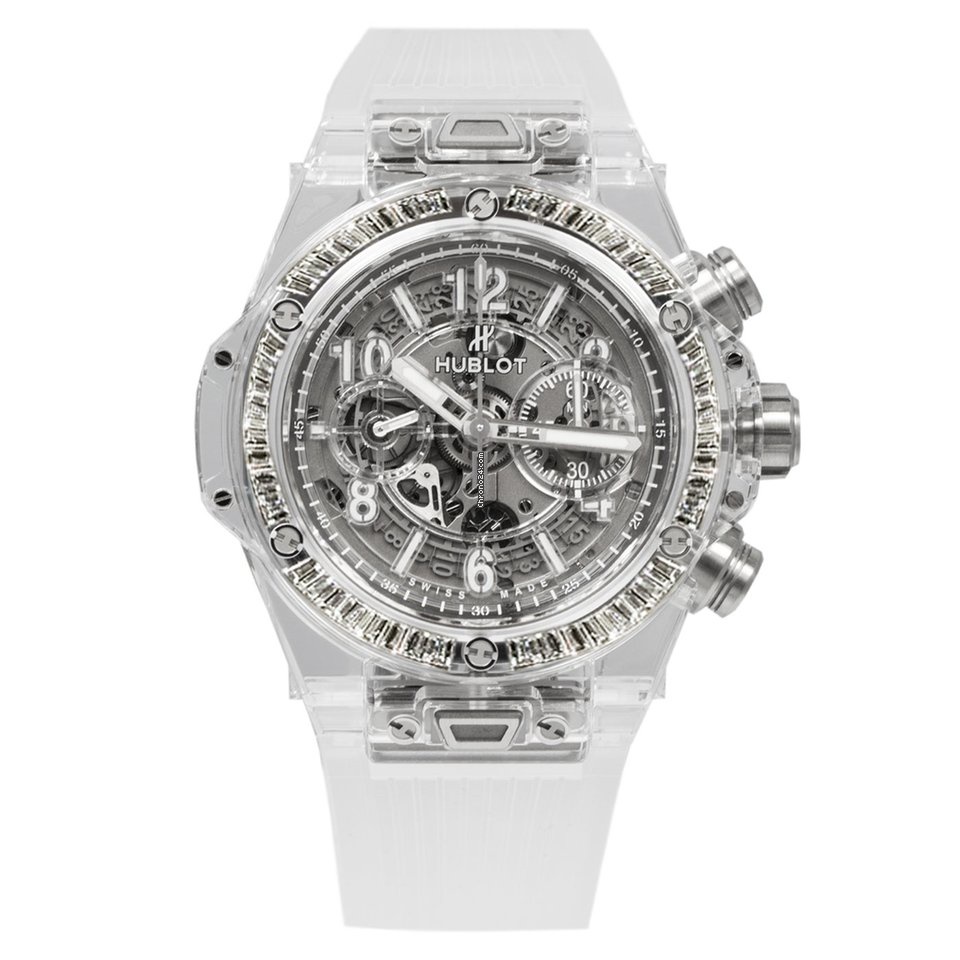 Hublot Unico Sapphire
Reference: 441.JX.4802.RT
Price: 68.000 €
Winding: Self-winding
Case Diameter: 42mm
Style: Mechanical
Hublot built its Unico watch design on foundations of transparency, robustness, and radiance. This Hublot Unico Sapphire 42mm watch ref 441.JX.4802.RT showcases the complexity of an in-house developed movement. Some of Hublot's mechanical engines are specially designed to fit inside smaller chronographs like the UNICO 2 movement, which has a new flatter winding system. This Hublot watch, however, is powered by the HUB1280 Calibre (with flyback function) which sits inside a unique 42mm "glass house" crafted from sapphire crystal. Six "H"-shaped screwed bolt the bezel onto the case, creating an almost industrial-inspired look. If you're in the market for a limited-edition timepiece that stands out on the wrist with an innovative case design - this dynamic Hublot Unico watch, limited the just 500 pieces worldwide is ideal for you. Engineers at Hublot have developed a see-through material that goes one step further than an officer's caseback, showing a 360-degree view of the movement in motion. A transparent structured line strap encloses the wrist with a titanium buckle. This Hublot watch is, without a doubt, a timepiece that will get you noticed, however, and wherever you wear it.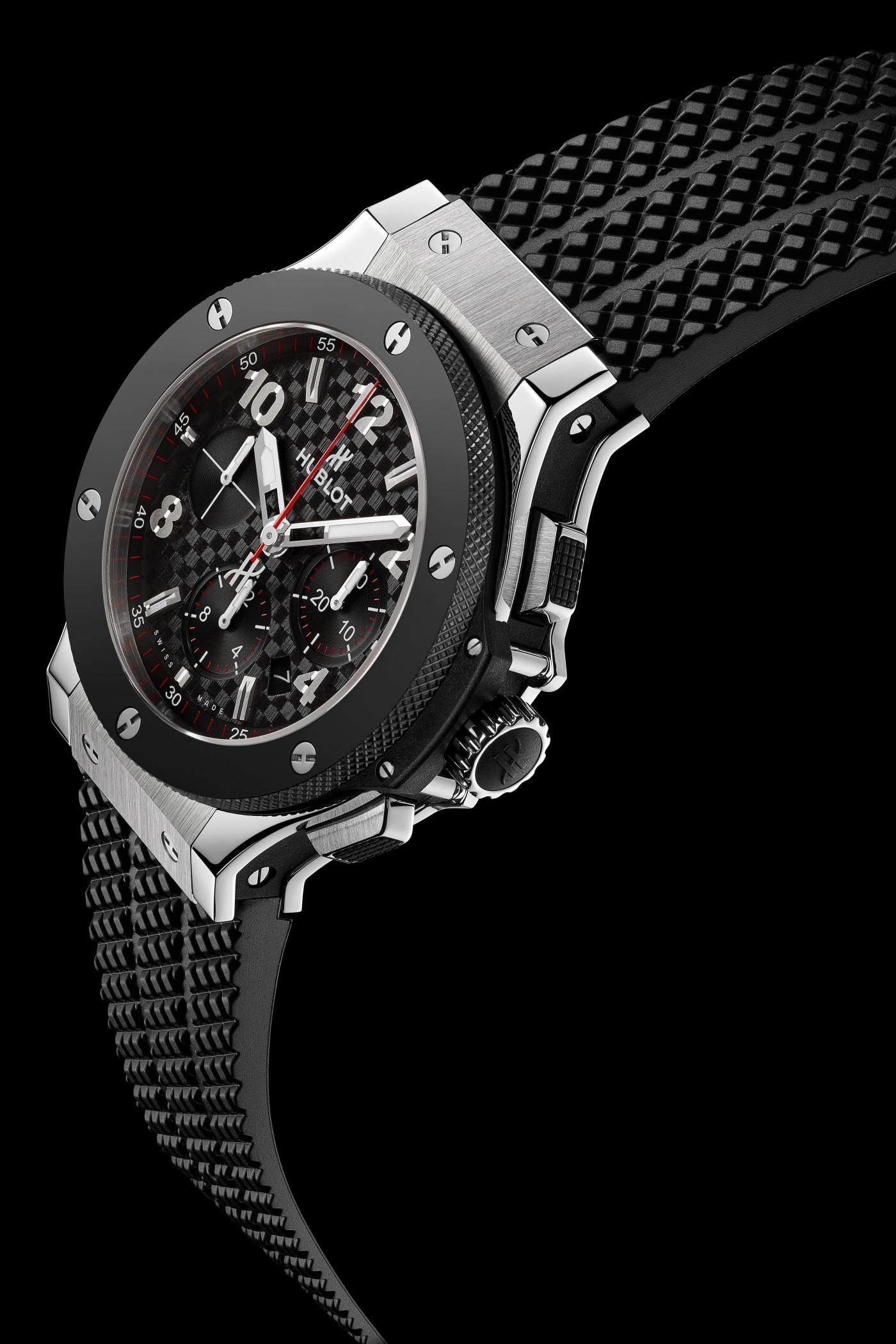 Hublot Big Bang Chronograph
Reference: 341.SB.131.RX
Price: 12.400 €
Winding: Self-winding
Case Diameter: 41mm
Style: Mechanical
Watches from Hublot's Big Bang collection symbolize functionality, architecture, and precision. You can certainly make a statement with a watch from this collection without bankrupting yourself, plus the brand's innovative use of materials create an unmistakable style that can be compared to no other manufacturer in the industry. Hublot Big Bang watches remain popular because of their oversized look achieved by imposing case sizes of up to 45mm. This 41mm Hublot Big Bang watch ref 341.SB.131.RX features a case crafted from polished and satin-finished 316L stainless steel. The durable alloy is chosen for its robustness and its corrosion-resistant qualities. A polished black ceramic bezel with 6 H-shaped titanium screws gives way to a black dial with a stamped, carbon-effect surface. If you prefer watches with a sporty edge, this bold Hublot Big Bang Chronograph watch will enable you to measure elapsed time in style with its comfortable and durable black rubber strap for sporting with gym wear.
https://www.hublot.com/en/watches/big-bang/big-bang-original-steel-ceramic-41-mm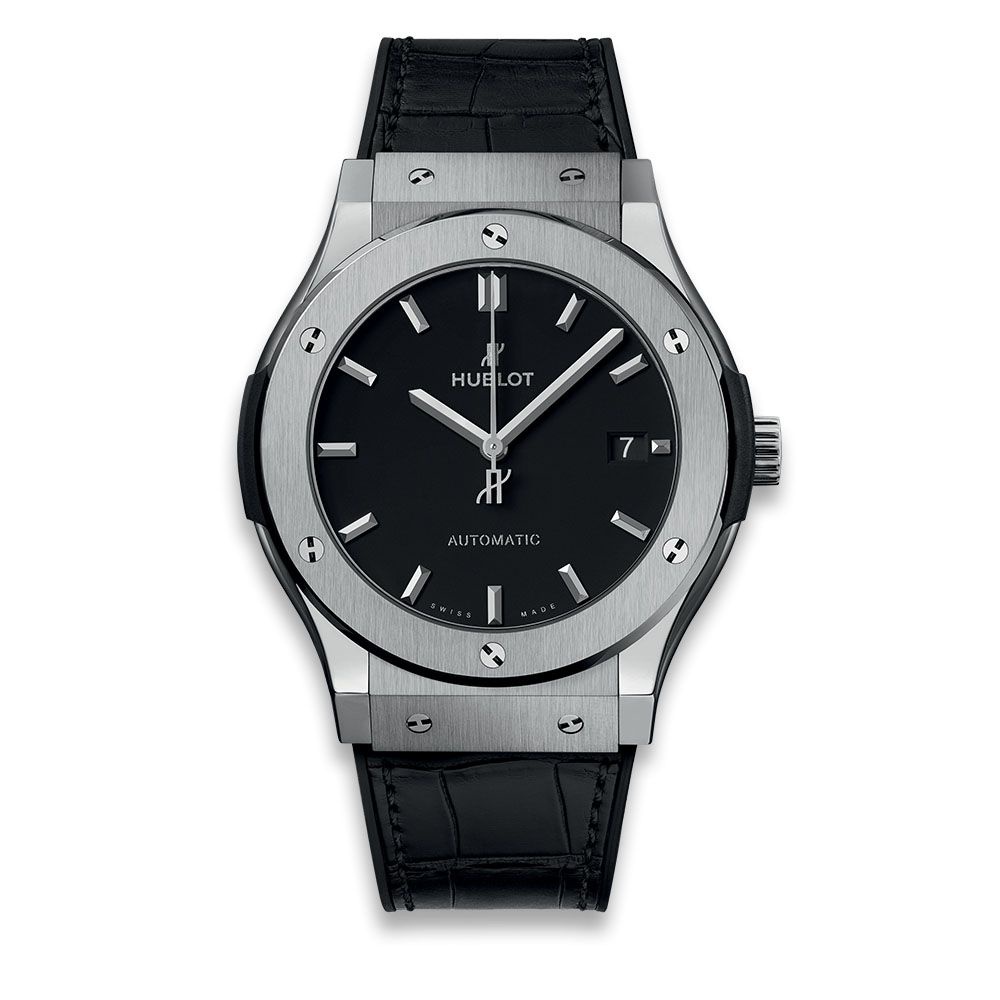 Hublot Classic Fusion
Reference: 511.NX.1171.LR
Price: 7,600 €
Winding: Self-winding
Case Diameter: 45mm
Style: Mechanical
This popular Hublot watch combines a simple three-handed dial design with a lightweight case material. A satin-finished and polished titanium case spans a broad 45mm diameter across the wrist, so if you're considering this watch, you'll want to make sure your wrist can carry a case of this size. There are smaller alternatives to choose from, however. This Hublot Classic Fusion watch ref 511.NX.1171.LR houses the HUB1112 self-winding movement at its center. It's capable of a 42-hour power reserve that will enable you to remove the watch and alternate it with another Hublot favorite whilst it keeps precision time for you. The simple yet bold watch can be worn on either a black rubber or black alligator leather strap depending on how you choose to style it with your everyday look. Its vertical satin-finished titanium bezel with 6 H-shaped titanium screws combines with a lightweight case for wearing every day of the week.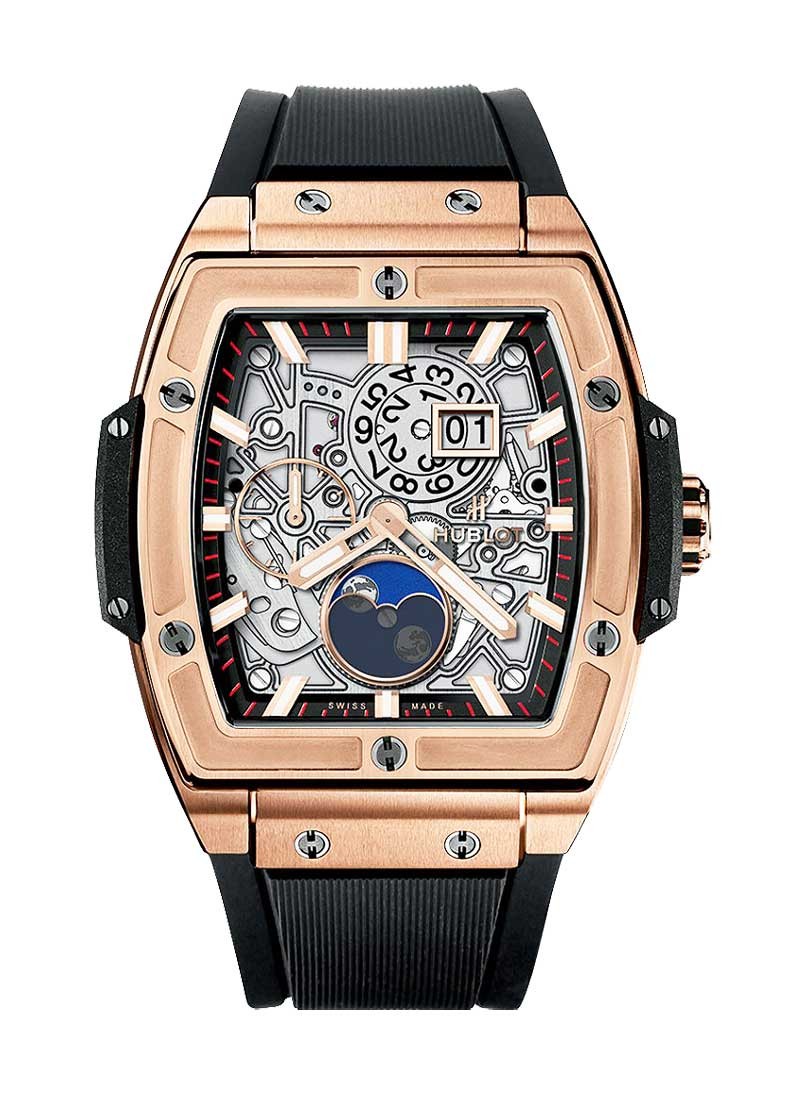 Hublot Spirit of Big Bang
Reference: 647.OX.1138.RX
Price: 38.300 €
Winding: Self-winding
Case Diameter: 42mm
Style: Mechanical
Hublot Spirit of Big Bang watches are a popular choice for gentlemen who prefer an unconventional case shape. The tonneau-shaped case reflects Hublot's non-conformist approach to watchmaking. This Hublot Spirit of Big Bang watch ref 647.OX.1138.RX is a symphony of color, texture, and exclusive materials. A 42mm case is crafted from Hublot's exclusive King Gold material which boasts a warmer shade than 18k rose gold. It contains platinum which also enables the gold to retain its beautiful original patina for much longer without fading. The skeletonized sapphire dial of this Spirit of Big Bang watch exposes the beautiful craftsmanship behind the HUB1770 self-winding Skeleton Big Date Moonphase movement. Each meticulously assembled component of the movement works harmoniously with another, creating an impressive 50-hour power reserve. This stylish wristwatch, complete with a date aperture and moon phase display, is completed on a black rubber strap with an 18k King Gold and black-plated stainless steel deployment buckle.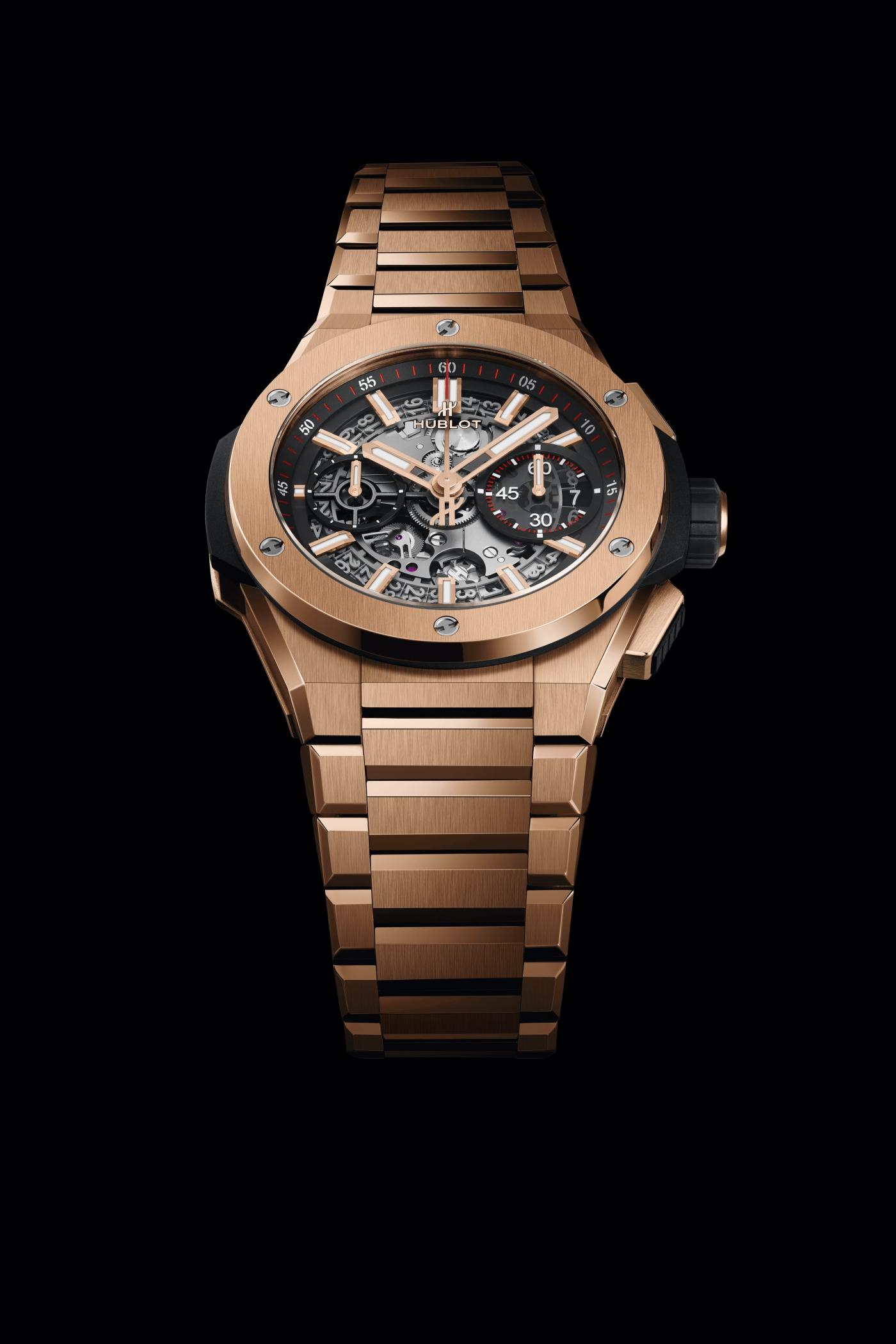 Hublot Big Bang Integral King Gold
Reference: 451.OX.1180.OX
Price: 51.800 €
Winding: Self-winding
Case Diameter: 42mm
Style: Mechanical
Lastly - another watch crafted from Hublot's innovative King Gold alloy. Hublot Integral watches are daring and powerful, built with a complex mechanical movement at their center. The watch's 42mm case sits nicely on a broad wrist, showcasing the HUB1280 UNICO Calibre's seamless performance through its dial side. You'll always know where you stand with the watch's long power reserve of 72 hours, which will enable you to rotate with other watches whilst it keeps perfect time for you. As with all Hublot watches, this timepiece is bold and attention-demanding. Perfect to wear as a conversation-starter – the dial boasts a unique second hand adorned with the brand's emblem as its counterweight on the base. What's more, a flyback feature will enable you to stop, reset, and start another chronograph timing with one simple push of a button. This striking wristwatch combines luxurious materials with state-of-the-art technology – a timepiece to add to your collection if you want a watch that communicates ground-breaking craftsmanship with traditional Haute Horlogerie.