The Breitling Superocean watch collection is a pillar of precision. The line is home to several versatile and distinctive designs that not only impress from a diving point-of-view but also equip the wrists of skydivers, bungee jumpers, and mountain climbers. Considering the vast array of needs that the Breitling Superocean watch is designed to answer to, you're probably considering a watch from this collection because of its innovative diving capabilities. Let's take a look at some of the models from this multi-functional collection, along with some reasons as to why the designs continue to be some of the most popular Breitling watches to date.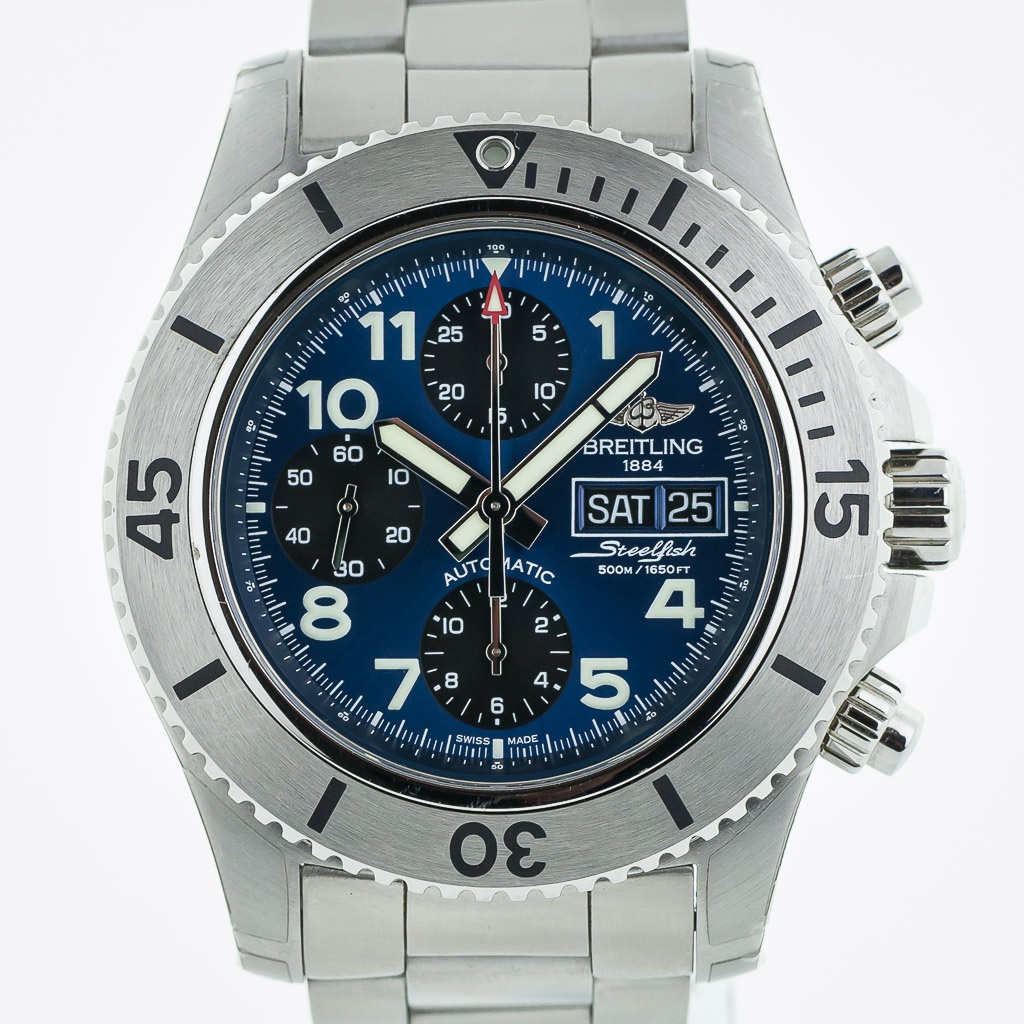 Breitling Superocean Chronograph Steelfish Blue Steel
Reference: A13341C3/C893
Price: 4.720 £
Winding: Quartz
Case Diameter: 44mm
Style: Chronograph
Every watch collection needs a chronograph, and if you don't yet own one, you won't need to look any further than the Breitling Superocean Chronograph Steelfish watch ref A13341C3/C893. It runs on a 25-jewel self-winding Breitling 13 chronograph movement with 30-minute, 12-hour, and 60-seconds sub-dials against a dramatic blue dial. One of the most attractive features of this popular Breitling Superocean watch is the chronograph counters which are finished in a deeper contrasting blue to the lighter dial, matching the day-date feature at 3 o'clock. Its rugged stainless steel case will span a 44mm diameter across your wrist, securing with a stainless steel bracelet that keeps the timepiece looking dressy enough to pair with elegant attire by night. Whether you're a gym-goer or just a lover of the classic chronograph, this Breitling Superocean Steelfish watch will certainly serve your wrist well whilst underwater. Equipped with a breath-taking 500-meter water resistance, this is the ultimate tool to take with you when partaking in a spot of deep-sea diving, sailing or water sports.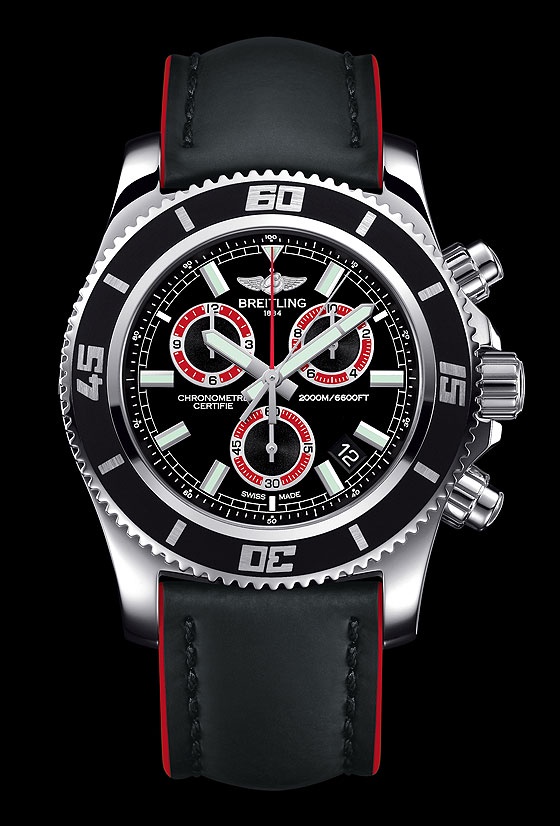 Superocean Chronograph Black Dial Limited Edition
Reference: M73310B7/BB72
Price: $3.477,63 €
Winding: Quartz
Case Diameter: 46mm
Style: Chronograph
If limited edition watches appeal to you, this Breitling Superocean Chronograph Black Limited Edition watch is a design that suits all lifestyles. Its bold and powerful all-black profile measuring 46mm in width certainly packs a punch on the wrist. Crafted from stainless steel but with a stealthy black PVD coating, its rotatable bezel will help you keep perfect time whilst under great depths of water. The watch is water-resistant to an incredible 2000 meters. It's unusual for a limited edition watch to promise such a high level of practicality, but this functional watch balances sleekness with a superlative dial in a rather unique way. Luminescent hands and indicators ensure the dial lights up in the darkest of situations, so whether you're wearing this special limited edition Breitling Superocean watch throughout the night or to explore daring sea depths, it remains a key watch from the Superocean collection to seek out.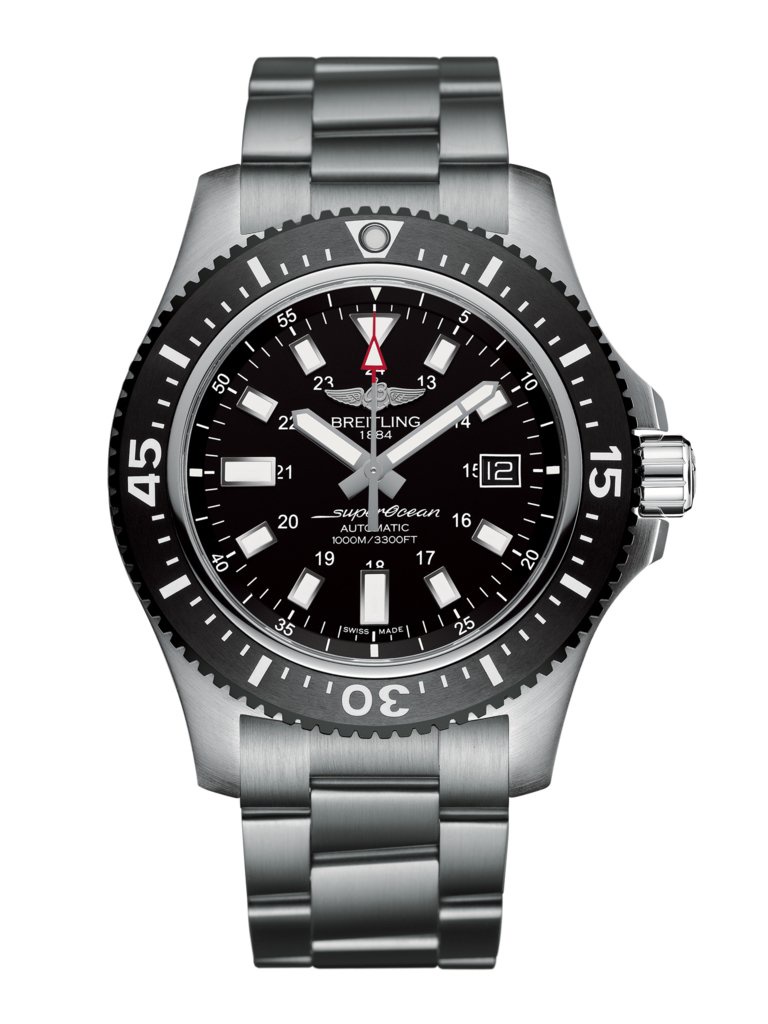 Superocean 44 Special Black Steel
Reference: Y17393101B1A1
Price: 4,350.00 $
Winding: Quartz
Case Diameter: 44mm
Style: Chronograph
Breitling watches with the famous Volcano black dial look stylish no matter where you wear them to, like this Breitling Superocean Special Black Steel watch ref. Y17393101B1A1. The 1000-meter water-resistant watch is powered by the Breitling 17 movement which does a superb job of providing accuracy as well as an impressive 38-hour power reserve. The watch's black dial is equipped with luminous hands and hour markers. It beautifully matches the black ratcheted unidirectional rotating bezel perfectly. Alongside a screwed-in caseback, this popular Breitling Superocean watch is also kitted out with a cambered sapphire crystal glass lens and a screw-locked crown with two gaskets to ensure it upholds its astonishing water-resistant capability. Whether wearing this watch underwater or on dry land, it's sure to make an impact on your wrist, whatever outfit you choose to marry it with.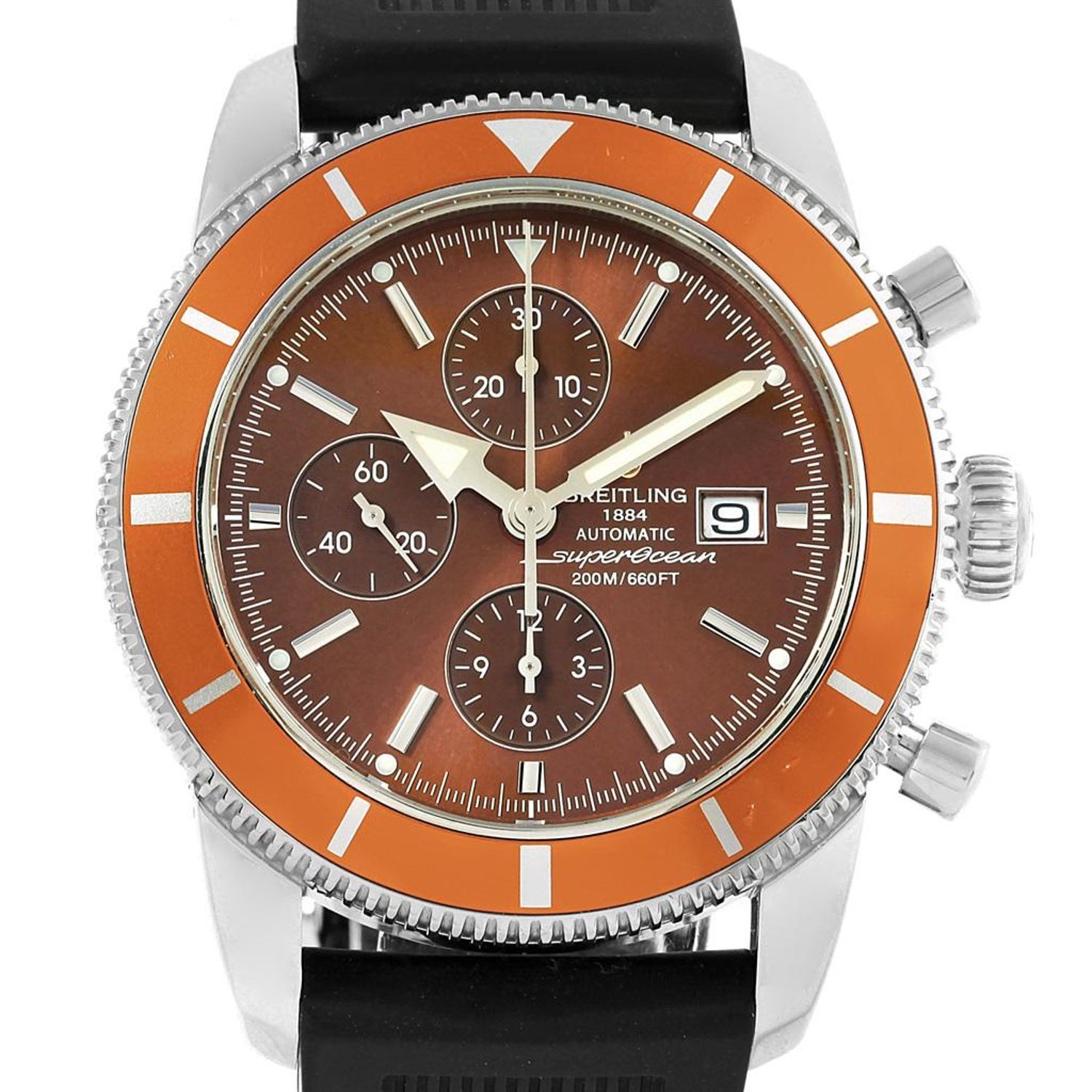 Superocean Heritage II Chronograph Copperhead Bronze
Reference: A13312331Q1A1
Price: 4,940.00 £
Winding: Quartz
Case Diameter: 44mm
Style: Chronograph
If you cherish the look of a vintage-inspired design, this Breitling Superocean Heritage II Chronograph Copperhead Bronze watch ref A13312331Q1A1 is sure to appeal to you. It remains a popular watch from the Superocean collection thanks to its innovative design which blends unmistakable design cues take from its original 1956 model with new technology. The Breitling 13 movement is held inside a sturdy stainless steel case equipped with 200-meter water-resistant capability. Although not as water-resistant as other models featured in this guide – this Breitling Superocean Heritage watch is ideal for lovers of classic Breitling models – perhaps those who intend not to wear the watch down to such daring depths of water. Completed on a distinctive rubber strap, it promises around-the-clock comfort with modern style. A 120-click unidirectional ceramic bezel is an indispensable feature that demonstrates how Breitling considers diving safety to be of utmost importance in creating the perfect diving watch. Additional features like its stainless steel mesh-style bracelet and eye-catching bronze-colored dial and bezel add to the appeal of this Superocean watch.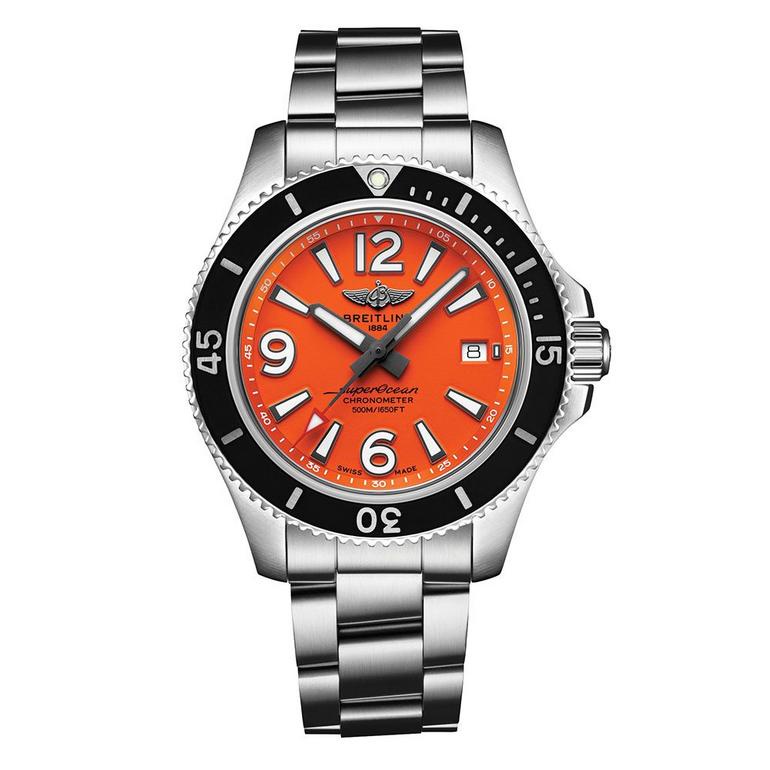 Superocean Automatic 42 Orange Steel
Reference: A17366D71O1A1
Price: 3,140 £
Winding: Quartz
Case Diameter: 42mm
Style: Chronograph
The Breitling Superocean Automatic 42 Orange Steel watch ref A17366D71O1A1 is a multifaceted watch that can be worn for travel, work, leisure, or diving expeditions. Equipped with a ratcheted unidirectional bezel and a 500-meter water-resistant stainless steel case, the timepiece is predominantly intended as a diving watch. But since its zesty orange dial with luminescent markers is so distinct, it embodies the bold and daring design aesthetics that Breitling is best known for. The mesh-style stainless steel bracelet melds comfortably to the contours of the wrist, constituting a dress watch that will elevate any favorite jacket in your wardrobe. The in-house designed Breitling 17 ensures you won't have to worry about the watch maintaining accurate time, even whilst off the wrist, since it promises a 38-hour power reserve. This is, without a doubt, a watch to wear if you want to get noticed, but also a watch to add to your collection if you're a fan of the archetypal Breitling dive watch design.