Which Patek Philippe watches hold their value?
Patek Philippe is one of the oldest Swiss watch manufacturers still in production today. The company was founded in 1839 in Geneva, Switzerland. When the quartz crisis peaked in the 1970s, Patek Philippe developed and launched the Nautilus watch as an attempt to draw people's attention back to high-end Swiss-made mechanical watches once again. As a result, the Nautilus has remained one of the most coveted watches amongst elite watch collecting circles. Patek Philippe watches are some of the most expensive in the world. It, therefore, makes perfect sense that if you're looking to invest in your first ever Patek Philippe watch (or indeed, if it's time for you to add another watch to your collection), you'll want to research which models yield a good return investment.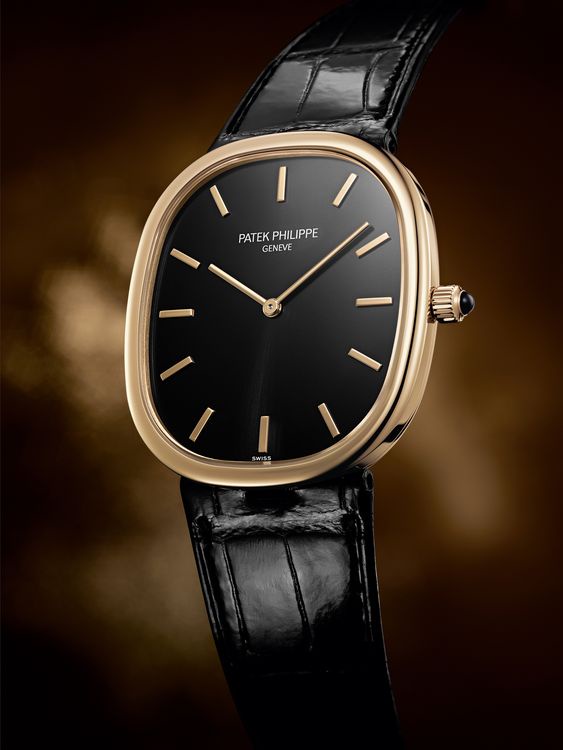 Why is Patek Philippe watches so expensive? To answer the question "which Patek Philippe watch holds its value best?", we first need to look at why Patek Philippe watches have such a reputation for being so expensive. Many factors influence why a watch or watch brand is so highly sought-after. It is thought that less than 1 million Patek Philippe watches have been developed since the year 1839. Why is this? Well, each timepiece made at the company's manufacturing facilities is designed, developed and finished by experts in-house. Whilst this gives the company great flexibility when it comes to innovation, it's also the reason why each wristwatch takes so long to create. Some models can take up to 9 months to complete, depending on the level of hand-applied technique involved in the watch design and the complication of the watch's movement. The price of a Patek Philippe watch therefore, reflects the level of craftsmanship in each timepiece.
Of course, this factor leads to another reason why a Patek Philippe is so expensive and investible – scarcity. Watch collectors will always long after those watches that are the rarest.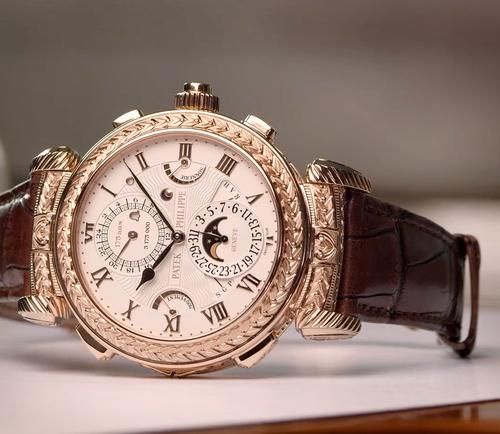 This Patek Philippe Ref: 1579R for example, is one of the most expensive chronographs made by the famous manufacturer. It's crafted from 18k rose gold and features spider lugs that lead to a vintage-inspired brown leather strap and a specially engraved bezel. The model is estimated at around $400 000 - $700 000. There are only 6 known examples of the model thought to be signed by both Patek and Milan retailer, Gobbi. The fact that Patek Philippe watches are made in limited supply makes the demand from stockists and retailers higher – many of whom are prepared to pay more to secure a timepiece.
Some Patek Philippe watches can double in price. Watches that were made in tribute to a special milestone like the brand's 175th anniversary, for example, are thought to be worth double their retail price already. Models that have become discontinued are also highly desirable since numbers available on the market and their rarity adds considerable value. Original Nautilus watches made back in the 1970s for example, originally retailed for around $3000 but are now worth around $50 000 today! Similarly, Patek Philippe Perpetual Chronographs like the model 2499/100 originally retailed for around $20 000 during the '80s but are now valued at around $400 000 currently.
The provenance and prestige of a luxury watch brand will also add value to a watch. Patek Philippe's centuries-old manufacturing methods and traditional approach to watchmaking are what collectors love about these wristwatches. There is a complexity and skill associated with the level of hand-crafted and hand-decorated parts belonging to a Patek Philippe model that watch enthusiasts love. What's more, Patek Philippe is a family-owned company that has remained faithful to its authentic approach to watchmaking, creating timepieces that stand for quality and reliability first and foremost. Here are a few models from Patek Philippe that are known for holding their value the most.
The Patek Philippe Calatrava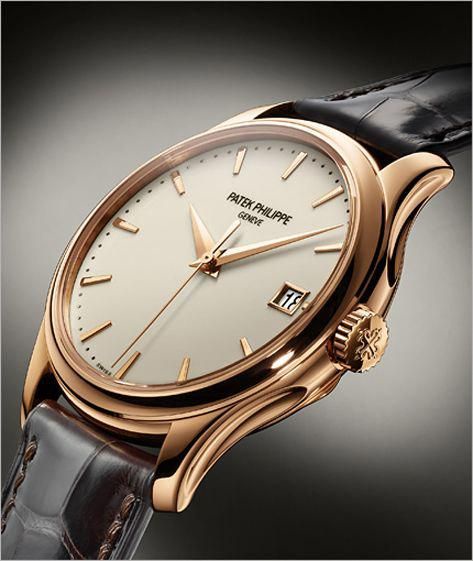 Patek Philippe Calatrava
Reference: 5227R-001
Caliber: Calatrava
Functions:Centre hour, minute and seconds hands. Calendar
Case Diameter: 39 mm
Power Reserve: 45 h
Winding: Automatic
Case Material: Rose gold

Jewels: 29
Water Resistance: 3 ATM
Strap/Bracelet: Crocodile skin
Dial Colour: Brown
Crystal: Sapphire Crystal
Calatrava watches from Patek Philippe are characterized by their minimalist and simplistic dial layout. These classic dress watches exude a sense of elegance on the wrist. As one of the most prestigious watches in the world, it's easy to understand how Calatrava watches have come to be such a worthy investment piece. These perfectly finished models are equipped with in-house calibers that offer unbeatable performance and precision. The collection first launched in 1932 and has become a highly coveted icon inspired by Bauhaus – the German school of art and design. The clean and purist dial of a Patek Philippe Calatrava watch is what makes it such a desirable dress watch for pairing with formal, relaxed or professional attire. The Calatrava 96 model defined by its elegant case shape, a set of dauphine-shaped hands and slim indexes, is considered the "Holy Grail" for many a collector. You can plan to spend around 10 000 USD on a pre-owned model, yet timepieces that fetch up to around 23 000 USD are not unheard of. Thanks to its pleasantly flat case, platinum, rose gold, white gold or yellow gold Calatrava watches are highly desirable, making for one of the best Patek Philippe watches to hold their value. For their price point, platinum Patek Philippe Calatrava watches like model 5196, will cost around $26 000 in new condition, To re-sell on the second-hand market, however, expect to lose only a couple of thousand dollars. Watches with a guilloche bezel are also available, accompanied by traditional Roman numerals and leaf-shaped hands. You should look out for models that go by the reference of 5119 and 3919 in particular since these Patek Philippe watches hold their value considerably. A pre-owned 3919 will cost just under 10 000 dollars for a yellow gold version, whilst the 5119 yellow gold will fetch around $14 000 for a pre-owned current model. The white gold version of the Patek Philippe Calatrava watch is more affordable, however, and will guarantee you a good return investment when sold on the second-hand market. From new, you can purchase one of these wristwatches for just under $16 000. To re-sell it you can expect to receive around $13 500 back. When it comes to investment value vs brand value – you can't go wrong with a Patek Philippe watch. Whilst modes like the Nautilus, the Aquanaut and the Calatrava will always prove to be popular investment pieces, there are other timepieces from the brand's Grand Complications and Complications collection that are highly sought after and collected due to their innovative features. Perpetual calendars by Patek Philippe are some of the most intricately crafted on the market. The meticulously hand-assembled components of a high-performance movement are put on a show through a transparent case, crafted from sapphire crystal glass. Whether it's a sports watch or a sophisticated dress watch you require – a combination of high-end materials, a solid, practical design and Patek Philippe's successful heritage will always render these watches the most expensive and investible on the luxury watch market.
The Patek Philippe Nautilus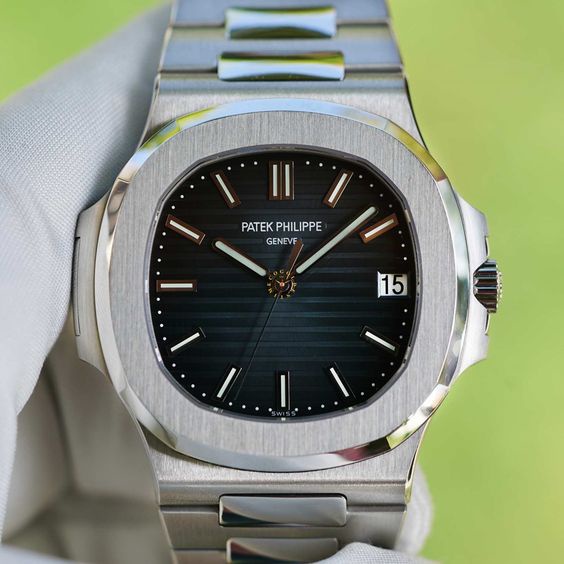 Patek Philippe Nautilus Blue Dial
Reference: 5711/1A-010
Caliber: 324 S C
Functions: Date
Case Diameter: 40 x 38 mm
Power Reserve: 45 hours
Winding: Automatic
Case Material: Steel

Frequency: 28,800 Hz
Jewels: 29
Water Resistance: 10 ATM
Strap/Bracelet: Steel
Dial Colour: Blue
Crystal: Sapphire crystal
Prices of Patek Philippe Nautilus watches have skyrocketed over the last decade, making them a solid investment. The reason why they're so popular is because of their famous porthole-inspired design, created by Gerald Genta. It remains one of the most unique-looking sports watches on the market, with waiting lists endured by collectors that span years long. To demonstrate how the Patek Philippe Nautilus watch holds its value, models purchased in 2011 cost around $28 000, but today the same model in mint condition will sell for around £53 000. The standard stainless steel Nautilus watch by Patek Philippe, therefore, is an excellent investment timepiece. The standard Nautilus 5711 is a three-handed dial with a date display, available in blue or white. The blue version is more popular, hence its selling price for a mint-condition version is around $53 000 as opposed to the white dial priced at around $48 000. For pre-owned variations, you can expect to sell these watches for only a few thousand dollars less.
The Patek Philippe Aquanaut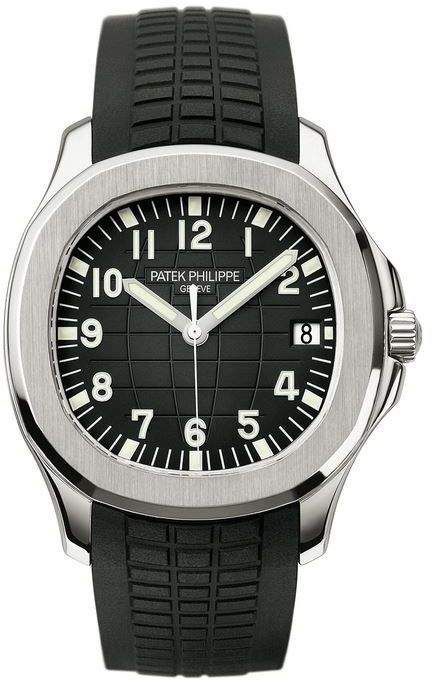 Patek Philippe Aquanaut
Reference: 5167/1A-001
Caliber: 324 S C
Functions: Date
Case Diameter: 40 mm
Power Reserve: 45 h
Winding: Automatic
Case Material: Steel

Frequency: 28,800 Hz
Jewels: 29
Water Resistance: 10 ATM
Strap/Bracelet: Black rubber
Dial Colour: Black
Crystal: Sapphire crystal
Patek Philippe Aquanaut watches are more affordable than Nautilus models yet still hold their value significantly, making them a great investment option if you're looking to spend less initially on your purchase. Its design is familiar to the Nautilus too, appealing to fans of the iconic model. Aquanauts have been equipped with reliable in-house made calibers, some of which feature a dual time mechanism and a practical water-resistance of 120 meters. The first designs launched in the late '90s. Their slight rounder case shape is accompanied by a special strap integrated with resistance to radiation, salt water, and abrasions. The basic model from this collection is the steel Patek Philippe Aquanaut 5167 powered by the Caliber 324 S C which provides a 40-hour power reserve. A never-worn version costs around 30 000 USD and pre-owned versions cost just a couple of thousand dollars less. Rose gold versions with the chocolate brown dial cost $27 000 on the second-hand market. The 20th anniversary Aquanaut 5168G with a 42-mm case crafted from 18k white gold, however, will set you back around $51 000.
Find out more
You can find out more information about Patek Philippe here