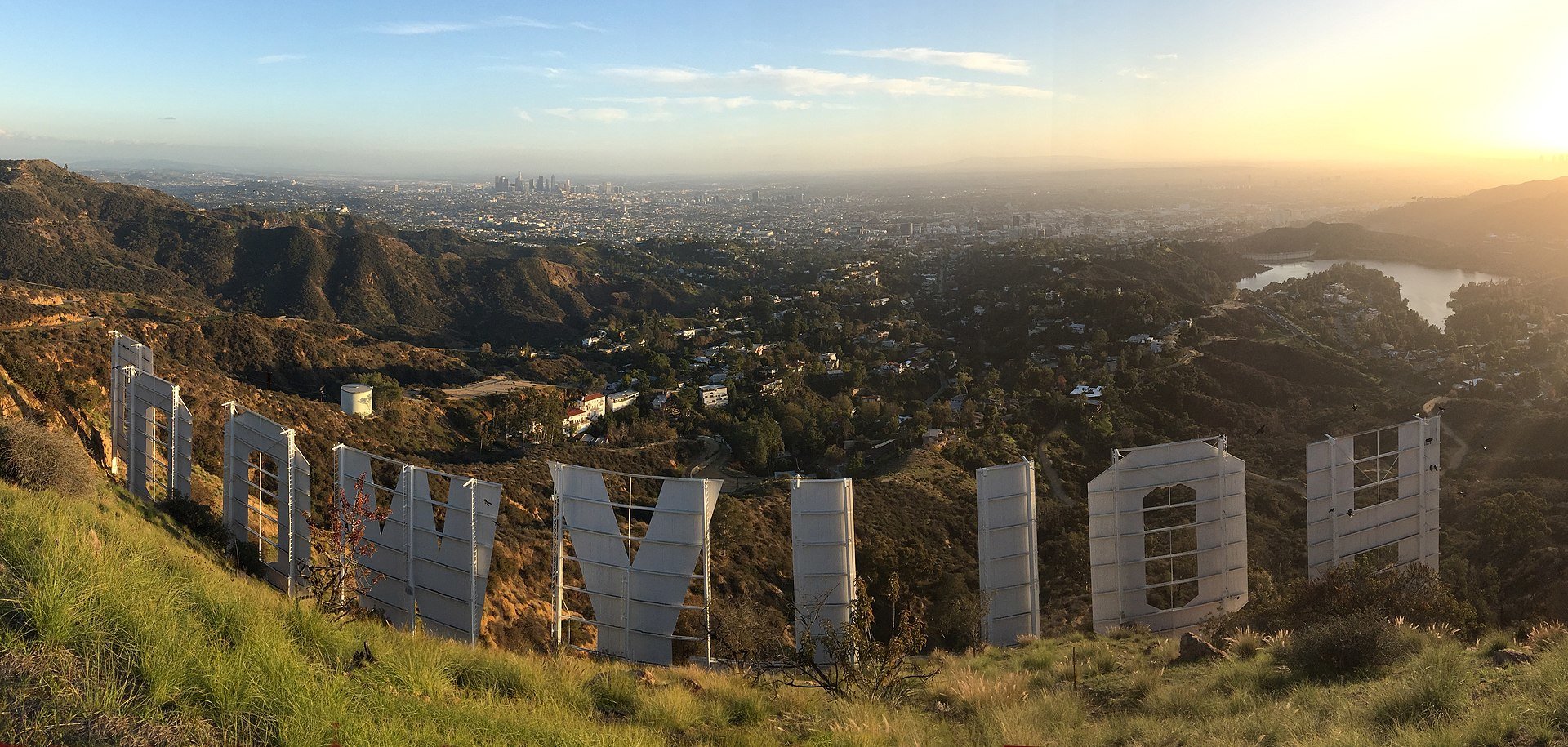 The most iconic watches worn by Hollywood actors
Have you ever wondered what the most iconic watches in Hollywood are? Some watches that have graced the wrists of the most famous actors and actresses in Hollywood have become global favourites, others were already widely recognised and have since been chosen for the wrist of a particular actor. Collecting watches that have been worn by desirable movie stars is a variable thing. The market is always changing. Watches are constantly fluctuating in popularity on the market whether that be due to those recently seen on the silver screen or determined by current trends in the fashion industry. A luxury watch worn by a movie star can depict his character on-screen in seconds. It can set the scene, create a personality, and become an icon that an audience will grow to love forever.
Over the years, many watches worn by Hollywood actors, whether on screen or not, have experienced unprecedented success. Of course, product placement can also make a brand very successful, just as a watch can make a celebrity even more creditable. Collectors love to rewind to the particular year of a character in a film and, as a result, will always keep the spirit of an iconic watch alive by collecting and selling their most favourite timepieces. Here's a list of some of the most iconic wristwatches worn by movie stars in Hollywood.
---
Rolex Submariner 6538 – Dr No
Where would Rolex watches be without their association with presidents, world leaders, celebrities and secret agents like James Bond? No other than Seam Connery himself has contributed to the success of the Rolex Submariner with the 6538 model, which featured on his wrist throughout the Dr No film. The super sleuth wrapped the Rolex Submariner 6538 to his wrist in the 1962 film and continued to wear the watch in the following four iterations, switching it up with a change of strap. The stainless steel model boasts the 4-line "Tropical" dial in black and is powered by the Calibre 1030, which sits behind a 37mm stainless steel screw-down caseback. Belonging to the iconic Submariner watch collection, of course, it offers a rotating diver's bezel, 300-meter water resistance and an Oyster steel bracelet with a robust folding clasp.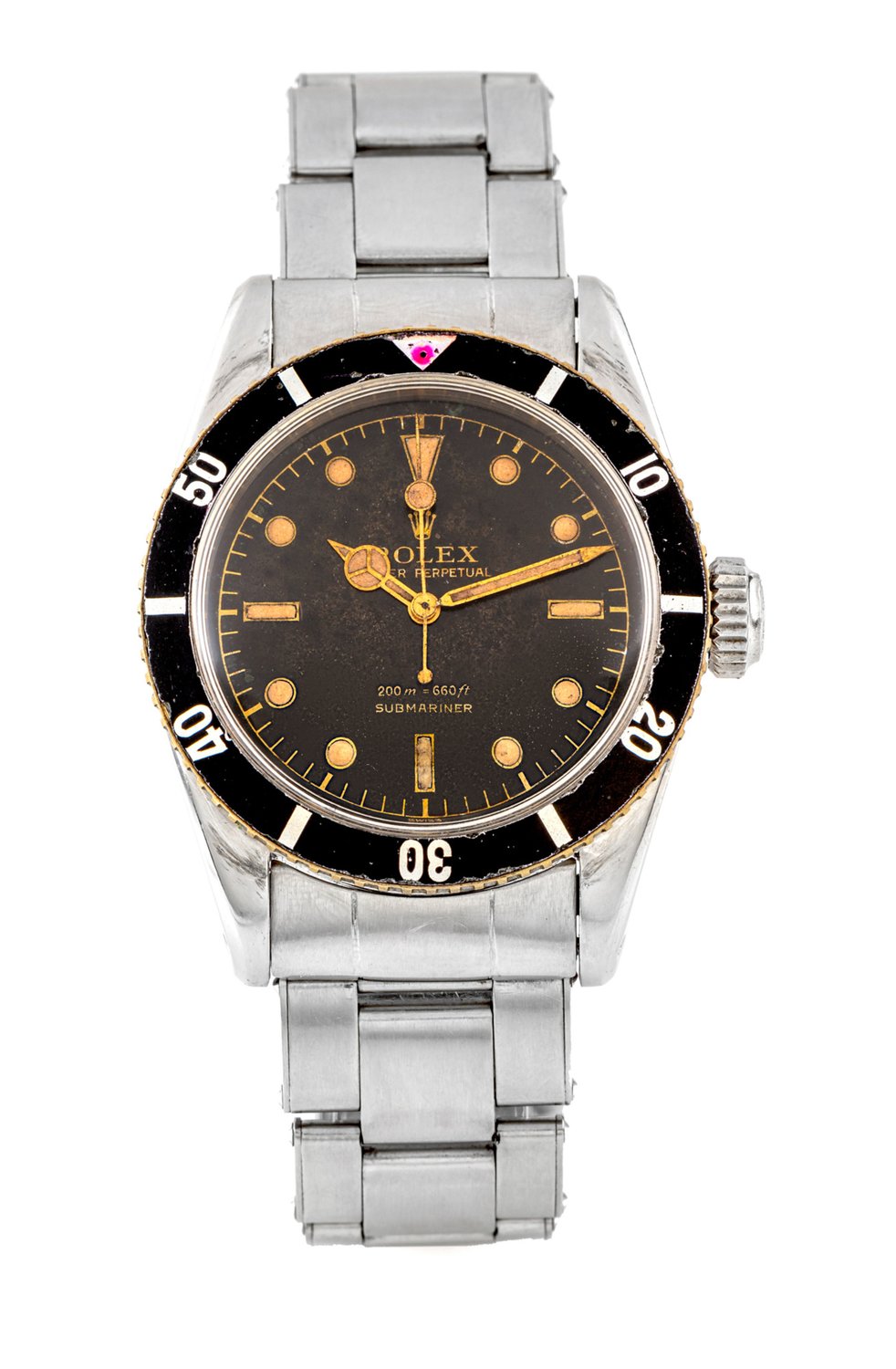 ---
Seiko Giugiaro 7A28-7000 – Alien
The Seiko Giugiaro watch starred in one of the most-watched 80s movies of all time – Alien. If you have a keen eye, you may have noticed the watch strapped to the wrist of Ripley, despite the front-end loader being the film's most impressive piece of kit. The watch was made as a collaborative effort between Seiko and automotive designer, Giorgetto Giugiaro and features a simple analogue dial. Although Seiko re-released a newer version of the 7X28-7000 model, the original is now pretty hard to come by on the pre-owned market. It features chunky chronograph buttons and a blocky panel shaped case with a black chronograph dial, a light orange minute track and a set of deeper orange-coloured central hands.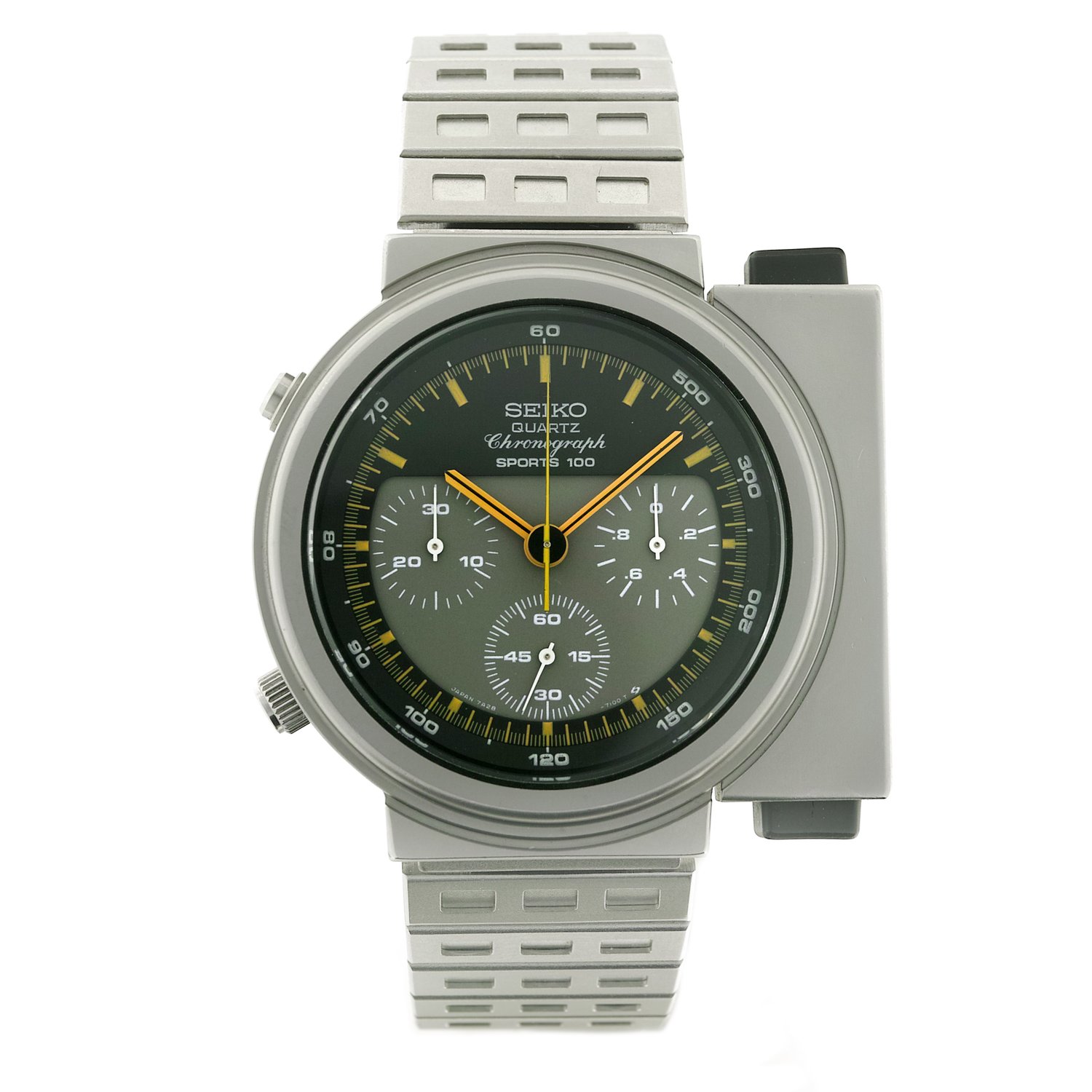 ---
Rolex Datejust Two-Tone – American Psycho
If you're an avid movie-goer, especially thrillers like American Psycho you may have paid special attention to Patrick Bateman's well-groomed wrist in the film. It was the Rolex Datejust Two Tone watch – a 36mm stainless steel and 18ct yellow gold bi-colour model that was only agreed by Rolex to be worn on the wrist of the character in scenes where he was not committing any heinous acts. The 100-meter water-resistant model is powered by a self-winding automatic movement and boasts a champaign-coloured dial with three hands, stick hour markers and a date window under a cyclops lens at 3 o'clock. It also features a fluted bezel and completes its look on a bi-colour gold and stainless steel bracelet with a folding buckle.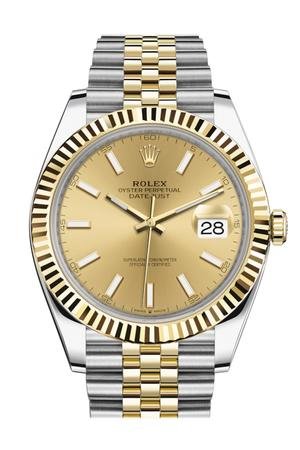 ---
Seiko 6105 - Apocalypse Now
The Seiko 6105 is the definitive dive watch that fittingly has plenty of real-world history behind its legacy. The design was well-utilized amongst U.S. servicemen during the Vietnam War. It was the obvious choice for Capt. Willard in Apocalypse Now. Its robust and durable capabilities made it a choice of watch for adventure-seekers, explorers, active individuals, as well as diving enthusiasts and those with a love for classic-looking Seiko dive watches. The 44mm Seiko 6105 is now an affordable vintage watch with 150-meter water resistance, a legible black dial with luminous hour markers and hands, a black diver's bezel, a date window at 3 o'clock and a solid stainless steel case with a bulging crown guard. This feature protects an oversized crown with a handy turn and lock system. Additional features of the Seiko dive watch include a mineral glass top and a rare XGL731 rubber strap. The Seiko 6105 featured in the Apocalypse Now film is powered by the Seiko calibre 6105B, which performs at a rate of 21,600 v.p.h promising incredible efficiency.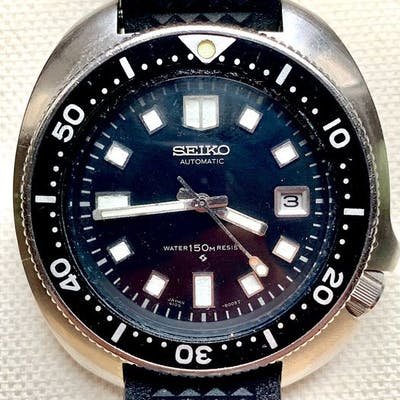 ---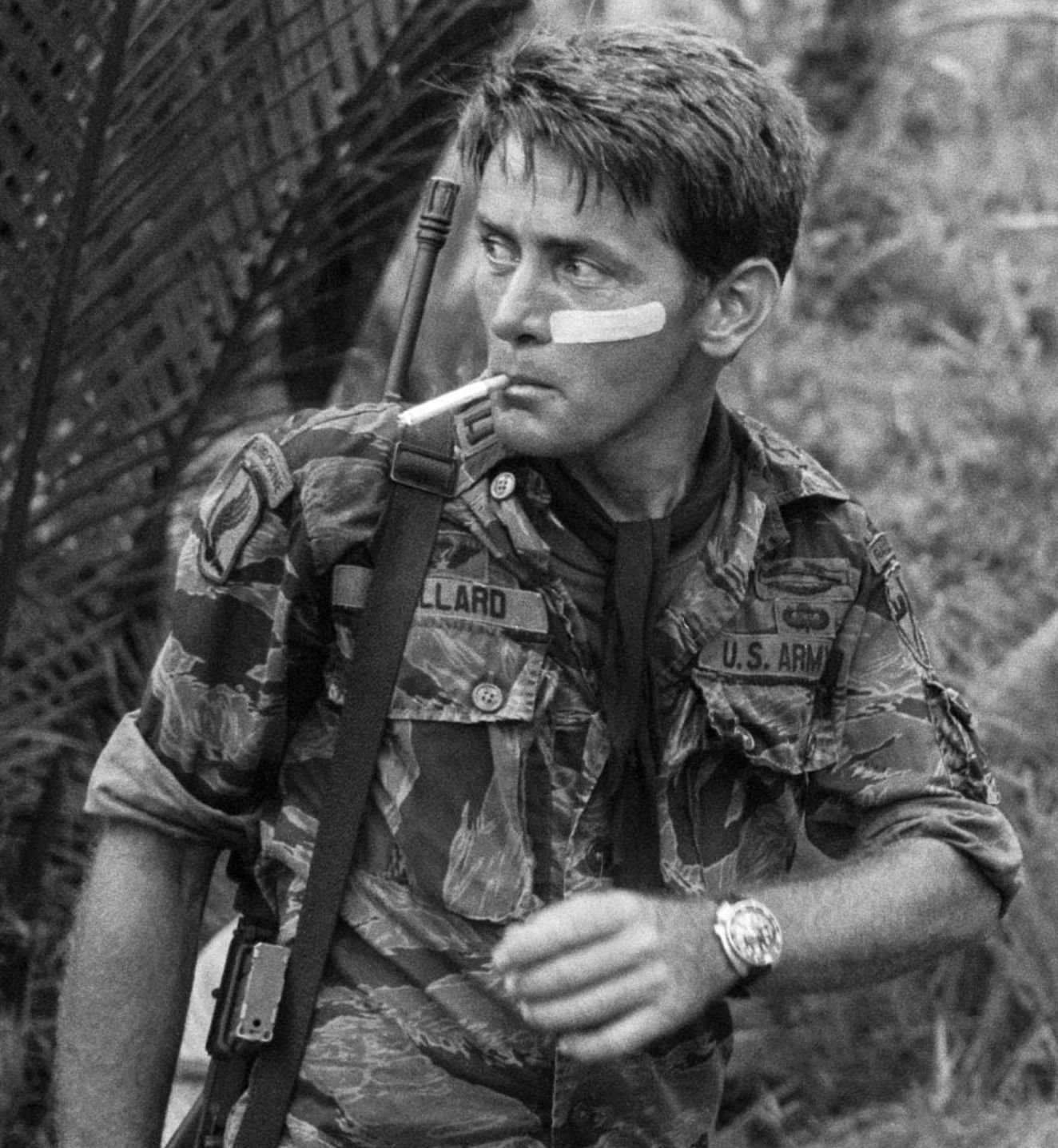 ---
Omega Speedmaster Moonwatch - Apollo 13
The 1995 blockbuster, Apollo 13 is loved for many reasons but whether you've watched it just the once or many times, you can't have missed the Omega Speedmaster Moonwatch, which plays a significant role on the wrist of Hollywood actor, Tom Hanks. The Speedmaster Moonwatch was, of course, a tried and tested timepiece that was utilized by astronauts during NASA's Gemini 4 mission as well as the historic moon landing. The Omega Speedmaster Moonwatch is known for its iconic black chronograph dial and matching black tachymetric bezel on a stainless steel case. The Speedmaster collection now comprises a vast array of different designs, all, however, still imbued with Omega's instantly recognisable Speedmaster DNA. The brand even released a commemorative edition specifically for the real-life Apollo 13 mission and still makes modern versions of the original watch to this day.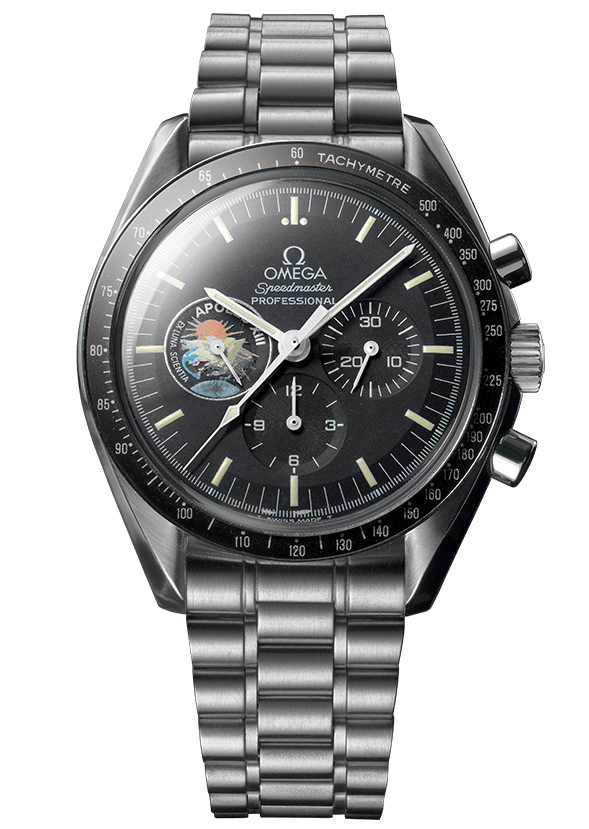 ---
Tom Hanks in Apollo 13 with his Omega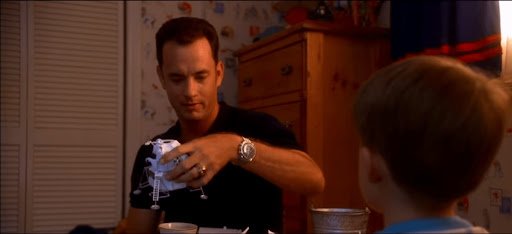 ---
Casio CA53W Twincept Databank – Back To The Future
Popular with retro fans of the original digital calculator watch, the Casio CA53W Twincept Databank will always be a watch associated with the 1985 film, Back To The Future. During the movie, the watch was wrapped around the wrist of Marty McFly and can still be purchased brand new today. The Casio Databank watch will certainly make a cool accessory for any 1980s fancy dress outfit but surprisingly still completes any modern casual attire thanks to its stylish retro aesthetics, costing next to nothing to purchase.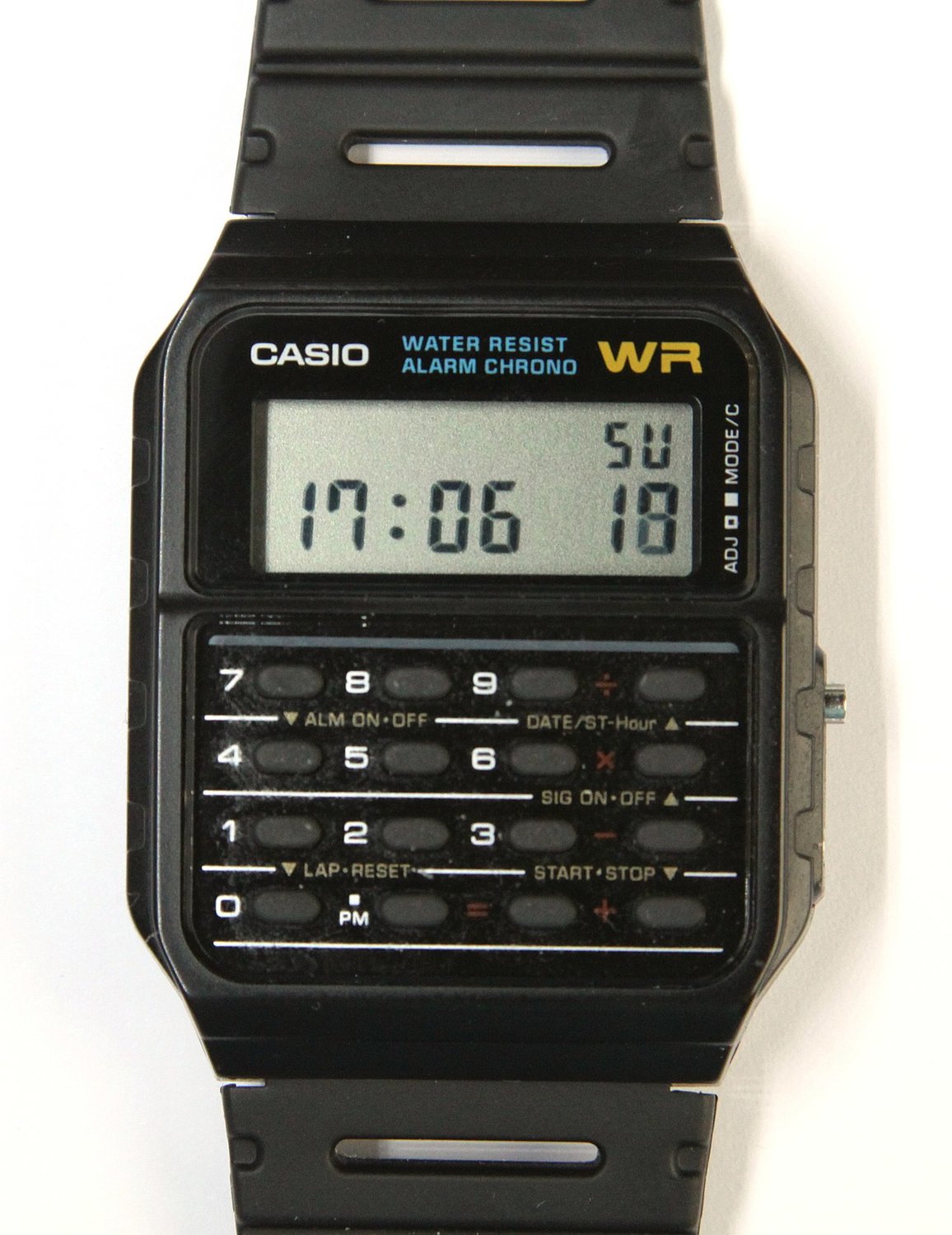 ---
Back to the Future Clip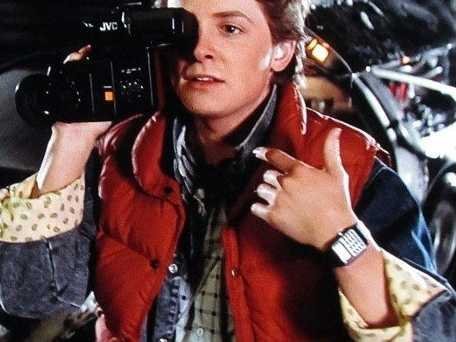 ---
Hamilton Khaki Pilot Day Date – Interstellar
The timepiece that features in the popular Interstellar movie plays an integral role in the storyline since the time-travelling element of the storyline relies hugely on the watch. The Hamilton Khaki Pilot Day Date watch is still currently in production and makes for a collectable pilot's watch today. The actual watch that Matthew McConaughey's character gives to his daughter in the film is a one-off design but the one he wears throughout the rest of the film is the Hamilton Khaki Pilot Day Date with a straight-forward design featuring a 12-hour display, luminous central hands, an outer minute ring with oversized Arabic numerals in five-minute increments, and a legible day window in an arch-shape at 12 o'clock, balanced by a date at 6 o'clock. The stainless steel watch worn in the movie is crafted from stainless steel and is fitted on a stainless steel bracelet with a folding clasp.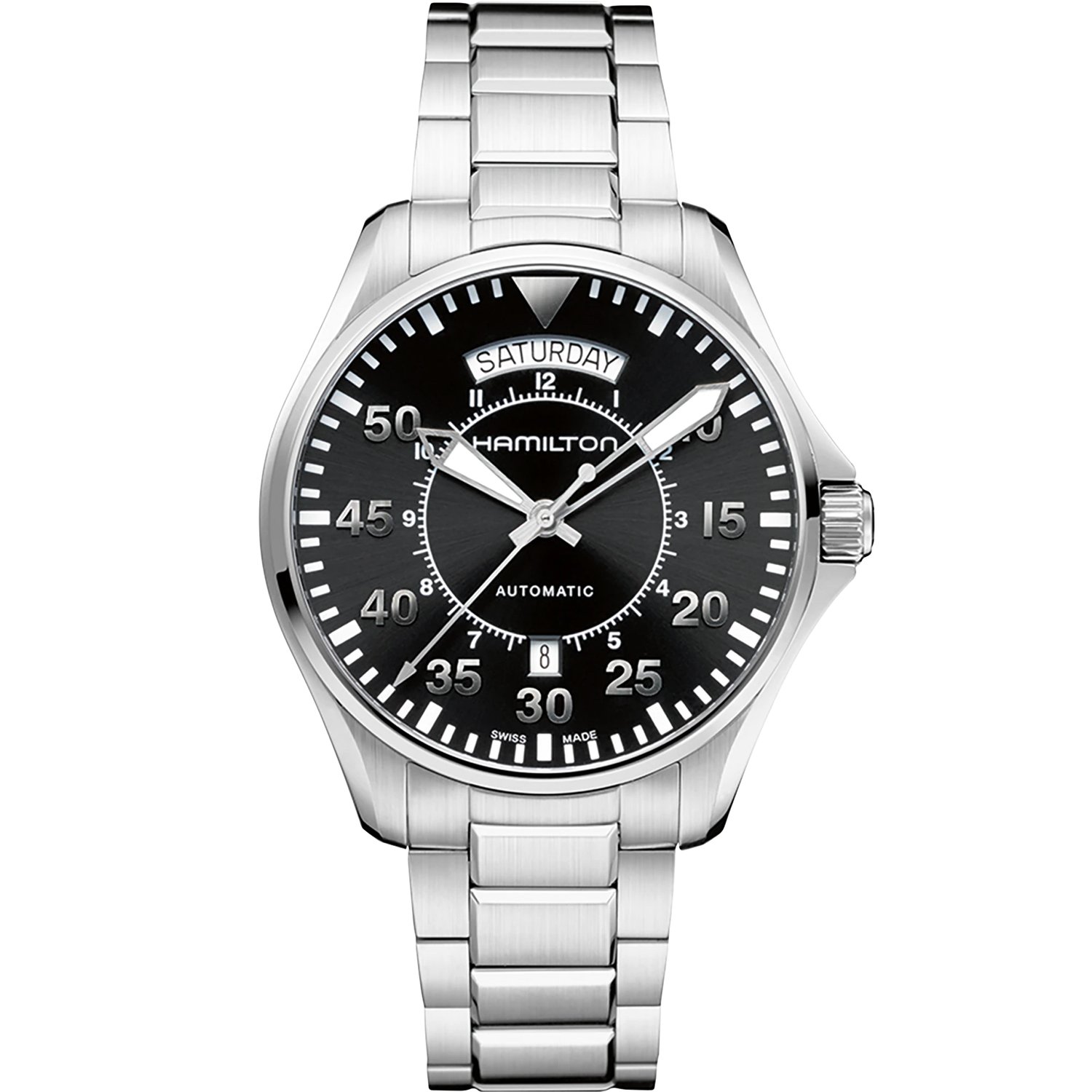 ---
Heuer Monaco Chronograph - Le Mans
If ever there was an iconic motorsport watch that will never tire of its dashing looks, it's the Heuer Monaco. Its desirable square-shaped stainless steel case features a striking deep blue chronograph dial with counters placed in a bicompax layout. Shots of red enhance the Monaco's sporty persona, whilst the square-shaped small second and 30-minute sub-counters are filled with a silver hue. Starring in the Le Mans film, produced in 1971, the film depicts a fictional 24 Hours of Le Mans auto race, with Steve McQueen as the lead role. The TAG Heuer Monaco watch is strapped firmly to the actor's wrist with a classic black perforated leather strap and a steel buckle. The wristwatch was met with resounding success long before TAG bought a majority stake in the Heuer company. Luckily though, TAG Heuer still makes versions of this watch today – celebrating the history of the world's first automatic chronograph with most of the watch's original features still incorporated in these modern-day Monaco watches today.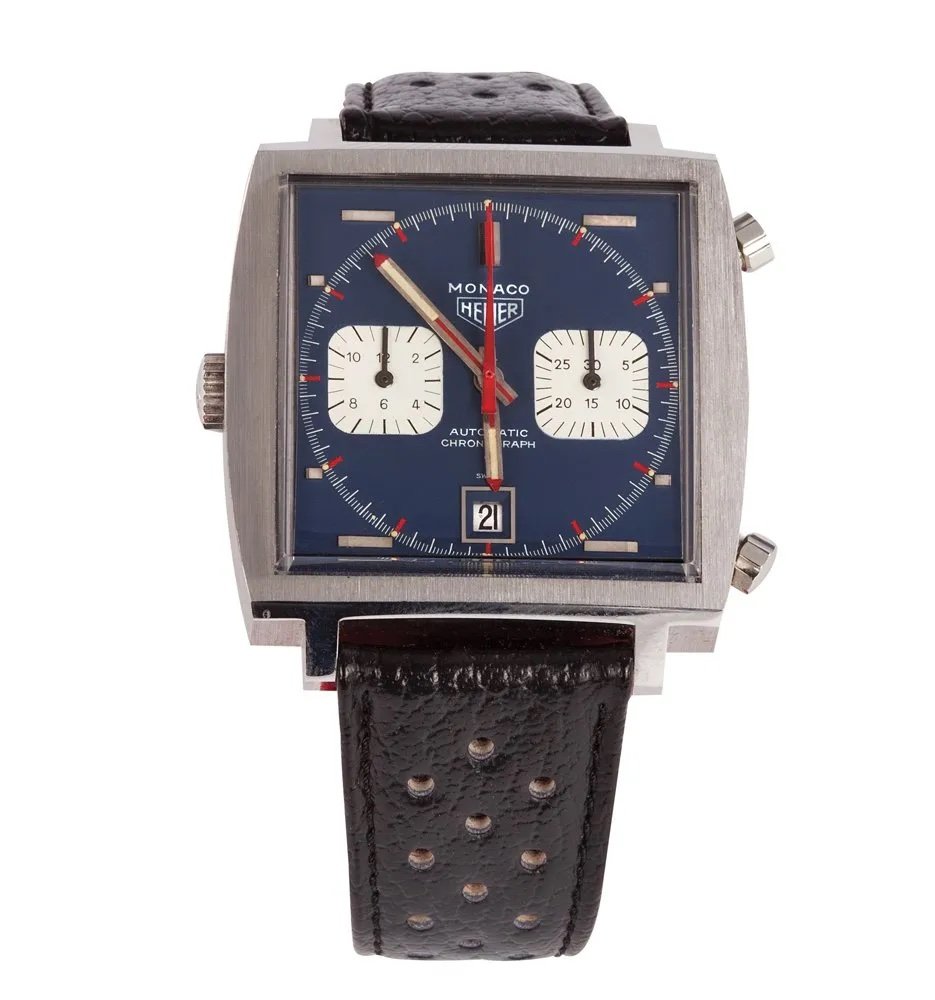 ---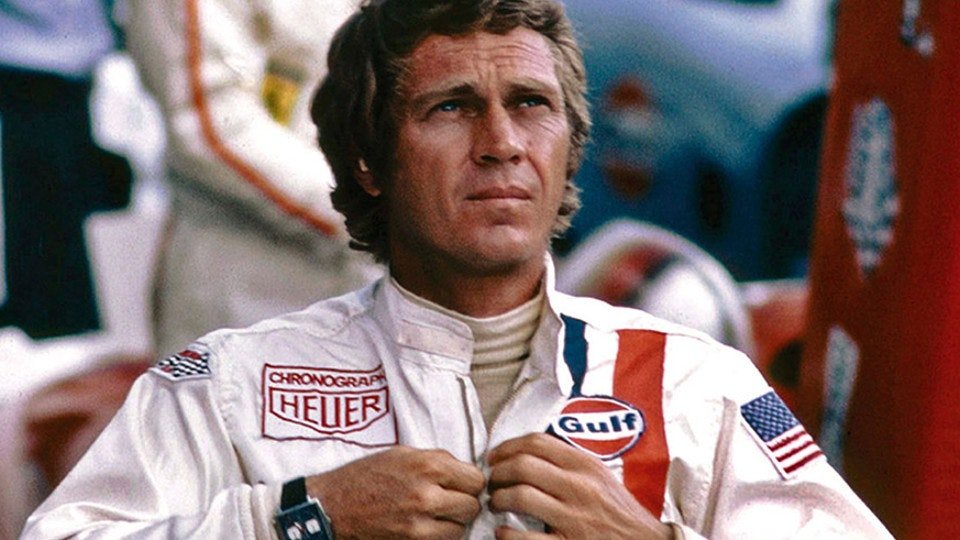 ---
Hamilton Ventura XXL - Men In Black
The sci-fi film series Men In Black put one of Hamilton's more dynamic wristwatches on centre stage. The watchmaker, usually associated with manufacturing traditionally-styled timepieces, created the Hamilton Ventura XXL with a distinctly pointed, arrow-head style case crafted from stainless steel. The watch had an inaugural futuristic styling which featured throughout the films in various models. Sadly, the watch got very little screen time but was certainly appreciated by Ventura fans as well as those paying close attention to the films and the directors' choice of sleek attire worn by Earth's intergalactic police force.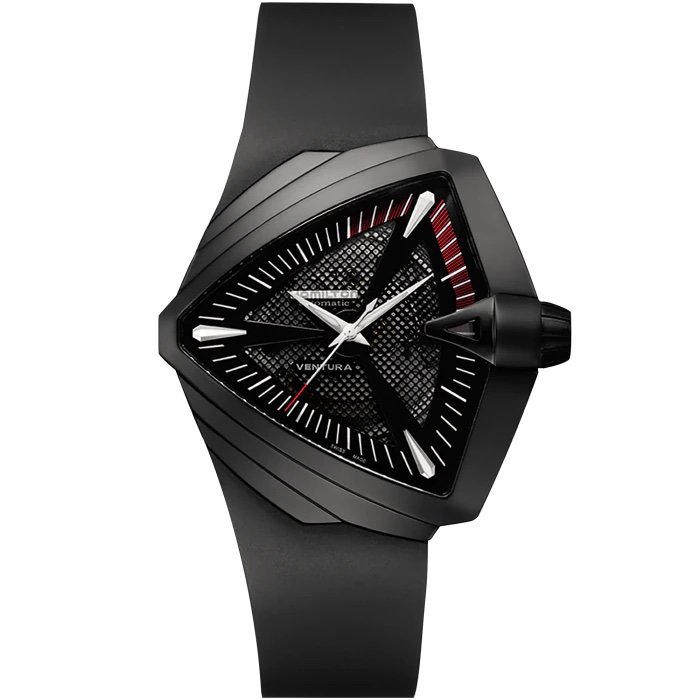 ---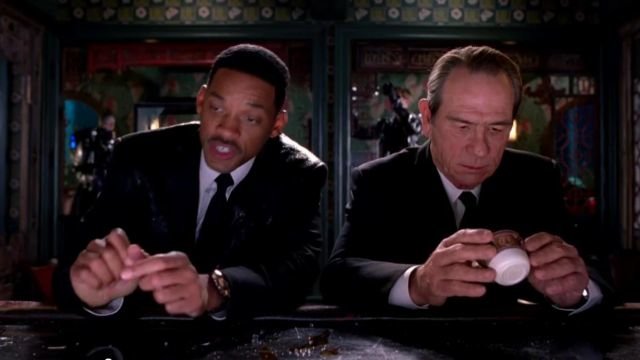 ---
Seiko H558 -Predator
With the nickname of "Arnie", it comes as no surprise that Seiko's H558 dive watch became inextricably linked with the lead character, Arnold Schwarzenegger. As well as its notable appearance in the movie, it also became recognised as the first dive watch to feature a digital alarm chronograph combined with an analogue display. The Seiko H558 is now pretty rare on the pre-owned market and was first introduced in 1982. It featured the same L-shaped crystal gasket used on the brand's Tuna watches, a large screw-down crown, screw-down caseback, a black dial, luminous circular hour markers, chunky hands, and a large 45mm diameter.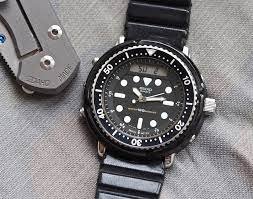 ---
What have we missed?
For many watch lovers, part of the appeal of owning a luxury timepiece - whether that be one still in production today or a vintage model - is to be able to share its unique features and discuss its talking points with another fellow enthusiast. Very few watch collectors will doubt the status of a watch that has grown with the success and popularity of a film or indeed, one that has been styled on the wrist of a famous celebrity. Watches worn by Hollywood actors will always remain icons, yet preference still comes down to personal choice and style.
What is your favourite movie star wristwatch? Have we missed any? Let us know and we willl update the list.
---
Subscribe to our newsletter