Guide To Popular Ladies' Watches

Unbeknownst to some, the world's first wristwatches were intended for women. Both Patek Philippe and Breguet made their first wristwatches for royalty in the 1800s—Patek Philippe for the Countess Koscowicz of Hungary and Breguet for the Queen of Naples. Men continued to rely on pocket watches well into the 20th Century and did not fully transition into wristwatches until after the First World War. Today, while the luxury watch industry is without a doubt a male-dominated one, all the top-tier timepiece brands have dedicated women's watch collections boasting beautiful creations. Here are some of the most popular ladies' watches from leading watchmakers.

Cartier Tank Ladies' Watches
Louis Cartier invented the Tank watch in 1917, taking inspiration from the military tanks on the battlefields of WWI. Over the following century, not only has the rectangular Tank watch remained a mainstay in Cartier's watch collection, but the Maison has also created countless versions of the timepiece. Thanks to its clean lines and classic looks, one of the appeals of the Tank is that its design is well suited for just about anyone—regardless of gender. As such, the Cartier Tank has remained one the most popular ladies' watches of all time, frequently appearing on the wrists of celebrities and high-profile personalities.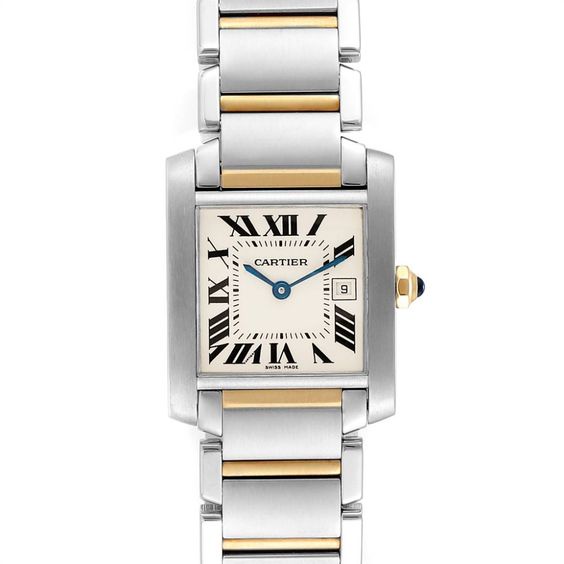 There have been several ladies' Cartier Tank watches to choose from over the years including the Tank Française with a chain-link bracelet, the classic Tank Louis Cartier, the elongated Tank Américaine, and the understated Tank Solo. What's more, in true Cartier fashion, there are plenty of materials to choose from, ranging from durable steel to precious gold—and of course, lavish diamonds are always an option.
Prices starting at $2,410
Cartier Tank Française
Reference: W2TA0003
Caliber: 157
Dial: Silver
Functions: Date, Calendar
Case Diameter: 25 x 30 mm

Winding: Quartz
Case Material: Gold/Steel

Water Resistance: 3 bar
Strap: Gold/Steel
Crystal: Sapphire crystal
Bulgari Serpenti Ladies' Watches
If there's one animal that's iconic to Bulgari's brand identity, it is the snake. Bulgari created snake-themed women's watches as early as the 1940s and the Serpenti has flourished to become one of the most recognizable ladies' watches ever made.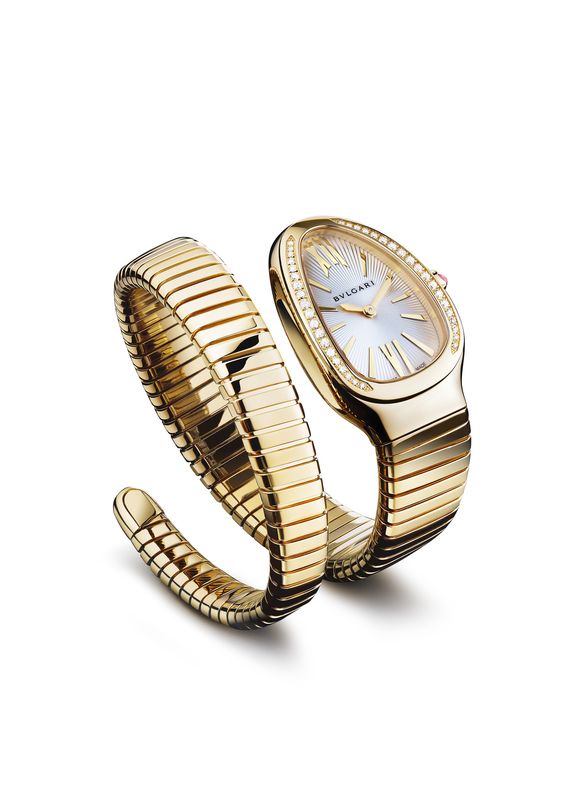 Whether in gold or steel, with or without precious gems, the Bulgari Serpenti collection is a varied one, ranging from versions that faithfully replicate the silhouette of a snake coiling around the wrist, such as the Serpenti Secret high-jewelry watches, to more abstract versions that draw inspiration from the body of the beast. The Serpenti Tubogas models, which have been a part of Bulgari's lineup for decades, marry the vintage-style flexible gas pipe bracelet with a serpent head-shaped case. The Serpenti Spiga collection house modern iterations of those coiled watches crafted almost entirely in high-tech ceramic. The most discreet versions are the Serpenti models that pair the snakehead case with leather straps while the newer Serpenti Seduttori editions are fitted with bracelets furnished with a geometric scale-like finish.
Prices starting at $3,850
Bulgari Serpenti Turbogas
Reference: 101924

Dial: Silver
Functions: Date
Case Diameter: 35 mm

Winding: Quartz
Case Material: Gold/Steel

Water Resistance: 3 bar
Strap: Gold/Steel
Crystal: Sapphire crystal
Patek Philippe Twenty-4 Ladies' Watches
In 1999, Patek Philippe launched a watch collection dedicated to the modern woman dubbed the Twenty-4. The watches, which were available in steel or rose gold, were named Twenty-4 to signify that these luxury watches could be worn around the clock, whether casually or for more formal occasions. Characterized by their rectangular cases set with diamonds, dials with Roman numerals, and articulated bracelets, the Twenty-4 went on to become Patek Philippe's most popular ladies' collection.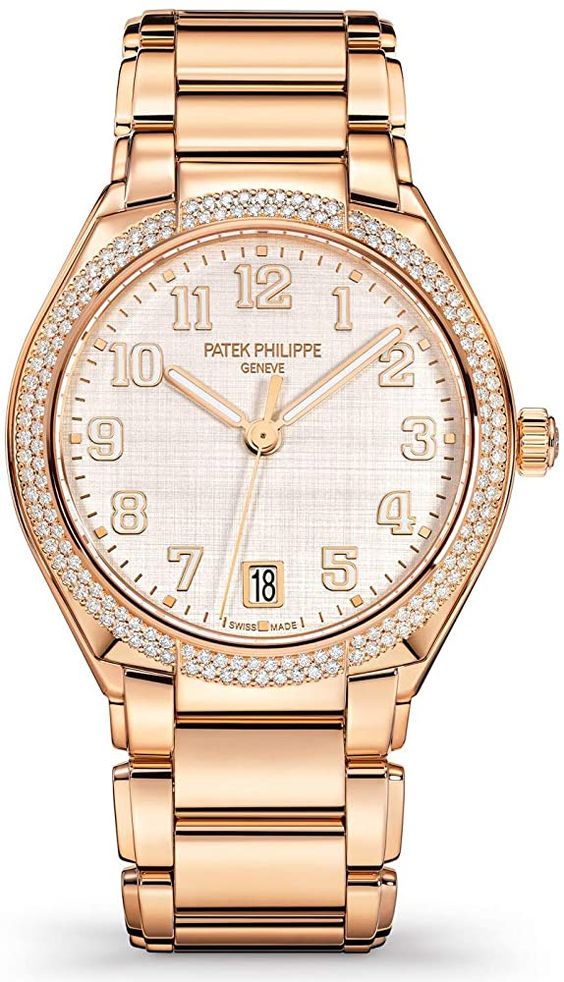 Almost two decades later, in 2018, the Twenty-4 Automatic editions joined the lineup to sit alongside the original quartz-powered models. Similar to the initial Twenty-4 watches, the newer Patek Philippe Twenty-4 Automatic timepieces are also available in steel or rose gold—both set with diamonds—and are fitted with link bracelets but they sport generously sized round cases and dials with bold Arabic numerals. There's also an opulent high jewelry version Twenty-4 Automatic in rose gold, blanketed with snow-setting diamonds.
Prices starting at $12,480
Patek Philippe Twenty 4
Reference: 7300/1200R-001
Caliber: 324 SC
Dial: Silver
Functions: Date, Calendar
Case Diameter: 36 mm
Power Reserve: 45 hours
Winding: Self-winding
Case Material: Rose gold

Water Resistance: 3 bar
Strap: Rose gold
Crystal: Sapphire crystal
Omega Constellation Ladies' Watches
While Omega first introduced the Constellation in the 1950s, the design of the watch as we know it today made its debut in 1982 under the Constellation Manhattan name. Featuring distinct design details such as the "claws" holding the bezel in place, Roman numerals engraved into the bezel, a metal link bracelet that seamlessly integrates with the case, and the signature star on the dial, the Omega Constellation became one of the most iconic and beloved luxury ladies' watches in the market.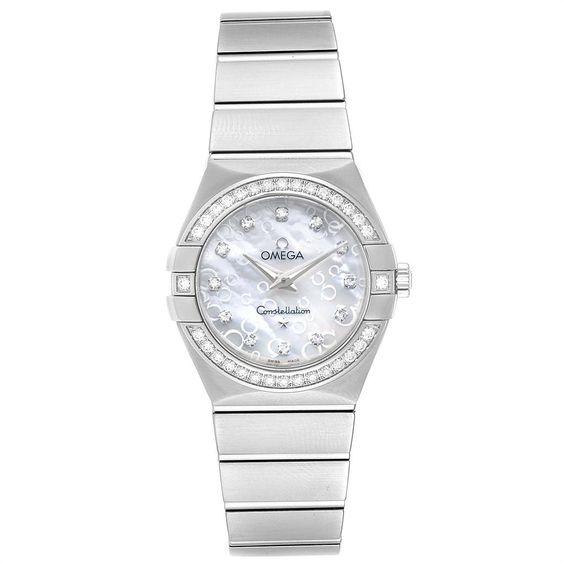 Omega has consistently expanded and updated the ladies' Constellation collection over the last three decades, offering a bevy of sizes, colors, materials, and movement types. However, regardless if this Omega watch is crafted in steel, two-tone steel and gold, or gold and diamonds, the strong design of the Constellation always shines through. 123.15.27.60.55.005
Prices starting at $2,700
Omega Constellation Brushed
Reference: 123.15.27.60.55.005
Caliber: 1376
Dial: Mother of pearl
Functions: Date
Case Diameter: 27 mm

Winding: Quartz
Case Material: Steel

Water Resistance: 10 bar (100 metres / 330 feet)
Strap: Steel
Crystal: Sapphire crystal
Find out more
Centuries after the first wristwatches became a desired object among female royalty, fine timepieces continue to capture the hearts of ladies everywhere. Part jewelry piece and part practical accessory, these popular ladies' watches from Omega, Cartier, Patek Philippe, and Bulgari have become familiar classics with enduring style.