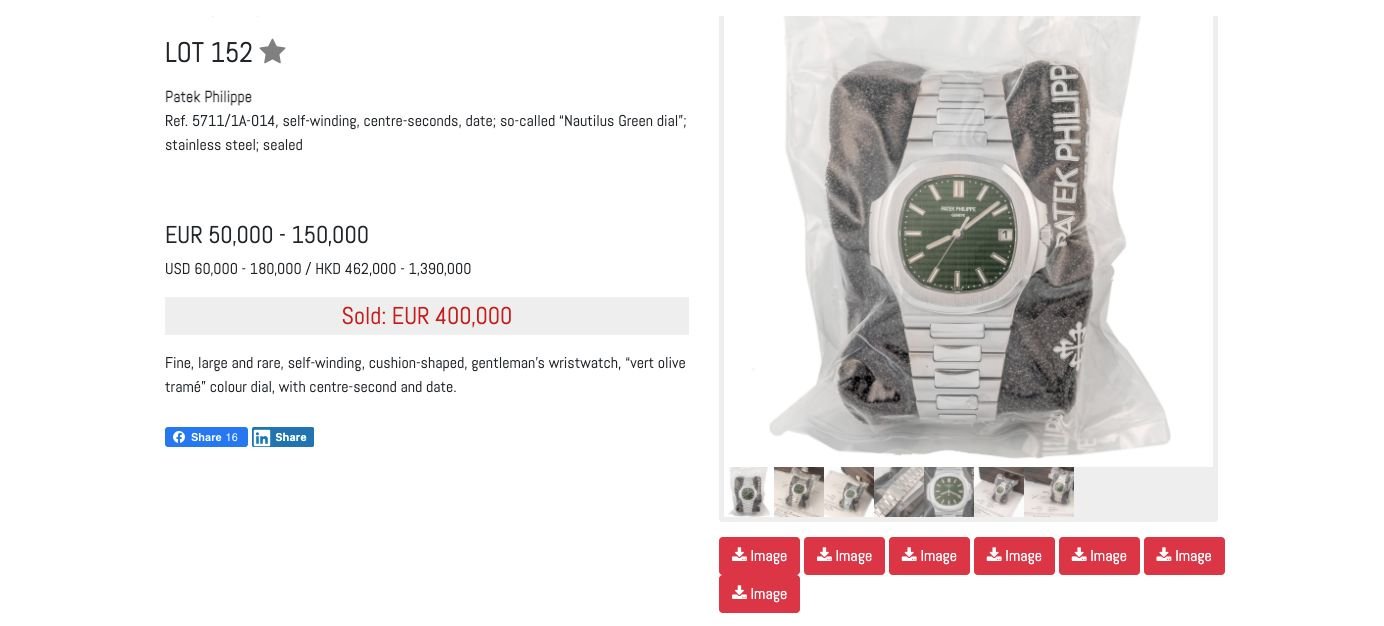 Green Patek Philippe Nautilus Sells For €400k ($470k) at Antiquorum
Antiquorum Sells a Green Nautilus for 400,000 Euros
So a brand new Patek Philippe Green Dial Ref. 5711-1A/014 Nautilus just sold for 320,000 Euros at Antiquorum auction in Monday Wednesday 21st of July.
Give or take that's $376,000 USD without including Antiquorum commission which it's stated to be around 25% of buyers fee. All in all it came at an hefty 400,000 Euros well rounded mark.
Earlier this month the buzz started since Antiquorum started to publish online their lot list for the Monaco. It was all confirmed when their catalogue arrived our offices later the following week. It was the talk of town in our whatsapp and wechat groups since this references is considered the hottest watch release of 2021 by many. And with factory sealed, never-before-worn example came to the market we were expecting some froth… but hardly at this levels.
---
Green Dial 5711-1A/014 Nautilus
Just to give you the perspective, the "vert olive tramé" 5711-1A/014 Nautilus is going at around 34,893 USD at retail.
Note: "Retail" wasn't put on quotes, because… well that's another article.
Saying the current watch market is superheated when a watch sells at 10x or 11x retail value is understatement.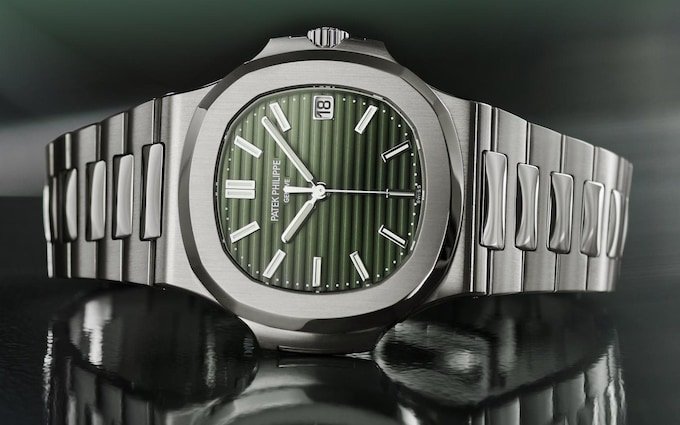 ---
A 300,000 € Ticket, Seal cutting ceremony and Gregory Pau
First we should be start dwelling into why a green dial Nautilus gets into hands a flipper, since it should be carefully vetted by Patek's network of authorised dealers. We all assume that a VIP status to such a dealer is achieved before unlocking the holy "olive vert" grail. And for a VIP flipping it for making… a massive return (we can't use quick profit for this sentence) and risk his client status it's hard to believe.
But many in our Editorial Team can actually see why someone would resell it right away if you can net anywhere 300,000+ euros. And to be sound a clear misunderstanding in this conversation is to see what actually those of us having a potential 300,000 Euros ticket wouldn't be cashing it in. Our take is that many would bank that ticket.
We don't know if Gregory Pau is an actual person or a fictional name – it really doesn't matter because he hasn't done anything illegal. The Watch Blog Watch Collecting Lifestyle has done an excellent job a tracing down who Mr. Pau might be, suggesting he's the son of a defunct Authorised Patek Philippe Dealer in Barcelona "The Watch Gallery". This leads to suggest to Gregory Pau Newman, heir this watch dealership, consigned the green Nautilus to Antiquorum just before closing the Barcelona franchise.
What it should be really called out is that this looked like a planned hype event. But first thing first: Patek Philippe put in place stricter rules to avoid pieces hitting the market still sealed, and basically Patek's makes it a big thing of unsealing the watch. It's a ceremony put in place since 2017 on delivery and they must perform it. It's part of the magic of getting a Patek Philippe consigned by a dealer. So even if authorised dealers are supposed to remove the seal, this particular one seems to have been forgotten within.
---
Avoiding Mono-Production Dependency
For those shouting that Patek will almost certainly take action against the retailer supplying this watch by potentially withdrawing their AD status entirely… think again.
The Ref. 5711-1A/014 was announced following the news of discontinuation for Ref. 5711 model and with the intent to placate at least some of the seemingly always-thirsty-demand with waitlist going for years.
But if you are the President (of a family business, that to be said) trying solve for super hyped product would you go on records saying that not even your son can get one?
In an interview with UK newspaper The Telegraph, Thierry Stern elaborated his strategy to cool off demand of stopping production (!) to avoid producing too many of a reference to avoid lowering the value for Patek's collectors. Or turning the company to a mono-product dependency.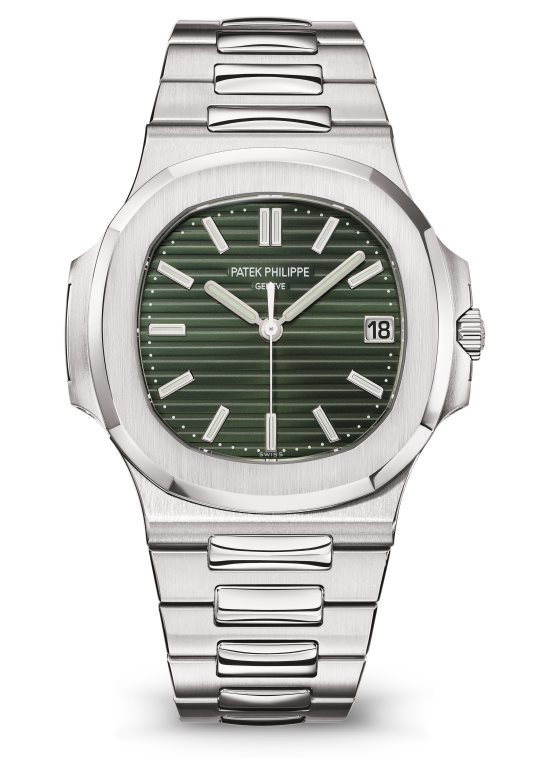 ---
Innovation: Blue to Green
Arguably changing dial colours is not the sort innovation you'd expect to avoid being mono-product dependency but in all fairness all the major brands have stopped innovating and just playing with dial colours to gauge demand. And the market response is overwhelmingly positive. And as the story goes, even when his son asked for a green dial Nautilus, the answer was no, adding to the myth and beauty of owning a Patek Philippe.
It's a killer line, but given Patek Philippe is a family owned business, Mr. Stern son is likely to be able to own some Patek Philippe down the road, and it feels more of a stunt to further hype a product rather than cooling off demand
---
Serial Number, Movement Number. Lot not withdrawn?
This particular watch has photographs showing its serial number, movement reference number, and being as rare as this one, it's immediately traceable.
There has been a lot of hate and shaming on the internet - but Antiquorum only did publicly what is already happening in the grey market. If those reposting the The Telegraph articles with the punchline of the President's son not being able to get one had the time to read carefully the article, they would have notice that 10x of it's retail price is already mentioned there. Because that is what is the Green Dial Nautilus is going at in grey market.
All of this drama and memes seems just riding on the news rather than actually being informed about the current watch market.
That's why we believe that connecting all these dots, it seems at least possible that Patek Philippe wasn't really concerned about this piece going under the hammer and likely aware of the current prices.
Remember that lots can be withdrawn for a variety of reason and if Patek Philippe, the most prestigious watchmaker in the world, based in Geneva, doesn't have some degree of swing towards a Geneva auction house, well I don't know who actually does.
And with the current press coverage received, Patek has managed to broadcast worldwide that there is a new classic in their line-up for many years to come.
Let's get all lined up in those waiting lists.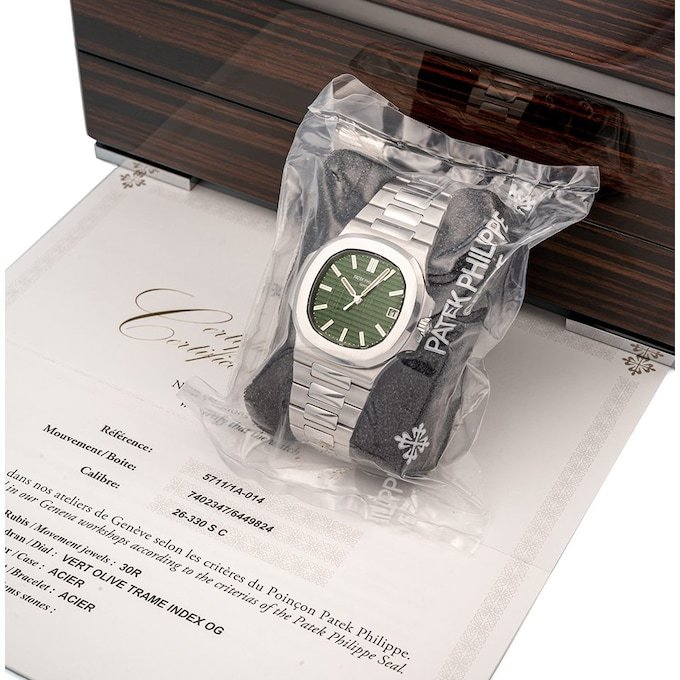 ---
Green is the new blue
P.S. This is likely to have other side effects in the market. In the short term the references 5711 are going to see an uplift in the market value (as if they needed) but in the mid-term some might prices might drop when the music stops for the blue dial as the green dial becomes the must have.
If you like this article join our newsletter: we write from Hong Kong and our perspective comes from being embedded in the Asian market. China and Hong Kong are now the the first and third largest "markets" in the world. This allows us to take the pulse of the watch market within.
---
Loading...
---
Subscribe to our newsletter